Though Suunto and Garmin watches are more suitable for rock climbing/bouldering, Apple fans are so loyal to its products that they prefer to keep within its ecosystem.
The company's iconic Apple Watch series is more of a lifestyle piece than a dedicated sports watch, but that doesn't mean it can't be put to use in the great outdoors. In fact, an Apple watch can be a great companion if have just started climbing.
You get a built-in altimeter and compass on the latest Apple Watch (Series 7) as well accurate heart rate and SpO2 sensor. The watch has great navigational capabilities and comes packed with an accurate GPS, in fact, multi-GNSS support. The LTE connectivity ensures that you can use the Emergency SOS feature in the moment of need. Overall, It is a great lightweight and portable watch with passable tracking tools for those into casual rock climbing or indoor bouldering.
However, you must understand that an Apple Watch is not a replacement for a dedicated watch for rock climbing. It is not durable enough to withstand the rigors of outdoor climbing and lacks the battery performance for an extended climbing session.
In this Apple Watch rock climbing guide, we will explore how to use your watch for climbing and some of the best apps and protective cases to help you get the most out of your watch.
Does Apple Watch track rock climbing?
Unfortunately, there is no preset or dedicated workout mode for rock climbing. However, you can add a new workout activity to the watch.
To do so:
Open the Workout app on your Apple Watch
Tap Add Workout
Name your workout and tap "Create."
Now, every time you start this workout, the Apple Watch will track duration, heart rate, calories burned, and more.
Alternatively, you can choose "Hiking" from the preset Workouts. This workout mode is designed to track elevation changes and will work well for most climbs. We recommend you to use third-party apps available on the Apple Play store to get the most out of your Apple Watch.
Best Apple Watch Rock Climbing and Bouldering Apps?
As we scoured the Apple Store for the best rock climbing and bouldering apps, we found only two apps that are really made for climbers.
Pinnacle Climb Log: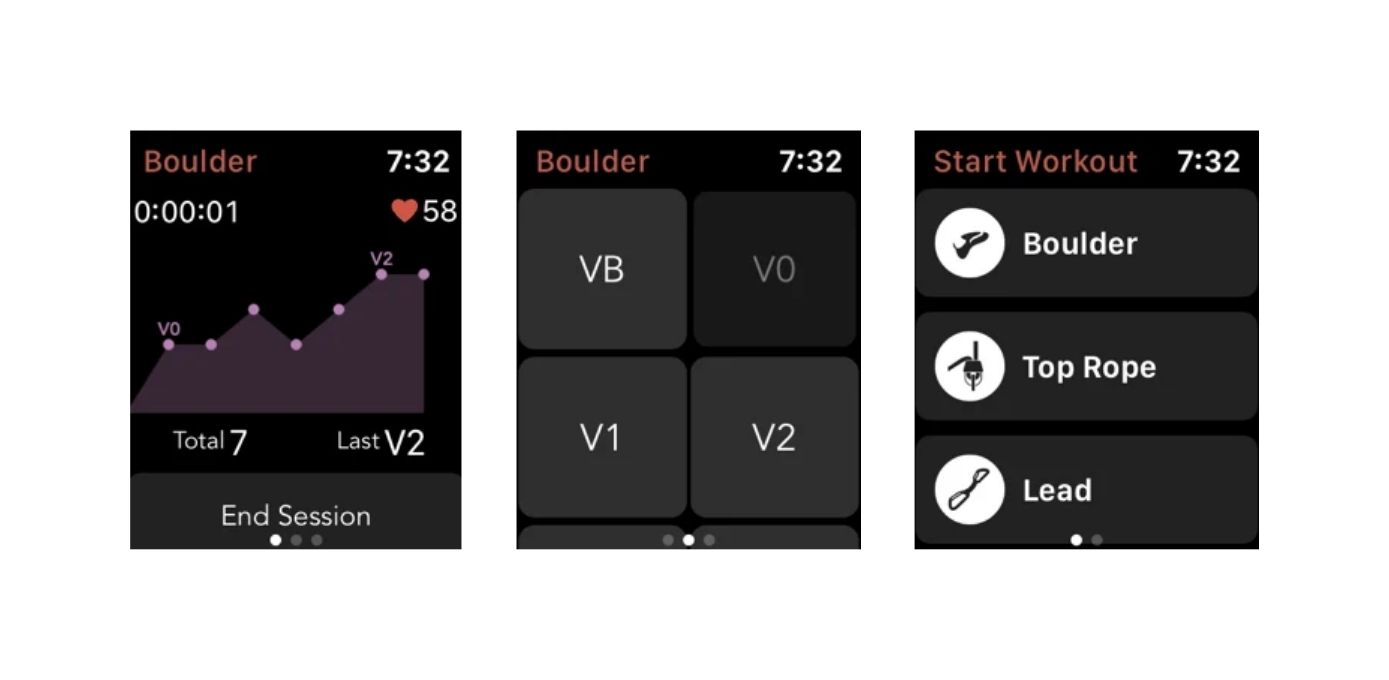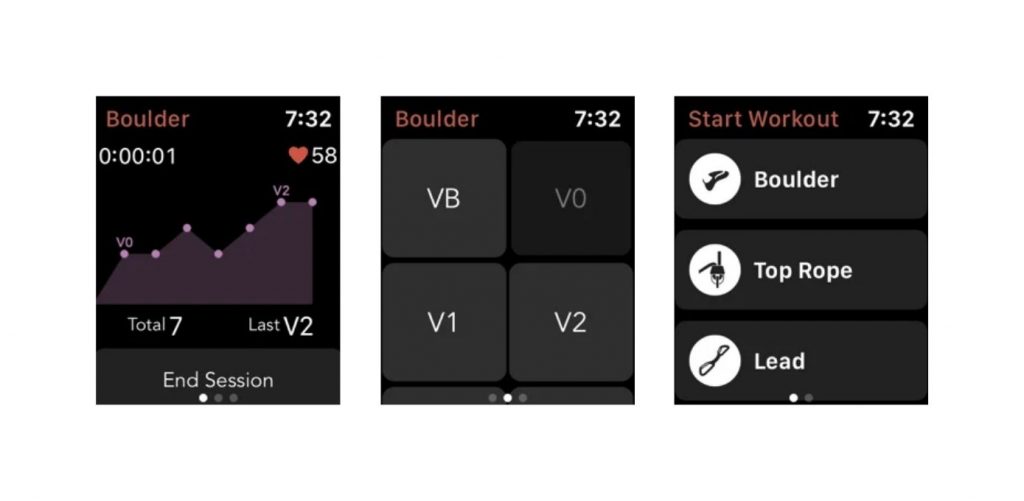 Available for: iPhone, iPad, and Apple Watch
Rating: 4.7
Price: $3.99
Pinnacle Climb Log is the most popular rock climbing app on the Apple Store. The app is designed to track your climbing progress and log your climbs. It can use the GPS of the watch to track the location of your climbs and has a comprehensive database of climbing routes around the world.
Also, it works with Apple HealthKit to track your calorie burn and heart rate, and also, integrates with the Workout and Apple Health App. Any recorded climbing session does contribute to 'Activity Rings'.
Another good feature is the syncing data with Strava. You can export your climb data to Strava and share them with the climbing community.
However, you would have to pay a one-time fee of $3.99 to use all the features of this app.
Redpoint: Bouldering & Climb Tracker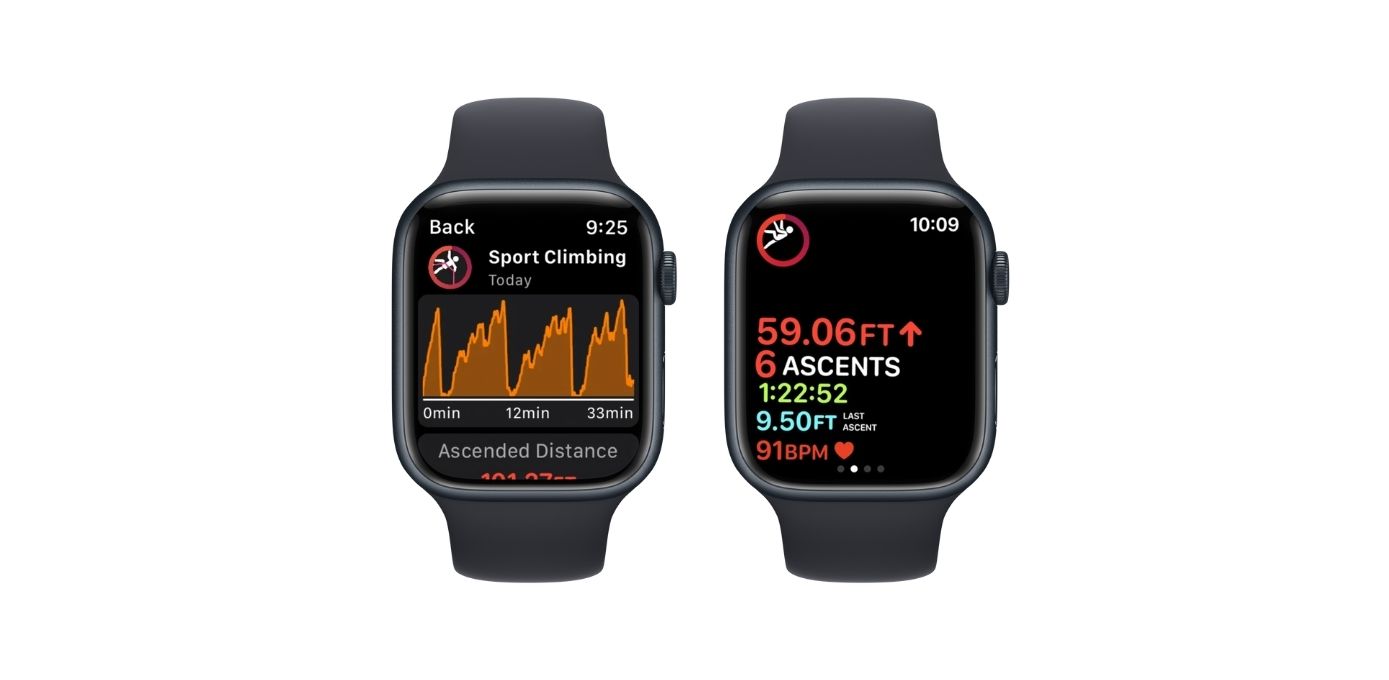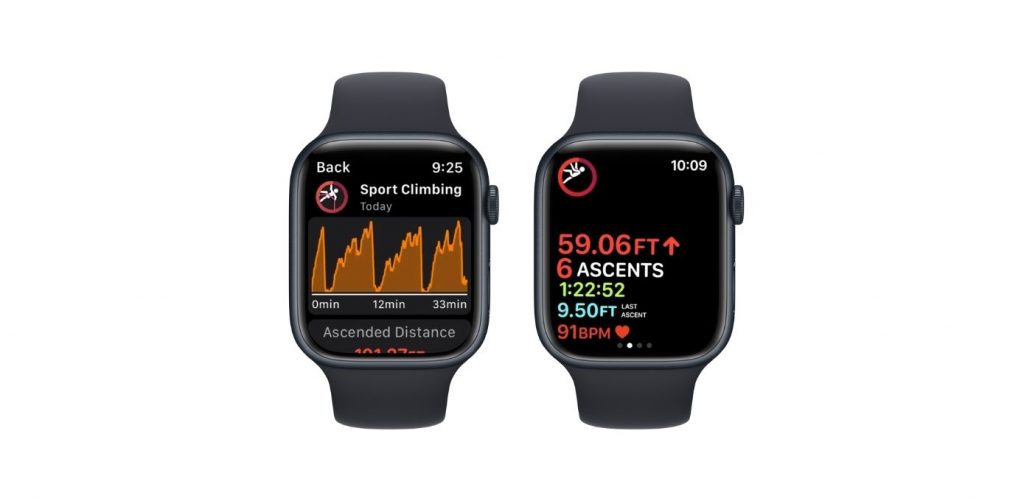 Available for: iPhone and Apple
Rating: 4.5
Price: Free to download but have in-app purchases
Redpoint turns your Apple Watch Series 3 and later into a comprehensive bouldering and climbing tracker. It tracks a range of climbing activities that include Bouldering, Top Rope, Ice Climbing, Multi Rope (Alpine), Sport Climbing, Trad Climbing, and more. Moreover, It is compatible with HealthKit so your data will be seamlessly integrated with Apple's Health and Workout app.
You will be able to track a ton of metrics during your climbs that include overall height, heart rate, time, maximum ascent height, speed, and climb difficulty. The app doubles as a coach and gives you suggestions during bouldering and detailed feedback on your performance. The advanced features like training plans and personalized tips are not free.
Final Words:
Overall, the Apple Watch is a great option for climbers who are looking for lightweight and portable tracking tools. Though the built-in Workout app can track essential metrics, we recommend using dedicated apps like Pinnacle Climb Log or Redpoint to get the most out of your watch while climbing.
FAQS: