The smartwatch market is hotly contested, with Apple and Samsung leading the way. The latest models from both companies offer a wealth of features, including the ability to track fitness data, stream music, and make payments. However, Apple still has the upper hand with almost 30% share in 2021.
People who are in the Apple ecosystem are very hard to switch to another platform (I Won't). However, there are cases when people make a shift to the Samsung ecosystem. A more common scenario is when family members living together support opposite platforms (my wife owns Samsung Galaxy Watch 4 paired to her Samsung S22 Ultra). There could be other scenarios as well.
The question of cross-platform support arises mainly in these situations. Interestingly, the same happened with us. My wife misplaced her galaxy watch's charger and we didn't have an extra one. So, the natural question was if my apple watch charger could be used to charge her galaxy watch.
In this guide, we will discuss this situation in detail and other frequently asked questions pertaining to the Galaxy watch charging.
Can I Charge My Samsung Watch With an Apple Watch Charger?
You cannot charge your Samsung Galaxy watch using an Apple Watch charger. The charging mechanisms are different and hence, the chargers are not compatible.
I have tried it personally and it doesn't work. The Galaxy Watch 4 cannot even attach to Apple watch stock charger let alone start charging.
I would recommend you to not even try it as you might damage your watch.
Apple Watch Charger vs Samsung Galaxy Watch Charger?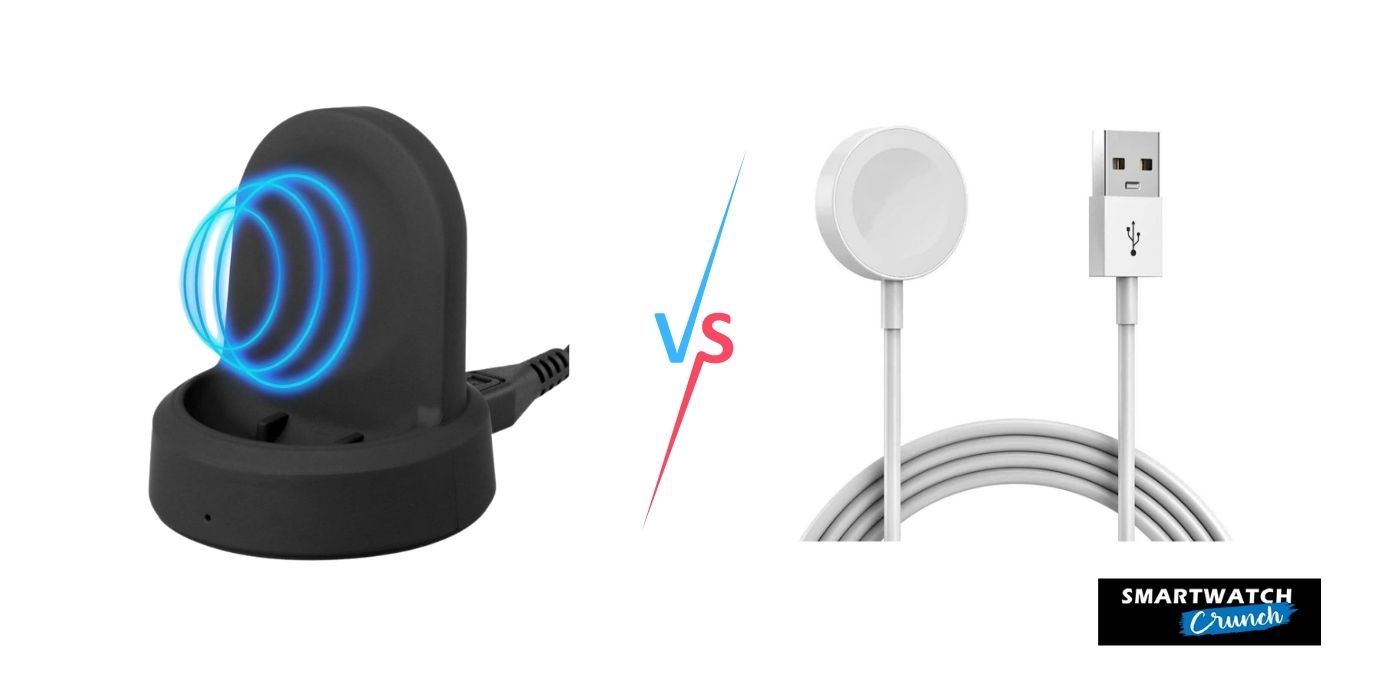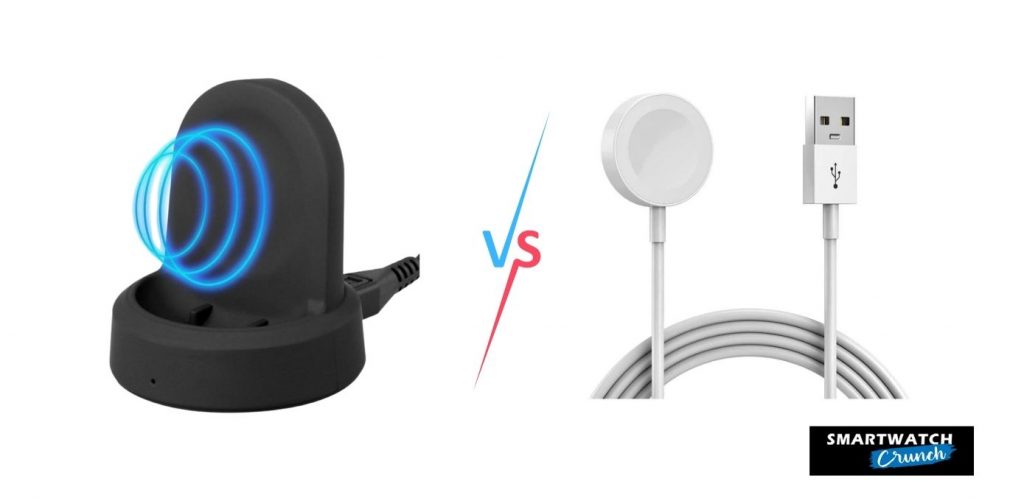 So what is the difference between the Apple Watch charger and the Samsung Galaxy watch charger?
The Galaxy Watch charging dock is flat, whereas the Apple Watch charging dock is concave. Also, they are of different sizes, understandably, as their companion watches are of different sizes and shapes.
An Apple Watch charger won't fit the Samsung galaxy watch, which is the very first condition to be met.
Do Samsung Galaxy Watch Support Wireless Charging?
Samsung watches from 2019 and onward support wireless charging. The list includes:
Galaxy Watch Active & Active2
Galaxy Watch3 & 4/4 Classic
To charge these watches simply put them on the proprietary charging dock which in turn should be plugged into a socket. That's it!
You don't need Samsung's proprietary charger to do this; any Qi-certified wireless charger should work.
What if My Samsung Galaxy Watch is Dead and I Don't Have the Charger?
If your Samsung Galaxy watch runs out of battery and you don't have the original charger, you can try the Wireless PowerShare feature on the watch to bring it back to life. Using this feature, you can charge the galaxy watch with your Samsung phone.
This is a feature that was introduced with the Galaxy S10 and lets you share power with other devices that support wireless charging e.g. Samsung Galaxy Watch 4, Active 2, and Watch 3.
Your galaxy watch has to be in contact with your Samsung Phone for PowerShare to work. The downside is the slow charging of the watch this way.
How long does it take to charge a Samsung Watch?
It takes almost 2 hours for a Samsung Galaxy Watch to charge from 0-100%. Fast charging is not supported by any of the Samsung Galaxy Watches, so this time is pretty consistent among all its watches.
It's still pretty fast compared to what it used to be with older models that took almost 3-4 hours to charge.
How to Charge a Samsung Watches Without a Charger?
There are two ways to charge a Samsung Galaxy watch without the original charger. The first way is to use Wireless PowerShare on your galaxy watch and Samsung phone. The second way is to buy a Qi-certified wireless charger.
We would recommend the second method as it is faster and easier. Invest in a Qi-enabled 3-in-1 dock so you can wirelessly charge your Samsung Galaxy Phone, Watch, and Buds at the same time.
Lastly, wireless charging is the only option on almost all Samsung watches as it lacks any physical charging ports.
Final Words:
We hope this guide answered all your questions about the Samsung Galaxy Watch charging. To recap, you cannot charge a Samsung Galaxy watch using an Apple Watch charger as they use different charging mechanisms. You can, however, use Wireless PowerShare on Samsung and non-Samsung phones to charge your watch. Secondly, you can buy a Qi-certified wireless charger to do so.