Garmin Vivofit Jr. Fitness Trackers: Review & Comparison [Vivofit Jr. 3 & Vivofit Jr. 2]
Last Updated on June 3, 2021 by Editorial Team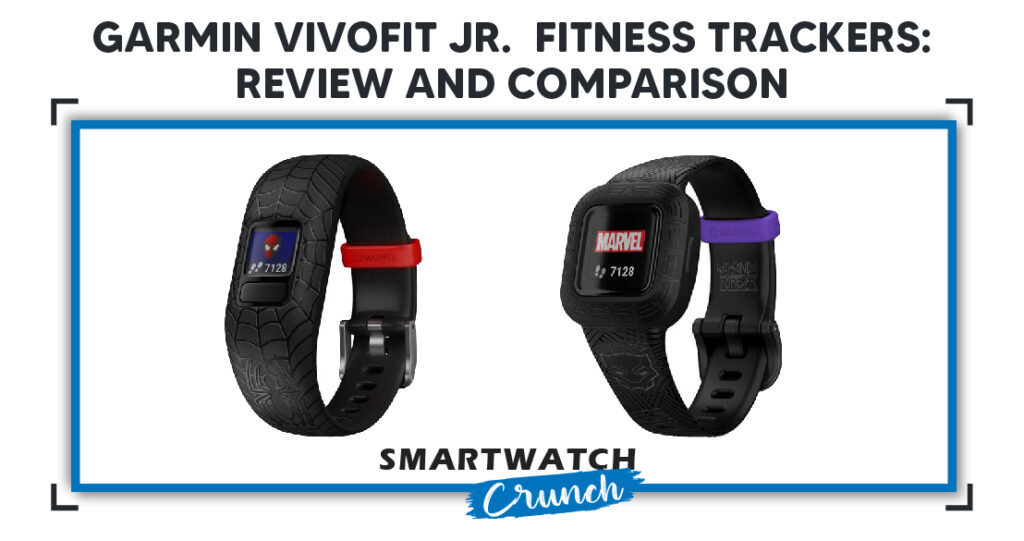 Garmin Vivofit Jr. 3 hit the market on Oct 15th and costs just $10 more than its predecessor (Vivofit Jr. 2). By the design and features of the latest tracker, it seems like Garmin has built on the foundation set by Vivofit Jr and Jr. 2
Here we will review both articles side by side, and provide buyers key insights of each tracker.

If you don't have the time to read the review and have to decide between the two, we would recommend you to go with the Garmin Vivofit Jr. 3. Paying only 10 bucks extra, you get large internal storage, a large screen and new features like distance traveled and I.C.E. (in case of emergency)
Cartoon Inspired fitness tracker For kids 
Garmin Vivofit Jr. 2 Review:
16 new from $57.99

as of July 26, 2021 4:03 am
This fitness tracker by Garmin took inspiration from the Disney blockbuster Frozen 2 character, Elsa. By the look of it, one can easily guess that it is targeted at kids and specifically girls. A deft move by Garmin to win the hearts of Disney fans.
In fact, Garmin and Disney joined hands to make wearable more exciting and healthy. The fitness tracker is aimed at helping parents/guardians in child rearing. We will explain the intricacies of it later in the review.
Just a few days back Garmin Vivofit Jr 3 hit the market and we will do a comparison with Jr. 2 later. The reason we are reviewing Vivofit Jr. 2 is its relevance and popularity despite being old technology.
Features:
1 year battery life
Interactive parent control app
Tracks sleep, steps and active minutes
Swim friendly
Comes in 4 different designs (Frozen 2, Spiderman, Star Wars, Disney Princess)
Compatible with both Stretchy and Adjustable bands
Design & Display:
Hailed as the best fitness tracker for 6 years old, Garmin Vivofit Jr. 2 has a sleek design, and interactive display.
Vivofit Jr. 2 features a color display with 88 x 88 px screen resolution. The display size is pretty decent (0.43″ x 0.43″ (11 x 11 mm)). Moreover, the display is visible in sunlight and is transflective. (it is able to reflect most of the sunlight it is exposed to and automatically adjust its backlighting depending on the amount of light shining on it.)
Moreover, it weighs just 17.5 g, so you can deem it lightweight by all standards.
Users were pretty satisfied with the display of the tracker, but the real firepower lies with its advanced sensors.
Battery Life:
This fitness tracker has a permanent (CR1632 non-rechargeable battery) battery which lasts for an year as claimed by the company. But in actual use, the battery falls short 1-2 months, and it usually depends on the usage.
Once dead, you can easily replace the battery with a new one.
Compatibility:
This device is compatible with Android, iOS and Amazon Fire Devices. It uses bluetooth technology as a bridge to Vivofit Jr. Application. However, with iOS devices it might lose some functionality.
Storage:
The internal Memory of the device can store data for up to 4 week. After that, you will have to upload data manually to the Vivofit App.
Water & Dust Resistance:
Vivofit Jr.2 is ATM 5 rated which means that it can be submerged in water for up to 5m. So with this fitness tracker you can save your kid the hassle of taking off the tracker while bathing or swimming.
In addition to this, it is highly resistant to dust ingression. You can let your child play with a tracker on the wrist.
Strap:
The strap is made of silicon which is the Garmin base-line for fitness tracker bands. The band isn't super comfortable for extended periods of usage but they definitely are comfortable.
Garmin provides two sets of bands with this fitness tracker: Stretchy and Adjustable.
Stretchy Bands accommodate wrist upto 147mm, whereas adjustable accommodates 130-175 mm wrist. (Age 4 to 7)
Activity And Sleep Tracking:
With its accelerometer-based activity tracking (counting steps and calculating active time), Vivofit Jr. 2 is more accurate and reliable. Not only that, there is a reminder for 1 hour mandatory activity.
Also there is a sedentary reminder. Garmin used this feature in an innovative and effective way. A move bar starts displaying on the device after a period of inactivity and the kids have to walk for a couple of minutes to reset it.
Sleep tracking outshines the activity tracking by presenting the most valuable data to parents. It tracks deep sleep, light sleep and awake time, and sends a detailed report to parents via the patent app rather than just representing it on a 1-10 scale.
Adventure Games:
The complementary app of the watch has a couple of interactive games that encourage kids to perform physical activities and stay active.
Moreover, Parents can use reward coin features to their advantage. They can entice the children to complete a chore and get reward in coins. Also, parents can set chores on the patent app to instill good habits in their kids.
Toe-to-Toe Challenge:
Garmin added this feature to create a network effect as Kids can can sync this device with their nearby friends and invite them for a one-on-one step challenge. But there is a caveat, their friends must have one of the Vivofit Jr. Tracker to participate in this exciting activity.
---
Garmin Vivofit Jr 3 Review:
16 new from $59.99
Free shipping
as of July 26, 2021 4:03 am
As I have already mentioned, Garmin Vivofit Jr. 3 is a better version of Vivofit Jr. 2, but apart from a few key things they are almost alike.
I will mention only the differences here.
Vivofit Jr 3 has a large display (0.56″ x 0.56" ) and high screen resolution (112 x 112 pixels.) The display type is LCD with 64-color memory-in-pixel (MIP) rather than 8. Also, it is a little heavy (25 g)
Jr 3. Can store data for 14 days and can measure the distance traveled, in addition to, step counting.
Also, Garmin has added the I.C.E feature in the latest Vivofit Jr. It stands for ' In Case of Emergency'. The fitness tracker will detect an incident and send a message via the app to the emergency number. You can find the details here.
Apart from these improvements, the Vivofit Jr. 3 hasn't much to offer more than the Jr. 2.
Garmin Vivofit Jr. 2 Vs 3: Comparison Table
We have excluded those features which both the features have in common.
| | | |
| --- | --- | --- |
| Features/Specs | Vívofit jr. 3 | Vívofit jr. 2 |
| Display Size | 0.56″ x 0.56″ (14.11 x 14.11 mm) | 0.43″ x 0.43″ (11 x 11 mm) |
| Display Resolution | 112 x 112 pixels | 88 x 88 pixels |
| Display Type | sunlight-visible, transflective 64-color memory-in-pixel (MIP) | sunlight-visible, transflective 8-color memory-in-pixel (MIP) |
| Memory/History | 7 timed activities, 14 days of activity tracking data | 4 weeks of activity data |
| Straps | Adjustable Type | Both Adjustable and Stretchy |
| Weight | 25 g | 17.5 g |
| I.C.E Feature | Yes | No |
Garmin Vivofit Jr. 3 Vs Fitbit Ace 2: Which one is better?
It needs a separate article to explain the differences between the two kid-oriented fitness trackers in detail. However, for the sake of reader's convenience, we have delineated the key differences here.
Garmin Vivofit Jr.3 has a color display, is large in size and its design leans toward a smartwatch as opposed to the classic fitness tracker design of Fitbit Ace 2.
Fitbit Ace 2 is suitable for older kids (more than 7 years old), whereas Vivofit Jr. 3 is designed for younger ones (more than 4 years old)
Vivofit Jr. 3 is 5 gram heavy, and has a fixed coin battery type that lasts for an year. ACE 2 needs to be recharged after 5 days of regular usage.
Both of these watches are ATM 5 rated and are rugged in built-up. All the activities on both watches are designed while keeping the World health organization standard (WHO) of 1 hours of active minutes.
Their foremost advantage is that they take care of personal health and wellbeing of the kids by encouraging them to lead a healthy lifestyle.
Garmin Vivofit Jr. 3 Vs Fitbit ACE 2: Comparison Table
Features/Specs
Vívofit jr. 3
Fitbit ACE 2
Display Size
0.56″ x 0.56″ (14.11 x 14.11 mm)
0.72 inch touchscreen
Display Type
sunlight-visible, transflective 64-color memory-in-pixel (MIP)
Grayscale OLED
Weight
25 g
20 g
Call, Text, Email notifications
No
Yes
Battery
User Replaceable Coin Cell Type(CR2025)
Last almost an year
Lithium-iON rechargeable Lasts for 5 days
Activity Tracking
Steps, active minutes, sleep
Calories. + Steps, active minutes, sleep
Water Resistance
5 ATM Rated
For up to 50 m
5 ATM Rated
For up to 50 m
Build Material
Silicone and Plastic
Stainless steel and elstometer material
Frequently Asked Questions: Garmin Vivofit Jr. Fitness trackers
Is Garmin Vivofit Jr 3 Waterproof?
Yes, but up to a certain degree. Vivofit Jr 3 is ATM 5 rated so it can be submerged in water upto 50m in certain conditions. However, you should not test it below 5 m in everyday conditions.
What Is The Difference Between Garmin Vivofit Jr 3 And Vivofit Jr 2?
Vivofit Jr. 3 is the latest model. It is a little heavy and large in size. Not only that, it has better screen resolution and better screen type. Moreover, it can calculate distance travelled and has I.C.E Feature. All these improvements come at an additional cost of $10.
Does Any Vivofit Jr Tracker Have Gps?
Not even the latest model (Vivofit Jr 3 Fitness Tracker) comes with an on-board GPS. Rather, they rely on the accelerometer sensors to count step and distance traveled.