Snapdragon Wear 4100 Watches 2021
Last Updated on March 14, 2021 by Editorial Team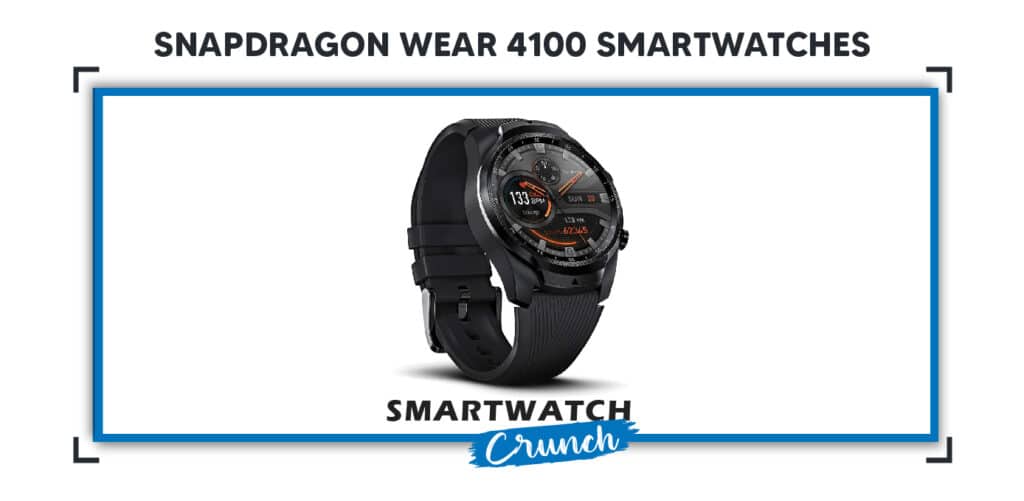 Towards the end of June 2020 Qualcomm released a pair of powerful processors for wearables: Qualcomm Snapdragon Wear 4100 & 4100+. Unsurprisingly, after almost two years, Qualcomm has rebounded with a powerful SoC and perhaps unwittingly to the rescue of the Wear OS platform.
Only If you own a Wear OS smartwatch, and have switched from an Apple Watch, you can testify to the lag in the performance of the former. Wear OS has been hindered by the slow, outdated Snapdragon Wear 3100 which can be ubiquitously found in the latest Fossil, Ticwatch, and Misfit smartwatch series.
With the latest Titans by Snapdragon, Wear OS has little to no excuse to lag behind.
Here, we intend to provide you a curated list of the best smartwatches with Snapdragon Wear 4100. To save you the suspense, there has been only one at the moment by a Chinese Affordable Watch Manufacturer Mobvoi: Ticwatch Pro 3.
However, there will be more watches in the future and as they would unleash, we would update this list of ours to fulfil the promise we made at the very start of this article.
If you are interested in confirmed smartwatches that will be equipped with Snapdragon Wear 4100 or 4100+ variants, we have got it covered for you.
Upcoming Smartwatches With Snapdragon Wear 4100 or 4100 Plus:
To the fan's dismay, Fossil announces Gen 5 LTE smartwatch, but with the same old processor (Wear 3100) One couldn't possibly accept this from a company that has committed so religiously to Wear OS. There are good reasons to believe that Fossil's Gen 6 series will be based on Wear 4100 which is expected to launch in mid or by the end of 2021.
A new children's watch from Imoo (which is owned by BBK Electronics, the same company that owns brands like OnePlus, Oppo, and Vivo) will join the race soon. As Oneplus has also confirmed a new smartwatch to be released in 2021, there are high chances that it will equip the latest Wear 4100; though not the Wear OS.

Mobvoi has already set the precedent with its latest Ticwatch Pro 3 last year. More to come this year too with the latest features and advanced computation power.
Best Smartwatches With Smartwatches With Snapdragon Wear 4100 or 4100 Plus
Features:
OS: Wear OS
RAM & Storage: 1GB & 8 GB
Processor: Qualcomm® Snapdragon Wear™ 4100 Platform.
Display: 1.4″ Retina AMOLED (454 x 454 px)
Watch Size: 47x48x12.2mm
Sensors: GPS, Blood Oxygen, Heart rate, Glonass+Galileo, Stress etc
Speaker and Mic: Yes
Battery: 3 days
Weight: 42.3 Oz
Water and dust Resistance: 10 ATM (up to 100m)
Color: Shadow Black
Strap Material: Silicone (Other bands are also available)
Connectivity: Bluetooth and GPS, 4G LTE
Review:
Ticwatch Pro 3 is an affordable smartwatch with a powerful hardware.
By walking through the features what would have probably gone unnoticed are the weight and the size of the watch. Ticwatch Pro 3 is undeniably a chunky watch which means that Mobvoi has not unleashed the full potential of Wear 4100.
Processor, Memory and Storage:
The processor was meant to reduce the battery consumption, boost the overall performance of the software (Wear OS) and to allow the watch to fit more and powerful sensors. A chunky design however defeats the purpose with the exception of one thing: boosted performance.
In Qualcomm Snapdragon Wear 4100, Google's Wear OS has found a match made in heaven. It fulfills the need for power-hungry software that has been on a descent for many years. Samsung, Fitbit, Garmin have long ditched the Platform for its sluggishness, but Mobvoi and a few others persisted. Time has come for them to get rewarded.
A powerful processor coupled with 8 GB storage and 1 GB memory enables it to deliver top-notch performance.
With Wear 4100 on its back, Ticwatch Pro 3 offers tough competition to the likes of Garmin, Suunto, Samsung that have fast, proprietary OS of their own. However, it still is no match for Apple's latest titans.
Screen & Battery Life:
Other than the processor, the watch has 1.4″ Retina AMOLED screen to offer a supreme resolution of 454 x 454 px. The always-on mode adds to convenience of users without taking a heavy toll on the battery life which on its best lasts two and a half days.
The watch literally has two screens: a monochrome screen that prolongs the battery life to more than 30 days, the other we already discussed above.
Fitness & Activity Tracking:
As you can guess from the available sensors, the watch can track sleep, stress, heart rate and blood oxygen. But the important question is? Does it track accurately? One is particularly skeptical about stress and sleep tracking, but the watch delivers on promise when it comes to heart rate tracking.
As far as the activity tracking or smartwatch features are concerned, the watch has a GPS and NFC for seamless position tracking and contactless payment. You can stream songs (on popular apps like Spotify) or store them on the watch.
Qualcomm Snapdragon Wear 4100 Watches: FAQs
How Fast Are Snapdragon Wear 4100 Watches than Wear 3100?
The company claims that Wear 4100 is 85 times faster than the predecessor Wear 3100 (Launched in 2018) thanks to 12nm process technology as compared to 28 nm in the previous one. It offers 1.7 Ghz Clock Speed.

We have only one watch to compare here, so a true comparison is not possible at the moment. But as confirmed by many users, the processor is halfway faster than what it claims on the product description.
We have dedicated a separate post to draw a comparison between Snapdragon Wear 4100 and 3100, but it is only meant for hardware aficionados.
What Is The Best Wear OS Smartwatch?
So far, the Ticwatch Pro 3 is the best Wear OS smartwatch as it is equipped with the latest Qualcomm Snapdragon Wear 4100 processor. It seamlessly runs Wear OS Apps of which the top titles are Google Assistant, Google Maps, and Google Pay.
As more watches join the competition this year (2021), we would revisit this article to update the answer.