The Cupertino-based tech giant has been secretly working on a TouchID button which would most likely be incorporated in the upcoming Apple Watch Series 7. The company is known for its groundbreaking innovations and one of the few companies that have managed to reign superior in the tech industry for all these years.
Since Apple Watch Series 3, the company hasn't introduced any revolutionary upgrades to the smartwatch. A couple of design tweaks (slimmer/lighter watches) plus the introduction of sensors already found on competitor watches years ago (SpO2, Altimeter, Compass) are not what we expect from Apple.
But Apple is not unaware of the fact. In a series of aggressive patent registration, Apple has been claiming one groundbreaking technology after another. One such feature is the TouchID button not so uncommon in Apple Devices, but for smartwatches, it would be the very first.
According to patently apple, an Apple-centric blog dissecting the company's latest Intellectual Property, the U.S. Patent and Trademark Office granted Apple a patent for the TouchID button for the future Apple Watch. The following illustrations would help you better understand its integration into the Apple Watch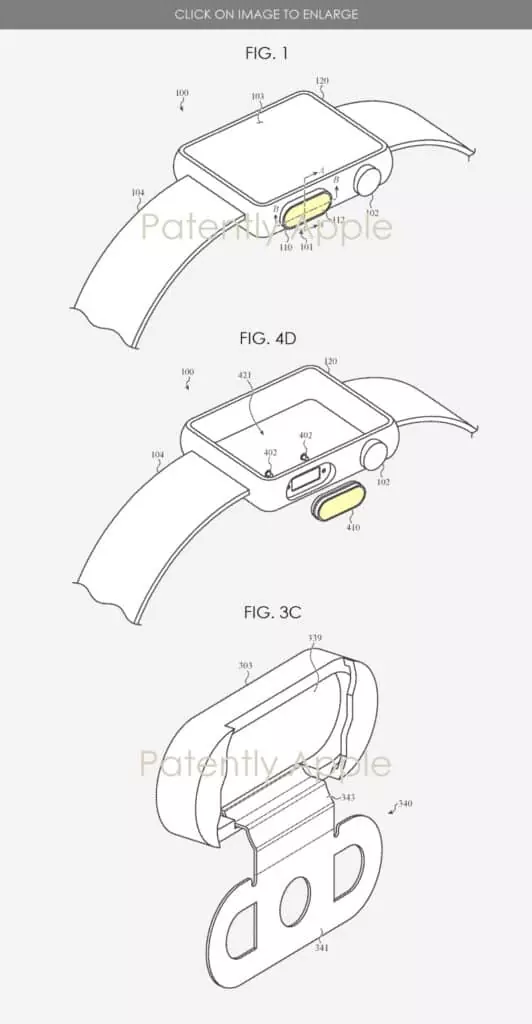 .
Apple's main challenge is to add the sensor without hurting the design of the watch. And also, the company would have to do so without compromising the already poor battery performance of its flagship watches.
The watch's powerful processor would do the biometric identification, and it would be by all means a seamless experience.
Biometric identification can be used for several purposes:
Application Authorization
Contactless payment via Apple Pay
User identification.
The sensor type is the same as you already have in the iPhone and IPad. The capacitive biometric sensor sense fingerprint characteristics of a user touch and give useful data points to the processor to decide whether to approve or disapprove the unlocking request.
Apart from the touch ID sensor, the company has also secured a patent for the screen camera for the same purpose. The sensor would make the identification a breeze. However, incorporating a face ID sensor in a smartwatch may not be as viable as the Touch ID button. We would have to wait for the Apple Watch 7 to find out.
While the Touch ID sensor would be welcomed and appreciated, Apple needs to do work on the basics like the battery life which remains to be the chunk in the armor of its otherwise powerful watches?