Virmee VT3 Plus Review (Fitness Tracker-Cum-Smartwatch)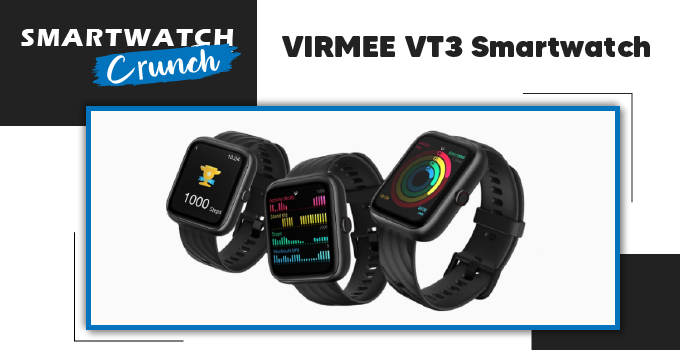 Virmee is a newcomer in the smartwatch industry and is struggling to gain a strong foothold. With its Virmee VT3 Plus, it has put to shame many expensive brands like Apple, Garmin, Suunto, and Fitbit. Why?
The smartwatch has been offering a ton of features on a very restricted budget. Surely, the features are so many that even if the watch lives up to half of its promises, it is a great watch. And it really does.
The reason Virmee VT3 Plus is so cheap at the moment has to do with the company's bid to outdo its competition by cutting down profits. Plus it is a Chinese smartwatch.  But to keep up with the competition and pour money into the latest features, they would have to raise the price. 
Anyways, while reviewing this smartwatch we don't expect it to be the best in all aspects. It claims to be a fitness tracker-cum-smartwatch so we will review it one by one as both. 
Kindly have a quick overview of the features before you get to the detailed review.
Availability & Features Overview:
Virmee VT3 Plus Fitness Tracker-cum-Smartwatch
8 new from $49.99
5 used from $43.78
Free shipping
as of March 6, 2021 4:10 am
Features:
Wireless Connectivity: Bluetooth 5
Battery Timing And Charging type: More than a week, Magnetic Charging (Fast)
Water and dust resistance: IP68 Rated
Display and Screen Resolution: 1.57-inch (square) &  360*320 HD resolution ( with 321 PPI)
Straps (Material, Width, length): 1 included (Silicone, 22mm, 136mm (8.78 in))
Weight: 35g (without strap)
Body material: Plastic
Compatibility: iOS(10.0 above) & Android(5.0 above)
Virmee VT3 Plus:Design
Display:
1.57-inch is a pretty big display for a smartwatch, but not too big to be uncomfortable. To preview notification and read full size email, this is just the ideal size. However, the watch doesn't support the aforementioned features at this point.
The touchscreen Display allows for easy navigation through the menu. The users are satisfied with this particular feature.
Resolution:
The TFT LCD display offers 360*320 HD resolution which is an appreciable feature, and an extraordinary one in a budget smartwatch. Also, there is one glitch in brightness. You will have a hard time viewing the watch in direct sunlight even on full brightness.
Straps:
The company is offering 1 strap with the watch. The strap is made of silicone and its size (mentioned above) is suitable for kids and adults. The watch is so comfortable that you won't feel anything wearing it all day long.
Shell material and Weight:
Watch shell is made up of plastic though it appears to be metallic like the Apple watch series. It weighs 35g, and can pretty much bear mild abuse.
Water and Dust Resistance:
Ip68 rating is all the proof you need for the smartwatch's reliability in resistance against water and dust ingression. The watch is completely dust proof, whereas it doesn't allow water ingression for up to 5m in water.
Virmee Vt3 Plus As A Fitness Tracker:
Heart Rate Tracking:
The best part about heart rate tracking is the accuracy, however it doesn't update data in real time. Users really appreciated the effort made by Virmee in presenting the data in an intuitive format on the format. (includes scatter plots and explanations)
Sleep Tracking:
The sleep tracking feature doesn't allow tracking custom sleep intervals. It tracks sleep in 4 different sections: total sleep, deep sleep, light sleep, REM sleep, awake time.
It also gives the reference value and suggestions to improve your sleep. A great feature to look forward to if you are facing problems related to quality of sleep..
Blood Oxygen Meter:
Although the SpO2 sensor is there, it is not very accurate. The measurements for Oxygen saturation were well outside of the ballpark when compared to standard equipment, many users testified.
Stress Status:
There is no way to assess the accuracy of data. It shows the stress status on a scale of 0-to-100 and recommends you several tips to get a hold of your mental stress.
Breath Training:
Along With 18 different sports modes, it offers breath training for users. Be mindful of the fact that this mode would be a heavy drain on the battery.
Virmee Vt3 Plus As A Smartwatch:
Notification Alert:
The smartwatch shows you notification from your social media apps and notifies you about incoming calls and sms. You can preview the messages right on your wrist, but to respond to them you would have to take out your smartphone.
Fortunately, Virmee VT3 smartwatch has a don't disturb notification alert.
Set Events, Timer, Or A Stopwatch:
These features are commonplace which you would find in almost any other premium watch. But to have them on a low-budget smartwatch is the extraordinary thing here.
Flashlight:
When needed, this watch can turn out to be a handy flashlight. Not the features you find in smartwatches every now and then.
Virmee VT3 Plus Charger And Battery Life:
The best part of this watch is that it takes about 1.5-2 hours to fully charge. It supports magnetic charging, however, users found it really troublesome with its short wire of dock and loose fitting.
On a single charge, it lasts 7 days on regular use and 15 days on a standby time. Decent battery life, isn't it?
VIRMEE APP:
The Virmee App is intuitive and works with least glitches. Vimree VT3 Plus has done a great job in delivering a great hardware, software pair. Also, it is compatible with Google Fit app.
The user interface of Virmee Appis not up to par with premium Apps (let's say veryfitpro), but that should not be a dealbreaker.
Compatibility:
Android phones, especially Google Pixel phones, offer the best compatibility. It supports Android 5.0 or above. LG watch users should be wary of its notification alerts which glitches more often than not.
Though it supports iOS(10.0 above), you won't get all the features as it is not fully compatible with Apple smartphones.
Final Verdict:
We hope you get the most out of this Virmee VT3 Plus Review.
In a nutshell, the watch claims to offer features that seem preposterous given the price point. But it does deliver on its promise especially when battery life, heart rate monitoring, Comfortability is concerned.
As a whole the watch is still underrated for the firework it offers, and in our personal opinion, highly undervalued for what it is offering.