In this VTech smartwatch review, we will zoom in on the most popular smartwatch among kids. Vtech KidiZoom DX2 smartwatch succeeded KidiZoom DX smartwatch and therefore a comparison of both is a must.
For your convenience, we will try to keep this review concise without missing out on important details.
Vtech is a popular brand among kids and almost all of their products are marketed for 4-12 years old. Likewise, this smartwatch is designed for children under 12 years old.
Disclaimer: If you buy through affiliate links on this article, we may earn a commission without any additional cost to you.
Features:
Alarm clock
Calendar
Timer
Photo effects and frames/filters
Voice Recorder
Voice Distortion Effects (Fun feature)
100+ games
Educational Vtech Library Access
Learning Lodge for eBooks etc…
Motion sensor
Pedometer
More than 55 changeable watch faces (selfies or photos also possible)
Easy-to-use touch screen
Dual cameras
Built-in rechargeable battery with included USB cable
256MB of internal memory
Splashproof (Don't submerge in water)
3 months warranty
Design And Colors:
This smartwatch has all that we can expect from a kids-oriented watch. It has a chucky dial and a funky overall design.
1.44-in square screen is touch enabled and has a color display. The screen size is large for easy navigation through the menu.
The strap is non-removable but is soft and comfortable. Your kid(s) can wear it all day long without hurting their wrist. But they have to take it off while washing hands or bathing as the watch is only splash proof.
It is available in a great variety of colors: Black, Blue, Camouflage, Pink and Purple. You can guess by the selection of color choices( Bright and Lively) that kids are going to love the watch.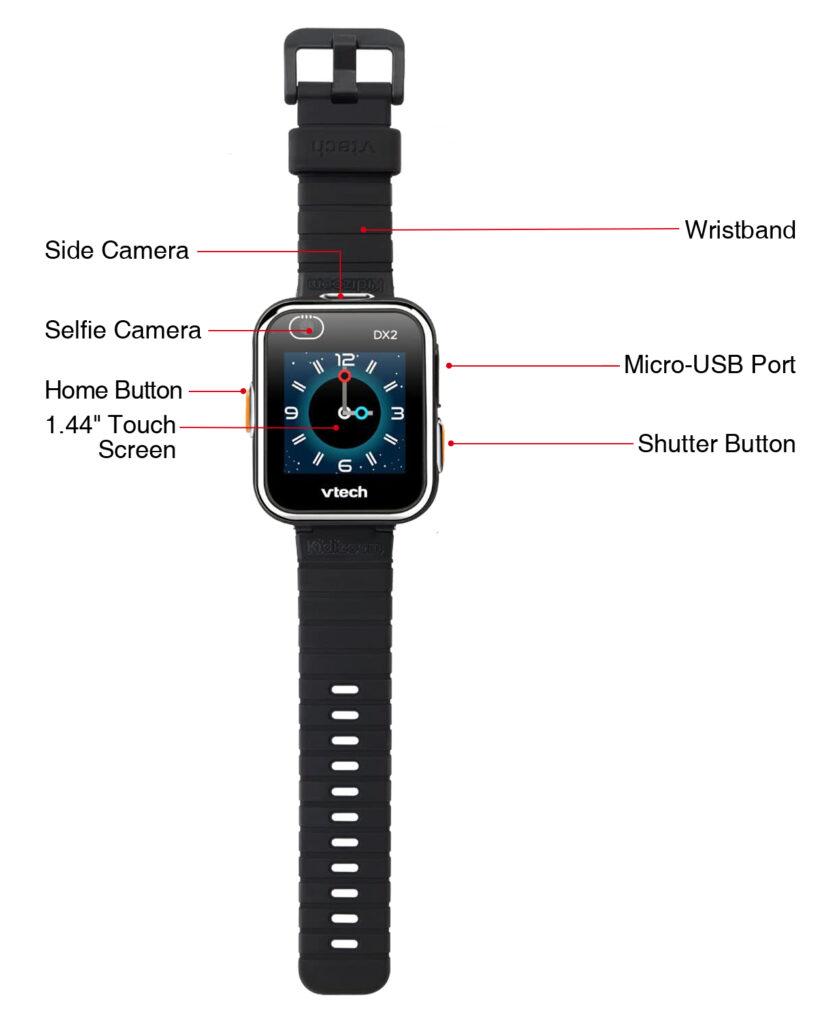 Games And Storage:
DX 2 is more of an educational and fun smartwatch. You can transfer games from your PC to the watch as it has 256 MB storage. There are more than 55 watch faces to choose from, and it supports a timer and alarm.
The storage is enough to carry around 1500 images and more than 25 minutes of recording.
Camera:
The watch has a large screen. And, it has 2 cameras: one is on the front and the other on the side. Both are 0.3 megapixels and can take pictures up to 640 x 480 pixels max resolution.
Photos taken are saved in watch memory and need to be manually uploaded to the computer. They are of standard JPEG format.
To add flare, kids can choose from a number of different effects and filters.
The Vtech Kidizoom can record videos of 320 x 240 pixels for a maximum of 1 minute. Recorded clips are in the AVI format (Motion JPEG).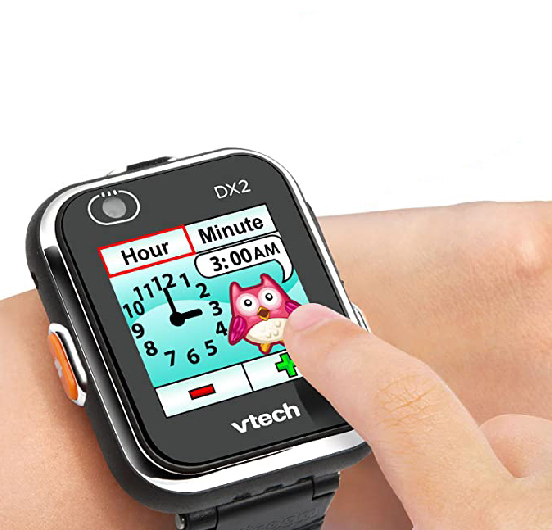 Parental Control:
Parents can set the game time limit per day for their children. This Parental Control is mainly designed for those younger kids that cannot read. Parents need to follow the instructions to enter the menu.There are a few options for the game time limit per day.
After a time limit is set, the time spent playing the game will be counted. Once the time limit is reached, your child will be unable to enter the games until the next day.
Games:
While there are hundreds of interactive games available on the watch, we will mention only three here given the scope of this review.
Racing Run: The character on the watch will run as your kid runs and will try to keep up with him/her.
Crazy Dance: The character dance and mimic dance step of your children though not perfectly.
Funky jump: As the name suggests, the character on the watch jumps as your kid jumps and will catch up with the pace.
Many of these games are oriented to keep your kids active and healthy, but some are meant for educating them.
Battery and Charging
DX 2 has a polymer battery which is supposed to last for three days as by product labelling. But as we dig deeper into the customer reviews while compiling this VTech Kidizoom smartwatch DX2 review, we found out that the watch fell short of its promise.
Battery lasts for only 1 day with heavy use. And unless your kid hates it, the watch won't last three days on his/her wrist.
There is a micro Usb cable included with the packaging. You will have to buy a separate adapter, or use any USB port to charge the watch. The watch takes 3 hours to fully charge.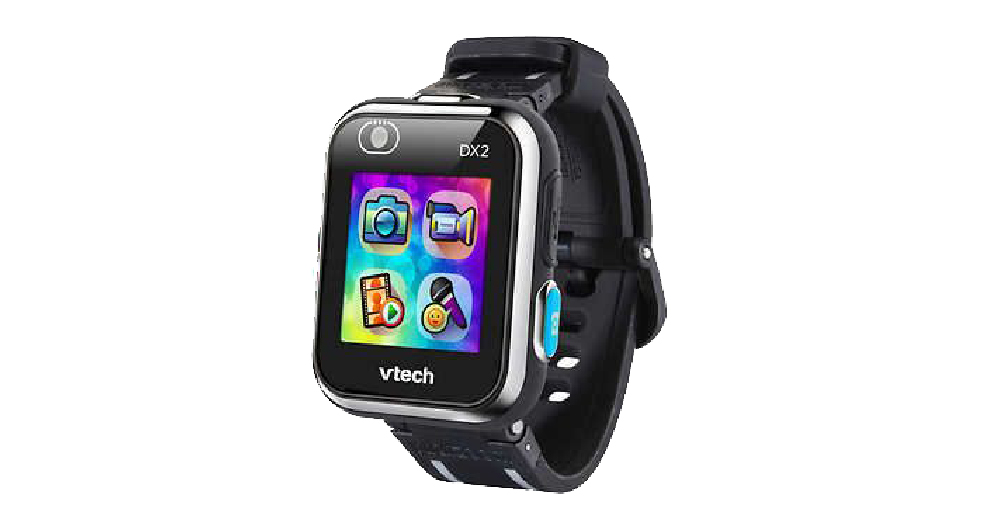 Drawbacks:
Kidizoom DX 2 doesn't receive calls/text messages, or it cannot be connected to the smartphone via bluetooth or Wifi. Also the watch doesn't have a GPS, so you cannot keep track of your kid's location.
However, for the money you are gonna spend on the watch, the lack of above mentioned features should not be a deal breaker.
Value for Money
Vtech Kidizoom DX2 falls under $60 smartwatches which in our opinion is extraordinary. The watch offers a great value in thousands of educational tools strategically designed for children. It is comfortable and cool-looking.
Vtech has delivered its best, but if it could have added a GPS feature in the watch even raising price a little, it would have been a complete kids watch.
The reason parents usually buy smartwatches has to do with parental control. They want to keep track of their kids and therefore GPS enabled watches makes a likely preference.
Vtech Kidizoom Smartwatch DX 2 Manual:
You can download the manual by clicking here. You will also get a copy with the packaging of the watch.
Final Verdict:
We hope that this Kidizoom Smartwatch DX review has answered all your queries about the watch. It was an instant hit when it was first released years ago, and till now, there are thousands, if not million, of satisfied customers on its back.
Unsure if the VTech Kidizoom is worth buying?
Vtech is a pioneer in the child entertainment industry, so be carefree of the quality and durability of the watch.
If you are confused between two choices Vtech DX and DX2, we would recommend you the latter. DX 2 has improved on the design of its predecessor, is a little thinner and has a seamless display.
Other improvements include two cameras, splash proof display and availability of different colors. And on the top of that, Vtech has managed to keep the watch under $60. We think it is a great deal.
If you find this Vtech smartwatch Review Lacking in any aspect, make sure to reach out to us. We strive to provide you the most authentic and valuable information online.
Vtech Kidizoom DX 2 vs DX: Comparison Table
As both these smartwatches are almost identical, we have added only those features in which Kidizoom DX 2 is superior to Kidizoom DX.
Preview
Preview
Preview
Vtech Kidizoom DX2 smartwatch vs Garmin Vivofit Jr. 3
Garmin Vivofit Jr 3. Is a fitness tracker and if you are interested in one, this guide can be a great help.
While both these devices are marketed for kids, Garmin Vivofit Jr. 3 is compatible with both Android or iOS and DX2 is not. It has a long battery life of 1 year, and has a premium build quality. Plus, it is waterproof up to 5 ATM.
Comparing these two devices is comparing Apple and oranges. Though they share the goal of helping parents in child rearing, they both do it in different ways.
DX 2 smartwatch has cameras and fun games right on the device for your kids to hone their photography skills and educate themselves. Whereas, Garmin Jr. 3 is more focused on instilling positive habits into kids so they can lead a healthy life.
Vtech Kidizoom DX 2: Frequently Asked Questions
What To Do If Vtech Kidizoom Smartwatch DX2 Won't Turn On/ Charge?
There is a master button at the back panel of the watch that needs to be turned on before you can do anything. It can be easily done using a pin. The watch would neither charge or turn on without it.
Vtech Kidizoom Smartwatch Dx2 Make Calls/Text?
No, it doesn't. As a matter of fact, it doesn't even connect to the smartphone via bluetooth or wifi.
The only way it interacts with external devices is while transferring games or data. You will have to manually connect it to the PC via USB cable to transfer games.
Is Vtech Kidizoom Dx2 Waterproof?
No, it isn't.
But it is splash proof, so your kid can use it while playing in the rain or washing hands. But the second it is submerged in water, you will lose your $60.