On the first of December, Wyze took the world by surprise when it offered its very first watch for pre-order. As I write this article, more than 40,000 watches are ordered and are currently out of stock.
What was special in this watch that took the internet by storm?
As you can guess by the title, the watch is offering blood oxygen monitoring, sleep and step tracking, plus heart rate tracking for just $20. Tell this apple watch users, and they would make a laugh at it. Why not as they have bought an overpriced watch for these sensors.
If it managed to deliver on its promise, Wyze watch would be the cheapest fitness tracker in the market. It will also help the company to expand its clout of home techs devices and services.
Let's take a look at the top features.
Disclaimer: If you buy through affiliate links on this article, we may earn a commission without any additional cost to you.
Features & Specs Overview:
Colors: 5
Battery Life: 9 days
Charger: Magnetic Type
Wireless Connectivity: Bluetooth 5.0
Display Size: Two sizes (1.75-inch, 1.4-inch)
Display Type (Resolution): LCD Touchscreen (320×320)
Shell Material: 6061 Grade Aluminum (lightweight)
Band Material: Silicone, Leather bands are available too
Sensors: PPG Heart Rate Sensor, Blood Oxygen Sensor, Accelerometer
Display Size:
Surprise, surprise, surprise.
The smartwatch comes in two sizes, both by the standards of modern smartwatches. Wyze has mischievously stated that on their official site:
"Size matters when it comes to a smart watch screen."
44mm Wyze Watch has a 1.4-inch LCD display with a resolution of 320 x 320. Whereas, The 47mm version has a 1.75-inch LCD display with a resolution of 320 x 385. Both have 16MB storage.
With such a huge size, you can read email previews, texts, and other notifications with plenty of space and ease.
Build Quality:
You might be wondering that Wyze must have cut corners in the material to keep up with the slashed price. Well, you are just wrong.
Unlike plastic material found on many cheap smartwatches these days, you will get 6061 Grade Aluminum. From bezel to band, the watch has a metallic build.
It is super lightweight(Weighs only 40g) . You probably won't feel it on your hand.
Moreover, Wyze Watch comes with a comfortable silicone strap, but you can switch to a leather strap or silicone band to better match your personal style. A personalized band can cost you $12 more. There are many options available on the website.
Wyze Watch As a Fitness Tracker:
Heart Rate tracking, Step Tracking and Even Sleep tracking is nothing out of the ordinary for a Cheap watch. But to track it accurately certainly is.
However, offering Blood oxygen tracking in a $20 Smartwatch is mind boggling. Wyze claims the watch is equipped with premium technology (crystal glass casing & a pair of infrared LED clusters) to monitor 24/7 blood oxygen.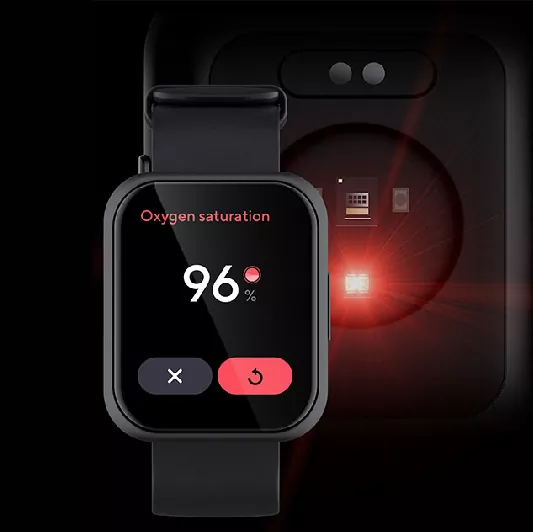 Fingers crossed for the first batch of the smartwatch to be delivered, so we can comment on its efficacy.
By its labelling, it is surprising to know that the watch will offer valuable insights of one sleep. You can check your sleep duration, depth, and position once you wake up. We hope that it is presented in an intuitive way on the proprietary app.
In addition to this, the watch can also keep track of menstrual health ( Feature exclusively for female users) It will allow you to check the stage of the cycle and note down upcoming dates.
Wyze Watch As A Smartwatch: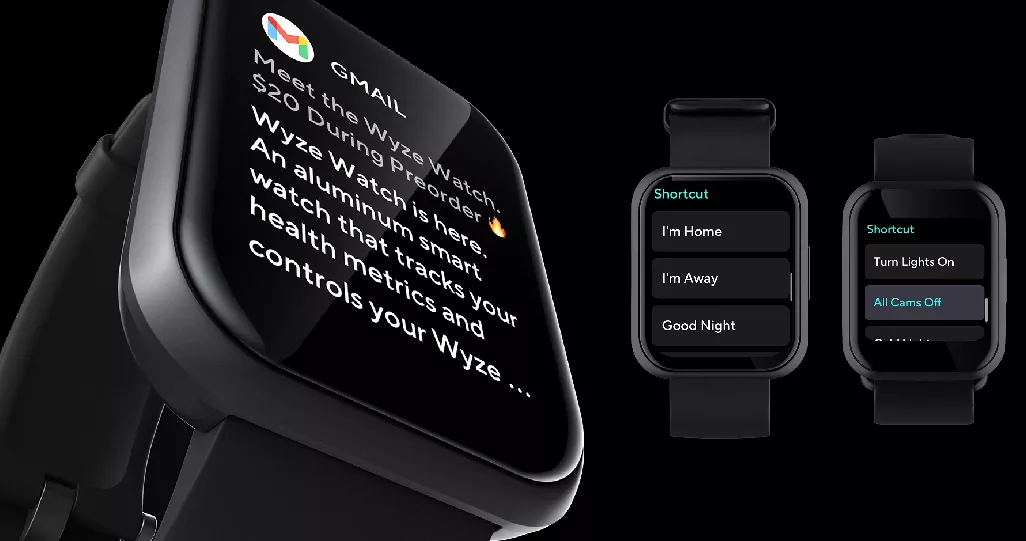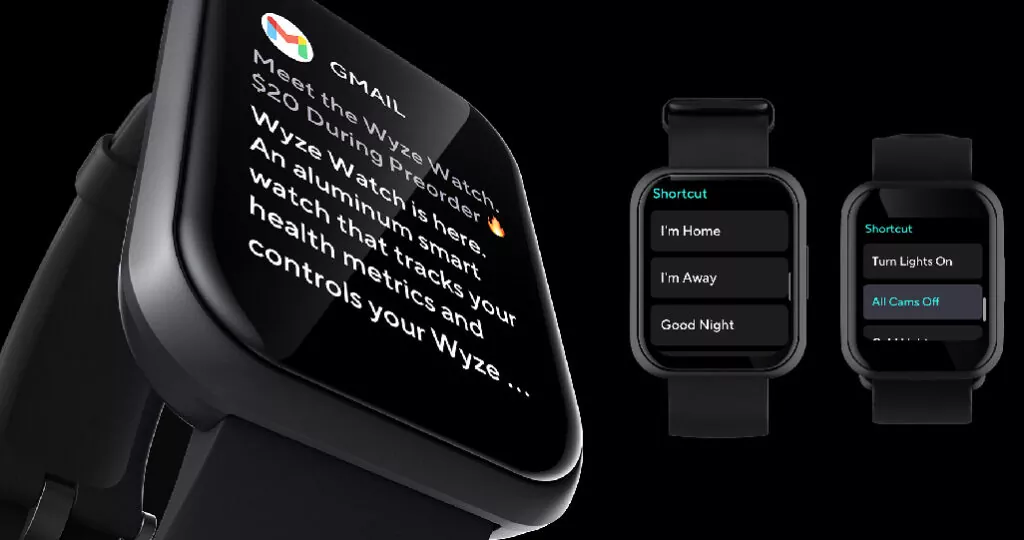 It has all the bells and whistles of a regular smartwatch. Notification alert for texts, calls, social media notification and emails is there for your convenience. But it is not only alert, it shows a large detailed preview of the notification on its 1.75-inch screen.
You cannot reply to messages or attend calls on the watch, but you can surely reject calls right from the watch.
In addition to this, you can control the Wyze ecosystem through Wyze Shortcuts on your watch. Really a smart move by the company to market its key subscription side of business. You will be able to control the Wyze lights and Camera, but that control will be limited to a few commands.
You will have the liberty to customize watch faces to your style using unique combinations of background images, clock styles, and colors.
Battery Life:
Yet another surprise awaits you: Wyze watch is boasting 9 days battery life on a single charge.
The 44mm version is equipped with 240 MAH battery, whereas 47mm is equipped with 300 MAH. Both take almost 2.5hours to fully charge.
Wyze Watch supports Magnetic Charging and the box comes with a 70cm cable.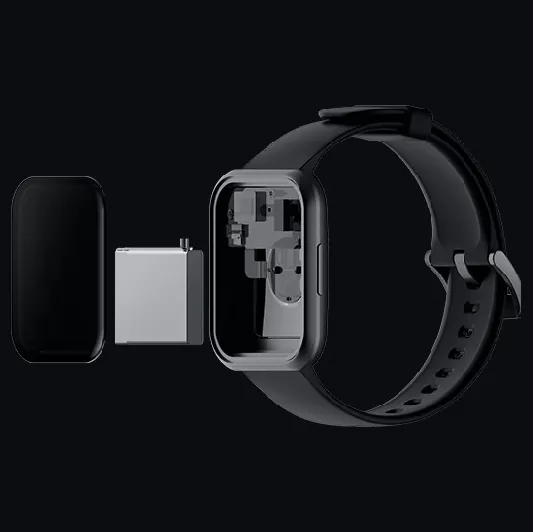 Wyaze Watch Waterproof?
The smartwatch is IP68 rated and as claimed by the company can remain submerged under water for up to 2m (30 minutes duration) But it is a very safe estimate.
You can submerge it below 2m ( however for short duration) For practical purposes, you can swim and bathe without taking off the watch.
Wyze Watch is air tight and it means ZERO dust ingression.
Wireless Connectivity:
Wyze Smartwatch uses Bluetooth 5 to connect to the proprietary app. For further interactions, it uses the Wifi and cellular of your phone.
Wyze Watch vs Apple Watch Series vs Fitbit Versa Vs Amazefit Bip?
To draw such comparisons is like comparing Apple and Oranges. The thing special about Wyze watch is not that it might beat Apple Watch or Fitbet Versa in fitness tracking. But the fact that it is offering expensive sensors in such a shoestring budget is shockingly worth appreciation.
However, in design Wyze has an eerily similarity with Apple watch. It seems like Wyze hasn't tried to be original with the design and followed the footsteps of Giants like Apple for successful models.
And if, against all odds, it managed to deliver quality in terms of accuracy and precision of data, and the watch is backed by a decent that shows meaningful data, it will put a serious dent in the Apple and Fitbit market.
Amazfit would be surprised to have a US brand competing with it in the budget smartwatch market. Wyze Watch might neutralize the key advantage of Chinese manufacturers: Cheap price for powerful features.
Wyze Watch vs Wyze Band, Which One Is Better?
Both the band and the watch are dirt cheap, but the Wyze Watch would add more value to your life.
It has advanced smartwatch and fitness tracking features that make it a clear winner in the competition.
We couldn't argue if you prefer a band over a smartwatch. It is your choice to make. However, in direct competition, the smartwatch is downright the better option.
Frequently Asked Question:
Who Is Behind Wyze Watch?
Wyze Labs is founded by former Amazon Employees: Dave Crosby; Elana Fishman; Dongsheng Song; Yun Zhang.
The Seattle based company manufactures home tech (cameras, locks and thermostat) and their recent maneuver into the smartwatch niche is with Wyze Band which stood head to head with the fitbit charge tracker. The fitness tracker was a major hit in the market.
Is The Wyze Watch Compatible With Wireless Charging?
No, Wyze Watch uses a magnetic charger. It takes about 2.5 hours to charge from 0 to 100.
Do The Different Sizes Of Wyze Watch Use Different Straps?
The straps are the same for both the 44mm and 47mm Wyze Watch.Both sizes of Wyze Watch use 22mm quick release watch straps.
The included strap is made of silicone. A genuine leather strap and additional silicone straps are also available for purchase separately.