ID206 is the same smartwatch that is being sold under different brand names across the world. In the US, you will find it under the Letscom banner, whereas in the UK, YONMING is the company that deals in the ID206 smartwatch.
Apart from Letscom, ID206 branded smartwatches are being sold by these companies:
JIKKO
VIGORUN
LIFEBEE
EEFINITE
DOOGEE
TRYING
YSNJG
I have reason to believe that this watch is a knock-off version of the premium Apple Watch as it unashamedly apes the latter's looks. Most probably, it is being manufactured in China and sold across the world under different brand names.
Just to make it clear, I have nothing against Chinese companies that are legit. Amazfit & Ticwatch are two of my favorite brands that deal in smartwatches and fitness accessories. Though even these brands copy (or to put it politely, take inspiration from) brands like Samsung and Apple, I love them for their affordable price points and the value they add.
In sharp contrast, products like No products found. are being sold at such a cut-rate price that it makes me highly doubt their claims. 14 sports mode, 5 ATM water resistance, Heart Rate and sleep tracking all offered in about $50, incredible isn't it? To put things in context, you pay nearly 10 times the money on Apple Watch to get the same features.
To find out if the watch is boasting more than it delivers, you will have to read this YONMING (ID206) Smartwatch Review. I don't own the watch myself but have researched deeply about it. I will share the resources with you if you are interested.
Let's take a look at the features and specs to get an idea of (ID206) Smartwatch capabilities and strengths.
Features & Specs:
1
Compatibility: iOS 8.0 / Android OS 4.4
Companion App: Very Fit
Dimensions: 12.07 x 4.38 x 1.1 cm
Display: 1.69" TFT Display
Weight: 45g
Colors: 5 Colors
Water Resistance: 5 ATM (up to 50m)
Strap: Silicone 23mm (Replaceable) | Length:150mm-250mm
GPS: NO
Fitness and Health: Heart Rate, SpO2, and Sleep Tracking
Voice Assistant: ALEXA
Connectivity: Bluetooth 5.0
Battery Life: 10 days, Magnetic Charger
Design & Display:
No products found.
No products found.
This smartwatch has a polycarbonate plastic casing with aluminum around it. A square design like the Apple Watch, large and thick perfectly suitable for big wrists, the watch is very similar in looks to the Amazfit GTS 2. What I didn't expect and find very impressive is the rounded edge screen that gives it a premium look.
It comes with a silicone strap, the baseline for smartwatches in this budget. The 23mm strap is replaceable, and there is a quick-release mechanism that makes interchanging bands a breeze. You will get only one band with the watch and have 5 colors to choose from.
1.69-inch TFT display dates back to 4-years old pebble watch which offers passable screen resolution. You can view limited metrics in a single view and would have to navigate a lot to find the desired widgets.
Though I didn't expect the Always-on Display feature, an ambient light sensor to automatically adjust screen brightness would have certainly won my favor. However, the screen is bright enough to view in outdoor and indoor settings.
Though I haven't tested it myself, numerous sources claimed that this smartwatch has a fiddly touchscreen. A feature is not uncommon in low-budget smartwatches. It has a side button that resembles the crown of the Apple watch but doesn't do the same functions.
Overall, I am satisfied with the design and display of the smartwatch which in my view is justified to not have bells and whistles in this price range.
Navigation:
The user interface of the watch is pretty simple. Swiping up would lead you to shortcuts where you can adjust brightness and turn of notifications among other things. A long press of the side button will take you to different watch faces to choose one of your likings. Swipe down, and you will find the notifications from your smartphone.
As you swipe to the left, you would come across heart rate tracking, SpO2 measurement, stress, and sleep tracking in order. A single press of the button will take you to the most-used apps. Simple isn't it.
I hope this resource will help you to find and make use of all the widgets.
Fitness and Health Features:
The smartwatch offers a plethora of health features like heart rate, sleep, and stress tracking. Another great addition is the SpO2 sensor which becomes relevant in the post-COVID years. Last year, Apple made a big fuss about the blood saturation tracking on the release of the Apple Watch Series 6, and here we have this on a device in about 10 times less the budget.
The heart rate tracking is continuous and is a little off when compared to premium watches. The same is true for stress and sleep tracking. SpO2 tracking is on-demand and is not very accurate on the first try.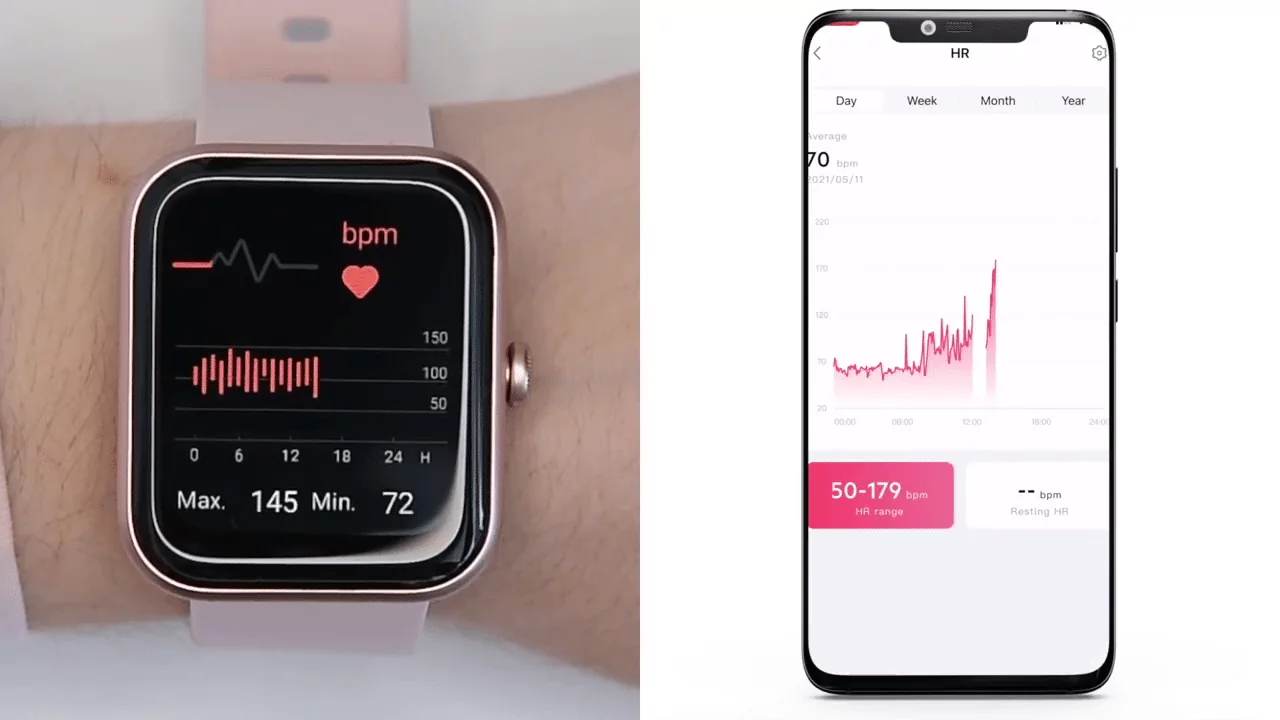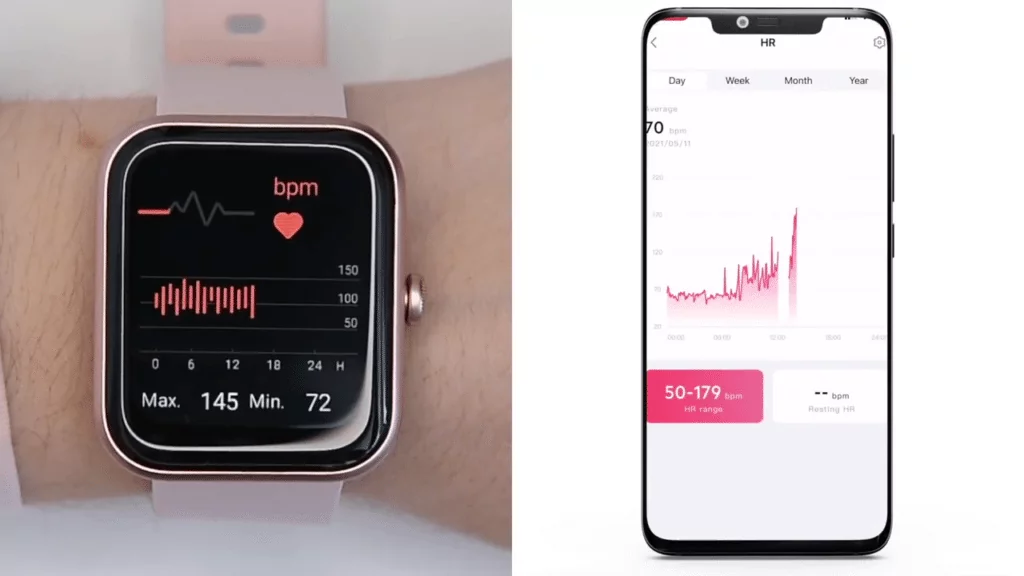 No products found.
The watch doesn't have a built-in GPS, and you need your phone connected to it all the time so the smartwatch can piggy bank on the phone's navigational capability. Without its GPS, the data for most of its 14 sports features is unreliable.
Smartwatch Features:
Let's find out the smartwatch features this device doesn't have.
You can't reply to texts, answer calls, or make contactless payments
Third-party app support? Nope.
Music storage and streaming? Nada.
Wi-Fi for Fast data transfer? You get only Bluetooth connectivity
Cellular connectivity for standalone experience? There isn't any.
To be realistic, you should never expect these features from a low-budget watch like ID206. For a watch to offer all these features, you must be ready to fork out at least $200.
Now, let's see what you get in terms of smartwatch features.
A voice assistant (ALEXA). It takes voice commands and returns answers in text format. (there is no speaker) You can control IoT devices right from your wrist. Keep in mind it would take several seconds to respond. So you would have to be patient. The watch would have to be connected to your phone which in turn should be connected to the internet.
On the watch, you get weather, alarm, and timer widgets.
You can control music on your phone.
Notifications and incoming calls on your phone can be previewed, but you can't do anything but delete and reject them respectively. It vibrates to notify you about notifications on your smartphones and gives you a short preview of incoming messages.
I find them impressive in this price range (about $50).
Companion App: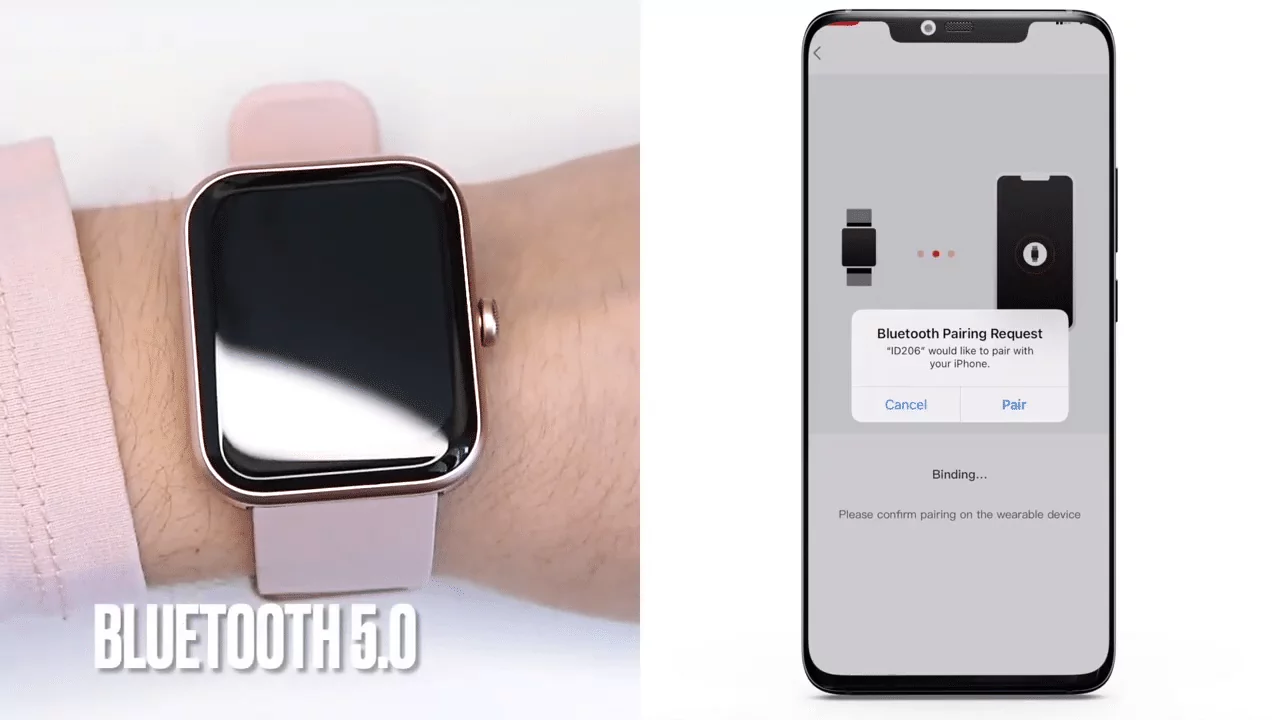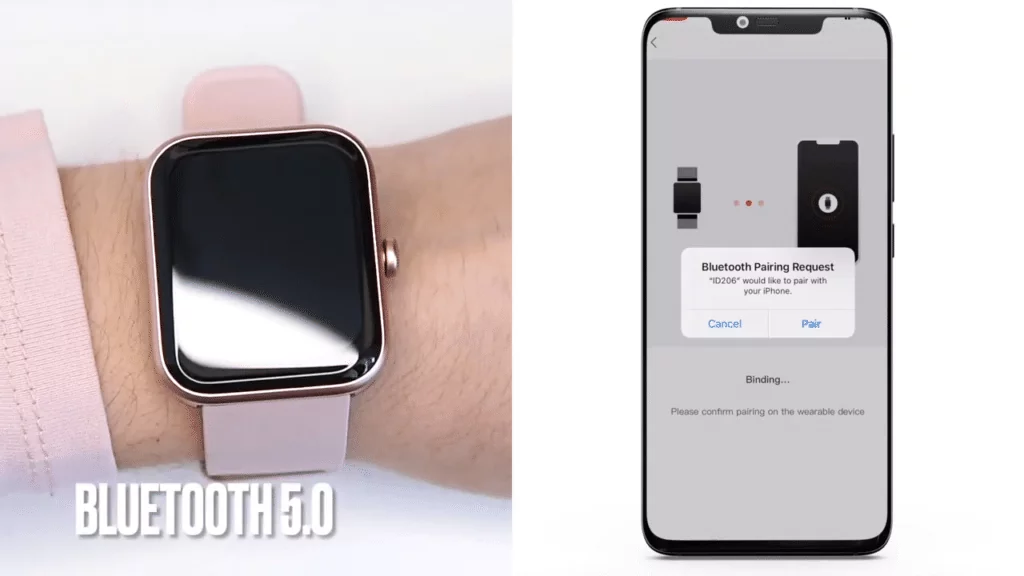 The companion app name is named VeryFit, and the company specifically mentioned to not confuse it with VeryFitPro. (The companion app for Virmee smartwatches, a company of similar caliber)
The smartphone app is pretty generic and you can sync other low-budget compatible watches with it. Integrating the watch and phone is quite easy. Just navigate to the 'Device Section' and add a new device, the app would request you to turn on the Bluetooth, and will take a few seconds after that to find and link the device.
On the companion app, you will be able to analyze your fitness and health metrics displayed on a large view. You can set goals and rewards, and can sync your data to Starve. There is also an option to sync your Alexa account.
Though it doesn't seem exciting at first, the custom watch face feature is pretty exciting. You can load new watch faces on the smartwatch, plus pictures from your phones.
No products found.
Battery Performance & Charging: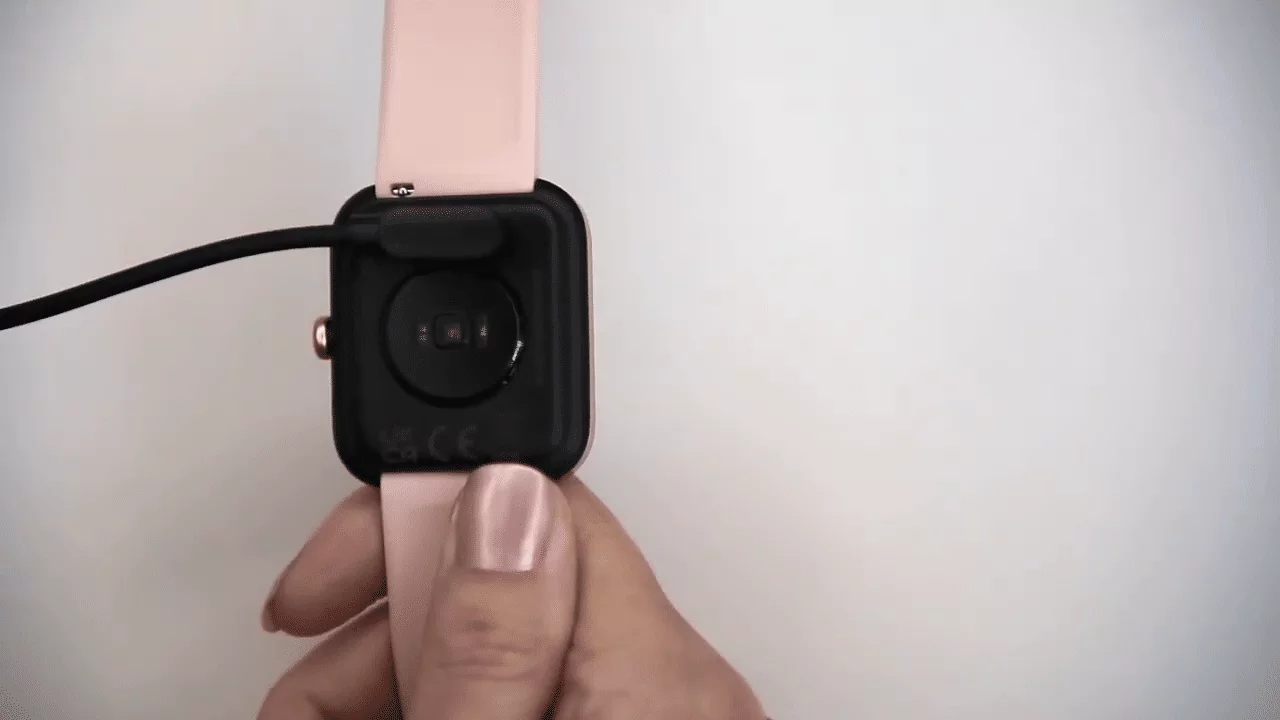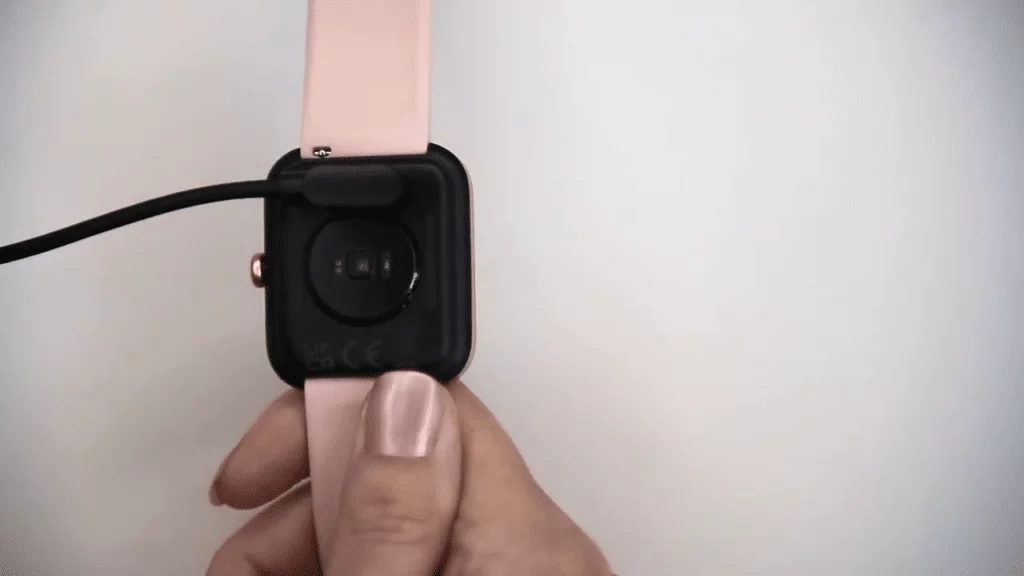 This smartwatch doesn't have a built-in GPS, can't take calls and send text messages, is not equipped to store or stream music, and lastly, it has a pretty ordinary TFT display. As a trade-off of these features, YONMING Smartwatch offers its users 8-10 days of battery performance.
Well, in my view any decent smartwatch can extend its battery life to such length if it is not being bogged down by battery-killer features.
This watch comes with a magnetic charger that sticks to the plugs at the back at one end and enters the standard USB port at the other. It takes almost 2 hours of charging, but the best part is, you won't need it very often. However, if you are looking for a smartwatch that charges fast (Apple Watch Series 6 charges in 90 minutes, MOTO 360 3RD Gen, Garmin Venu 2 takes almost the same time), you will have to pay the top dollars for it.
Verdict:
For a cheap smartwatch, YONMING (ID206) Smartwatch fits the bill. To me, the biggest selling point of this watch is the Alexa integration, that features impressed me even though there is no speaker on the watch to read out the results. I would certainly love the idea of controlling IoT devices right from the wrist.
Other notable features that make it a compelling choice include long battery life, large display, water resistance, and health tracking. I vouch for them. However, if you are looking for advanced fitness tracking on a budget, this may not be the right watch for you. I would recommend Amazfit T-REX for it or GTS 2 mini, both of them are affordable options.
I hope you get the most out of this YONMING (ID206) Smartwatch Review. Do share with me your experience in the comment section, if you are planning to buy this smartwatch or own one.