In this comparison of Alpine Loop, Trail Loop, and Ocean Band, I've decided to take a rather unique approach.
I am going to read 5 expert reviews on these Apple Watch Ultra (AWU) bands and share their findings with you. Here is how it is going to be.
A link to the original post or video.
Followed by a juicy bite-sized summary of the expert findings.
You can say I am doing this because I don't have access to these premium Apple Watch Ultra bands. Yes, you are right. Also, it is a part of internal research that I often do so I can share the most valuable information with my readers. However, this time, I have decided to make it public.
Let's dive in.
Alpine Loop Wins for DCrainmaker for its aesthetic appeal:
My first feature is DCrainmaker.
DC Rainmaker, aka Ray Maker, is the go-to guru for all things sports technology. I have been reading this in-depth blog on GPS watches for years now, and he is a sort of inspiration for me.
He has written a detailed blog on these Apple Watch Ultra bands, and I love his personal touch. There is also a detailed video that you can find below.
Here is a link to the complete video:
Key Findings:
Ray maker found the Alpine Loop to be the most visually appealing of the three straps.
Trail Loop is his favorite for wearability, ease of adjustment, and practicality. However, it lacks the visual appeal of the Alpine Loop and is unsuitable for high-impact water sports.
This one is a no-brainer. Ocean Band is specifically designed for water activities, does not retain water, and can be worn over wetsuits. Ray maker's least favorite in terms of comfort and appeal.
Ray makes a point of finding the correct size and fit for each strap, as it impacts comfort and the accuracy of heart rate sensor data.
Here is a more detailed and quick breakdown of his findings.
| Feature | Alpine Loop | Trail Loop | Ocean Band |
| --- | --- | --- | --- |
| Adjustability | Moderate (hook/loop) | High (Velcro Strap) | Low (Metal clasp) |
| Comfort | Moderate | High | Medium |
| Water Retention | Moderate | High | Low |
| Available Sizes | Small, Medium, Large | Small, Medium/Large | Single Size |
| Size Available | Small: 130-160mm wrist Medium: 145-190mm wrist Large: 165-210mm wrist | Small: 130-180mm wrist Medium/Large: 145-200mm wrist | One Size: 130-200mm wrist |
| Color Options | Orange, White (Starlight), Green | Yellow/Beige, Black/Grey (with orange accent), Blue/Grey | White, Yellow, Blue |
| Price of Extension Strap | N/A | N/A | $49 |
$99 Price Tag is too steep: TheVerge
In a Verge article, Victoria Song reviews the three Apple Watch Ultra straps – Trail Loop, Alpine Loop, and Ocean Band. She actually spent some time with each of these bands and has some useful insights to share.
Here are some of her key findings:
She claims that about 90% of the time you are going to wear your Apple Watch Ultra in your daily routine. That means whatever strap offers more comfort should be your top choice.
Unsurprisingly, the Trail Loop is her recommended choice due to its comfort, breathability, adjustability, and lightweight design.
She cast the vote in the favor of Alpine Loop for outdoor activities. To back it up, Song (rightfully) claims it offers extra security with its G-hook, but it can be difficult to take off quickly.
The Ocean Band, with its fashion-forward look, is ideal for divers and swimmers. However, Song warns points out some interesting drawbacks: single size, finicky clasp, and polarizing design.
Victoria suggests that if the $99 price tag for additional straps is too steep, third-party bands offer more affordable and diverse options.
| Feature | Trail Loop | Alpine Loop | Ocean Band |
| --- | --- | --- | --- |
| Comfort | High | Moderate | Moderate |
| Material | Stretchy nylon weave | Double-layered textile | High-performance elastomer |
| Adjustability | High, easy with velcro | Medium, G-hook can be a pain | Low, finicky removable clasp |
| Breathability | High | High | Low |
| Weight | Lightest | Similar to Trail Loop | Heavier than Trail Loop |
| Water Resistance | Dries quickly | Better for rain and elements | Waterproof |
| Visual Appeal | Low | High | High |
The Trail & Alpine Loop get grubby more often: TomsGuide
In Tomsguide take on Apple Watch Ultra Bands, Jane McGuire accurately identifies the use cases of these bands, rank them in the comfort department, and provides valuable insights into their pros and cons based on her personal experiences.
She favored the trail loop for its comfortable and lightweight design but has her fair share of gripes. 'The trail loop gets grubby and stays wet after water exposure.'
In her opinion, the Ocean band being a silicon band does well in this department. It doesn't get wet or grubby and is suitable for water sports. However, adjusting it can be more difficult.
She was quick to recommend the Alpine loop for rugged activities but warned against certain drawbacks. For instance, the Alpine loop can be stiff, pinch the skin, and get grubby.
All three brands (sized 49mm) were released with and designed for the Apple Watch Ultra (September 2022). However, the watch is also compatible with 45mm bands that come with the previous models.
| Band | Target Audience | Material | Fastening | Sizes | Colors | Pros | Cons |
| --- | --- | --- | --- | --- | --- | --- | --- |
| Alpine Loop | Explorers, Adventurers | High-strength yarn | Titanium G-hook | Small (130-160mm), Medium (145-190mm), Large (165-210mm) | Orange, Green Alpine, Starlight | Stays put during rugged activities; adjustable loops | Stiff, can pinch skin, gets grubby |
| Trail Loop | Endurance athletes, Runners | Woven textile | Velcro-like tab | S/M (130-180mm), M/L (145-220mm) | Yellow/Beige, Blue/Gray, Black/Gray | Most comfortable; easy to adjust; lightweight | Gets grubby, stays wet after water exposure |
| Ocean Loop | Water sports, Divers | Flexible rubber | Adjustable strap holder | One length | Yellow, White, Midnight | Doesn't get wet or grubby; good for water sports | More difficult to adjust |
Apple Watch Ultra Bands: Choose a Color that strikes a Balance Between Style and Practicality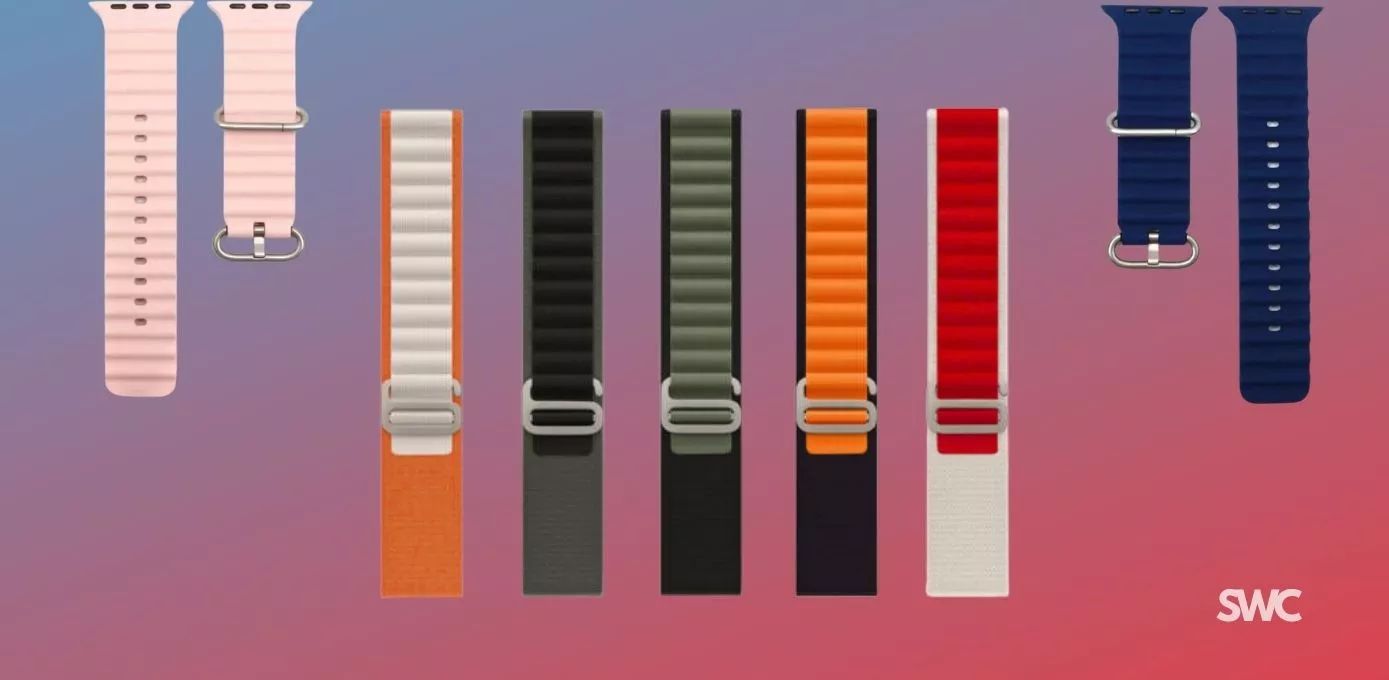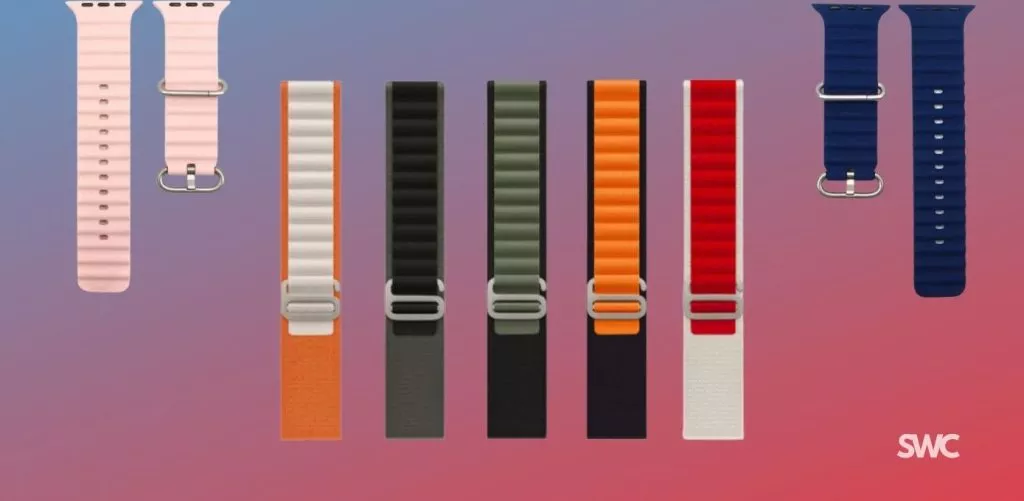 Denise Lim, in her article at MakeUseOf, provides insights into each band's material, color options, and practicality.
Here are some important takeaways from his post:
Each band comes with a different color option. That we know already. Most people overlook the importance of color. Each color has its pros and cons in terms of dirt visibility, aesthetics, and ease of cleaning.
She favored dark colors as the most practical option for their ability to hide dirt and stains. The worst color option in this regard is the Starlight Alpine loop.
Also, she appreciated the tubular construction of the ocean loop that allows it to expel water more easily than other loops.
| | Alpine Loop | Trail Loop | Ocean Band |
| --- | --- | --- | --- |
| Material | Polyester fabric | Nylon | Fluoroelastomer (rubber) |
| Recommended For | Outdoor adventurers | Endurance athletes | Water sports enthusiasts |
| Color Options | Green, Orange, Starlight | Black/Gray, Blue/Gray, Yellow/Beige | Midnight, White, Yellow |
| Design | Series of loops with titanium G-hooks | Stretchy, thin, Velcro, pull tab for adjustment | Titanium buckle and loop, tubular structure, water expulsion |
Trail Loop is the most featherweight band (weight: 9g): Safwaan
Safwaan's wrist size is similar to mine, falling into the small-petite category. He helpfully weighed each watch band, providing insights into potential wrist fatigue during extended wear or physical activities.
As you can see in the video, Trail Loop weighs 9g, the Alpine loop 12g, whereas the Ocean band is the heaviest of all, weighing 34g.
There is no metal lug for the Ocean band, plus it is quite thick for everyday use. Safwaan ranks it as the worst band for daily use and petite wrists.
Both the Trail and Alpine loop are highly stretchable (which helps in expelling water).
Though it lacks color variety, the Trail loop is the most comfortable of all.
Final Words:
Apple allows you to pick one out of three loops when you purchase a new Apple Watch Ultra.
The choice of Alpine vs Trail loop is really difficult to make as, despite Apple's claim that they are targeted at distinct audiences, the use cases are versatile.
Almost all experts validated the aesthetic appeal of the Alpine loop, and there is a consensus on the unmatched comfort and convenience of the Trail loop.
Interestingly, none of them recommends the ocean loop for daily wear. So it is recommended to buy it separately (for $99) if you are into water sports.
I created this blog to help people find the right smartwatch for their taste, to keep tabs on the latest news and leaks, and to share my experience with different smartwatches.