Do you need a running watch with smartwatch features or a smartwatch with running features?
Isn't both the same? Nah. That's how Garmin separates its entry-level Forerunner watches from the Vivoactive and Venu lineup.
Let's have a quick comparison of Garmin Vivoactive 5 vs. Forerunner 265 to find out their key differences and similarities.
Garmin Vivoactive 5 vs FR 265:
Comparison Table
| | | |
| --- | --- | --- |
| | Garmin Forerunner 265 | Vivoactive 5 |
| Dimensions | 46.1 x 46.1 x 12.9 (mm)41.7 x 41.7 x 12.9 (mm) | 42.2 x 42.2 x 11.1 mm |
| Display | 1.3-inch AMOLED 416×416 px1.1-inch AMOLED 360×360 px | 1.2" AMOLED, 390 x 390 pixels |
| Sensors | GPS, GLONASS, Galileo, Dual Band Technology, Heart Rate (Elevate V4), barometric altimeter, compass, gyroscope, Pulse Ox, accelerometer, thermometer, Ambient light sensor, | GPS, GLONASS, Galileo (New Multi-GNSS Sensor), Heart Rate (Elevate V4), compass, Pulse Ox, accelerometer, thermometer, Ambient light sensor |
| Battery | Smartwatch mode: 13 days (46mm)Smartwatch mode: 15 days (42mm) | Smartwatch mode: Up to 11 days (5 days display always-on) |
| Connectivity | Bluetooth, ANT+, Wi-Fi | Bluetooth Smart and ANT+ |
| Water-resistant | 5 ATM | 5 ATM |
| Touchscreen | ✔️ | ✔️ |
| Notifications | ✔️ | ✔️ |
| Garmin Pay | ✔️ | ✔️ |
| Music storage | ✔️ | ✔️ |
Pricing:
The price tags paint a clear picture.
Garmin Forerunner 265 is set for around $450, both the smaller model FR 265S and the bigger one, FR 265.
Whereas, Vivoactive 5 is a $300 watch, priced even lower than its predecessor.
For Forerunner 265 to make a strong case for itself, it would have to justify the $150 difference.
Winner: Garmin Vivoactive 5
Design and Display: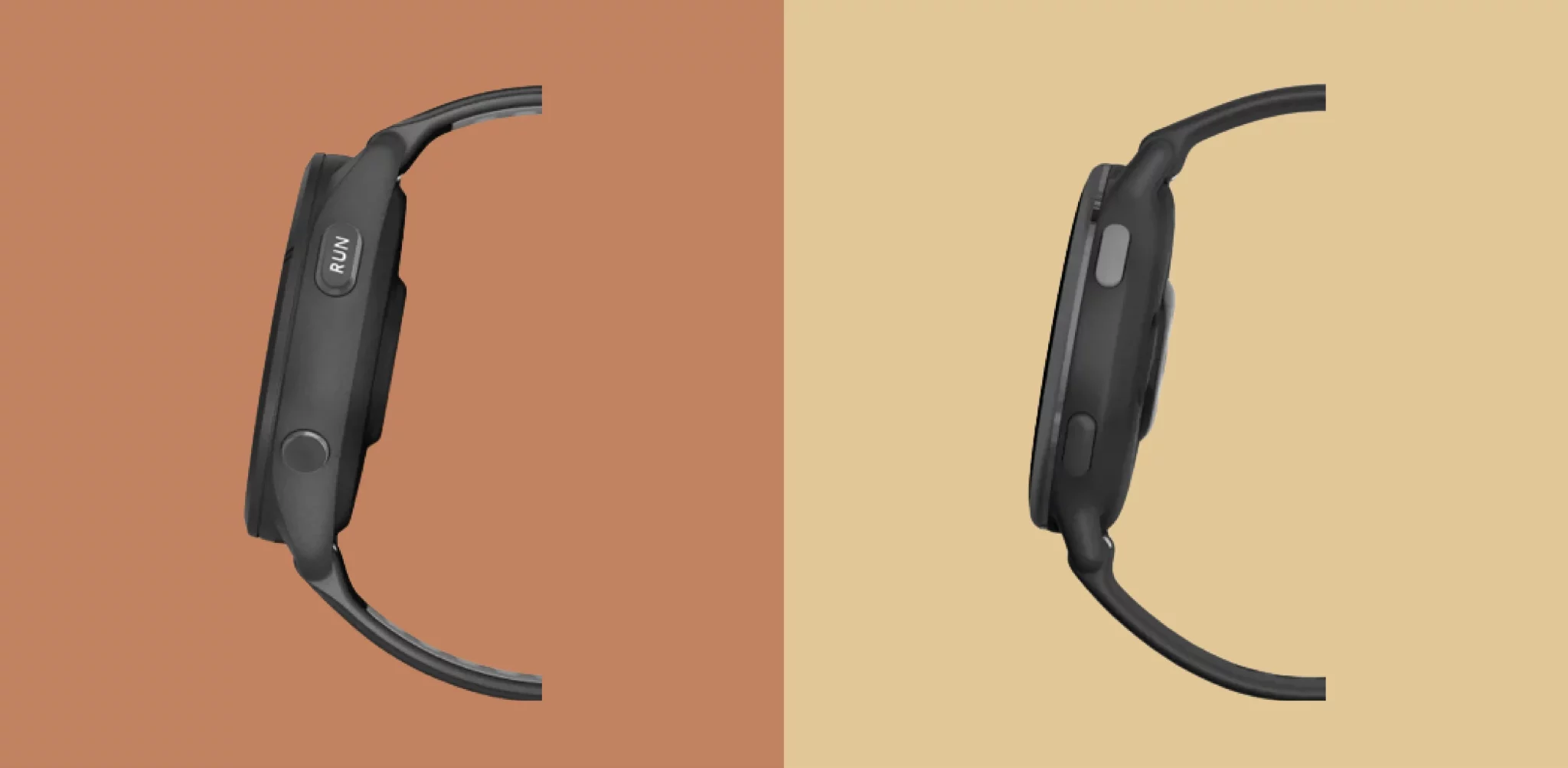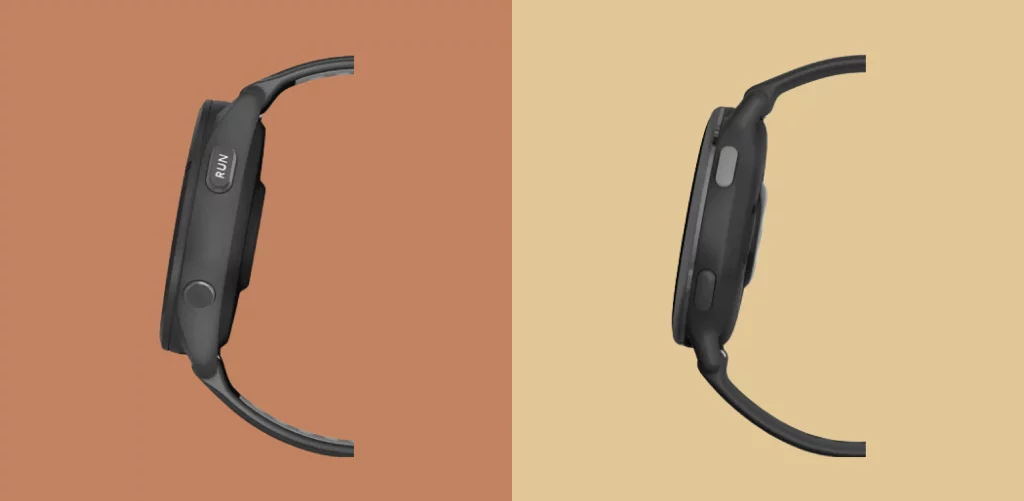 The differences in this department are not many.
Vivoactive 5 has a
Plastiky built
Touchscreen full AMOLED display (390 x 390 px)
Only one size (42mm)
Two-button navigation system
Water rating of 5 ATM
Forerunner 265 matches all these, but it
Offers two sizes (42mm and 46mm)
Has five -button navigation
Rubber bezel
And a thicker profile at 12.9mm
These differences are not significant enough to prioritize FR 265 over Vivoactive 5.
Winner: Tied
Smartwatch Features: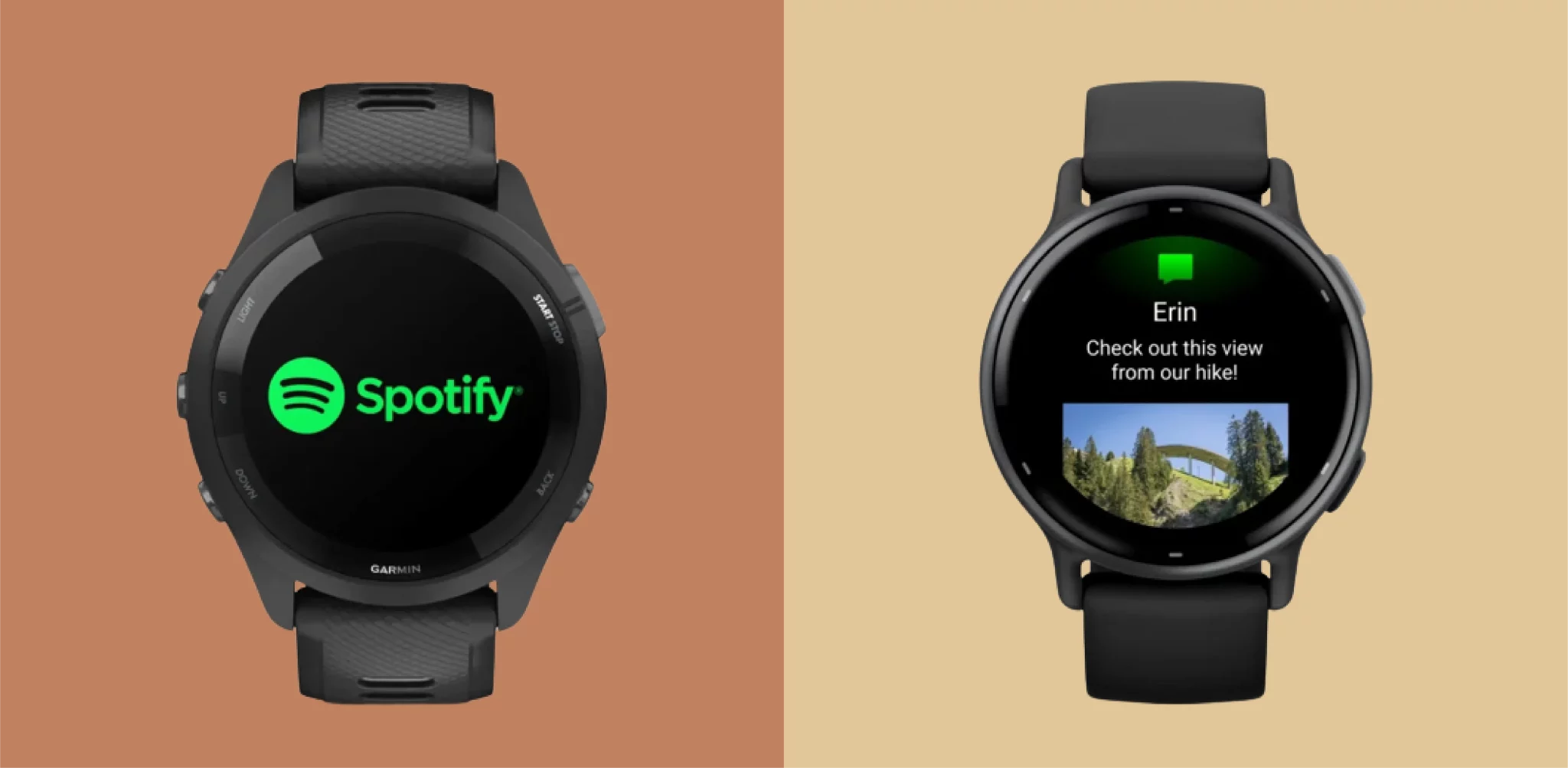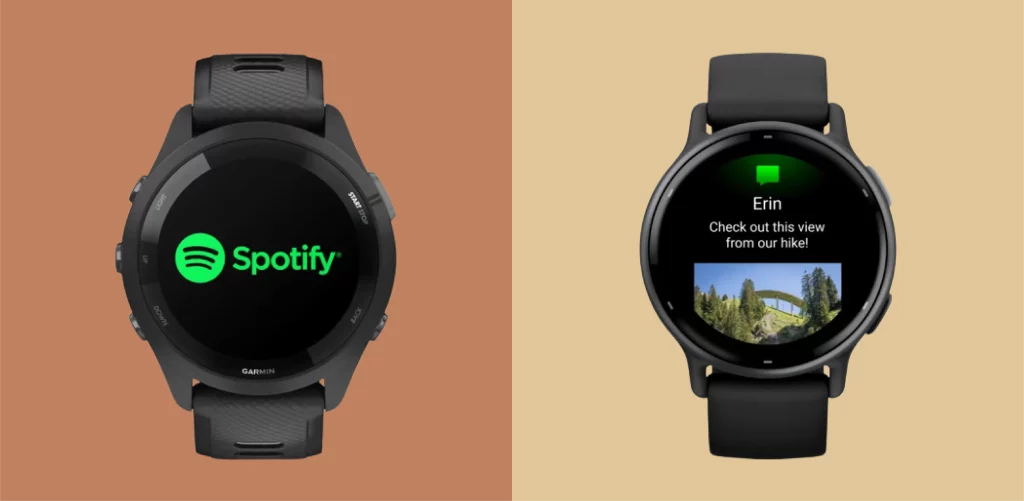 Perhaps the only noticeable difference between the two is the storage capacity. The FR 265 has double the storage at 8 GB.
Both watches can make contactless payments via Garmin Pay, mimic notifications from your phone, and play music from Spotify ( and a range of other streaming platforms).
Vivoactive 5 added a couple of new smarts like photo previews in text and email (when paired with Android), and two font sizes and more. However, all of them are sooner or later be available on the Forerunner 265 too (via software updates).
Winner: Garmin Forerunner 265 (only because it has 2x storage for workouts and songs)
Health Tracking:
As both watches use the same Elevate V4 HRM and SpO2 sensors, the health metrics that are usually dependent on them are not going to be any different.
So we are expecting the same level of accuracy in tracking heart rate, blood oxygen saturation, Pulse Ox, stress and menstrual tracking, HRV status, and meditation
Vivoactive 5 introduced the new Sleep coach feature and Nap tracker which would most probably be available on FR 265 in near future.
Winner: Tied
Sports Tracking:
There is one key distinction of Forerunner 265 series that set it apart from its sibling: multiband/dual frequency GPS. This latest GPS tech offered only in elite Garmin watches significantly enhance the accuracy of FR 265.
Another important sensor that is missing on Vivoactive but present in FR 265 is the barometric altimeter. You won't find any altitude-based sports modes on the Vivoactive watch.
Speaking of sports modes, FR 265 offers double or almost three times the sports modes on Vivoactive. It doesn't stop here. We get enhanced tracking for popular ones like Running, cycling and swimming. Plus, the watch offer plenty of training and analysis tools that would seriously make a difference if you are an athlete.
Winner: FR 265
Battery Performance:
You are going to get at least a week long performance from these watches with casual use.
In basic smartwatch mode, Forerunner 265 offers 15 hours compared to 11 hours on Vivoactive 5. In almost all other modes, Vivoactive 5 has an upper hand.
Winner: Garmin Vivoactive 5
Garmin Vivoactive 5 vs Forerunner 265:
Which should you choose?
If you are seriously considering an entry level Garmin watch for sports training or workouts, and don't want to spend extra on Forerunner 265, Vivoactive 5 isn't going to serve you well. This watch offers a little more than a fitness tracker or a health monitoring wearable. Spend the extra $150 and get the Forerunner 265. Its worth the investment, especially if you are into running or triathlon.