In 2019, Amazon Music introduced its first smartwatch application on Garmin wearables, a platform not typically known for its robust connectivity features.
This allowed users to download tunes and jam out directly from their wrists. Naturally, there was a cost associated with this convenience.
Amazon Prime subscribers could access 2 million tracks, while Amazon Music Unlimited users had a staggering library of 50 million songs at their fingertips.
Fast-forward to today, Amazon's music streaming services are now compatible with both WatchOS (Apple Watch) and WearOS devices.
However, some of the popular brands, including Fitbit, Suunto, Coros, and Amazfit, are yet to jump on the bandwagon.
In this blog post, we'll discuss the top 5 smartwatches that integrate seamlessly with Amazon Music.
5 Top Smartwatches for Amazon Music:
Before we dive into the top picks, let's set the stage with some important considerations that can help you make a buying decision.
Sizes: Most watches on our list come in two size variants.
LTE Models: Some watches offer LTE or cellular models, which cost a bit more but enable standalone features like calls, texts, and music downloads.
Storage: Storage capacities range from 16-32GB across these devices, enough for about 500-1000 songs.
Audio Formats: You can upload MP3 and other popular audio formats directly onto these watches.
Music Platforms: Most of these smartwatches support other popular music streaming platforms like Spotify, Deezer, Apple Music, YouTube Music, etc., depending on their operating systems. Apple Music is exclusive to Apple Watch, whereas Spotify is available on all these watches.
Connectivity: Apart from Bluetooth, all watches offer Wi-Fi support, enabling quick downloading of not just music, but also podcasts and audiobooks.
Design: All the watches on our list are 5ATM water-resistant, meaning you can swim with them up to 50m. Plus, they all offer the option to switch out straps for customization.
---
Apple Watch Series 8:
Key Connectivity Features:
Bluetooth 5.0 + Wi-Fi + LTE (optional)
Built-in GPS/GNSS
NFC Support (Apple Pay)
32 GB Storage Space
Supports Amazon Music, Spotify, Apple Music
Built-in Voice Assistant (SIRI)
Thousands of third-party apps.
As a music lover, you'll certainly appreciate what the Apple Watch Series 8 brings to the table. It comes with 32GB of storage, allowing you to carry a massive music library right on your wrist.
Apple Watch supports a ton of music streaming apps, including Spotify, Deezer, and Apple Music. Amazon Music is the latest addition to the list.
Throughout our testing, WatchOS emerged as one of the best platforms for third-party apps. This is partly due to its brisk performance and, in part, thanks to its clean user interface.
The Amazon Music app is no exception on the Apple Watch.
Even as a free user, you enjoy a fair degree of control right from your wrist. You can delve into your library and discover new songs and podcasts at your convenience.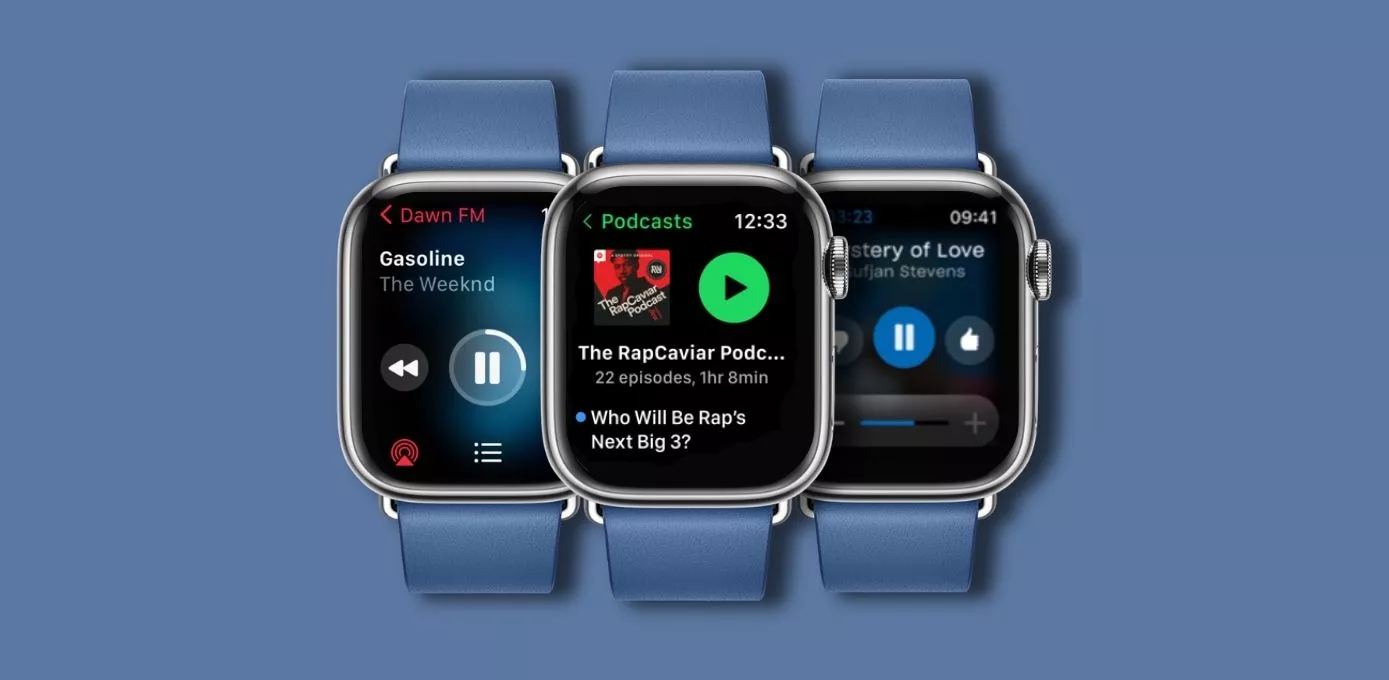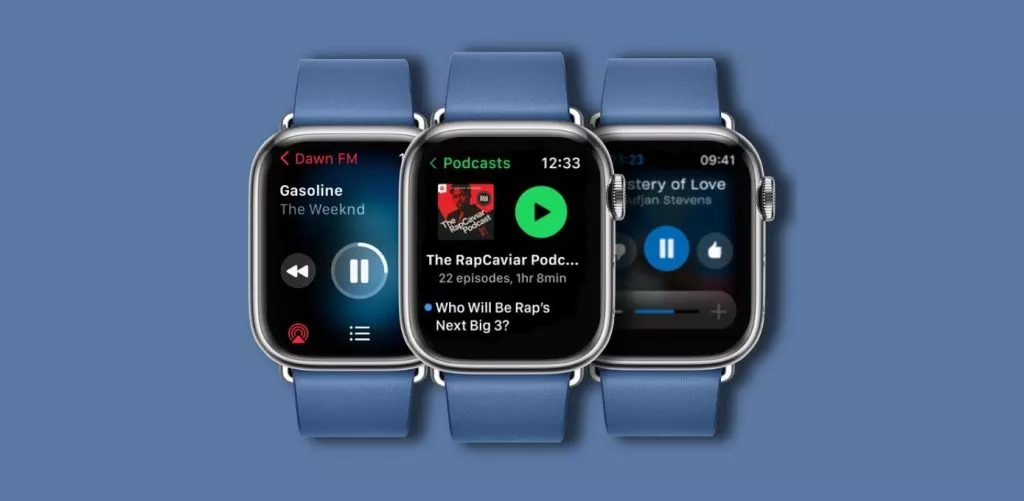 For Prime members, the experience reaches another level. Imagine enjoying ad-free listening, the ability to playback playlists and albums offline, and access to a wide array of podcasts.
However, the real winners here are the Amazon Music Unlimited subscribers. They are treated to unlimited access to 100 million songs, ad-free listening, and unlimited skips.
But bear in mind, it's not all perfect. The battery life hovers around 18 hours, which calls for frequent charging if you're planning extended music sessions.
Moreover, the watch does come with a hefty price tag. Apple Watch Gen 2 is a great alternative if all you need is a decent music experience on an iPhone-compatible smartwatch.
Also, it's worth mentioning that it pairs exclusively with iPhones. So, if you're an Android user, you might want to consider other options.
Pros:
Sharp Retina Display
Can make contactless payments
Seamless integration with Amazon Music and other iOS apps
Massive 32GB Storage
Wide range of health and fitness features
Cons:
Poor battery performance
High price tag
Limited compatibility (only with iPhones)
---
Garmin Forerunner 265:
Key Connectivity Features:
Bluetooth + Wi-Fi
Built-in GPS
NFC Support (Garmin Pay)
Storage Capacity for 500 songs
Supports Amazon Music, Spotify, Deezer, iHeartRadio
Also, Support third-party apps (limited selection).
Garmin Forerunner 265 is a superb entry-level running watch with built-in music support. You can store up to 500 songs directly on your watch.
As discussed earlier, Amazon Music was once exclusive to Garmin Watches and it made sense. It is convenient to have your favorite music right there on your wrist when you are out running or cycling. Garmin was (and remains) the first choice for athletes and sports enthusiasts. And so it was logical for Amazon Music to prioritize Garmin.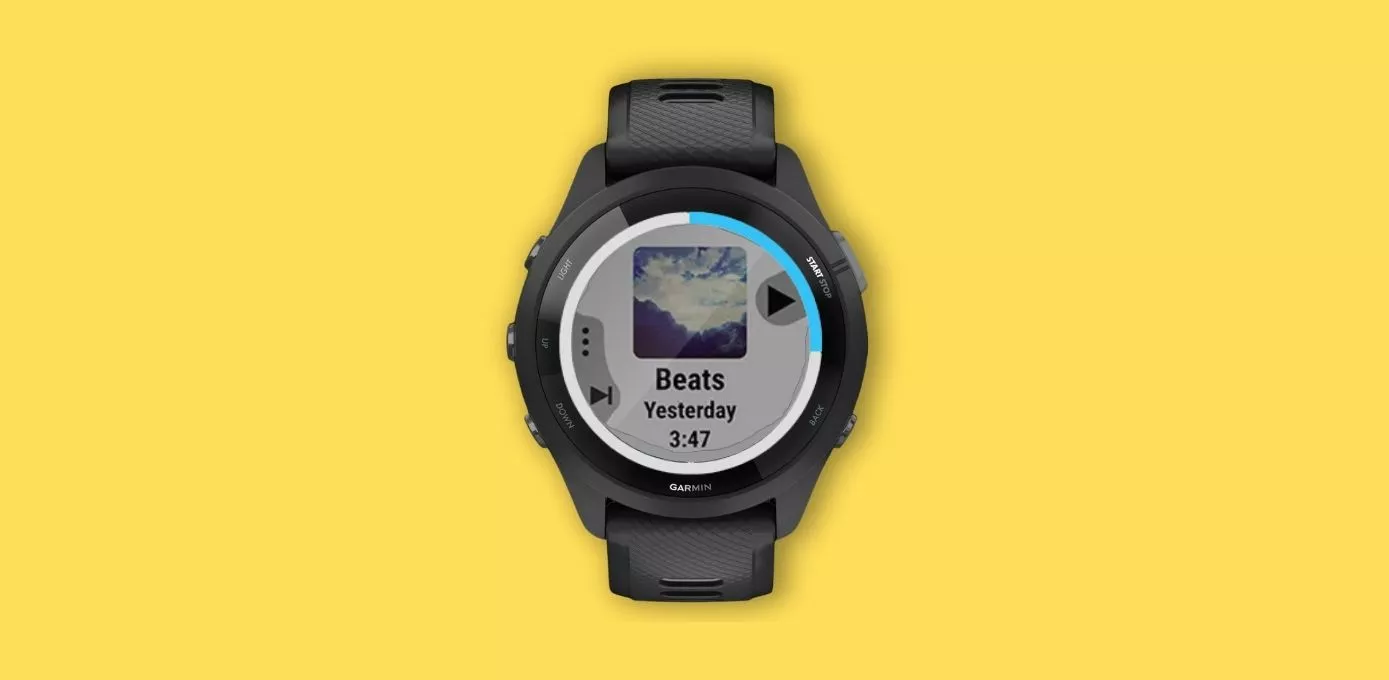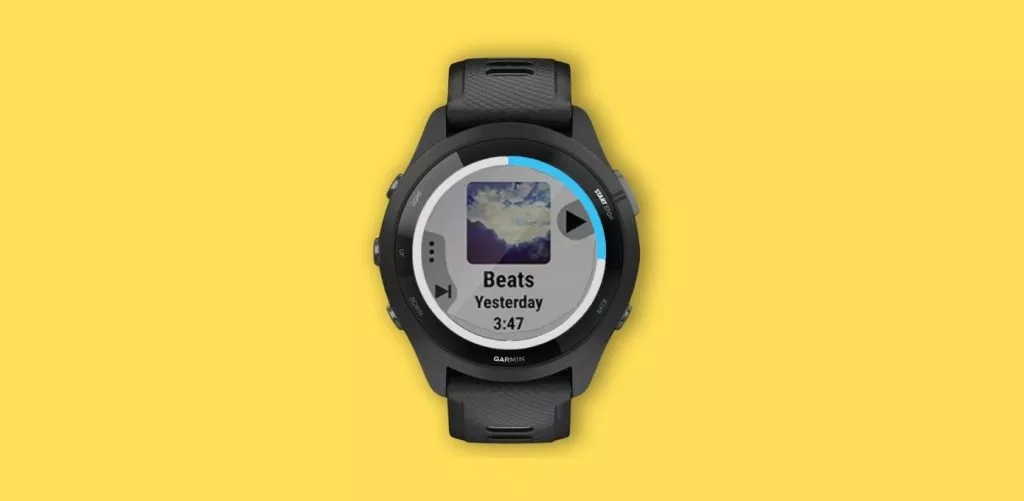 The Amazon app offers nearly the same features across different platforms: be it Garmin, Apple, or Android watches. So we won't repeat them here.
However, the experience on different platforms varies depending on the UI and hardware support.
Garmin Forerunner 265 sports an AMOLED touchscreen, a big step up from previous models. This means a smoother experience navigating the Amazon Music app. On previous models like FR 245 Music, you were limited to the 5-button navigation system.
Note: Amazon Music on Garmin is available in specific countries.
Aside from music, the Forerunner 265 has limited lifestyle features. That includes Garmin Pay for contactless payments and basic notification alerts.
When it comes to battery life, this watch excels, outperforming many competitors.
It lacks calling and texting support, and there are fewer third-party apps available for this platform.
Pros:
Durable, with great battery life (week-long)
Integrated music storage
Garmin Pay support
Access to Amazon Music, Spotify, Deezer
Entry-level, great for beginners
Cons:
Limited smartwatch features
Lacks calling and texting support
Fewer apps available
Amazon Music availability is country-specific
---
Garmin Venu 2 Plus: Alternative to FR 265
Garmin Venu 2 Plus offers more connectivity options while keeping the great music features of the Forerunner 265.
You get the same support for Amazon Music, Spotify, or Deezer on the watch.
However, it takes things a step further with built-in speakers and a microphone. You can make Bluetooth calls directly from your wrist – the only Garmin watch with this capability.
Plus, it works with several voice assistants.
If these features are important to you, and you are not planning to run a marathon, Venu 2 Plus is the right choice.
---
Galaxy Watch 5:
Key Connectivity Features:
Bluetooth 5.0 + Wi-Fi + LTE (optional)
Built-in GPS
Samsung Pay & Google Pay
16 GB Storage Space
Supports Amazon Music, Spotify, Youtube Music
Built-in Voice Assistant (Bixby, Amazon Assistant)
1000+ third-party apps.
If you love music and Samsung smartwatches, you'll enjoy the Galaxy Watch 5. It offers 16GB of storage, enough for over 700 songs.
Music storage isn't new on Samsung watches, almost all watches by the company in the last five years have this capability.
But Amazon Music has been notably missing in the early models. Part of it has to do with TizenOS limitations. That changed with the arrival of WearOS on Samsung Watches.
This Google-powered operating system opened doors to a wide array of third-party apps, Amazon Music included.
The WearOS platform is an impressive platform for third-party apps, thanks to its smooth performance and easy-to-navigate interface. But the credit also goes to the latest Galaxy Watch 5 which has powerful hardware specs to ensure everything works super fast.
Amazon Music app works flawlessly on Galaxy Watch 5, and the Android version of the app offers almost the same experience and features as on the Apple Watch. Here is how you can play Amazon Music on your Galaxy Watch 5.
Additionally, it supports other streaming services like Spotify, Google Music, and YouTube Music.
Beyond music, the Galaxy Watch 5 blends form and function as your fitness coach, connectivity hub, and health monitor.
If go with the cellular model, you will be able to send and receive messages as well as make calls without a tethered phone.
Though near-perfect, its 24-hour battery life requires strategic charging for music marathons.
Another drawback is its hefty price tag. But here we have the Galaxy Watch 4 as a viable, budget-friendly alternative, albeit with fewer health features.
Pros:
AMOLED touchscreen display
Supports Samsung Pay, Google Pay
Offers 16GB storage and access to over 1000 third-party apps.
Support Bixby and Amazon Assistant.
Impressive fitness and health features.
Cons:
Limited 24-hour battery life.
High price point.
Some features are locked to Samsung Phones.
Compatible with Android only
---
Google Pixel Watch:
Key Connectivity Features:
Bluetooth 5.0 + Wi-Fi + LTE (optional)
Built-in GPS
Google Pay
32 GB Storage Space
Supports Amazon Music, Spotify, Youtube Music
Amazon Assistant
1000+ third-party apps.
Samsung Watch 5 is more capable than Google Pixel, but there is a catch. Some of its features are kept behind Samsung's walled garden.
For the record, most of these features are health-centric. Connectivity features on the Samsung watch are fully unlocked for all Android users.
Still, you might love Google Pixel Watch more for its unique design.
One highlight of this smartwatch is its massive 32GB storage capacity. This provides more room for your favorite tracks, making it an excellent choice for music enthusiasts.
Of course, you get access to Amazon Music on Google Pixel Watch if that is your primary concern. But WearOS on the Pixel Watch brings more to your wrist, enhancing your smartwatch experience beyond just music.
It allows you to download apps directly from the Google Play Store, receive and respond to smartphone notifications, and make contactless payments via Google Pay. And that's just the tip of the iceberg.
Much like the Samsung Watch 5 and Apple Watch Series 8, the Google Pixel Watch also grapples with the challenge of battery life. The powerful features and constant connectivity these smartwatches offer take a toll on the battery.
Pros:
Massive 32 GB storage
Minimalist design
Access to all Google services
Offers the best WearOS experience
Cons:
Poor battery performance
Considerable Bezel
---
Final Verdict:
While the integration of Amazon Music is undoubtedly a great feature, it shouldn't be your sole criterion in picking a smartwatch.
These devices offer so much more than just music playback, from fitness tracking to managing notifications and making contactless payments.
If you are an iPhone user, the Apple Watch Series 8 will provide a seamless experience, with its integration of all iOS apps and a huge storage space. It's perfect for users who value robust functionality and don't mind charging their watch frequently.
For Android users, the Samsung Galaxy Watch 5 presents an excellent alternative. It not only supports Amazon Music but also has a wealth of other apps, thanks to its WearOS platform. However, bear in mind that its battery life might not hold up for extended periods of high use.
If sports tracking and battery life are your primary concerns, the Garmin Venu 2 Plus is a winner. Its week-long battery life is unmatched in this list, and it provides a robust set of features for sports tracking.
While its smartwatch capabilities might be a bit limited, it excels in what it was primarily designed for: sports and fitness.
Make sure to not miss other connectivity features before you make the final decision. In our guide (Best Smartwatches for Calling and Texting), we picked the top 5 watches with advanced connectivity features.
---
FAQs:
How to get Amazon Music on Garmin Watch?
Syncing Amazon Music with your compatible Garmin Forerunner watch involves three steps. First, you'll need to make sure that your watch is connected to both your smartphone and a Wi-Fi network. You should also have an Amazon Prime or Amazon Music Unlimited account, and be located in a country where the service is available.
Make sure that your watch has enough charging and is close to the Wi-Fi router for optimal syncing.
Now follow these steps.
Install the Amazon Music Connect IQ App: Visit the Amazon Music Connect IQ app link. Download it to your Garmin account and sync your device to install it.
Setup Amazon Music: Once installed, navigate to the Music widget and settings on your watch. Select Amazon Music, get the code displayed on your watch, and enter it at **https://amazon.com/code**.
Sync Your Music: Within the Music widget, select Amazon Music and 'Browse'. Choose the content you want to sync to your watch. It will automatically connect to Wi-Fi and sync the chosen content.
We are sharing a video link here, but it is an old one.
Although the overall process remains largely the same, there may be minor differences due to user interface upgrades on newer watches.
I created this blog to help people find the right smartwatch for their taste, to keep tabs on the latest news and leaks, and to share my experience with different smartwatches.