Garmin Marq Gen 2 Series pack five watches each representing Garmin's expertise in a particular domain. There's the smart Marq Athlete, the sophisticated Marq Golfer, the bold Marq Aviator, the stylish Marq Captain, and the outdoor-ready Marq Adventurer. Of course, all of them are packing almost identical features with slight variations.
On the other hand, Apple Watch Ultra is the new rugged iWatch (the company's first watch) meant for athletes and outdoor enthusiasts.
Given the growing rivalry between Garmin and Apple, we find it interesting to compare their most expensive wearables: Apple Watch Ultra vs Garmin Marq Gen 2. We will pit them against each other in different departments (Desing, Pricing, Battery Performance, etc) and find out which one comes at the top.
Apple Watch Ultra vs Garmin MARQ 2: General Comparison
| | Garmin MARQ Gen 2 | Apple Watch Ultra |
| --- | --- | --- |
| Release Date | October 11, 2022 | September 7, 2022, |
| Predecessor | Garmin MARQ | Apple Watch 7 |
| Company | Garmin | Apple Inc |
| Operating System | Garmin OS | Watch OS |
| Compatible Smartphones | Android, iOS | iOS |
| Competition | Suunto 9 Baro, Garmin Fenix 7, Coros Vertix 2, Garmin Epix Gen 2 | Fitbit Sense 2, Ticwatch Pro 4G, Galaxy Watch 5/5 Pro, Garmin Fenix 7 |
| Sensors | | Ambient light sensor, High dynamic range Gyroscope, Accelerometer, Emergency SOS, Third-generation optical heart sensor, Electrical heart sensor, Blood oxygen sensor, altimeter, Compass, Water temperature sensor |
Apple Watch Ultra vs Garmin MARQ 2: Pricing
The new Apple Watch Ultra is priced at around 800 USD; is a singular model equipped with cellular support. In comparison, the Garmin Marq Gen 2 series starts at 1900 USD and goes all the way up to 2400 USD. So, right off the bat, we can see that the Apple Watch Ultra is more affordable than any of the Garmin Marq Gen 2 watches.
Here is the retail price of different models in the Garmin Marq Gen 2 series:
Adventurer: 2300 USD
Athlete: 1900 USD
Golfer: 2300 USD
Captain: 2200 USD
Aviator: 2400 USD
Remember, we might get them at a discount at some point, but the Apple Watch Ultra will always be cheaper.
Apple Watch Ultra vs Garmin MARQ 2: Design & Display
| | Garmin MARQ Gen 2 | Apple Watch Ultra |
| --- | --- | --- |
| Dimensions | 46 x 46 x 15 mm | 49 x 44 x 14.4 mm |
| Buttons | 5 Buttons + Touch Screen | 1 button+ Digital Crown |
| Weight | 92 grams | 61.3 grams |
| Colors | – | Natural titanium |
| Band Size | 22 mm | – |
| Casing Material | titanium (Grade 5) | Titanium |
| Strap Material | leather and FKM rubber | Silicone |
| Screen Size | 1.2 inches | 1.8 inches |
| Screen Type | AMOLED (always-on) | Retina LTPO OLED display |
| Screen Resolution | 390 x 390 pixels | 410 x 502 pixels |
| Screen Protection | domed sapphire crystal | Sapphire Crystal Glass |
| Always-on Display | Yes | Yes |
| Waterproofing | 10 ATM (up to 100m) | Suitable for Showering, Swimming, Snorkeling | 10 ATM (up to 100m) | Suitable for Showering, Swimming, Shallow Diving |
Titanium has been a material of choice for Garmin when it comes to its premium watches which usually come in a titanium case with a sapphire crystal lens. However, many of its competitors including Apple have been offering the same now for a while.
So, the company boasts a 'Grade 5 Titanium' case for the Marq Gen 2 series which is harder and more scratch-resistant. The sapphire crystal glass is, as a standard, present in all the models. They are 10 ATM certified for water resistance which roughly translates to 100 meters.
Marq 2 Series has pretty big watches at 46mm dia and 15mm thickness so people with petite or slim wrists might find them a bit too chunky. At 87g they are also on the heavier side.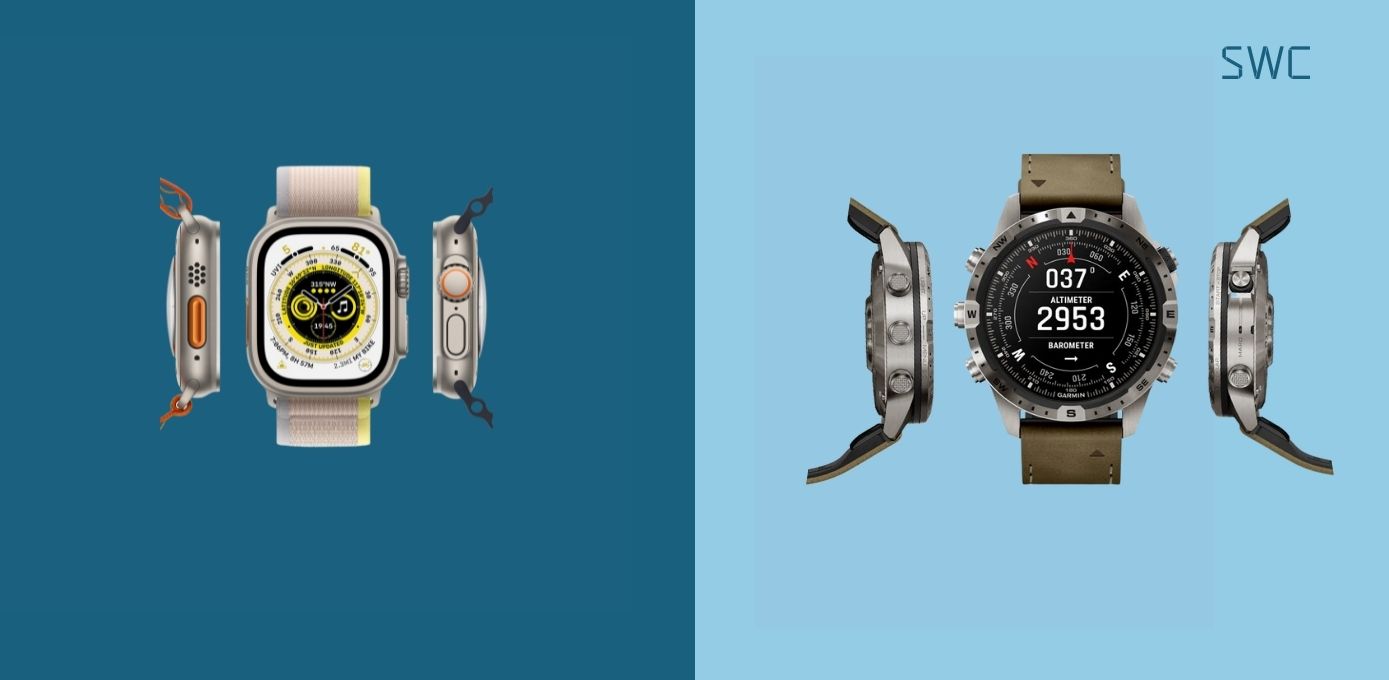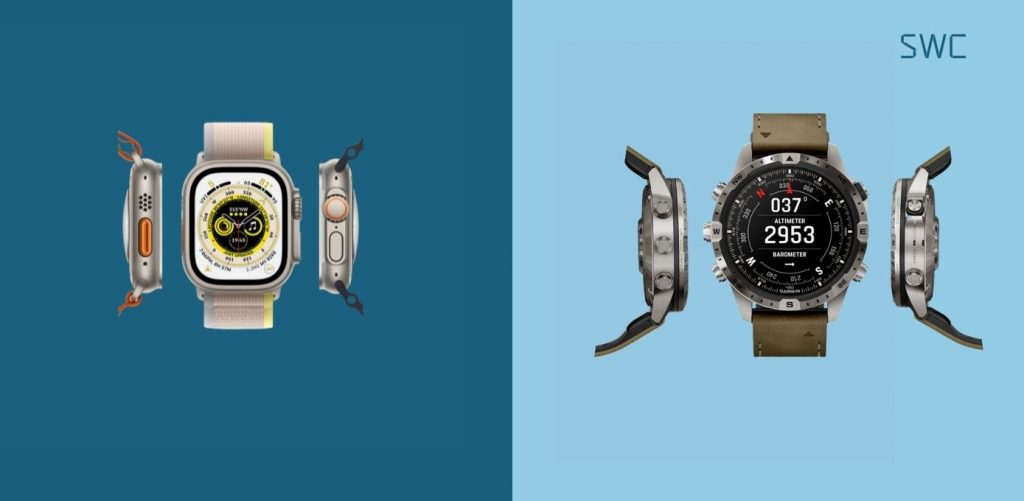 The Ultra, on the other hand, is slightly slimmer and lighter at 14.4mm and just 61.3g. It also features a titanium case with a sapphire crystal lens. The watch has water resistance for up to 100m so overall, both watches are on equal footing as far as design and durability are concerned.
Both watches have physical buttons, Marq Gen 2 uses 5 buttons for navigation while Apple Watch Ultra has a single Digital Crown, a side button, and a new programmable action button.
When it comes to the display, the Apple Watch Ultra has a 1.92-inch  LTPO AMOLED display with a maximum brightness of 2000 nits. The resolution is 410 x 502 pixels and it supports Always-on mode. The MARQ 2 compromises on-screen real estate as despite its considerable bulk, the watch has a 1.2-inch  AMOLED touchscreen display with a standard brightness of 1000 nits or even less.
For those who are having a hard time appreciating the advantage of the Apple Watch Ultra's display, think of it this way- you can easily read the time and other metrics on your Ultra in direct sunlight, and it can fit more data fields on a single screen than MARQ 2, and you can see more of the map on your Ultra when you are out on a run or hike.
While Garmin Marq Gen 2 might win the competition single-handedly in the design department, this section covers both design and display. We would have to give it to Apple Watch Ultra for the display specs.
Winner: Apple Watch Ultra
Apple Watch Ultra vs Garmin MARQ 2: Smartwatch Features
| | Garmin MARQ 2 | Apple watch ultra |
| --- | --- | --- |
| Operating System | Garmin OS | Watch OS |
| Connectivity Options | Bluetooth, ANT+, Wi-Fi | LTE and UMTS, Wi-Fi, Bluetooth 5.3 |
| Processor | – | S8 with 64-bit dual-core processor |
| RAM | – | 1GB |
| Storage | 32GB | 32GB |
| Companion App | Connect IQ | Watch |
| Contactless Payment (NFC) | Garmin Pay | Apple Pay |
| Standalone Calling and Texting | No | Yes |
| Voice Assistant | No | Siri |
Apple has ruled the roost when it comes to smartwatch features. The watchOS platform is more mature and has an enlist list of apps available on the App Store.
Thanks to its cellular support, the watch can make and receive calls, send and receive messages, supports Apple Pay, and has Siri as a voice assistant. You can also store and play music on the watch.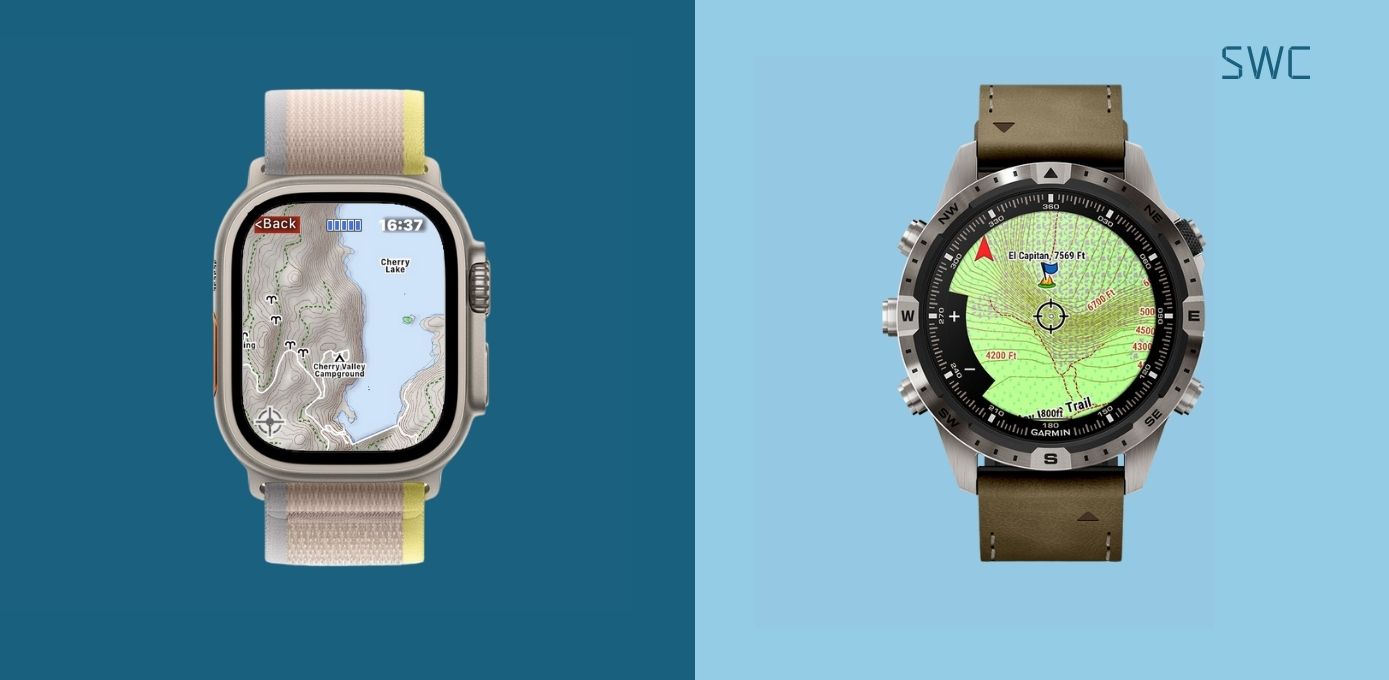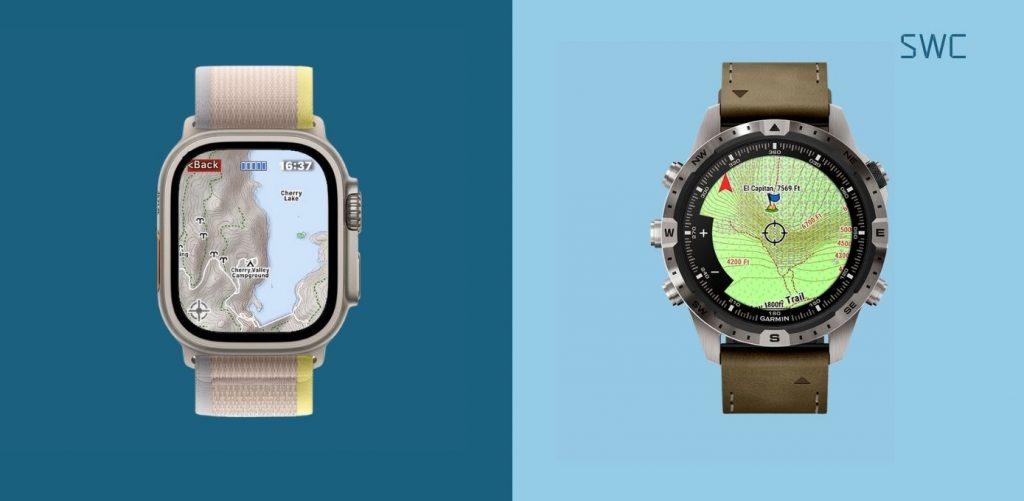 Whereas, the Marq 2 series offers a limited connectivity experience as a smartwatch. It has limited support for third-party apps, can make payments via Garmin Pay, and respond to texts when it is connected to an Android Phone. Other capabilities like mimicking phone notifications, weather updates, and alarms are present on the $250 smartwatch these days, so there is nothing much to boast about here.
Winner: Apple Watch Ultra
Apple Watch Ultra vs Garmin MARQ 2: Health & Sports Tracking
| | Garmin MARQ 2 | Apple Watch Ultra |
| --- | --- | --- |
| Heart Rate Tracking | Yes | Yes |
| Sleep Monitoring | Yes | Yes (Advanced) |
| Stress Tracking | Yes | Yes |
| ECG Monitoring | No | Yes |
| Blood Oxygen Saturation (SpO2) monitoring | Yes | Yes |
| Workouts | 50+ | 50+ |
| Automatic Workout Tracking | Yes | Yes |
| GPS Tracking | GPS, GLONASS, GALILEO | L1 and L5 GPS, GLONASS, Galileo, QZSS, and BeiDou |
You are not going to buy these watches for everyday use, but rather these beasts are meant for hardcore athletes and outdoor adventurers. So we need to see how they perform in terms of tracking health and sports data, but most importantly what they do with that data.
The Ultra tracks all the essential health vitals like heart rate, steps, calories burned, and sleep tracking, and so does MarQ Gen 2. In terms of raw metrics, Garmin has a slight edge with more detailed tracking that includes VO2 Max, HRV, Training Load, and so on. However, it is the way Marq Gen 2 uses that data to give you meaningful insights that set it apart from the competition.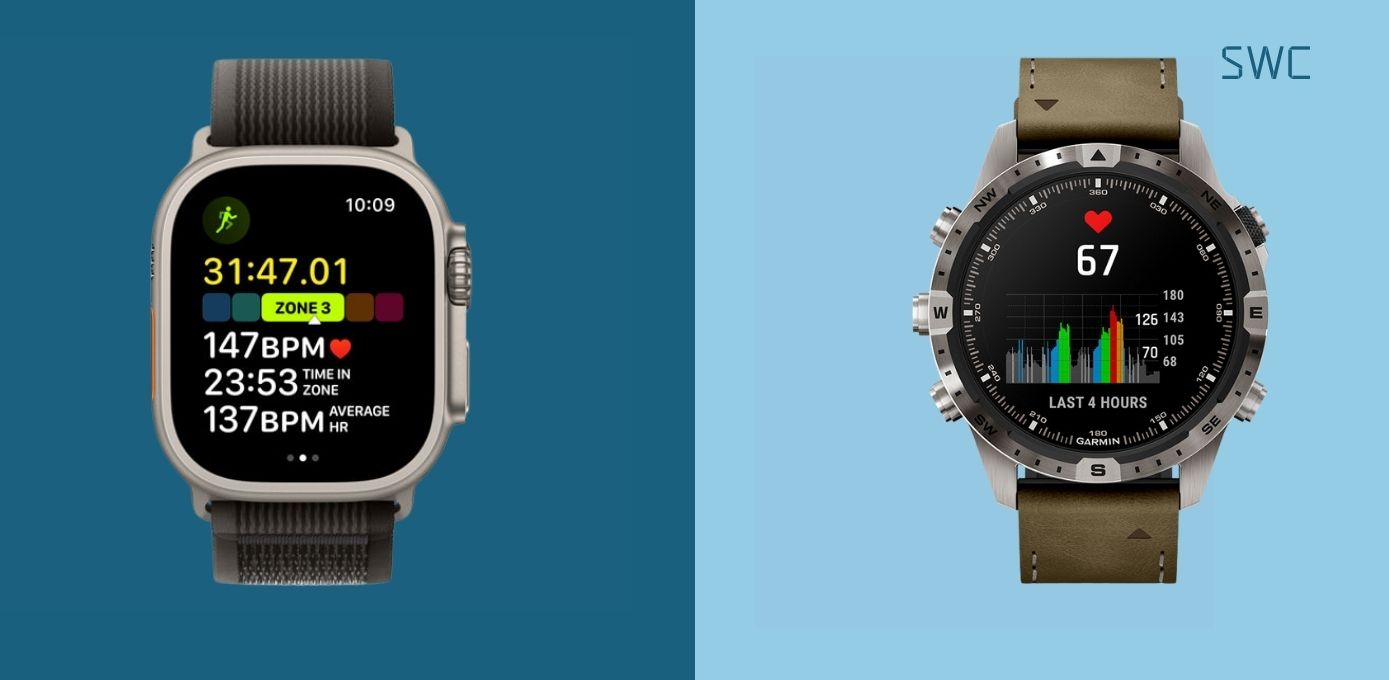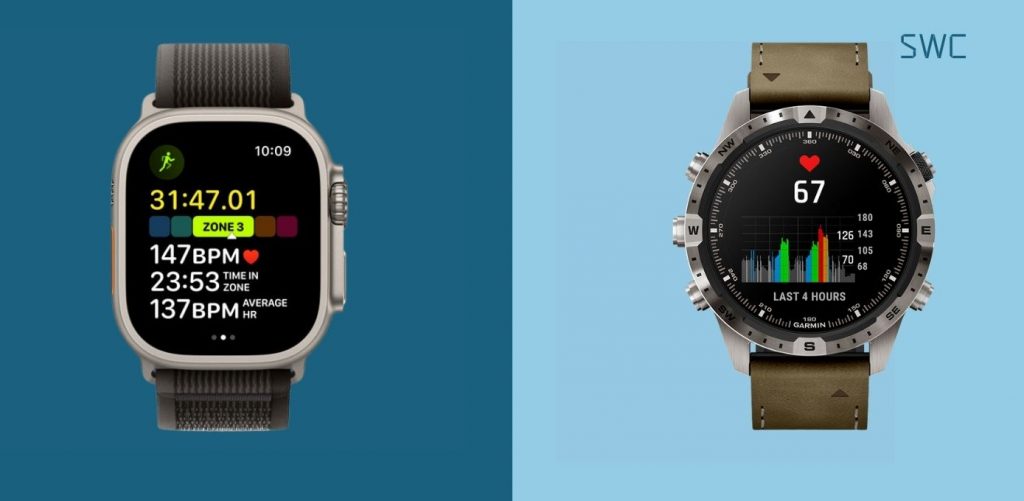 Consider, for instance, the features like Body Battery and Recovery Time that can help you determine how well-rested you are before starting a strenuous activity, and how long it would take you to recover from it. This is the kind of data that can help you avoid injuries and improve your training efficiency. The list of similar features goes on, and you can read about them in detail in Garmin Marq Gen 2 review by DCrainmaker.
Next,  we have the number of sports profiles which to be fair are way more than what an average person would need, but it is always good to have options. Garmin Marq 2 has an edge as it covers almost all the traditional sports profiles of Ultra but in addition to this some niche workout modes like paddleboarding, mountaineering, and even gravel biking. Interestingly, both have a multi-band GPS to support accurate tracking in any environment.
Tied closely to the GPS, mapping capabilities are what make or break an outdoor watch. The Marq 2 comes pre-loaded with full-color topographical maps of the US, Europe, and  Asia that you can view on the watch itself.  You can use these maps to plan an adventure, plan routes, pick a specific course, and so on.
Apple Watch Ultra mapping capabilities pale in comparison. There are no built-in maps on the watch and you will have to rely on a third-party app. You can add waypoints in the Compass Widget, and navigate back to a starting point using the backtrack feature but it certainly leaves you wanting.
Another major consideration for adventurers is the safety features these watches offer. The Apple Watch Ultra has fall and crash detection, a powerful siren, and emergency SOS features that can come in handy if you are climbing a mountain or hiking in the woods.
While Garmin Marq 2 offers a similar set of features (LiveTrack, Incident Detection, Assistance Alerts), it misses out on the standalone capabilities to make full use of them when in need. You will always need to haul a connected smartphone.
Overall, both watches perform well in terms of tracking health and sports data, but the Marq 2 stands out with more detailed tracking and better use of that data. However, the price difference doesn't justify it here. Almost 95% of Marq 2 capabilities are present in Epix 2 and Fenix 7 which you can get for almost half the price.
Winner: Garmin Marq Gen 2
Apple Watch Ultra vs Garmin MARQ 2: Battery Performance
| | Garmin MARQ Gen 2 | Apple Watch ultra |
| --- | --- | --- |
| Battery Type | lithium-ion | lithium-ion |
| Expected Battery Performance | up to 10 hours, Up to 21 days in Battery Saver Watch Mode | Up to 36 hours, Up to 18 hours With LTE |
| Fast Charging Support | No | Yes |
The battle for the most dependable outdoor watch can't be completed without considering the battery life. After all, what's the point of having a smartwatch if it can't last you for a day or two, especially when you are considering it for a multi-day adventure?
Considering its poor track record in this department, Apple has achieved a remarkable feat with the new Apple Watch Ultra. It offers 36 hours of battery life in typical use and almost 15-16 hours when used continuously for GPS and heart rate tracking. The company promised to extend the max number to 60 hours through a firmware update that would limit the frequency of GPS and heart rate readings.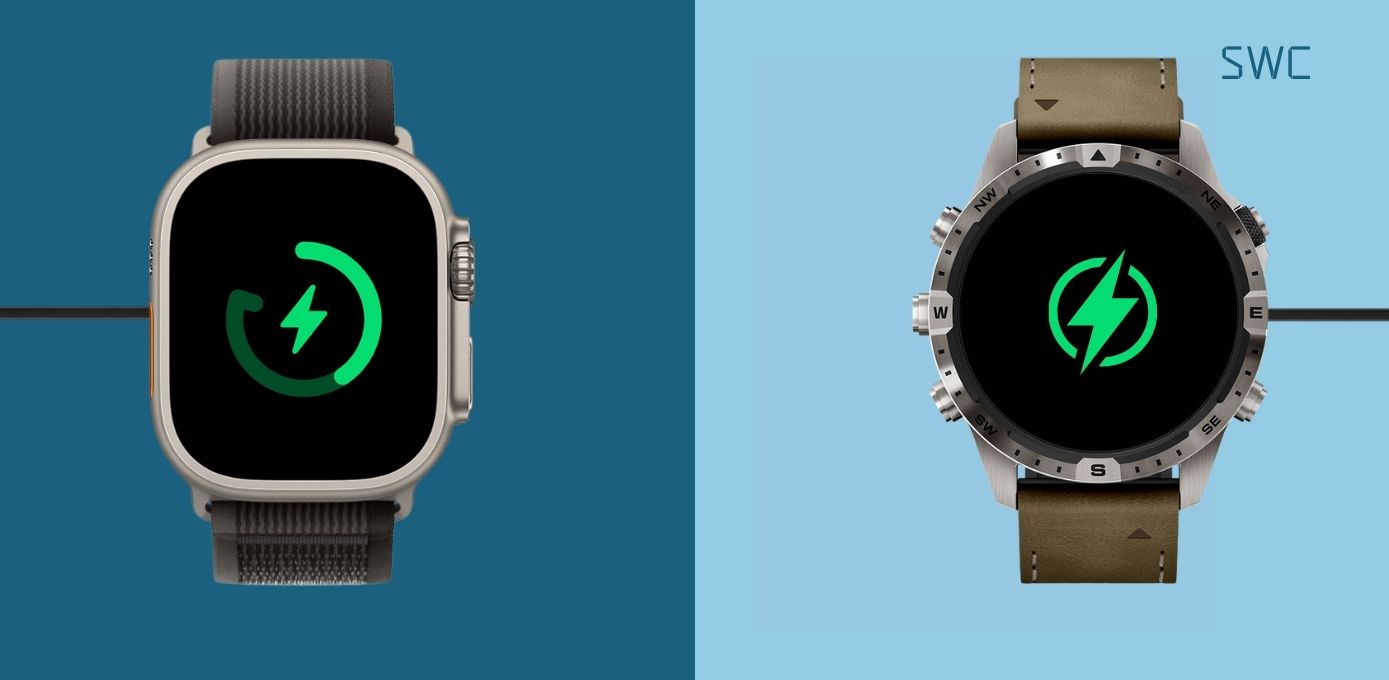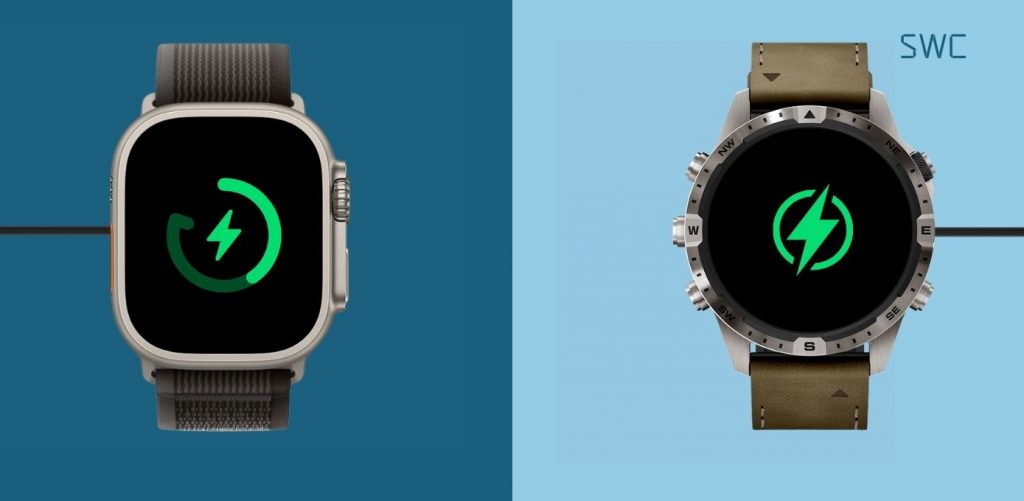 Garmin Watches are absolute beasts when it comes to battery life. Despite the missing Solar charging feature,  Marq Gen 2 series offers anywhere from 16 to 21 days of battery life in smartwatch mode and at least 4-5 days  If you are using features like music playback, Always-on mode, heart rate monitoring, and other sensors continuously.
Marq 2 series like its other siblings Fenix 7, Epix 2, and Enduro 2 are designed to beat Apple Watch for the longest time possible in terms of battery life, and the latter would take a couple of more years to close the gap.
Winner: Garmin Marq 2
Final Verdict:
Most of you will pass on the new Garmin MARQ 2 for its overpriced tag. Its capabilities are not unique, and neither does it have any killer feature that justifies the price. However, we cannot say the same about the premium design and aesthetic appeal of the watch vis-a-vis other premium Garmin watches.
In comparison to Apple Watch Ultra, it offers more workout and sports profiles, better mapping and tracking capabilities, and superior battery performance. But so does Epix 2, Fenix 7 and Enduro Series.