Best Fitness Trackers For Google Pixel Phones 2021 | Pixel 5, 4, 4A, 4A (5G), 3, 3A, 3 XL
Last Updated on June 6, 2021 by Editorial Team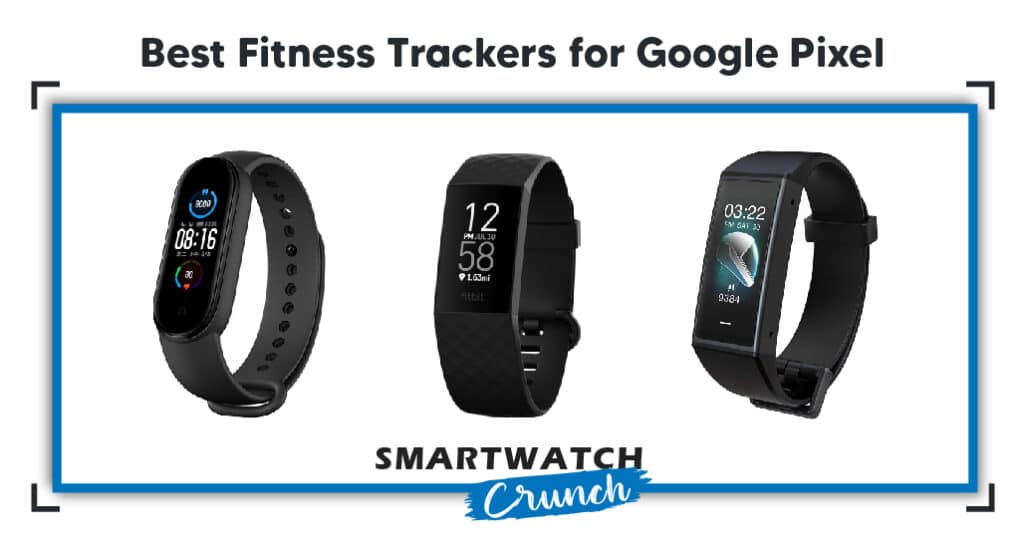 As an Amazon Associate I earn from qualifying purchases.
Though hardware contributes little to the clout of Google, for the last couple of years, the company has given the world some really decent phones. (Google Pixel and Nexus Series)
"The Search Engine is Google's core business. It develops hardware as a smokescreen to hide its monopoly in the search engine market." (Source: Peter Theil, 'Zero To One')
Just a few months ago on Oct 15, 2020 Google launched its very first 5G enabled smartphone (Google Pixel 5) and the fans were more than happy. The lowest variant costs just $600, but in performance it is on par with latest Apple and Samsung phones.
If you have recently bought one and are looking for top-notch accessories for it, we can help you with the selection of a fitness tracker or a smartwatch. A separate, detailed buying guide is added for those who are looking for a Google Pixel Compatible Smartwatch. Here, we will exclusively cover fitness/activity tracker.
The Fitness Trackers Listed Here Are Compatible With The Following:
Our focus is mainly on the latest models like Pixel 5, 4A 5G(2020). Keep in mind, if a tracker is compatible with the latest models, it will usually work with previous generations.
Not all " Android Compatible Fitness Trackers" offer best compatibility with the Google Pixel phones, raison d'etre of this article.
We don't claim that we test all these fitness trackers ourselves. We neither have the resources nor the time.
Rather, our selection is guided by the informed opinions of first hand users, the community on Reddit, Quora and the likes of them, and thorough research.
Google Pixel 5 Series (2020): Pixel 5
Google Pixel 4 Series (2019): Pixel 4, 4XL, 4A 5G(2020)
Latest Google Pixel 3A Series (2019): Pixel 3A, 3A XL
Google Pixel 3 Series (2018): Pixel 3, 3XL
Google Pixel 2 Series (2017): Pixel 2, Pixel 2XL
The First Google Pixel Series (2016): Pixel, Pixel XL
Finding The Google Pixel Compatible Fitness Tracker:
The first criteria is ofcourse the compatibility with a wide range of smartphones.In your case, it must be highly compatible with the Google Pixel phones. The rest we have tried to summarize in the following mnemonic.
Fully compatible with smartphones
Intuitive user interface (Easy navigation)
Thorough health tracking (Heart Rate, Calories, Sleep, Step)
Nice Display (large, Always-on)
Economical (must not break the bank)
Sports enabled (GPS)
Super battery life (5 days at least)
Apart from this, NFC or contactless payment if available in the tracker would add great value to your life.
Best Fitness Tracker For Google Pixel: Overview
Premium Fitness Trackers: Under $150
Fitbit Charge 4: Best Premium Fitness Tracker For Google Pixel
Midrange Fitness Trackers: Under $100
Samsung Galaxy Fit 2: Best By Samsung For Google Pixel
Vivosmart 4: Best Garmin Fitness Tracker For Google Pixel
Fitbit Inspire 2: Best Value Tracker By Fitbit
Dirt Cheap Fitness Trackers: Under $50:
Mi band 5: Best Affordable Fitness Tracker For Google Pixel
Wyze Band: Cheapest Fitness Tracker For Google Pixel
Features:
Battery Life: 10 Days
Display: 0.95" AMOLED display.
Water Resistance: 5 ATM (up to 50 m)
Weight: 2.6 oz
Colors: 1
Tracking Coverage: Heart Rate, Sleep, Step tracking.
Microphone: yes
Voice assistant: Built-in Alexa
Review:
In the last month of 2020, Wyze announced a new smartwatch that would be the first by the company. The company is offering it at the cheapest price point and it is bothering many people as the features mentioned are way too powerful to come at this range.
Should you give it a try? If you are a smartwatch fan, yes. But what if it turns out to be a spoof. Wyze band, released almost an year ago is the reason it will not be.
Wearable tech hasn't been more affordable than Wyze Devices. Wyze Band is no different. It offers a number of fitness features like sleep, heart rate and step tracking for just $25.
The band offers essential fitness features, but more importantly, it puts Alexa on your wrist for $25, plus is well-integrated with the company's other smart home devices. However, there are a few downers to it. Alexa connectivity and Irritating haptic are the prime ones.
The best feature and probably the feature that urged Wyze to develop a wearable is its centrality to the Wyze ecosystem. You can control the Wyze Smartdevices right from your wrist.
The battery life is over the top: 10 days on a single charge. The charging time is less than 2 hours. But there is a caveat. The proprietary charger doesn't connect properly to the tracker at times.
Lastly, the 0.95 inch AMOLED display is a little small, but it is crisp and clear. Surprisingly enough, you can view it in direct sunlight.


Why Should You Buy It?
If you compare the features with all the leading manufacturers and do a price comparison, your response will be one of the following two: you will experience a sense of shock and disbelief, and would probably dismiss the fitness tracker as a marketing gimmick; Or, you will accept the fact the valuable products don't have to cost a fortune, and buy this band.
Given you have other products by the same company and are short of money, this fitness tracker perfectly matches your description.
Features:
Battery Life: 14 days (Charging Time <2)
Display: 1.1″ AMOLED | 126 x 29 px | Brightness: 450
Water Resistance: 5 ATM (Up to 50m)
Colors: Black
Sensors:
Heart rate sensor, Connected GPS, Accelerometer, Gyroscope, Barometer, Proximity sensor, Weight: 0.4 ounce
Tracking Scope:
Heart rate monitoring, Sleep monitoring, Women's health tracking,
Stress monitoring, breathing exercises, PAI vitality index assessment, idle alerts, step counter, goal setting
Review:
Xiaomi Bands has been the top picks by many independent reviewers when it comes to affordable trackers. Why? Xiaomi is replicating one successful formula years after years: To provide the most essential feature in the fraction of price of bigwigs like Fitbit, Samsung and Garmin.
Jimmy Westenberg at androidauthority.com has personally tested the fitness tracker with his Google Pixel 4a. Band 5 is fully compatible with the phone and hopefully works perfectly fine with the latest models like Pixel 5 & Pixel 4A (5G)
Band 5 is 20% larger than the predecessor so you would have to find large bands for it, given you own a Band 4. 1.1″ AMOLED Display is crisp and clear and offers 126 x 29 px resolution. Brightness level 450nits is enough to see clearly in both indoor and outdoor conditions.
The battery life is better than most(14 days) and if you use it more cautiously, you can squeeze out extra hours from it. A big improvement over the previous model (Mi Band 4) is magnetic charging and a long charging cable. You don't have to take the tracker out of the band to charge it.
Mi Band 5 offers nearly 80% of what modern fitness trackers are offering. Accurate Heart rate tracking, Detailed Sleep tracking, Female Menstrual Cycle, and stress tracking is what band 5 is offering at this price point.
Surprisingly enough, the chinese version of the trackers offers such advanced features like NFC payment, GPS and a voice assistant. The Global version lacks these bells and wistles.
Why Should You Buy It?
Mi Band 5 is certainly not the cheapest fitness tracker but it surely is the best fitness tracker when it comes to affordable price points. It covers the basic heart rate and step tracking, plus advanced sleep tracking.
It has a solid display and a huge battery life. Enough reason to make a purchasing decision when on a tight budget.
Features:
Battery Life: 4 days
Display: 1.5-inch AMOLED
Water Resistance: IP68 Rated
Weight: 1.06 ounce
Colors: 2
Sensors: accelerometer, barometer, gyro sensor, heart rate
Tracking Coverage: Steps, heart rate, and sleep tracking
Review:
Samsung Galaxy fit 2 is an affordable fitness tracker with an attractive price point. To save you the spoilers, it doesn't have GPS, doesn't measure blood oxygen or ECG tracker. But all these are advanced features which we least expect from an affordable tracker. So we cut it some slack here.
Fit 2 lacks even a connected GPS feature, and we can totally understand, but it should have had the basic altimeter to track floors climbed.
And what of inaccuracy in measuring even the basics? Yes, the tracker often erroneously measures more steps and heart rate tracking is a bit off. The same goes for sleep tracking. But the margins are not disproportionate to rule it out as a useless device.
Apart from basic fitness tracking, the band provides a great value as an activity tracker. It has sufficiently large real estate to show previews of messages and even emails, and you can even reply to them. The battery life is great, 21 days on a single charge if you don't track anything, and more than 10 if you occasionally use heart rate and sleep tracking.
Fit 2 outshine other trackers in the display where its 1.1-inch AMOLED screen is bright enough to deal with both indoor and outdoor environments. The screen offers high resolution and covers a wide color gamut.
Samsung ditched the physical button to give it a profile that makes it almost as slender as the Fitbit Inspire 2. (we will review it later in this article)
In terms of water resistance, you're getting a fitness tracker that works perfectly fine in water up to 50 meters. (ATM 5 Rated)  It's suitable for swimming, snorkeling and you can shower with it.
Why Should You Buy It?
You should go for the tracker if you are on a budget and a fan of Samsung Wearables. However, if you can spend more, we would recommend you ditch this one for the Fitbit Inspire 2 in this price range.
Features:
Battery Life: 7 days
Display: OLED | 48 x 128 pixels px
Water Resistance: Swim Friendly
Colors: Black
Sensors: Garmin Elevate™ Wrist Heart Rate Monitor, Barometric Altimeter, Accelerometer, Ambient Light Sensor, Pulse Ox Blood Oxygen Saturation Monitor
Weight: 0.5 ounce
Tracking Scope:
Heart rate monitoring, Sleep monitoring, Women's health tracking,
Stress and hydration monitoring, breathing exercises, Pulse Ox Blood Oxygen saturation
Review:
While Fitbit Charge 4 is our current favorite, Garmin Vivosmart 4 offers tough competition. It comes in two sizes, in 4 colors and has a unibody design. You can't change the straps. A big downer for the band.
On the other hand, Vivosmart 4 is sleek and stylish. Garmin has taken special care to make it fit with the latest trend of modern wearable. At least in style, it is a tracker par excellence.
The 0.26 x 0.7″ Display is too small to showcase meaningful data, especially when it comes to notification alerts. The resolution however is better than most.
In the fitness tracking department, it can track heart rate, sleep, stress, blood oxygen, and much more. However, the best part is not the hardware but the visual representation of this data on the patent app. Also, Garmi included Body Battery energy monitoring, which helps you figure out when you're primed to be active or when you may need to rest.
In addition to this, the tracker is swim-friendly so you can take it to a pool or shower without fearing any damage.
The tracker is a bit overpriced and yet it is suitable for buyers on a budget. In the same price range you can get Fitbit Inspire 2 which we believe is at par with it. However, Garmin has SpO2 sensors to its advantage.  
Why Should You Buy It?
In this price range, most people would go for the Fitbit Charge 4 except for the Garmin loyal fans. Vivosmart 4 is a decent fitness tracker that is a bit overpriced and yet it is less expensive than Charge 4.
Features:
Battery Life: 20 days
Display: 0.75-inch
Water Resistance: 50m
Weight: 1.58
Colors: three
Sensors:
HR Tracker, High precision MEMS 3-axis accelerometer, Light sensor
Tracking Coverage:
Swimming, running, heart rate, sleep, step, and much more.
Review:
Withings Pulse HR is the most stylish accessory to equip your Google Pixel with. However, it is overpriced for the features it is offering.
To begin with, there are no advanced trackers like Standalone GPS or SpO2 sensor and yet the price is touching $100. Fitbit Inspire 2 shares the price tag but has a large screen and a powerful app to back it up.
The most annoying thing about the fitness tracker is the small screen size which makes it impossible to preview notifications on the tracker. The only thing you will know is the app on which these messages are sent. There's an ambient brightness sensor on the device so it's able to control brightness automatically, or you can manually override it through the app.
Another problem with the tracker is its small band size that is pretty annoying for large wrists. Third party bands are limited, so you are stuck with the maximum size the company can provide.
The band accurately tracks sleep and heart rate, better than most we can say. But when it comes to showing it in an interactive way, it falls flat.
Fitbit Tracker users will have a hard time adjusting to the basic interface this offers.
Other than heart fitness tracking the tracker offers 30 exercise modes as a plus.
The 50m waterproof range is pretty standard for trackers in this price range. 25 days battery life, which lasts 20 days with multiple features usage, is however something extraordinary. 
Why Should You Buy It?
Users with small wrists and usually women are the ideal fit for this tracker. It's lightweight, sleek and is combined with an easy to navigate, albeit basic UI and app. Plus, it has excellent battery life.

Other than these features, if you want a tracker just as stylish but more powerful, better go for Fitbit Inspire 2. In head to head comparison, Inspire 2 has a lot more to offer than Withings Pulse HR.
Features:
Battery Life: 10 days.
Display: 1-inch PMOLED screen (160 x 100-pixel)
Water Resistance: Up to 50m (ATM 5 Rated)
Colors: 3
Sensors: Altimeter, 3-axis accelerometer, optical heart rate monitor Vibration motor
Bands Included:Classic wristbands [both small (Fits wrist 5.5″ – 7.1″ ) & large(Fits wrist 7.1″ – 8.7″ in circumference)]
Review:
As Fitbit Inspire 2 is manufactured by the same company It is a futile repetition of shared features between Charge 4 and Inspire 2. Jump to Fitbit Charge 4 Review to find the similarities between the two.
Inspire 2 is slim and sleek. It has a long battery life of 10 days, and has got no fitbit pay or GPS.  Plus, it is affordable. The differences just end there, or one might just be left: it doesn't control Spotify or has anything to do with it. 
Why Should You Buy it?

The reason why you should prefer it on the Fitbit Charge 4 is its up-to-date, sleek design and affordable price point. Inspire 2 is for casual users: Charge 4 for fitness-aholics.
Features:
Battery Life: 7 days. 4 hours (GPS mode)
Display: 1-inch PMOLED screen (160 x 100-pixel)
Water Resistance: Up to 50m
Colors: 2
Sensors: Altimeter, 3-axis accelerometer, optical heart rate monitor, GPS, Vibration motor, NFC
Other: Spotify Control, Automatic Exercise recognition
Bands Included:Classic wristbands [both small (Fits wrist 5.5″ – 7.1″ ) & large(Fits wrist 7.1″ – 8.7″ in circumference)]
Compatibility Criteria:
Fortunately, Fitbit has added a compatibility chart to let you know if your smartphone works fine with their products. As we checked, all the latest Google Pixel phones are compatible with Fitbit products.
Attention: As Google Pixel 5, 4A (5G) has just been recently released, Fitbit hasn't added it in the list yet. Don't panic, Charge 4, Charge 3 and even Charge 2 will work perfectly fine with the latest Pixel 5.
Review:
Fitbit is the best in fitness tracking. Period.
Charge 4 is the latest band by the company that has improved on the Charge 3 by sporting a standalone GPS and NFC for contactless payment.
Benefit of battery-gobbling GPS? It helps to accurately track data in multisports mode: cycling, running, and biking. Band lasts 4 day on GPS mode, 7 days on regular use. Takes 2 hours to completely charge.
Tracks heart rate per sec on exercise mode, per 5 sec on regular use; tracks sleep in three modes: Light, Deep, and REM. Plus, calorie burn, step tracking and idle alert.
Charge 4 is waterproof up to 50m. Touch won't work under water. By the way, a 1-inch PMOLED screen (160 x 100-pixel) feels premium on the hand.
Presents detailed data on a solid mobile application. Expensive price tag is its only downer. 
Why Should You Buy It?
Nothing is better than a Fitbit when it comes to accurate, reliable fitness tracking. Its only major downside is its expensive price point.
Wrap up:
Fitbit Charge 4 is just the right fitness tracker for the latest Google Pixel titles. For those who don't know, Google is buying Fitbit, and the two devices in future will have the best compatibility. However if, Charge 4 is too expensive, get your hands on Charge 3.
Both Garmin Vivosmart 4 and Galaxy Fit 2 are worth mentioning rivals, but they are not as good as the Fitbit.
Try Withings Pulse HR if you are conscious about the design of your wearables. Pulse HR sports a sleek, premium design and is suitable for those who want to keep in touch with the latest fashion.
On the cheaper side, we would recommend you Galaxy Fit 2 and Mi band 5 ( or Mi band 4). But even if these two seem too expensive, get the dirt cheap yet reliable fitness tracker by Wyze.