Fitbit has recently released the latest model in the Versa, Sense, and Inspire series and in this post, we will be making a quick comparison of the Fitbit Sense 2 vs Fitbit Versa 4.
Earlier this year, Google's takeover of Fitbit was finalized and the company has been hard at work on new products.
Many have hoped that this would mean new products (Fitbit Versa 4 and Fitbit Sense 2) by the company will come with Wear OS preinstalled. However, that's not the case with these two devices as they still come with Fitbit OS. Most probably these wearables were already in development before the acquisition.
However, we have seen footprints of Google's ownership with the new Fitbit products as both come with a few Google Apps. Notable names include Google Maps, Google Assistant, and Google Wallet.
Both watches are available for preorder, and the differences we explained here are based on the information provided by Fitbit on their official website.
Fitbit Sense 2 vs Fitbit Versa 4 Comparison: Key Differences:
Price:
Fitbit Versa 4 is priced significantly lower than the Sense2. It is available for preorder at around $230 while the latter will set you back by $300. The Sense remains to be a superior series by the company, and the added cost is justified by the additional sensors that come with it.
The advanced health monitoring is coupled with a monthly subscription of $10/month or $70/yearly. However, you will get around 6 months of free premium trial with the purchase of the device.
ECG App:
Back in Oct 2020, Fitbit got approval from both FDA and the EU for its Fitbit ECG to Detect Atrial Fibrillation. The original Fitbit Sense watch was the first watch by the company to get this feature. This distinctive feature set Fitbit sense apart from Versa 3, and it remains to be the key feature in the new Sense 2 as well.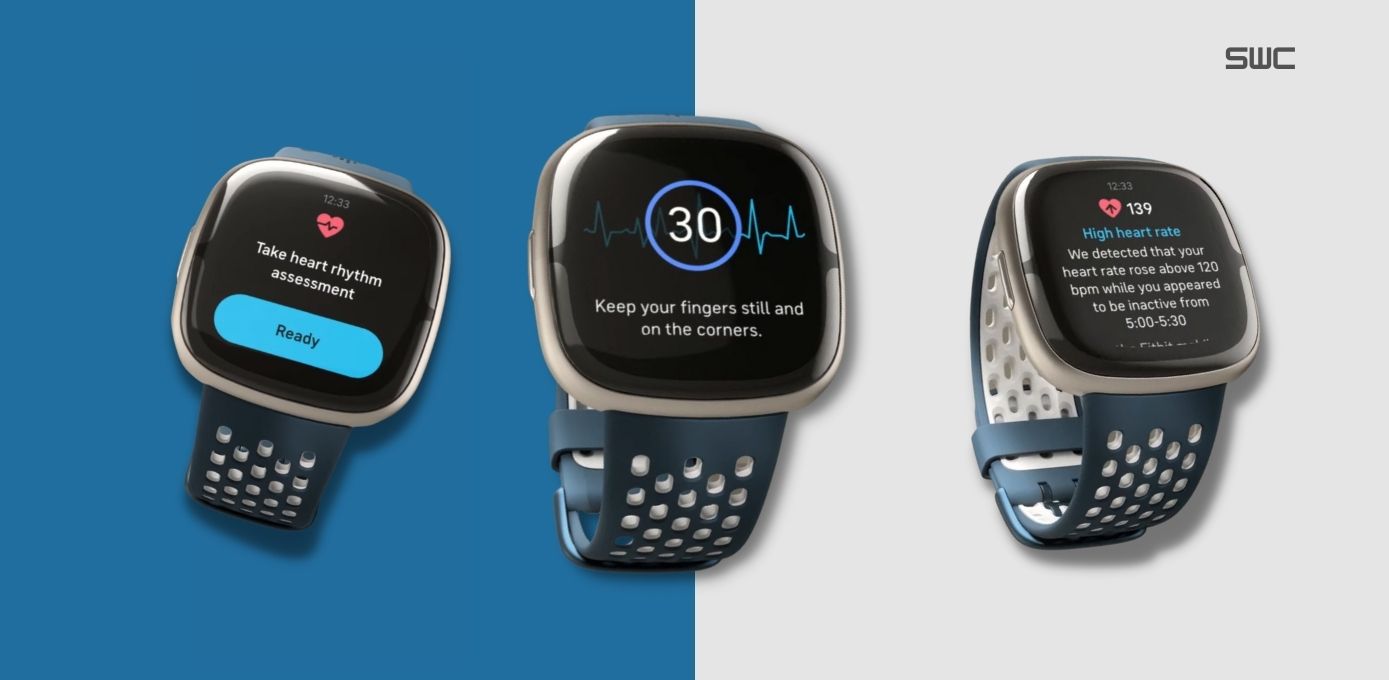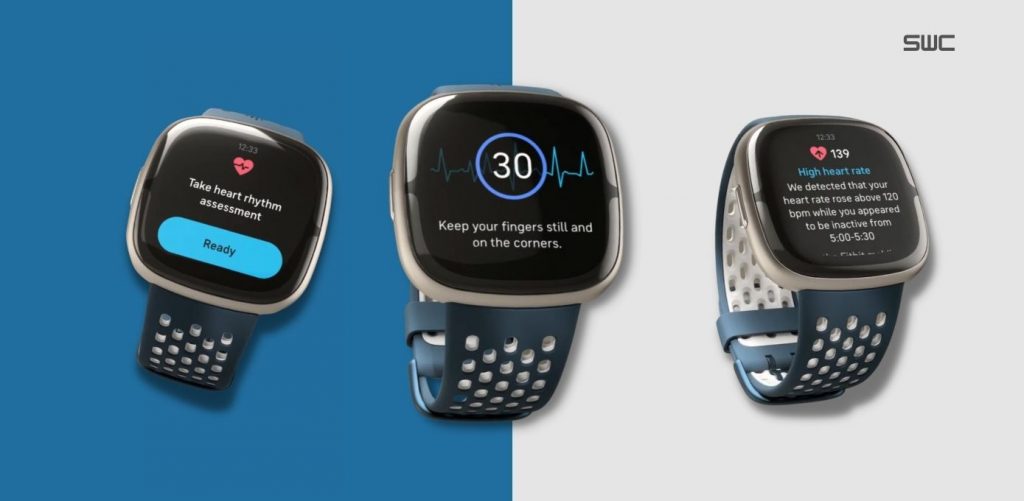 For those who don't know, ECG monitoring is used to detect heart rate irregularities like Atrial Fibrillation (AFib). It can be useful in detecting stroke risk. Though many companies have featured this technology in their smartwatches, only a handful of them was able to get approval from FDA.
Fitbit has assured that it has refined the ECG app and the new app will now come equipped with on-demand AFib assessments to help you get a clear idea about your current heart health.
EDA Sensor:
Fitbit smartwatches are leading the way in terms of stress tracking, and like its predecessor, Fitbit Sense 2 also features an electrodermal activity sensor (EDA) to measure the response of your skin to measure stress.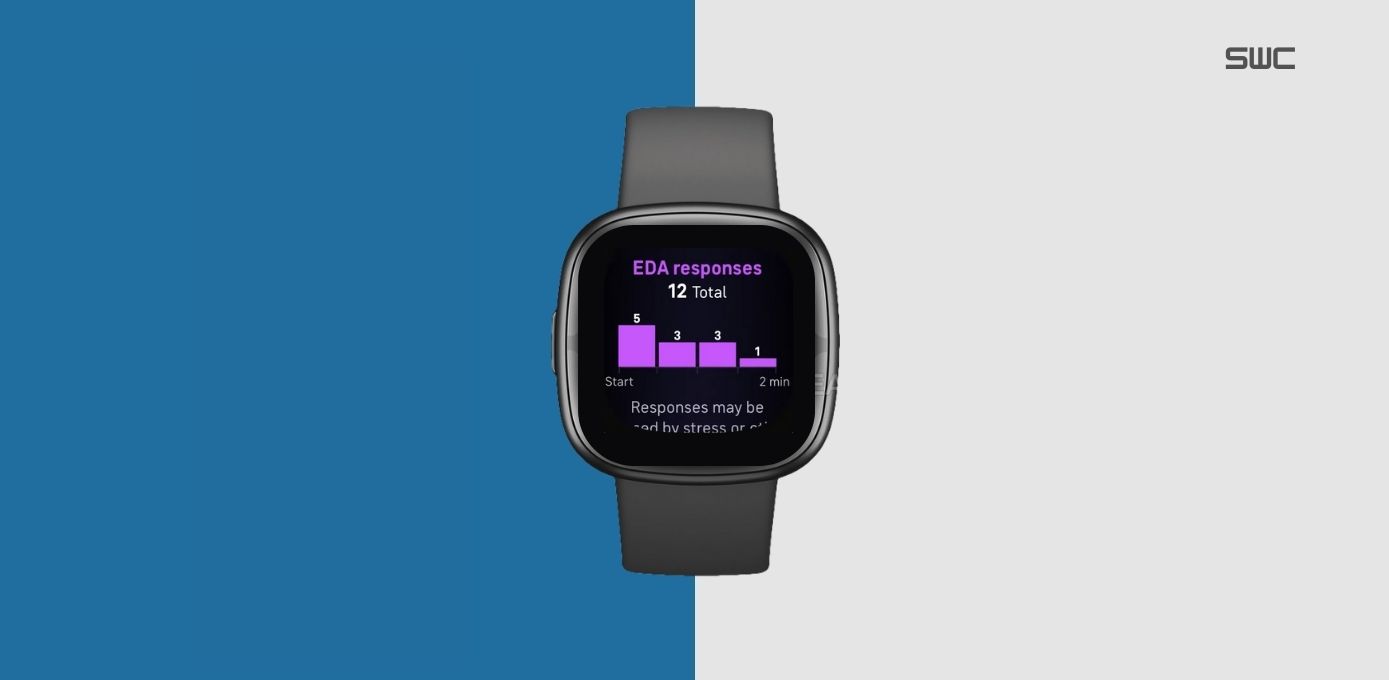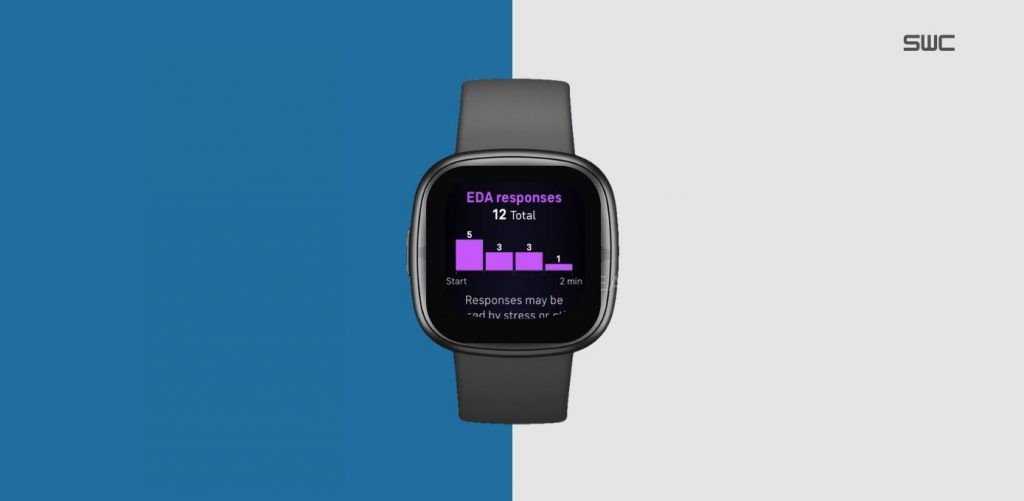 As with the original Sense, you have to place your palm onto the metal frame of the Sense 2 to take the EDA reading.
Versa 4 is simply missing all these advanced sensors, so there is no comparison to be made here.
New Body Response (cEDA) Sensor:
The company has added a brand new body response sensor which as per its claim will measure the continuous electrical activity of your skin throughout the day. The raw data from this sensor is then coupled with heart rate & HRV data, on-spot ECD readings, and skin temperature to give you comprehensive insights into your stress level.
Theoretically, the watch will notify you of any sudden and long-lasting spikes in your stress levels, allowing you to take necessary actions. The watch will provide you with recommendations on how you can manage stress via breathing exercises, etc.
This significant addition will make Sense 2 the foremost choice for people looking for a smartwatch with comprehensive health tracking. Surely, Fitbit has managed to keep an edge over Apple Watch and Garmin as far as health monitoring is concerned.
Fitbit Sense 2 vs Fitbit Versa 4: Key Similarities
Design:
Fitbit has adopted a squarish design in line with the Apple Watch for all its watches for far and these two are no different.
In both dimensions and weight, these watches are identical. The same goes for the color options with the exception of the pale gold case color of Fitbit Sense 2.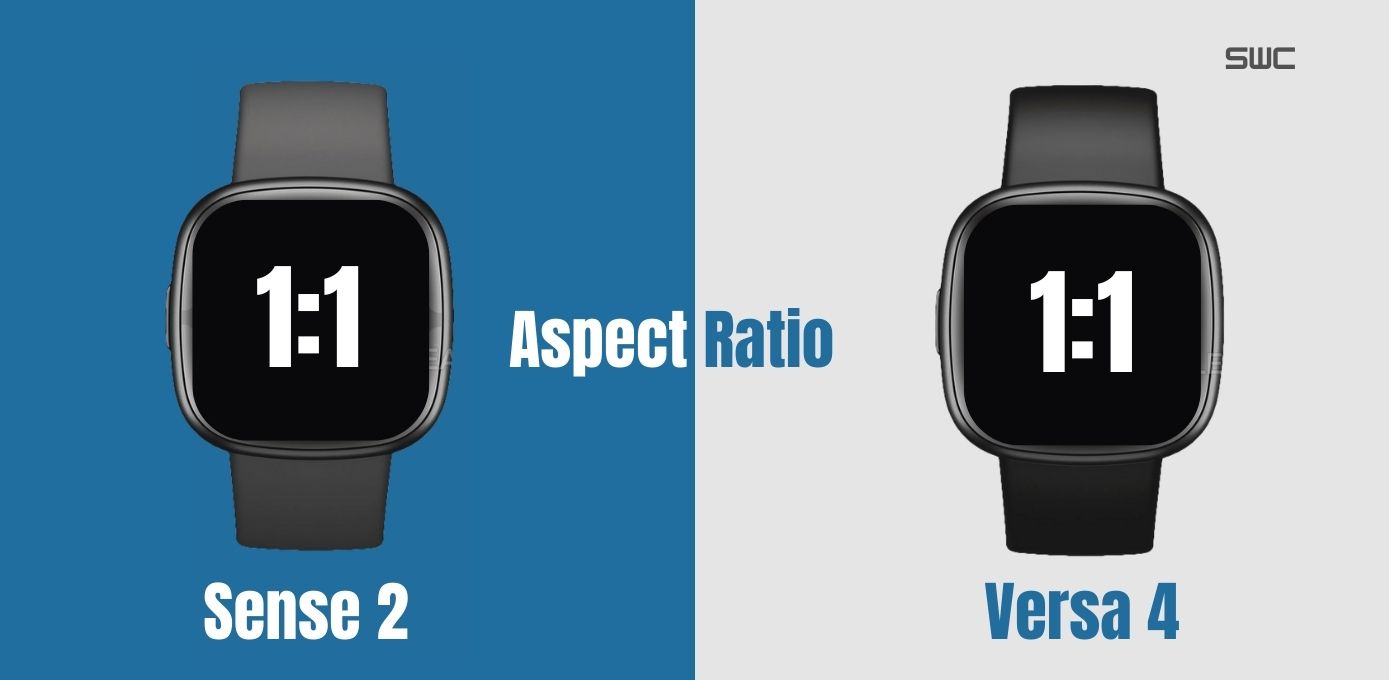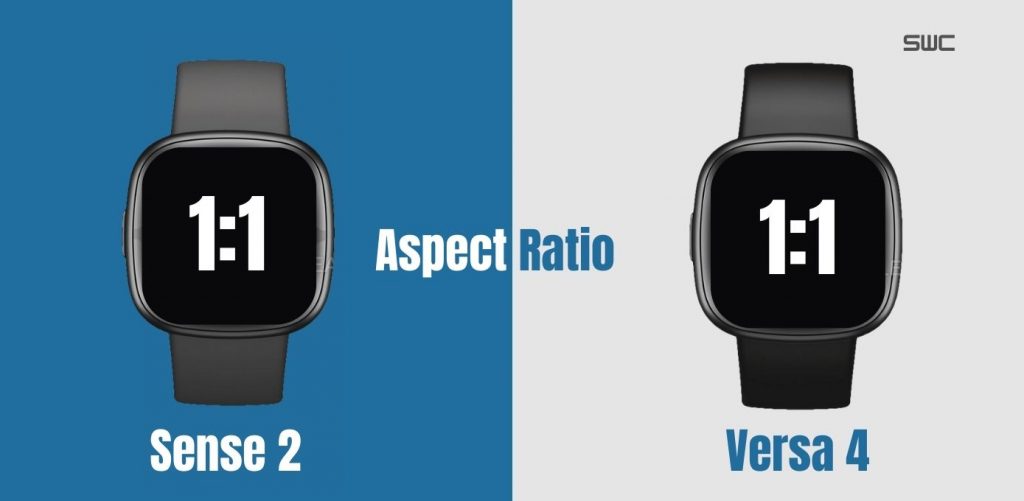 One significant improvement over their predecessor is the addition of a tactical physical button that replaces the finicky haptic button
In the display department, both feature an AMOLED display with no difference in resolution.
Water resistance is another key similarity with the 5 ATM rating allowing you to take them for a swim.
Smart Features:
As mentioned earlier, we will see more and more Google apps and features trickling down to Fitbit's smartwatches. The most prominent additions are Google Maps and Google Wallet.
Both support contactless payments using NFC chips but only in selected markets. Apart from the Fitbit Pay that comes preinstalled, the company promised to add support for 'Google Pay' too.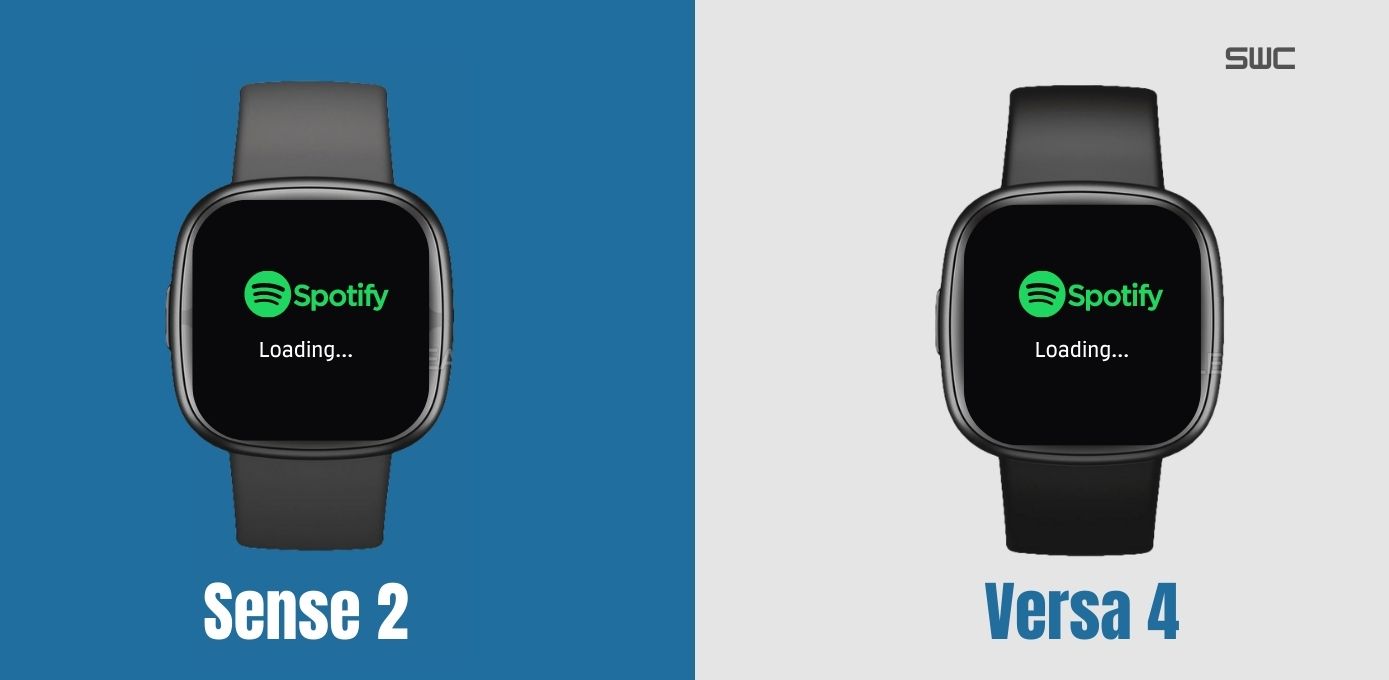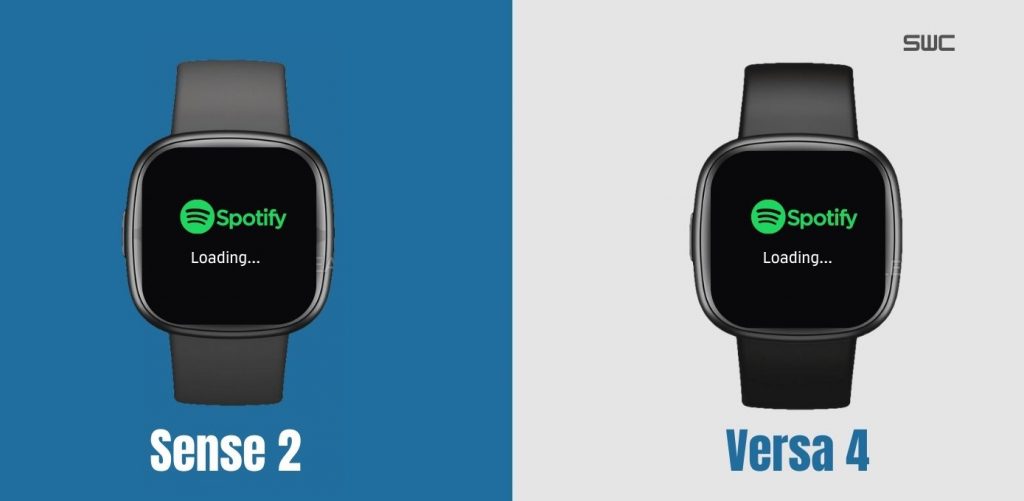 Apart from that, both watches can make on-wrist Bluetooth calls, can send pre-typed texts, and show notifications from your phone. However, calling and texting features are limited to Android phones only.
There is no specification given for the storage on these two devices. Both can store mp3 music and playlists from Pandora, Spotify, and Deezer.
As far as the smart features are concerned, both watches are evenly matched.
Basic Fitness & Health Tracking:
Apart from the advanced metrics, we discussed above (ECG, EDA, cEDA), all other fitness and health tracking features are similar in both watches.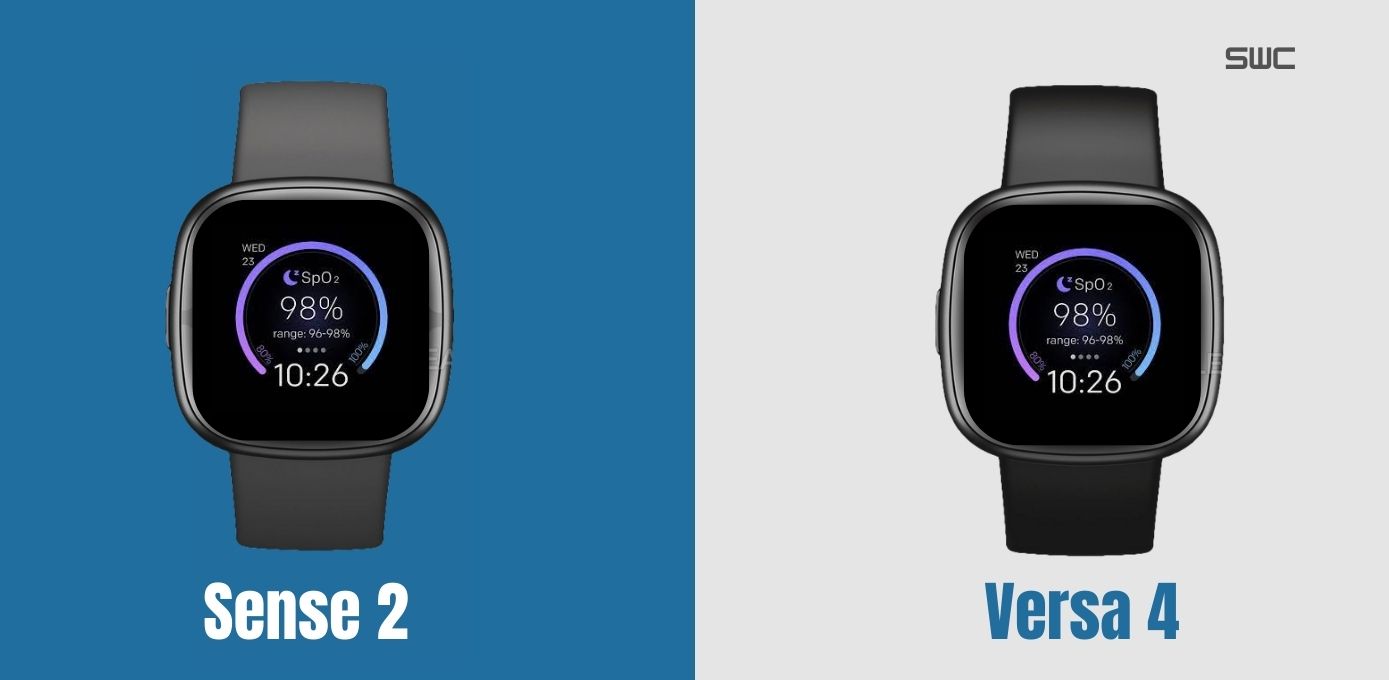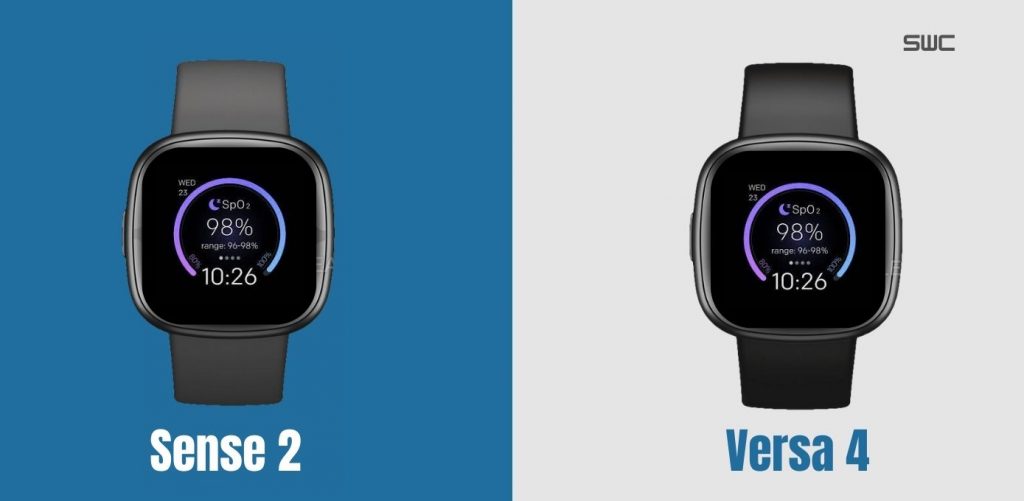 Both have a built-in GPS, which can track all basic fitness activities such as walking, running, cycling, swimming, etc. In addition to that, they can also track more advanced workouts such as yoga, elliptical trainer, stair climber, etc. Fitbit added a total of 40 workouts on these watches.
Battery Life: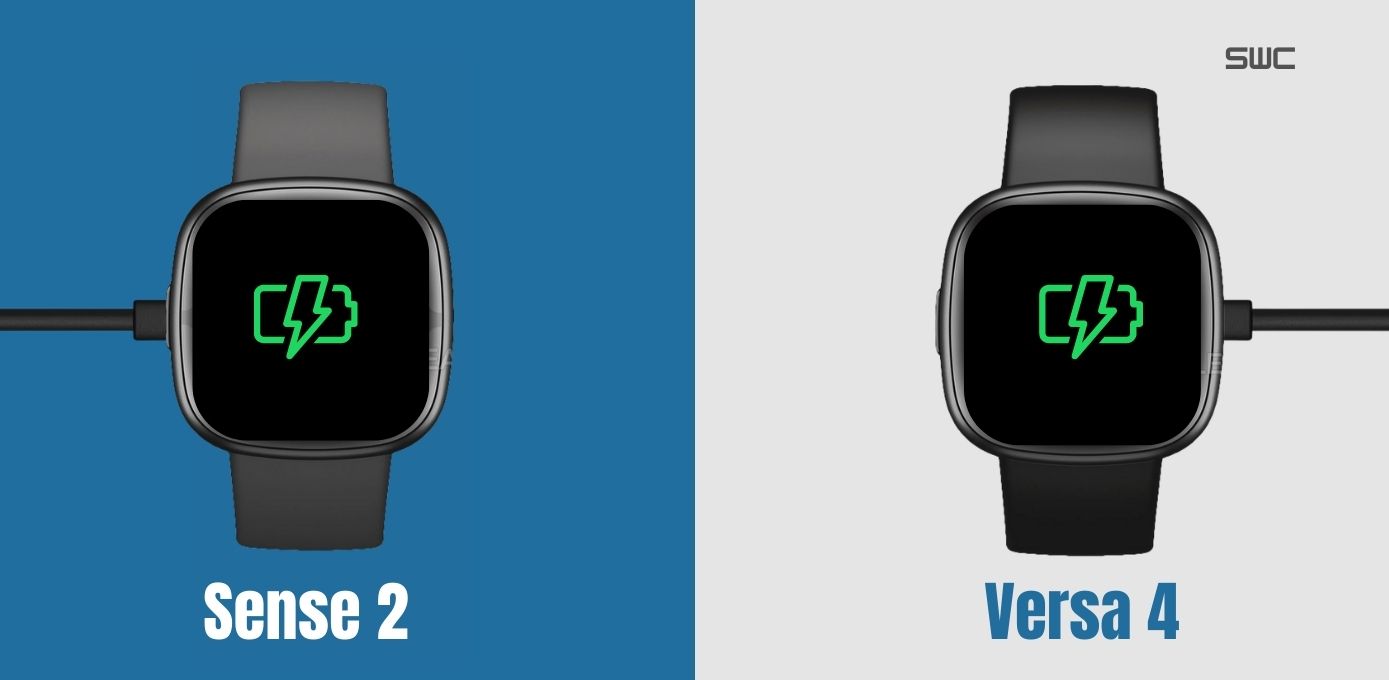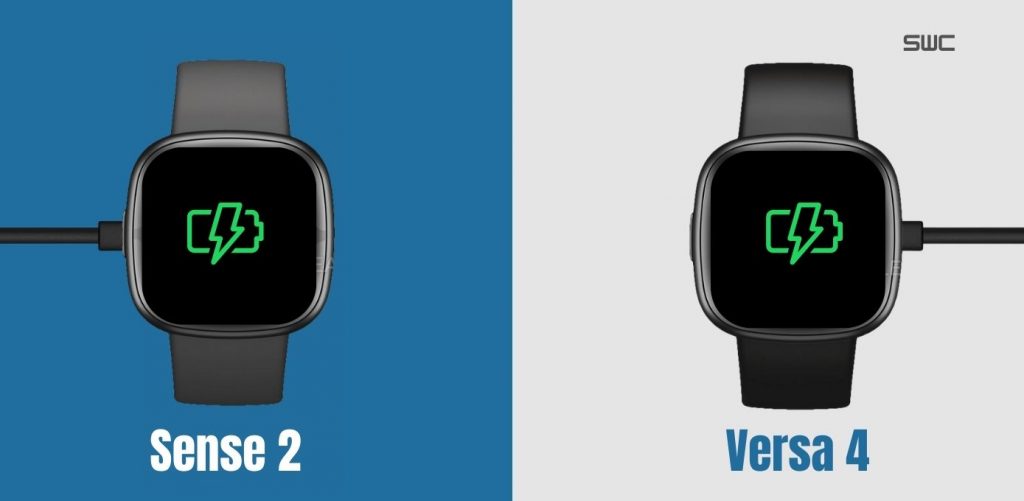 Fitbit promise 6 days of use from a single charge on the Fitbit Versa 4, and the same for the Sense 2. However, this claim depends mainly on how you use your smartwatch. If you use features like music playback and GPS regularly, then you can expect the battery to last for around four days.
Both watches feature fast charging: 12 minutes of charge will get you a whole day of use.
Fitbit Sense 2 vs Fitbit Versa 4: What should you pick?
The bottom line is: that Fitbit Sense 2 is $70 more expensive than Versa 4. Is the premium worth it? Yes and No. Primarily three health metrics separate these watches namely ECG, EDA, and cEDA. If all these metrics matter to you, the premium is worth paying. Otherwise, all you get is an overpriced model of Versa 4 with no particular benefit to offer.