Soon after the release of the Apple Watch Ultra, the company's first attempt at a watch, Garmin took a jibe at it by tweeting " We measure battery life in months. Not hours." The attached image had Enduro 2 in outdoor conditions. For those who don't know, Enduro 2 is Garmin's longest-lasting GPS watch with months-long battery performance.
Both brands have a diehard fanbase, so we find it amusing to see how the two watches compare when it comes to features, performance, and design. As far as the target audience is concerned, both of them are meant for endurance athletes and outdoor enthusiasts.
Here, we will do a quick Garmin Enduro 2 vs Apple Watch Ultra comparison for you. We might not be able to get into details here because, well, we haven't had enough time with the Ultra yet. Still, it is more than enough to give you an idea of how the two watches differ from each other.
Disclaimer: If you buy through affiliate links on this article, we may earn a commission without any additional cost to you.
Garmin Enduro 2 Vs. Apple Watch Ultra: Pricing
Garmin Enduro 2 is one of the most expensive watches by the company. Priced at around $1100, Enduro 2 is right at the top with Fenix 7X Solar.
As for the Apple Watch Ultra, the pricing is set at around $800.
Winner: Apple Watch Ultra
Garmin Enduro 2 Vs. Apple Watch Ultra: Design & Display
Both watches check all boxes of a rugged design. They are both large, chunky, and have military-grade durability. The casing material is high-end titanium and the screen is protected by sapphire crystal glass. Despite the large size of Enduro 2, it weighs almost the same as the Ultra. The reason has to do with the plastic used in its construction in combination with the titanium bezel and rear.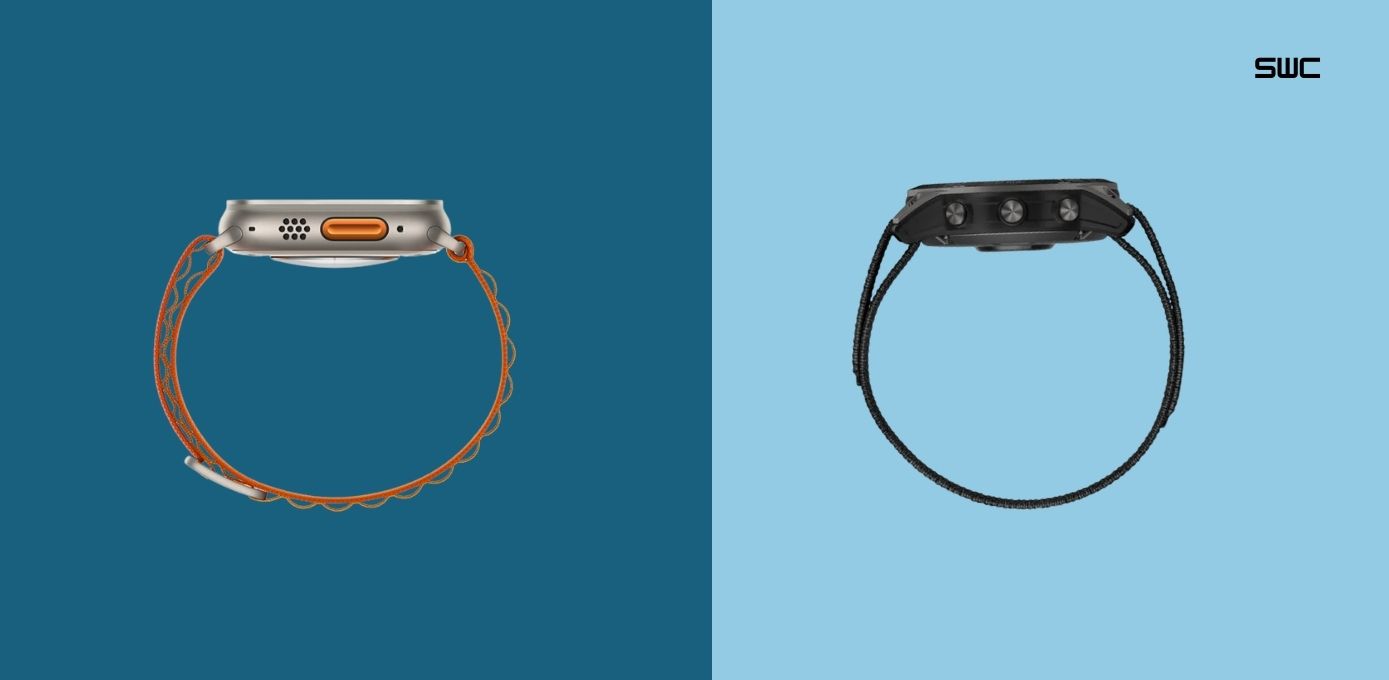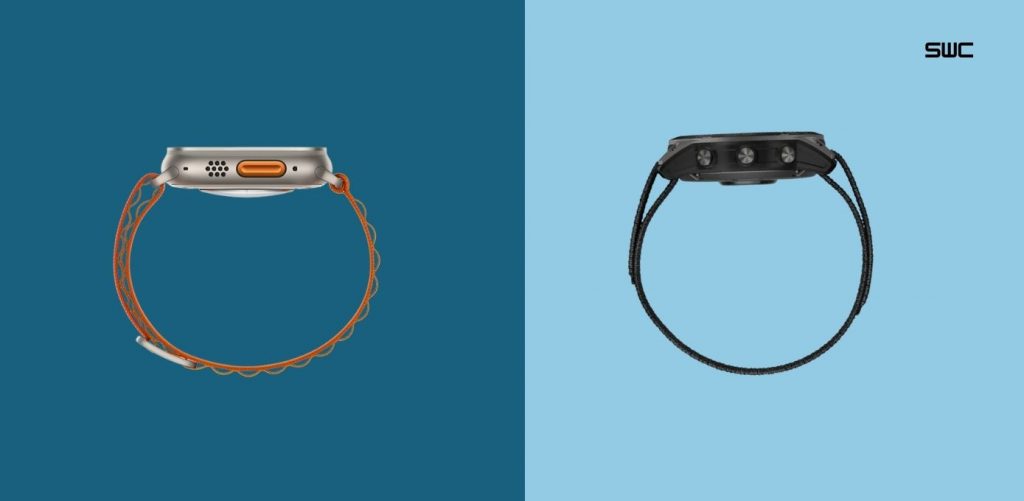 If our standard for display was just the size and resolution, then Apple Watch Ultra would have won this section hands down. But, we have to take into account the usability of the watch in outdoor conditions.
The MIP display on the Garmin watch is easily visible in any lighting conditions. Apple counters this by bumping the brightness to 2000 nits on its AMOLED display. Checkmate. Both watches offer touchscreen controls and have buttons for easy navigation.
Related Post: Garmin Watch Giving Me Rash, How to deal with it?
The raised bezel on the Garmin watch makes it less prone to damage and accidental bumps, it comes in very handy in mountaineering and trail running. Apple has no answer for it, and it remains to be seen how its flat design fares in the long run. Still, we feel compelled to give a slight edge to Apple.
Winner: Apple Watch Ultra
Garmin Enduro 2 Vs. Apple Watch Ultra: Smart Features
No watch can beat Apple in this competition, and Garmin Enduro 2 shows little potential to compete. The most you get from the watch is its NFC payment system, Garmin Pay, and support for popular music streaming platforms like Spotify and Amazon Music. The watch can also download widgets and third-party apps available on the ConnectIQ store, which itself is lacking in numbers and quality.
Apple Watch Ultra has answers to all of the above and more. It has its own music streaming service, Apple Music, and supports other popular ones like Spotify. You can also download apps from the largest app store, and make payments via Apple Pay.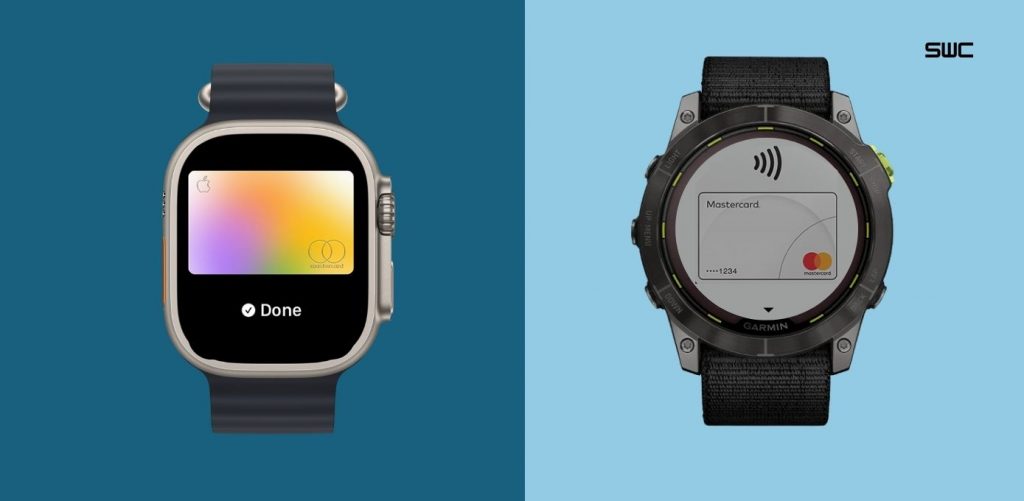 In addition, the watch has a voice assistant, Siri, to control IoT devices and handle tasks like setting alarms, creating calendar events, and more.
If that's not enough, the Apple Watch Ultra comes with cellular support that allows you to use the watch independent of your smartphone. However, you do need an iPhone to set up the watch for the first time.
Winner: Apple Watch Ultra
Garmin Enduro 2 Vs. Apple Watch Ultra: Health and Fitness Tracking
In the health monitoring department, Apple Watch Ultra maintains a slight lead with its ECG app and new sleep tracking app. If you take ECG monitoring out of the equation, Enduro 2 is an equally capable watch, but its size makes it highly unsuitable for day-to-day health monitoring.
As far as the accuracy is concerned, both watches are equally good. However, the raw data from both devices are of no use to you if you can't make heads or tails of it. This is where the Apple Watch shines.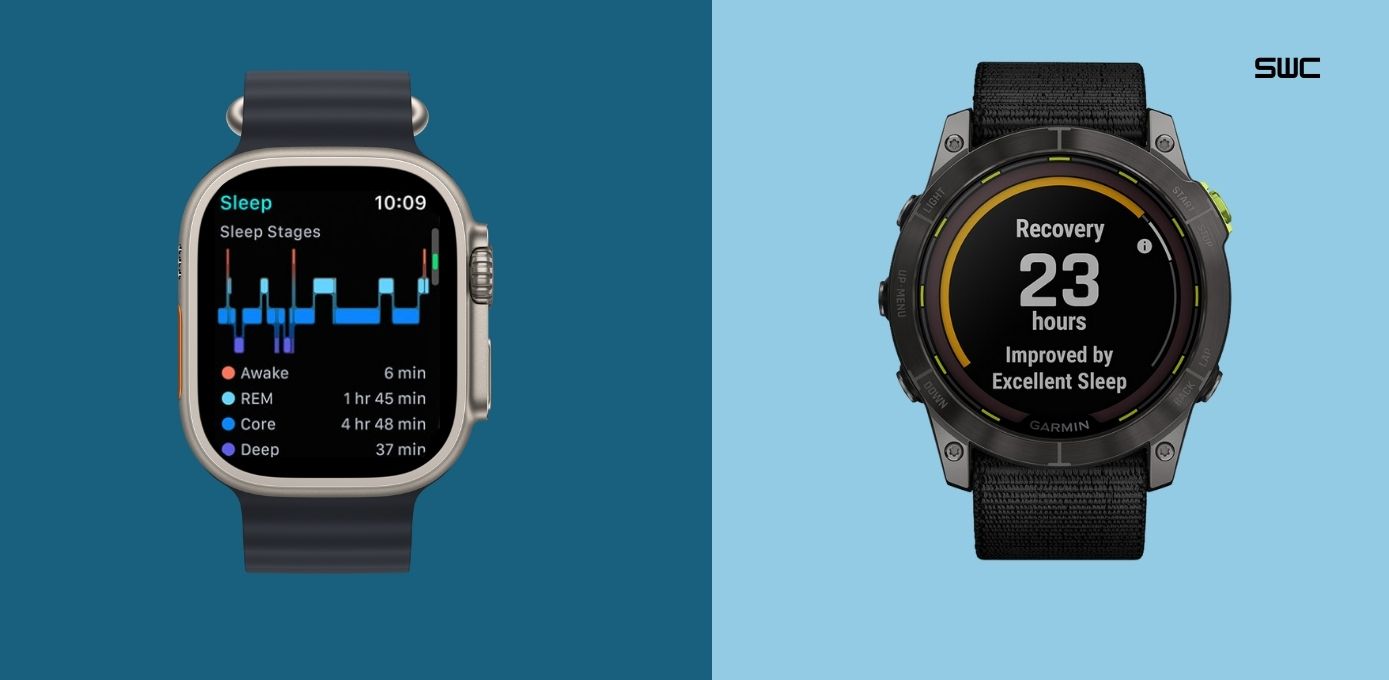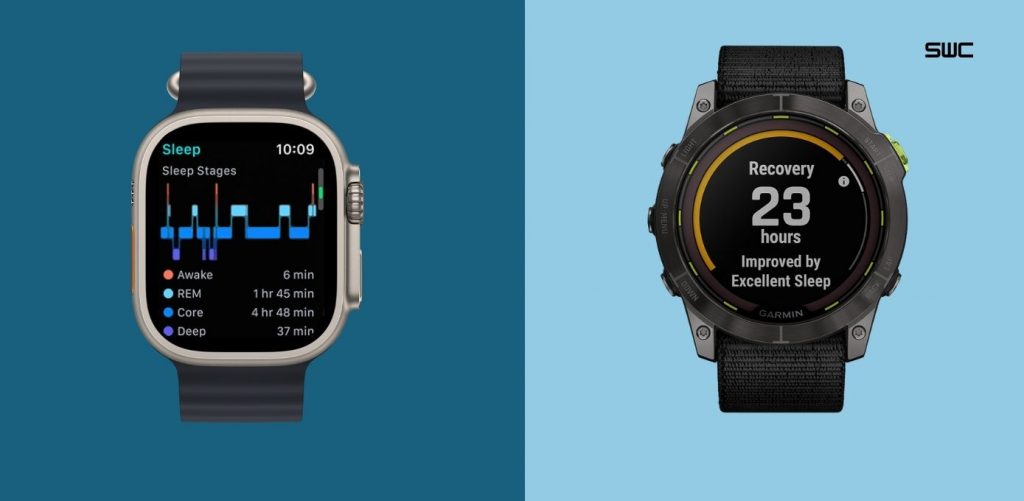 The Health app on the iPhone gives you a clear and concise overview of all your health data, and more importantly, it offers actionable insights to help you improve your health. The app also makes it easy to share your data with your doctor or healthcare provider. Garmin has a similar set of features named Health Snapshot, Recovery time, and Training readiness. We can say that Garmin doesn't lag far behind.
Winner: Tied
Garmin Enduro 2 Vs. Apple Watch Ultra: Sports Tracking
Apple claims that the new Ultra watch is a go-to device for athletes from all walks of life. For hikers, it has an altimeter to track elevation changes, and for divers it has the most robust water resistance, for runners it offers the most accurate dual-band GPS navigation. Well, we all know that Apple is not the first brand to offer all these features.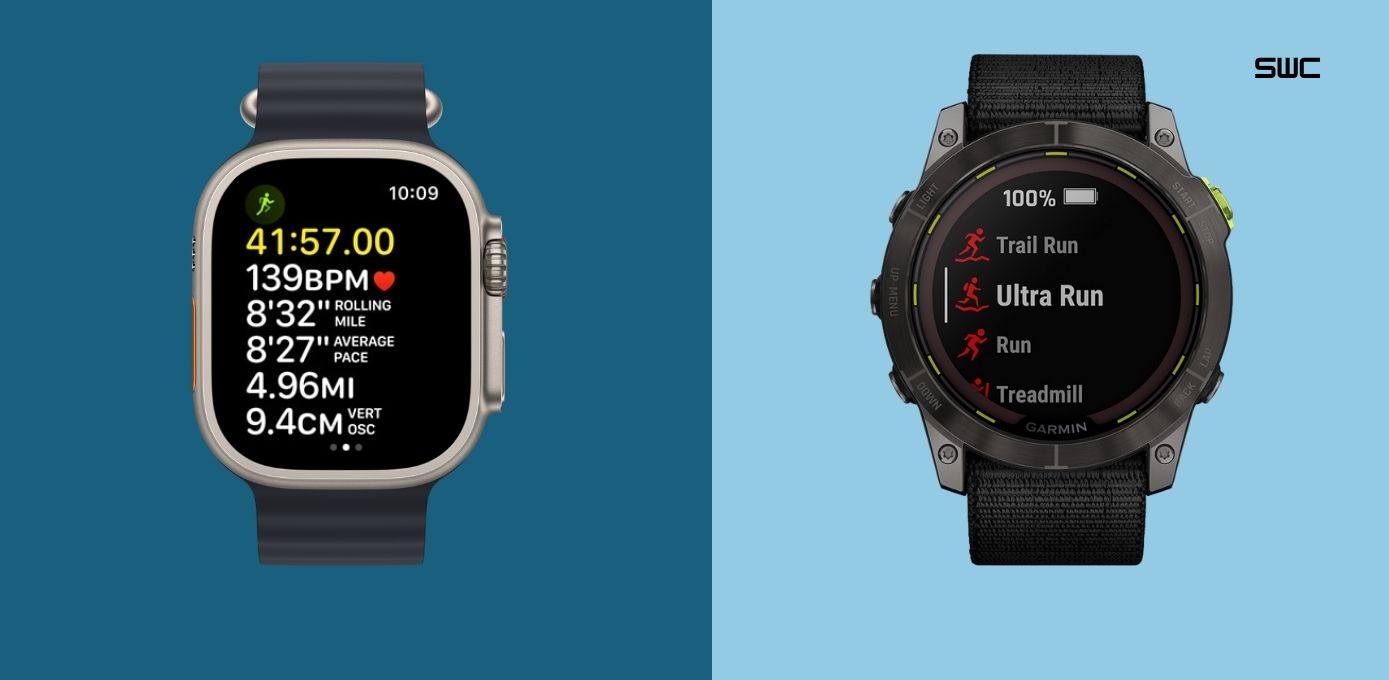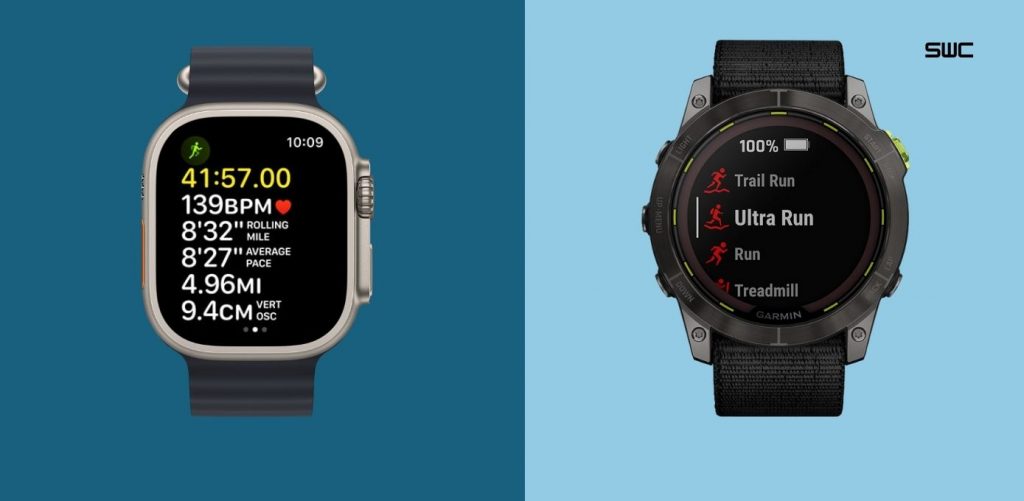 Garmin was the first brand to pivot its focus on athletes and outdoor adventurers, and Enduro 2 is proof of that. The watch has all the features an athlete might need, and more.
Enduro 2 like its other siblings (Forerunner 955, Epix 2 & Fenix 7) offers integrated multi-band GPS navigation and advanced mapping capabilities in multiple sports profiles. As result, you get highly accurate position tracking even in challenging environments like dense forests. It also has a barometric altimeter to track elevation changes and an integrated thermal sensor to monitor heat acclimation.
The sheer number of sports modes on the Garmin Watch is unrivaled. But more importantly, it is the depth of metrics it offers for each of those sports modes that sets it apart. Each support mode can add third-party data fields to further enhance your training, and tailor the watch to your specific needs.
For instance, the swimming mode doesn't just track your laps and distance, but also stroke type, SWOLF score (a metric that combines your time and strokes per length), pace, stroke count, and more. The running mode is equally detailed, offering metrics like cadence, ground contact time balance, Running Power, stride length, vertical oscillations, and more.
We are going to give Garmin an edge here due to its proven track record, and its more comprehensive sports tracking features.
Winner: Garmin Enduro 2
Safety & Emergency Features:
With Apple Watch Ultra, the company debuted the new crash detection feature the very first of its kind, never been introduced in any other smartwatch. It automatically detects when you've had a hard fall or made a dangerous impact with an obstacle and can call emergency services for you.
Crash detection works in combination with fall detection, a feature that has been around since Series 4. If you're over 65 years old and have fall detection turned on, the watch will call emergency services if it detects that you've fallen and are unresponsive after a minute.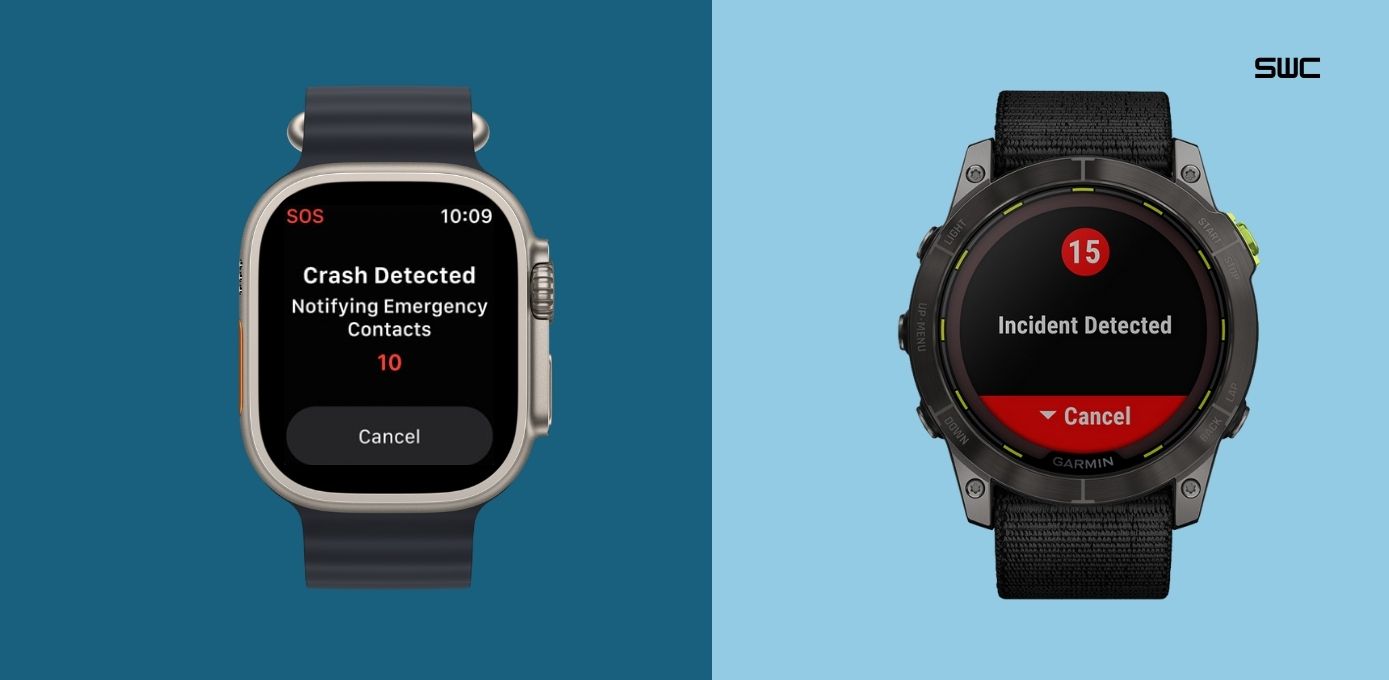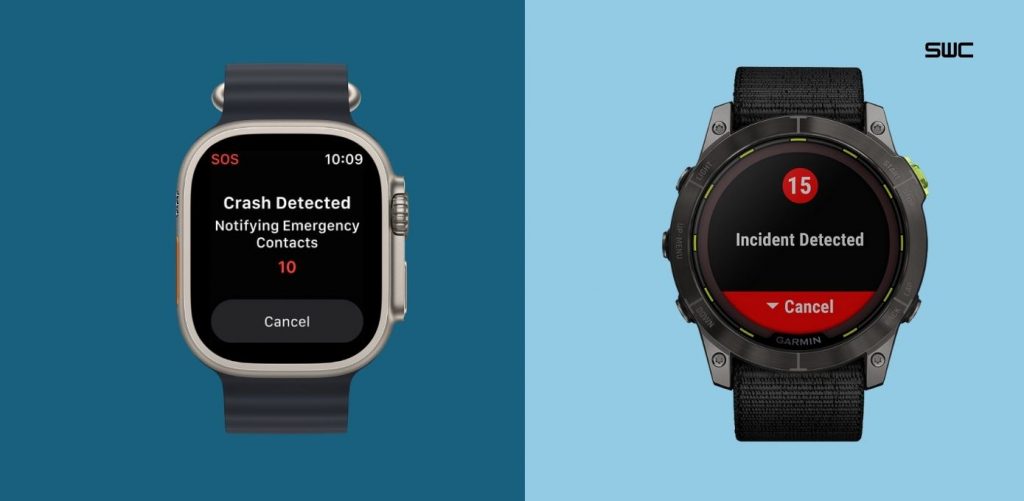 For athletes, the watch has introduced an 86-decibel siren that is loud enough to catch the attention of someone nearby (within a mile or so) if you're in danger.
In comparison, Garmin Enduro 2 has its own set of safety and emergency features, however, almost all of them are dependent on a paired phone. It has LiveTrack to share your live location with people you trust, GroupTrack to follow up to 50 friends or family members at a time, and Incident Detection which sends an alert to your emergency contacts if it detects a fall.
Unlike Apple Watch Ultra, there's no integrated crash detection sensor in Enduro 2, and the siren is also a major missing. The watch does have a flashlight to trek at night if you count it as a safety feature.
Winner: Apple Watch Ultra
Garmin Enduro 2 Vs. Apple Watch Ultra: Battery Performance
Battery performance has never been a strong suit for Apple Watches. The first generation watch had to be charged every day and even the latest Apple Watch 8 needed to be juiced up every alternate day.
With the Ultra, Apple has finally managed to improve things a bit. The watch can last up to 36 hours on a single charge, and the company promised to introduce a saving mode that would further improve the battery life to up to 60 hours.
In comparison, Garmin Enduro 2 is the ultimate beast. As per the company's website, the watch can last whooping 34 days in the smartwatch mode, and 111 days in the battery saver mode. If you are planning to listen to music offline, fret not, Enduro 2 has got you covered. It can last 20 hours in all Satellite GPS modes with music playing in the background. Impressive, isn't it? Wait, we haven't considered the solar charging feature yet. With the sapphire solar panel on top, you can extend the battery life for months.
The impressive numbers are not just for show. In our testing, we found Enduro 2 pretty much consistent with these claims.
Winner: Garmin Enduro 2
Garmin Enduro 2 Vs. Apple Watch Ultra: Which Should You choose?
Both watches have their strong areas where they outclass their competition. It's hard to pick one as the clear winner, it all depends on your personal preference and needs.
If you're looking for a watch that is more focused on sports tracking features, has a robust build quality, and has longer battery life, then Garmin Enduro 2 is the right choice for you.
On the other hand, Apple Watch Ultra offers a more comprehensive set of features if you're looking for a do-it-all smartwatch. It has a more refined display, offers better app support and has integrated safety features that can come in handy in an emergency.