When it comes to trail running watches, there are few that can compete with the Garmin Fenix 7 Series. With its long battery life, robust construction, and comprehensive feature set, the Fenix 7 has everything you need to take your trail running to the next level.
However, the new Garmin Enduro 2 adds a few key features (Battery Performance, a stronger flashlight, trail-focused features)  that make it even more appealing for serious trail runners. We can safely say that it is a refined version of the Garmin Fenix 7X Plus.
These watches are targeted not only at athletes who enjoy running in the mountains, but also at casual hikers and outdoor enthusiasts who want a rugged and reliable watch that can handle whatever comes their way.
So, what are the key differences between these two top dogs, and how do they compare? Let's find out.
Disclaimer: If you buy through affiliate links on this article, we may earn a commission without any additional cost to you.
Garmin Enduro 2 vs Fenix 7X Sapphire Solar: 5 Key Differences
Battery Performance:
In almost all modes, Enduro 2 has a longer battery life than Fenix 7x. The difference is more pronounced in 'GPS Only' and 'Expedition Mode', where Enduro 2 adds almost 25-30 hours to what is offered by Fenix.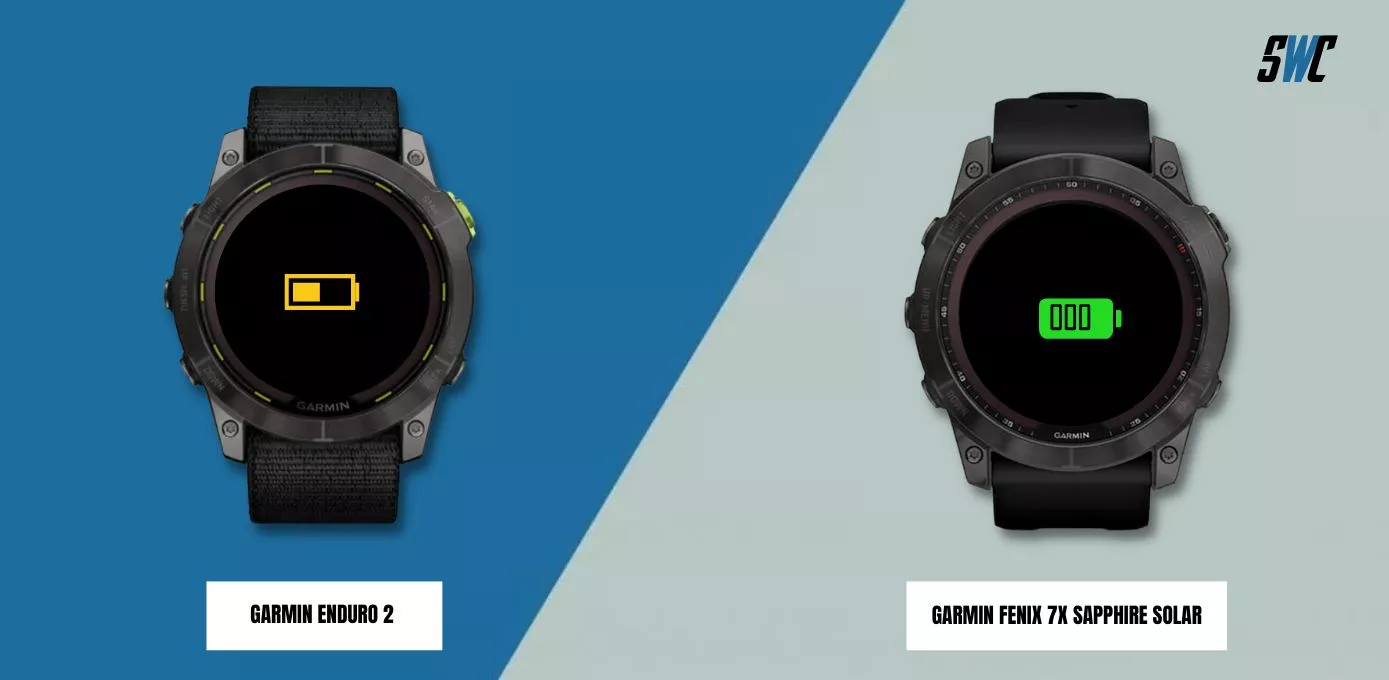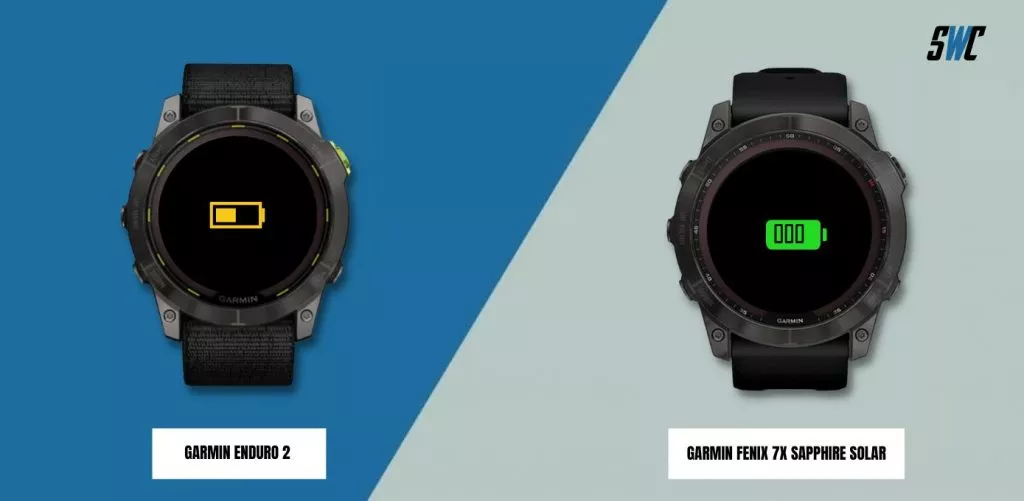 The following table compares the battery life of both watches in different modes:
| | | |
| --- | --- | --- |
| | Garmin Enduro 2 | Garmin Fenix 7X Sapphire Solar Edition |
| Smartwatch Mode | 46 days | 37 days |
| Battery Saver Watch Mode | 1 year | 1.5 year |
| GPS Only | 122 hours | 150 hours |
| All Satellite Systems | 77 hours | 96 hours |
| All Satellite Systems and Multi-Band | 66 hours | 81 hours |
| Maximum Battery GPS | 578 hours | 714 hours |
| Expedition GPS Mode | 139 Days | 172 Days |
​​You must keep in mind that Enduro 2 has an almost identical size and weight as Fenix 7x. Garmin has done a remarkable job in increasing the battery life without compromising on the size or weight. The company dedicates this to enhanced solar charging and the new battery optimizing, GPS feature: SatIQ.
As per Garmin's website, SatIQ is a GPS technology that optimizes the use of battery performance by picking the right GPS mode for the activity.
Flashlight:
Enduro 2 has a much stronger flashlight than Fenix 7x. This multi-led flashlight is two times stronger and it also comes in two options: Red and White.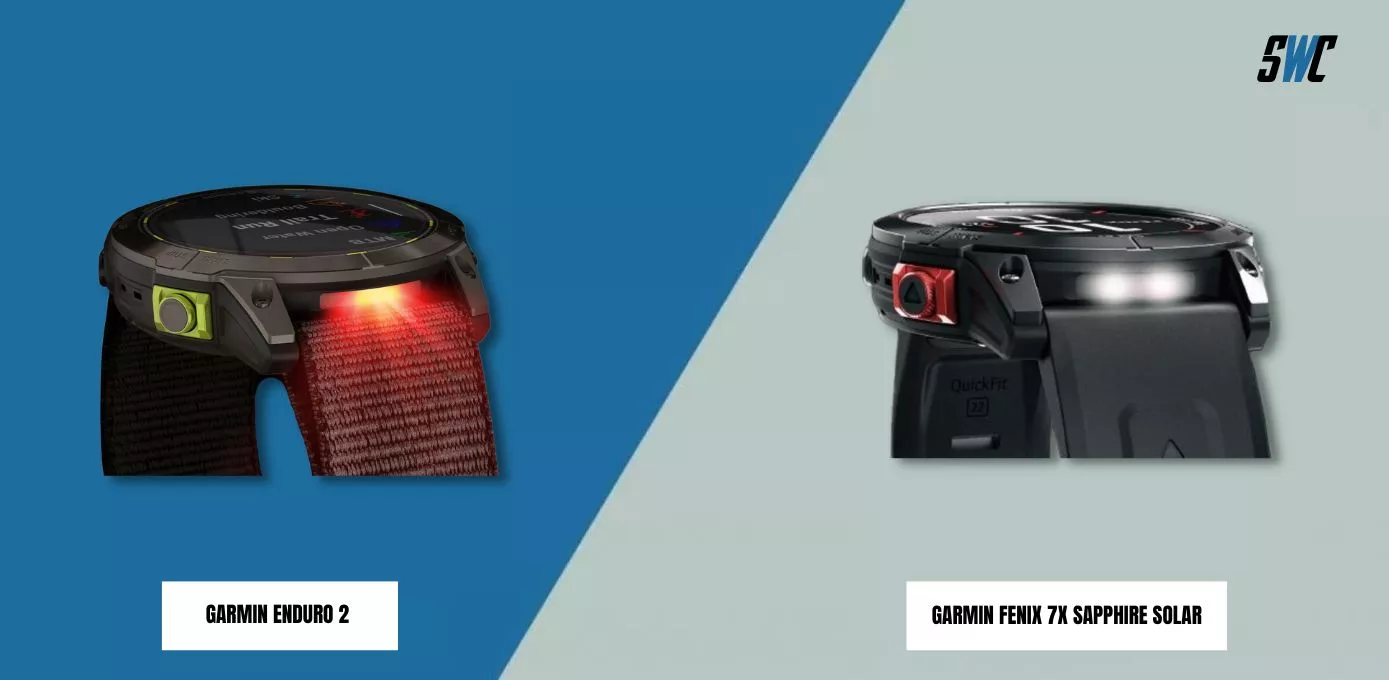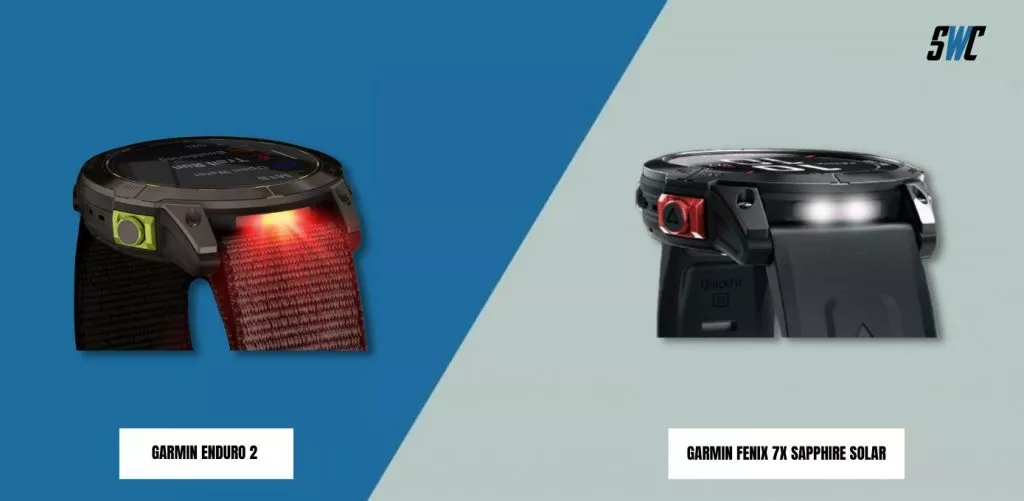 This makes a big difference when you are running in the dark or in low-light conditions. The flashlight is also useful for camping and other outdoor activities where you need a strong light source. Alternatively, you can also use it to signal your location to others in an emergency situation. 
Sport Modes: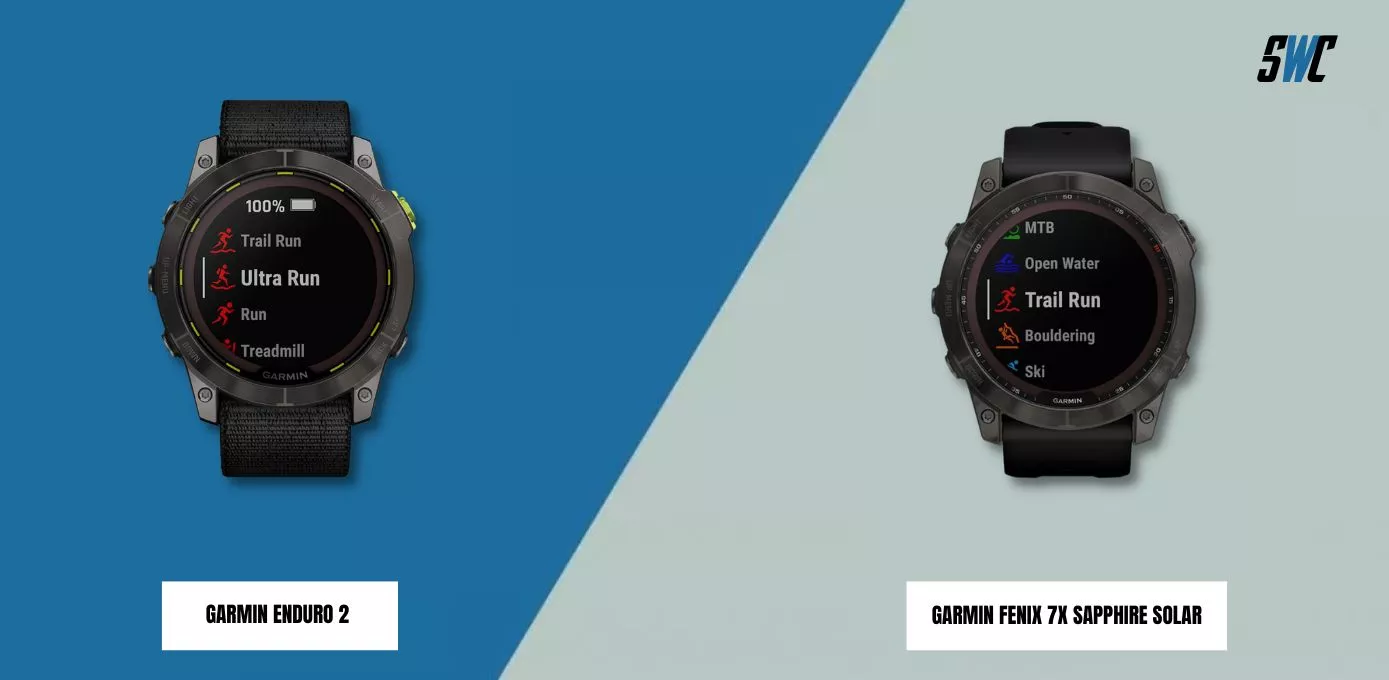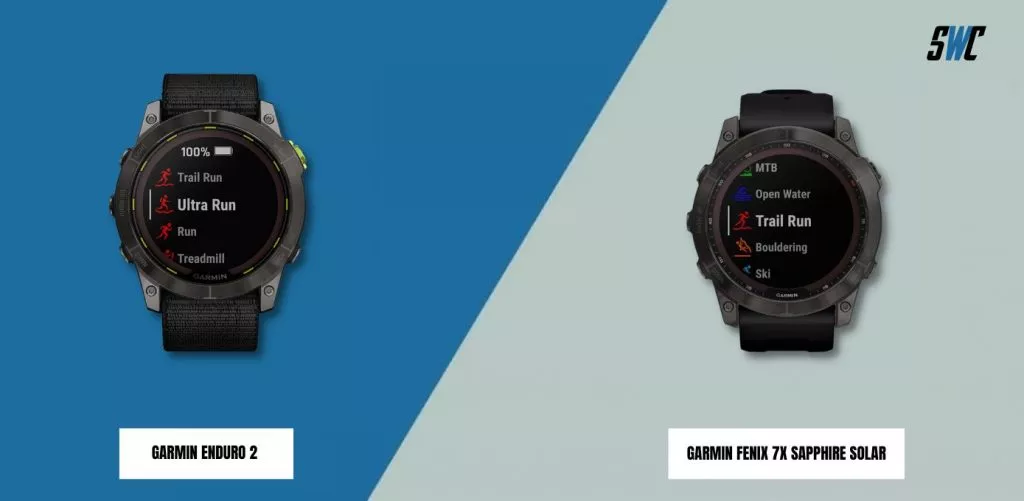 Enduro 2 has all the sport mode options that are available in Fenix 7x, with the addition of a few new modes:
Sail
Sail Race
Hunt
Duathlon
Adventure racing
Like the Fenix 7, you can customize these modes to track specific metrics that are important to you. As far as the accuracy is concerned, there is no special hardware improvement in the Enduro 2 to make us believe that it is more accurate than Fenix 7x.
New Sports Features:
Almost all sports metrics overlap between the two watches. However, there are a few that are so far exclusive to the Enduro 2.
The new Grade Adjusted Pace metric takes into account the incline/decline of the terrain and gives you a more accurate representation of your pace. This is extremely useful for trail runners and ultramarathon athletes as it helps them convert their running data on hills to a flatter surface.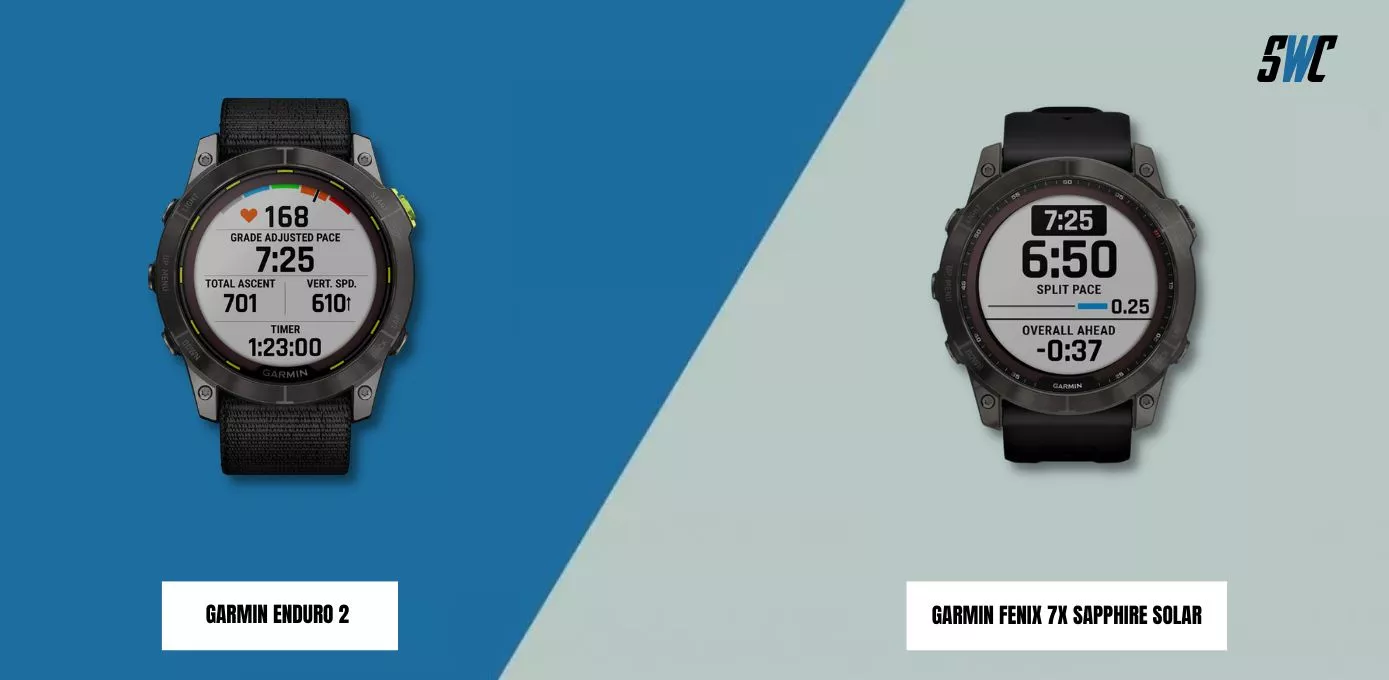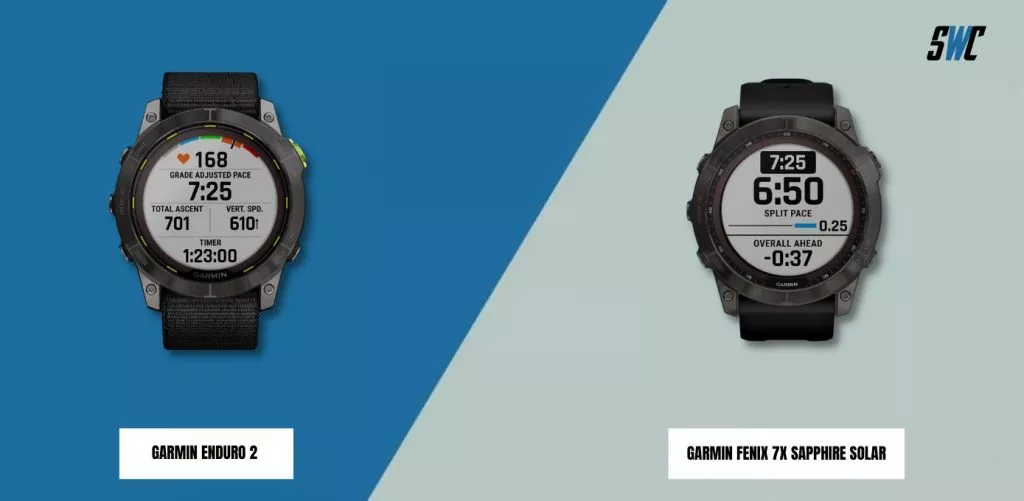 The other new feature is the 'Auto Reset/Pause Timer' in the Ultra Train Run profile. Again, this is a very useful feature dedicated to trail runners.
With the originally Garmin Enduro, you had to manually press the buttons to record your paused time or rest time, and more often than not, runners forget to do so. This feature automatically pauses and resumes the timer and records 'Rest time' in the background.
Also, the new 'Next Fork' and 'Course Arrows' features will make navigation a lot easier for runners. The former tells you important junctions on the route, while the latter gives you turn-by-turn direction guidance.
The new Features will soon make it to the Fenix 7 as well, through a software update. So there is no need to worry if you are already using a Fenix 7x and are thinking of upgrading to the Enduro 2.
Pricing:
For all the above-mentioned improvements in the Enduro 2, the company charges $100 more than the Fenix 7x Sapphire Solar Edition.
You can get the Enduro 2 for around $1100, while the Fenix watch will cost you almost $1000.
In our opinion, paying the $100 premium is only justified if you want that extra strap (nylon) and battery juice. Almost all other software improvements will sooner or later come to the Fenix series as well (via firmware updates).
Garmin Enduro 2 vs Fenix 7X Sapphire Solar: 5 Similarities
Heart Rate Sensor & Health Monitoring:
Both watches use the latest Elevate V4 sensor for accurate heart rate monitoring. The same was also featured in Venu 2 and the Forerunner sibling released this year. The sensor uses optical heart rate monitoring and can also track blood oxygen saturation.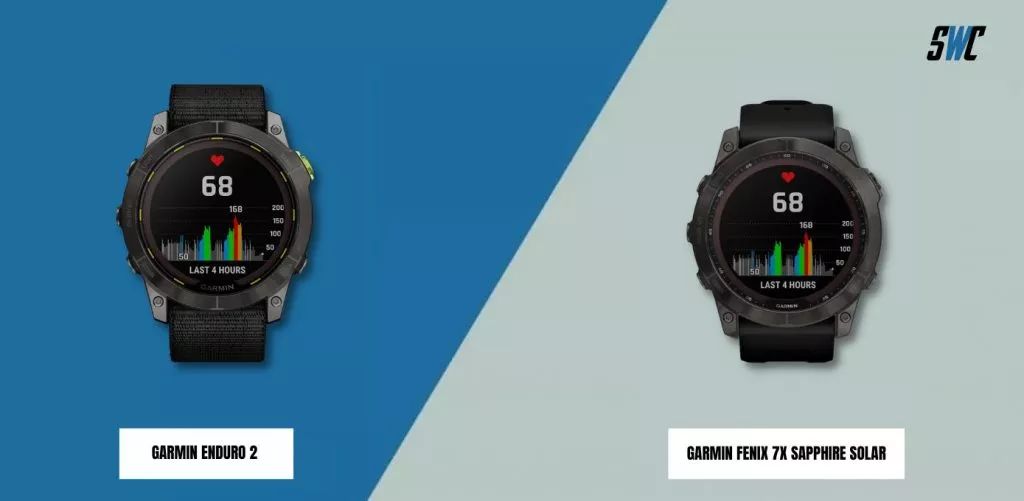 As far as health monitoring is concerned, both watches can track your stress level, sleep, breathing rate, hydration, and more.
Durability:
Garmin watches are known for their durability and both the Enduro 2 as well as Fenix 7x can withstand extreme conditions. They are water resistant up to 100 meters and are protected by sapphire glass. The construction of the watch is also very solid thanks to the titanium bezel and rear cover.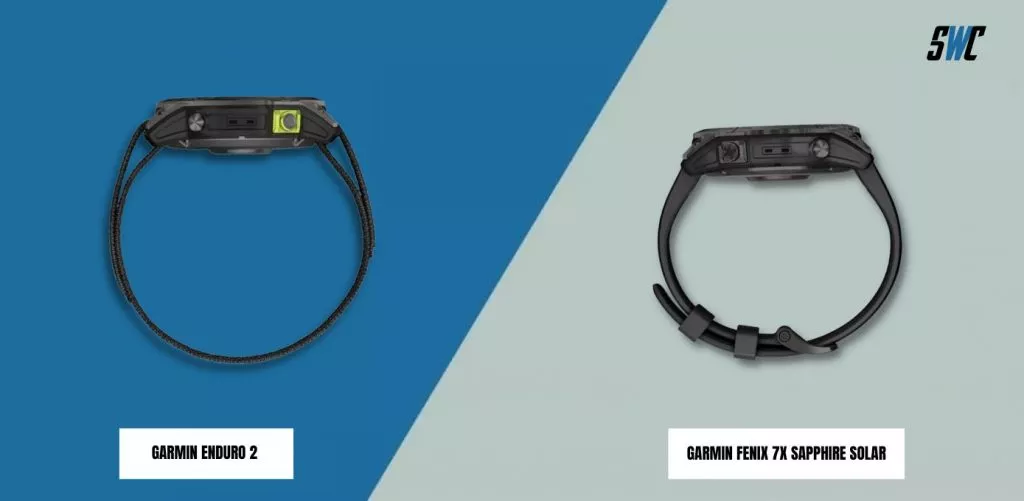 They can resist shock, vibration, extreme temperatures, humidity, and more. So you don't have to worry about damaging your watch while doing some hardcore activities like mountaineering or rock climbing.
Smart Features:
You can make NFC payments, receive smartphone notifications, and control music playback on both watches.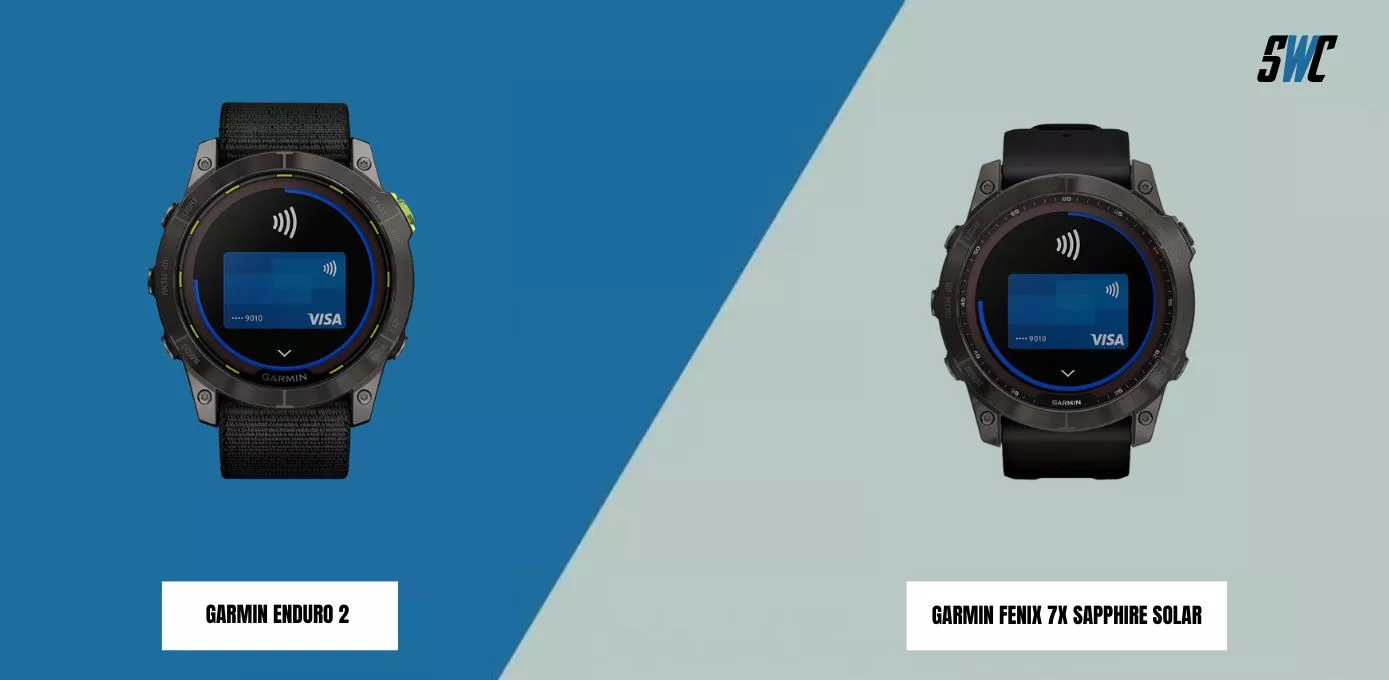 Thanks to the 32GB memory, these Garmin watches can also store music offline and listen to it while working out without carrying your phone. There is also an option to download playlists from Spotify and Amazon Music and stream them directly over the Wi-Fi.
You can also download and install third-party apps from the Connect IQ store. However, a great majority of them are dedicated to sports and fitness only.
Training, Planning, and Analysis Features:
We have dug deep into the training, planning, and analysis features of both watches and found them to be identical.
To mention a few, both watches come with
VO2 max estimation
HR Zones
Recovery Time
Training Load & Effect
Strava Live Segment
Daily Suggested Workouts
Real-time Stamina
Heat and Altitude Acclimation
Running, Swimming, Cycling:
Being multisports watches, both the Enduro 2 as well as Fenix 7x support a wide range of sports activities. However, the core focus remains on running, swimming, and cycling.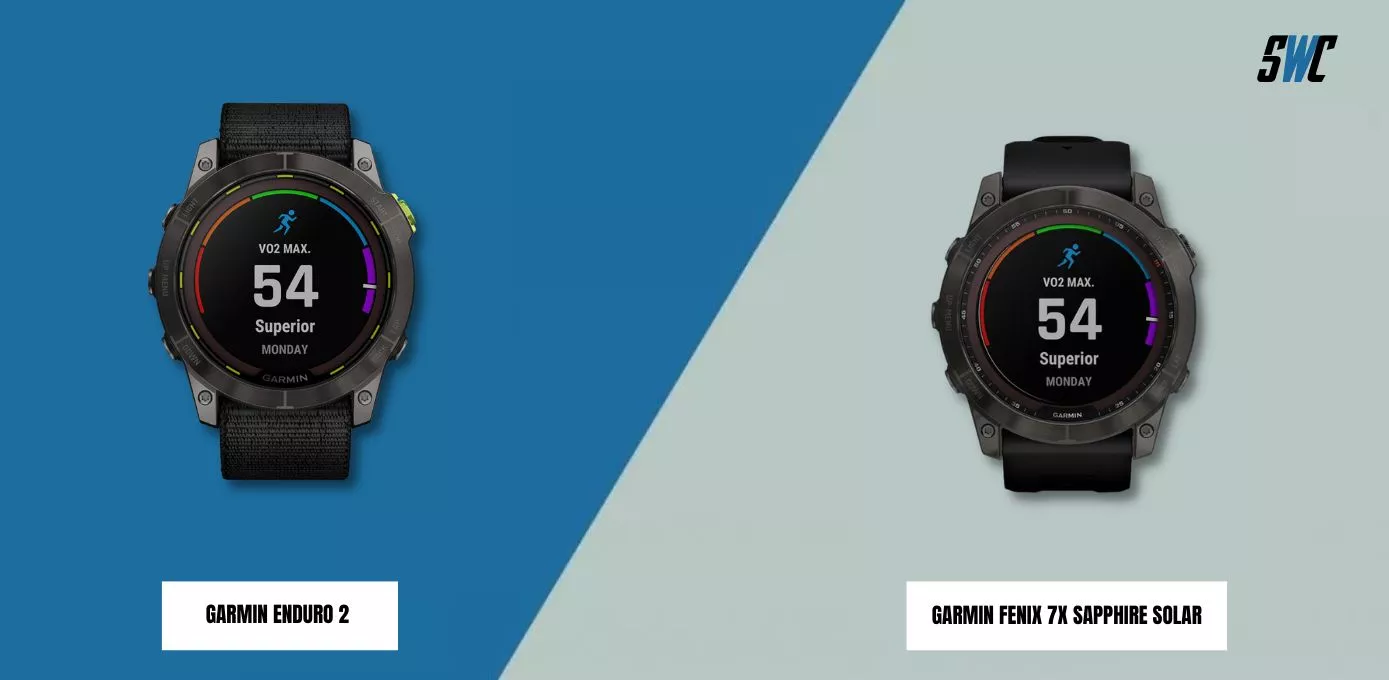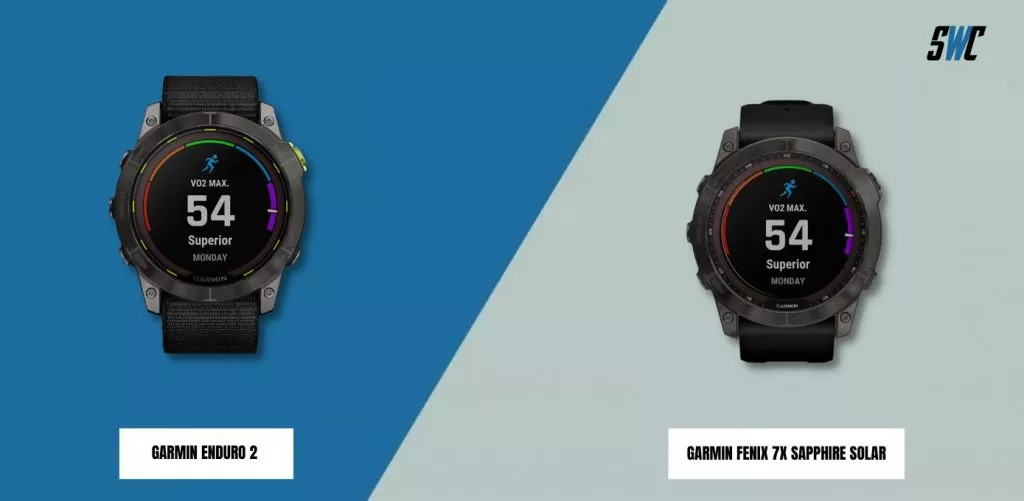 We found no particular advantage of one watch over the other in terms of three core sports tracking. Both watches are equally good at tracking your progress and cover a ton of metrics.
Garmin Enduro 2 vs Fenix 7X Sapphire Solar: Which one wins?
As discussed earlier, Garmin Enduro 2 offers slight hardware and software improvements over the Fenix 7x. The latter should not be taken seriously as most of them will come to the Fenix watch sooner or later via firmware improvements.
So the question is, should you pay an extra $100 for these marginal improvements? Well if you care about that extra battery life, a more powerful flashlight, and don't mind an extra nylon strap, then surely go for the Enduro 2.