Garmin Forerunner 965 release came as a surprise, given that the company had launched the Forerunner 955 series only nine months earlier (April 2022).
Of course, there were major rumors or leaks indicating that a new watch was in development. However, we were under the impression that Garmin would wait at least a year or so.

Just when we were sold on the idea that Forerunner 955 series would remain the latest and greatest running watch for some time, enters Forerunner 965.

There is good and bad news for many of Garmin's Die-hard fans out there. Runners who are still using the old FR 945 and yet to make the jump, would be delighted by this new AMOLED FR 965.

The unlucky ones who had already switched to the FR 255 would miss out on this major hardware improvement. On the software side, there is nothing to worry about as many new features introduced in the FR 965 will eventually make their way to its older sibling.
Disclaimer: If you buy through affiliate links on this article, we may earn a commission without any additional cost to you.
Garmin Forerunner 965 vs Forerunner 955 Comparison: 5 Key Differences
Pricing:
The Garmin Forerunner 965 is priced at $599, the same as the Solar edition of FR 955.

Why this $100 price hike? Is it justified?

Of course, there are hardware improvements (more on that later). However, in our opinion, adding an AMOLED display to an already great watch doesn't justify a steep $100 hike in price.
For god sake Garmin, we can buy a decent fitness tracker in this price range.
Here are the latest Prices for the Garmin Forerunner 965 vs Garmin Forerunner 955:
Display:

The highlight addition to FR 965: Always-on AMOLED Display.

It all started with the Venu series, the first Garmin to boast a super crisp display. Later, Fenix 7 and Epix 2 follow suit. And now the FR 965 has become the first Garmin running watch to feature an always-on AMOLED display.
Practically this new display technology allows Forerunner 965 to provide more vibrant colors, increased brightness, and higher resolution, with a display resolution (of 454x454px).
You will appreciate this new screen more while using the maps. The higher resolutions translate into detailed and easier-to-read maps.
To match this new display, the user interface is revamped to match the Garmin Epix AMOLED units, providing a more modern and streamlined user experience
The screen size is also increased to 1.4 inches from 1.3 inches on the FR 955 while the overall size is kept the same.
In contrast, FR 955 is sticking to the old transflective memory-in-pixel (MIP) display that offers 260x260px resolution.
Design: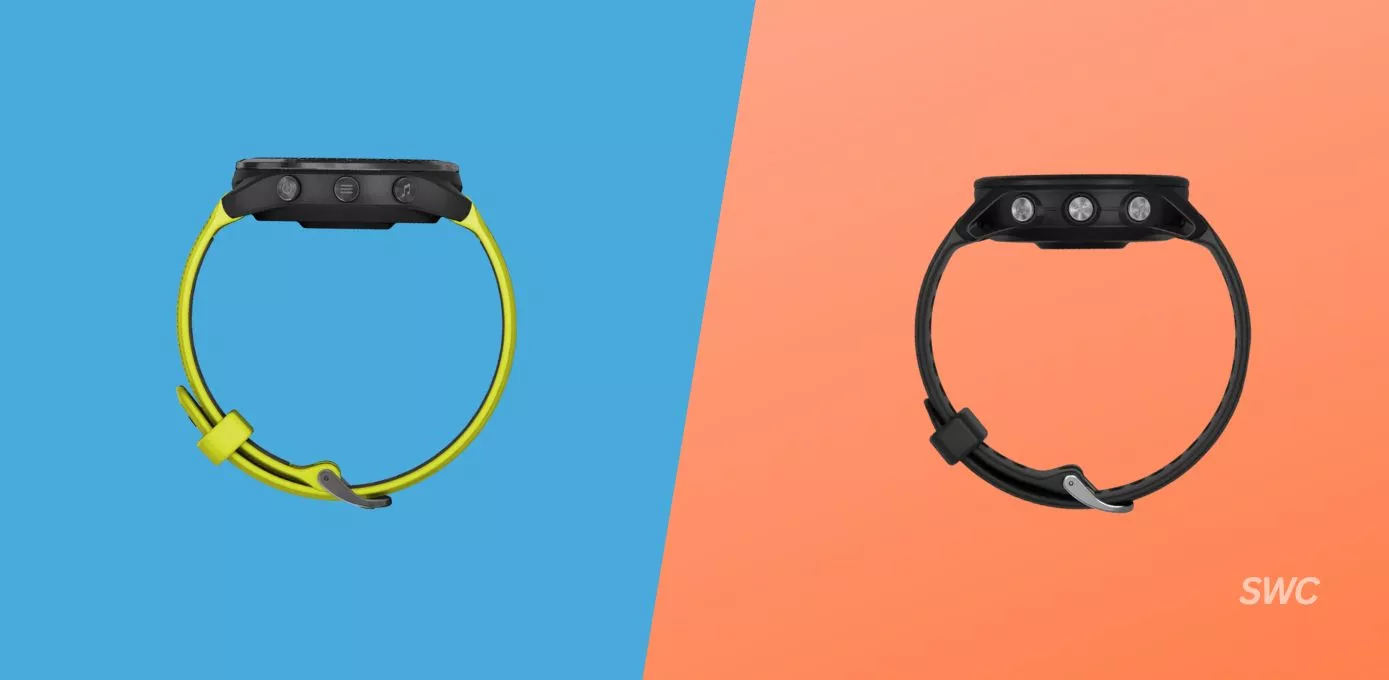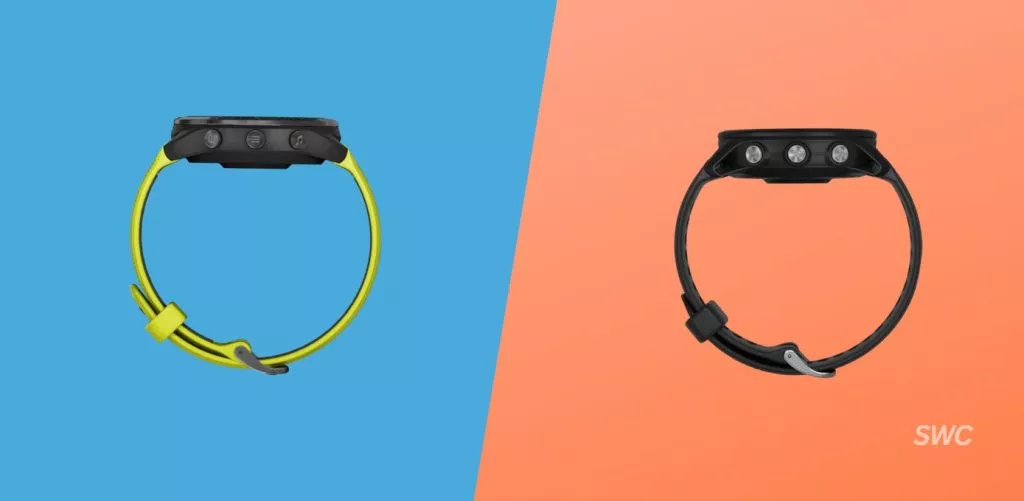 Design updates in the Forerunner 965, such as the thinner watch body, titanium bezel, and Gorilla Glass 3 lens material, provide a more modern and premium look.
The casing thickness decreases by 1.2mm (from 14.4mm to 13.2mm)
There is a Titanium Bezel instead of plastic.
Gorilla Glass DX has been replaced by Gorilla Glass 3.
There are three color options instead of two (Black and Whitestone) in the FR 955
Here is why these improvements matter:
The decrease in casing thickness is a welcome addition. This will make the watch slimmer and more comfortable to wear for extended periods.
Additionally, the use of a titanium bezel improves the durability and premium feel of the watch.
The upgrade from Gorilla Glass DX to Gorilla Glass 3 for the lens material provides better scratch resistance and protection against impact damage. This is essential for outdoor activities where the watch may be subject to wear and tear.
Software Improvements: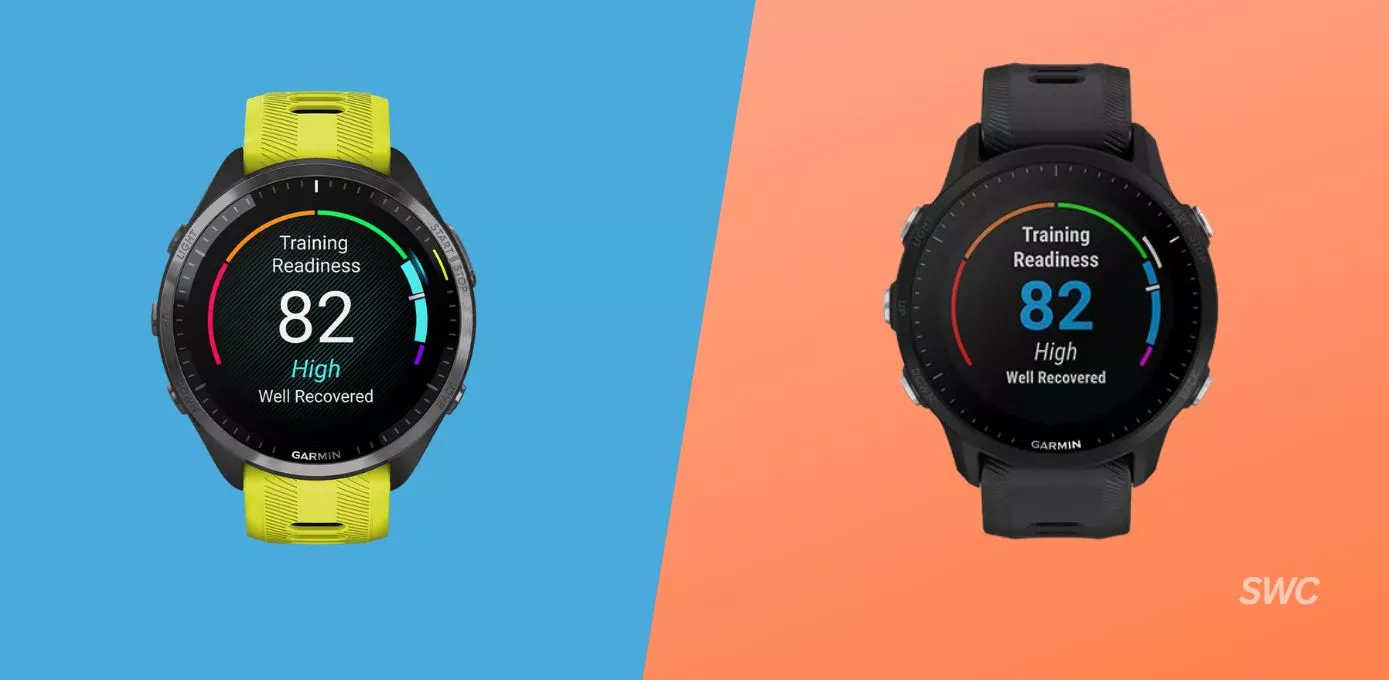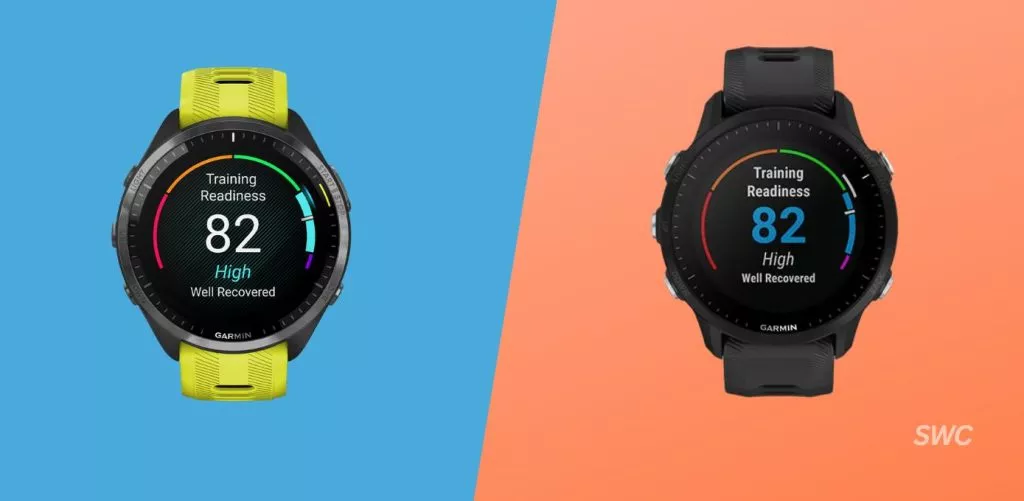 Forerunner 965 has nothing extraordinary to offer. The added features like Training Load Ratio and Chronic Training Load build on and improve the older training load feature, and are like likely to come to the Forerunner 955 via firmware update.
The same goes for the native Running dynamics. FR 965 doesn't need external hardware to estimate metrics like vertical oscillation and ratio; and stride length. This feature is likely to be passed on to the older sibling Forerunner 955.
Perhaps, the only software side improvements you get are the variety of watch faces.
Battery Performance: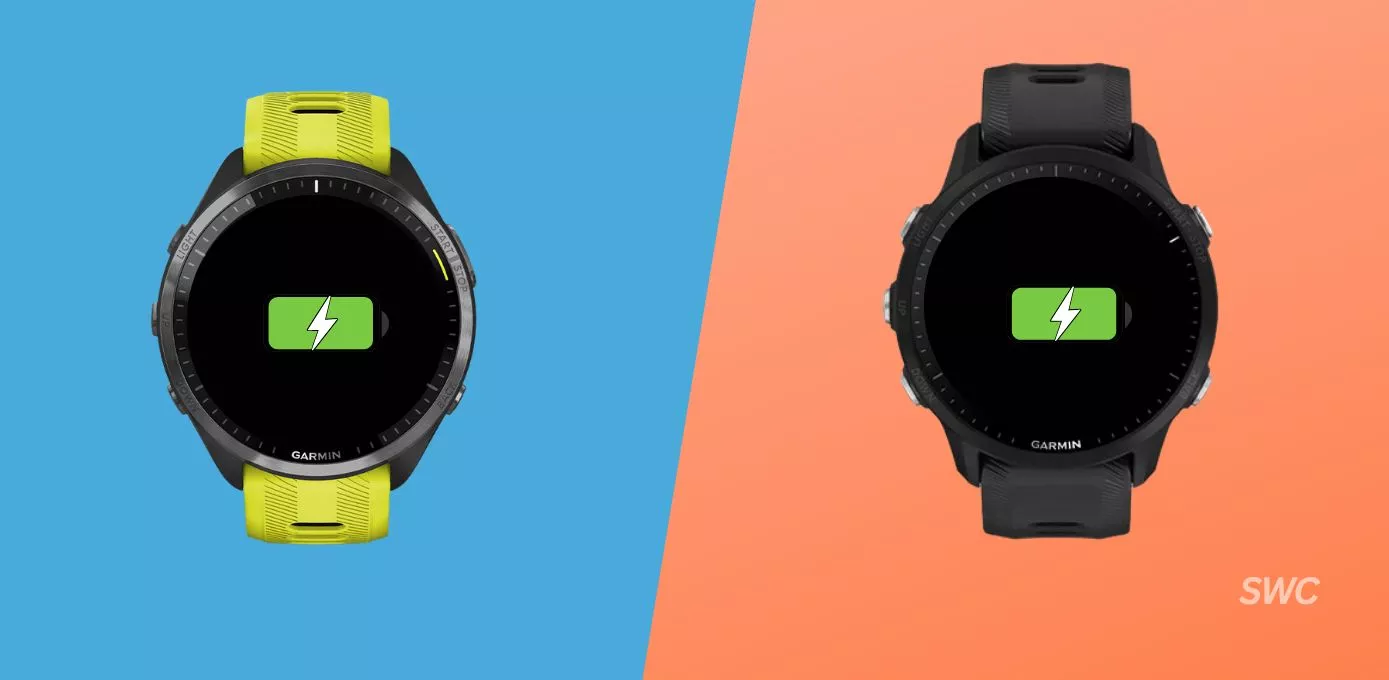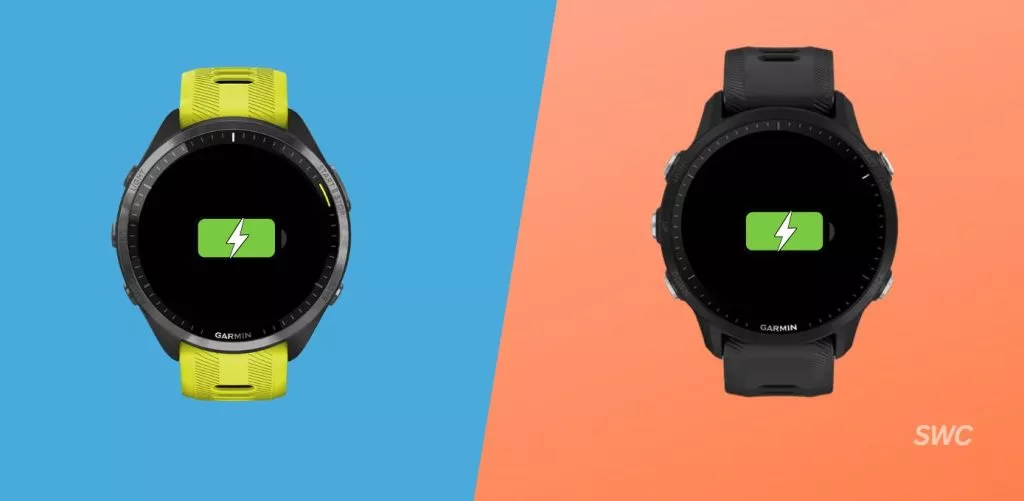 Garmin watches have no fixed battery performance. There are several modes and the company does the painstaking job to quote battery performance for every mode. This has been true for the watches released in the last 5 years.
Forerunner 965 despite its battery-hungry display tech, offers better battery performance in smartwatch mode, (23 days vs 15 days). DesFit claims that with always-on mode enabled, you would get almost 6-7 days.
This changes when you enter other modes. For instance, take the GPS mode (without music) where the watch falls short of almost 10 hours (31 compared to 42). Here the FR 955 has a major advantage. In some modes it ads only a few hours, while in others there is a difference of several hours.
There is no Solar edition of the FR 965 (yet), however, the company has improved on the charging front where there is a new USB-C charging cable.

This should not lead to any confusion. You cannot charge FR 955 with any USB-C charger as there is a proprietary port for it.
Wrapping Up:

While the improvements on the Forerunner 965 are welcome, the $100 price hike may not be justified (at least for us).
Overall, the Forerunner 965 is a viable upgrade option for those who want a super crisp AMOLED display, a slimmer design, and a seamless user interface. As far as any groundbreaking hardware and software side improvements are concerned, there aren't any.
So, the existing users of the Forerunner 955 series may not need to upgrade just yet.
Here are the latest Prices for the Garmin Forerunner 965 vs Garmin Forerunner 955: