Apple Watch Ultra has disrupted the traditional GPS sports watch market by offering a more holistic approach to wearable technology.
While Garmin still remains a top choice for serious athletes, the Apple Watch Ultra has proven to be a worthy competitor with its versatile range of smart, health, and sports features on top of a stylish design.
Undoubtedly, Apple has pushed Garmin out of its comfort zone and forced them to up its game. In recent years, we have witnessed the introduction of a voice assistant and calling functionality in the Venu series, a touch-enabled AMOLED display in Epix, and an ECG app for the Fenix series, plus a couple of other improvements.

If you understand the context, the release of the new Garmin Forerunner 965 (with the largest AMOLED display on any Garmin) will not surprise you.
In this comparison, we'll compare Garmin Forerunner 965 vs Apple Watch Ultra, and examine their design, display, smartwatch experience, health and sports tracking, and battery performance.
Disclaimer: If you buy through affiliate links on this article, we may earn a commission without any additional cost to you.
Garmin Forerunner 965 vs Apple Watch Ultra: Specs Comparison
| Specs | Garmin Forerunner 965 | Apple Watch Ultra |
| --- | --- | --- |
| Pricing | $600 | $800 |
| Dimensions | 47.2 x 47.2 x 13.2mm | 49mm x 44mm x 14.4mm |
| Screen Size | 1.4 inches | 1.92-inch |
| Screen Resolution | 454 x 454 pixels | 502 x 410 pixels |
| Water Resistance | 5 ATM | 5 ATM |
| Smartwatch Features | Garmin Pay, Music | Calling, Texting, |
| Health Tracking | SpO2, Heart Rate, Sleep | ECG, Sleep, Heart Rate, Stress |
| Sports Tracking | Advanced | Advanced |
| Battery Performance | More than 5 days | 60 hours max |
| | | |
Pricing:
The Apple Watch Ultra is priced at around $800 and is a single model, outfitted with cellular support. Whereas, the Garmin Forerunner 965 is priced at around $600.

The pricing seems justified if you consider the target audience of both watches. FR 965 like its predecessor is an elite running watch and is mainly focused on advanced athletes. Health tracking, Smartwatch features, and aesthetic appeal come second to this primary function.

On the other hand, Apple Watch Ultra aims to offer a full Apple experience and pushes it beyond traditional boundaries of connectivity and health metrics. It is the company's first full fledge (multi)sports watch, or we can say an all-rounder watch.
Winner: Garmin Forerunner 965
Here are the latest Prices for the Garmin Forerunner 965 vs Apple Watch Ultra:
Design and Display: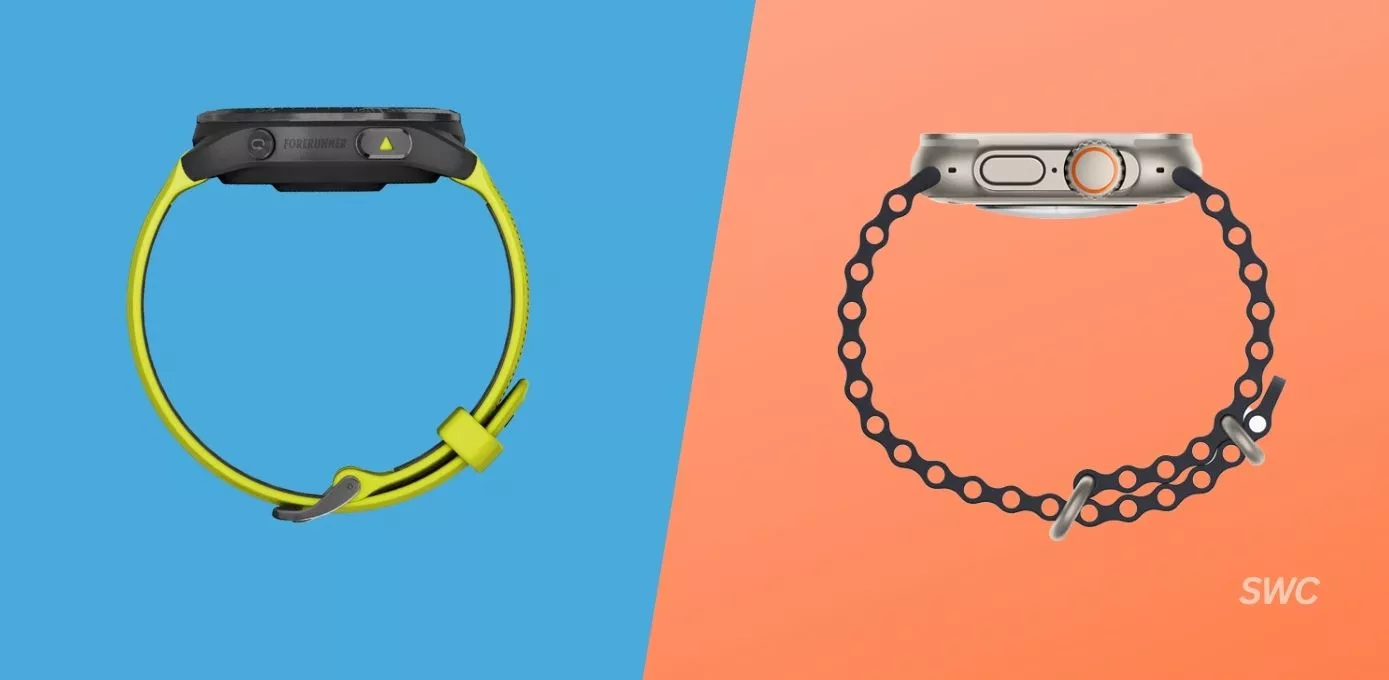 ​​The Apple Watch Ultra boasts a large and bright Retina display, measuring 49mm, that makes it easy to read, even in direct sunlight, and allows for up to 7 data fields to be displayed in workout modes.
Additionally, the Ultra's sapphire glass display and titanium bezel make it more durable and able to withstand the rough and tumble of outdoor activities. The watch is also water-resistant up to 100m, making it suitable for water sports and diving.

Garmin FR 965 has tried to reach parity by offering the biggest 1.4-inch AMOLED touchscreen. Garmin fans will appreciate more when taking the mapping capabilities of the watch into consideration.
Additionally, the Forerunner 965 is built to be durable and rugged, with scratch-resistant materials (Gorilla Glass), a premium titanium bezel, and water resistance up to 50m. The watch also features a choice of (5) buttons for easy use, even while wearing gloves.
Here you need to consider three important aspects
Sapphire glass > Gorilla Glass
10 ATM water resistance > 5 ATM water resistance
Apple's User interface > Garmin's user interface
In a head-to-head competition, Apple Watch Ultra is slightly better in this department.
Winner: Apple Watch Ultra
Smartwatch Experience: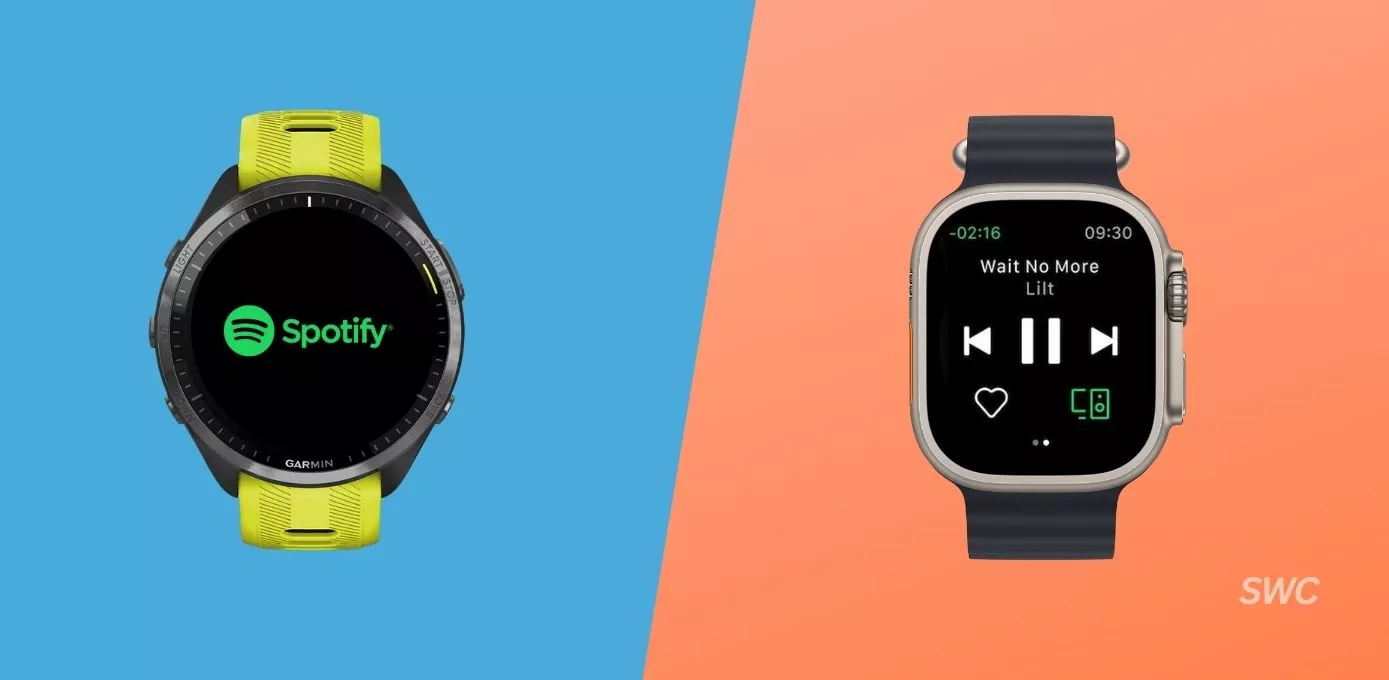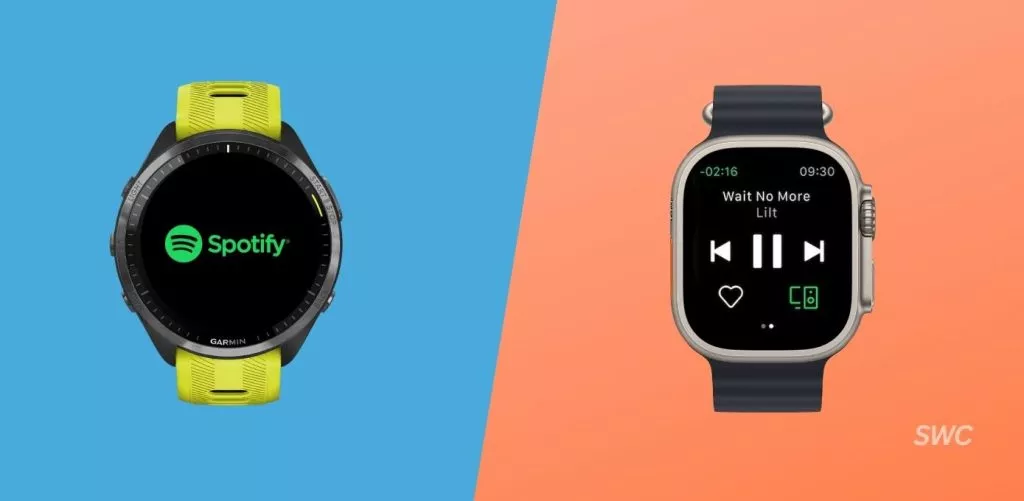 When it comes to the smartwatch experience, the Apple Watch Ultra is far better than Garmin Forerunner 965.
The Apple Watch Ultra comes with LTE connectivity, allowing users to make calls, send texts, and stream music without needing to carry their phones.
Additionally, the Apple Watch boasts the largest ecosystem of apps. This allows for a wide range of customization options and the ability to personalize the watch to meet individual needs.
The iWatch can store thousands of songs as well as stream music on popular platforms like Spotify.
There is a speaker and microphone combo on board that allows the company to incorporate its Voice Assistant into the watch.
On the other hand, the Garmin Forerunner 965 features a user interface designed specifically for sports tracking. The interface was perfected in the Epix Gen & Venu series watches and allows users to use both buttons and touchscreen input to navigate through it.
The watch also features music storage and streaming capabilities, allowing users to store and play up to 1,000 songs, making workouts more enjoyable.
Both offer contactless payment options, but each has its own tech to support NFC payments(Apple Pay & Garmin Pay).
Garmin Forerunner 965 is missing voice assistant support, has a limited collection of third-party apps, and if featuring an interface that will still take years to match Apple's. The smartwatch experience it offers is limited to athletes.

Winner: Apple Watch Ultra
Health Tracking: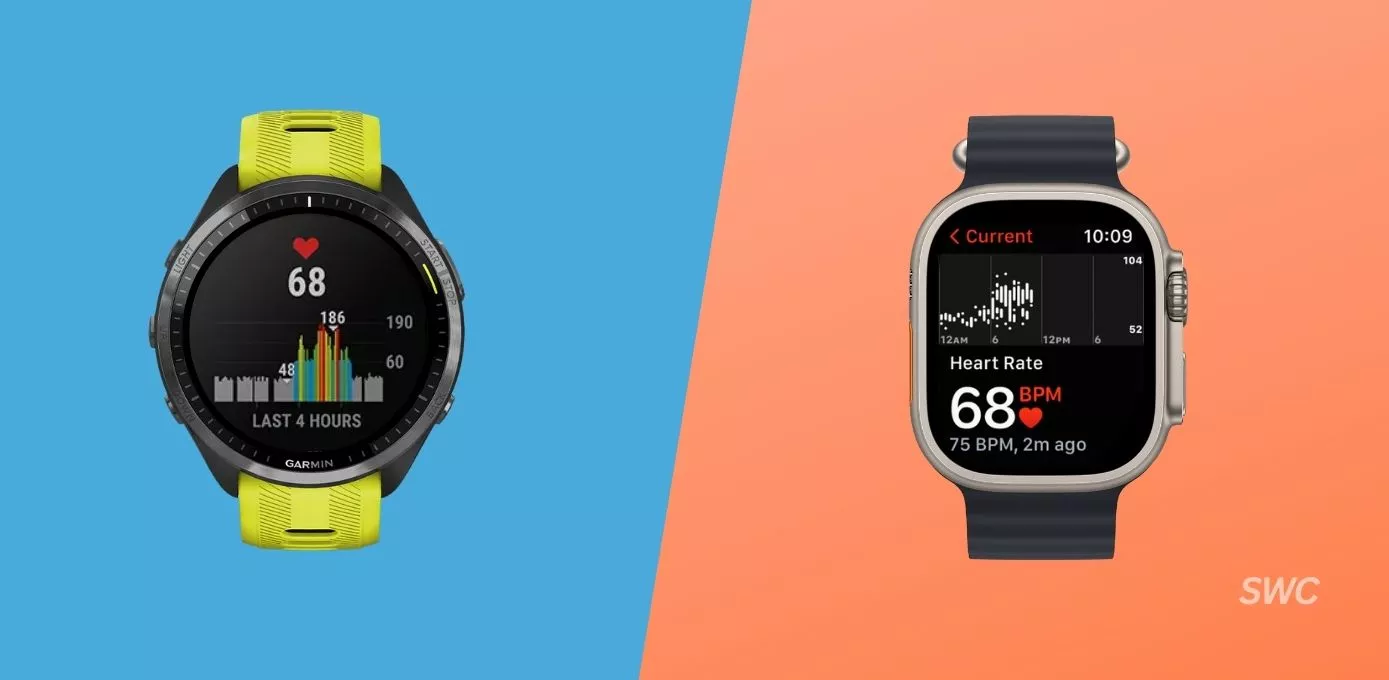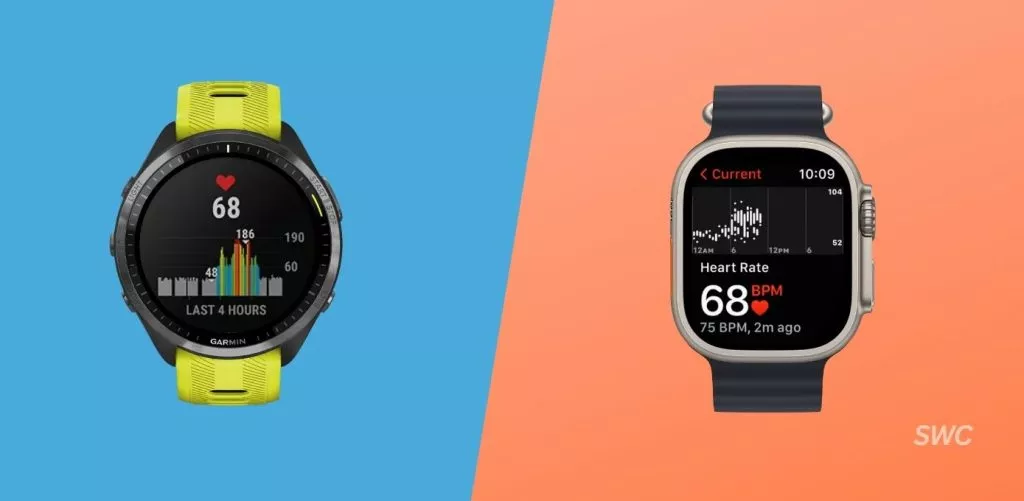 Both watches offer a comprehensive suite of health and fitness metrics for users to track and improve their well-being. Take for instance heart rate monitoring, sleep and stress tracking, SpO2 data, and more. You can get them on both of them. As far as the accuracy is concerned, both are near to the industry standards.
However, Apple Watch Ultra takes the lead with its ECG and skin temperature sensors. The former feeds the ECG app and the latter powers the menstrual cycle feature of the watch.
While elite Garmin watches can fully perform these functions, FR 965 is notably missing both.
Winner: Apple Watch Ultra
Sports Tracking: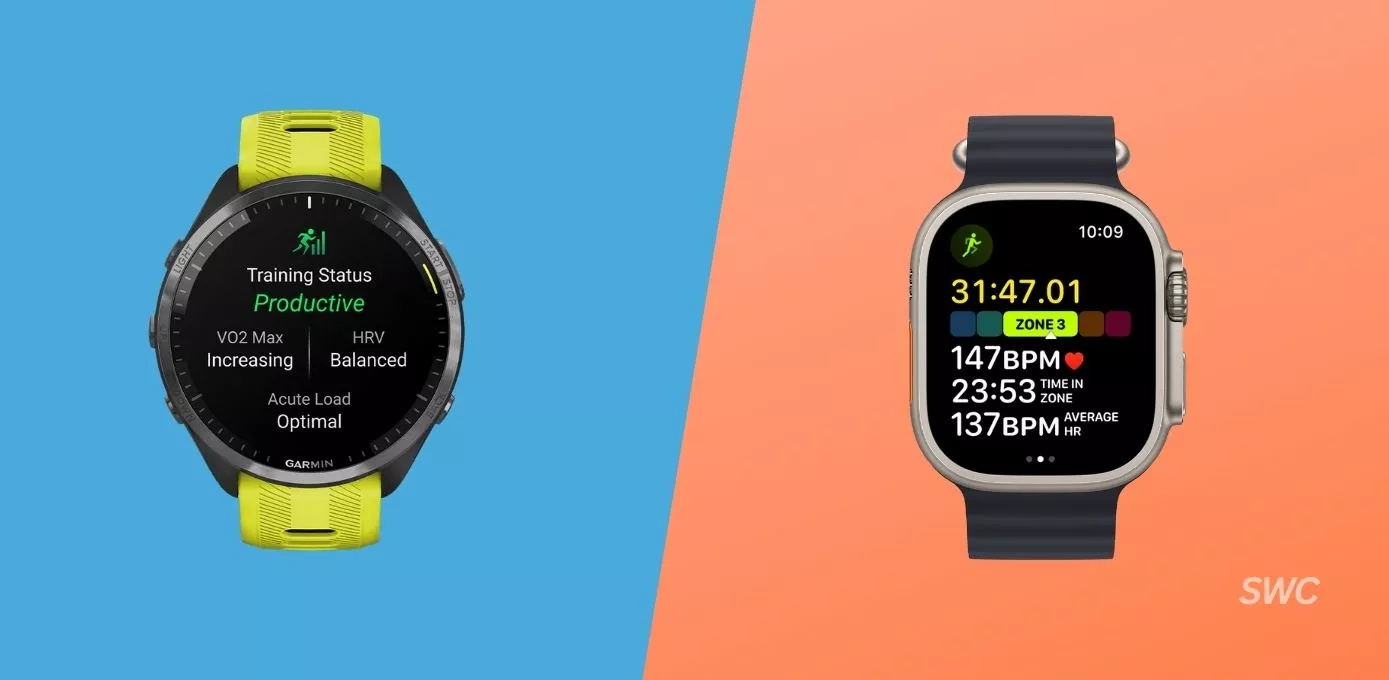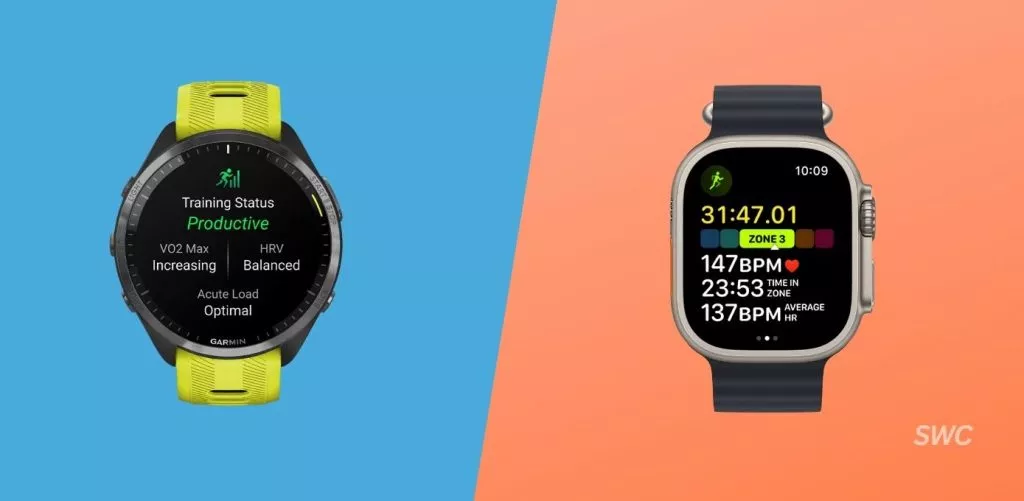 In the sports tracking department, Garmin has always maintained a considerable lead. However, with Watch Ultra, Apple has made considerable strides in recent years to catch up with Garmin.

Take for instance running. Apple Watch Ultra is now offering the Garmin equivalent of 'Running dynamics'. Yes, the advanced metrics like vertical oscillation, running power, and stride length that you can monitor right from the watch.
With that said, Garmin's sports tracking capabilities are still more robust overall, with its greatest edge being the training and performance metrics. The Forerunner 965 offers features like recovery time, HRV status, body battery, training load, and training readiness. These features make it easier for athletes to optimize their training and prevent injury by monitoring their body's response to exercise.
Winner: Garmin FR 965
Battery Performance: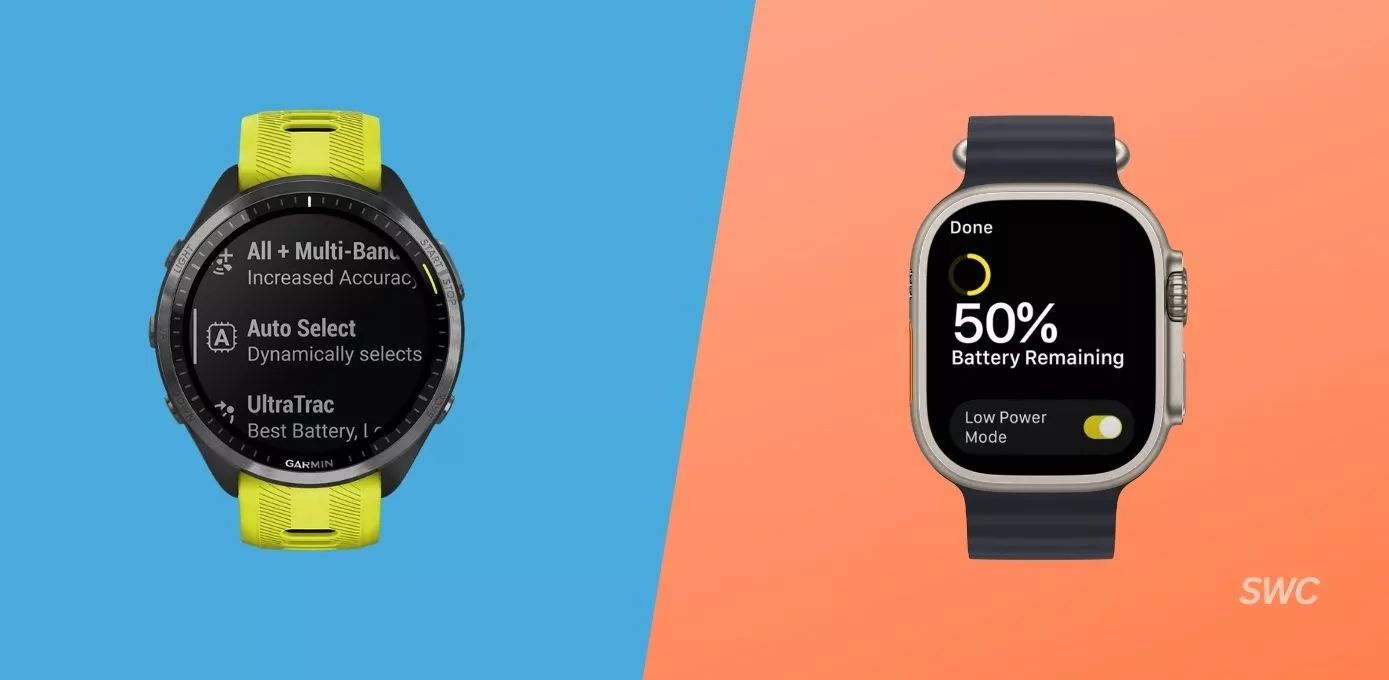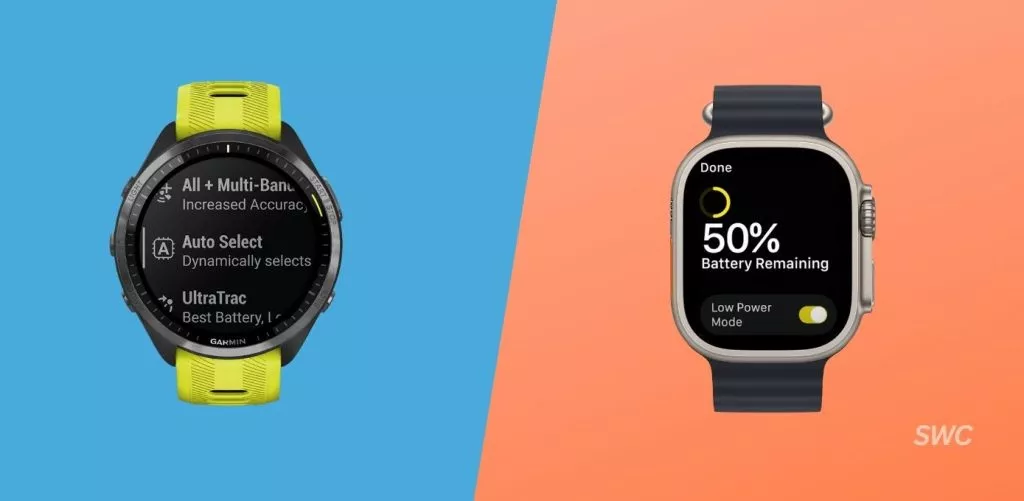 When it comes to sports tracking, long battery performance is crucial for uninterrupted tracking and hassle-free training.

Unsurprisingly, the Forerunner 965 has a far superior battery life than the Apple Watch Ultra.
Both watches offer different battery modes to let users switch between modes as per their needs. While Apple Watch Ultra offers three modes, Garmin allows much more flexibility with around 7 modes: Smartwatch mode, GPS-only mode with/without music, SatIQ mode, and so on.

No matter what Garmin mode you prefer to use, the battery performance will be head and shoulder above what iWAtch Ultra has to offer with similar settings turned on.
This means that athletes using the Apple Watch Ultra may need to recharge the device more frequently, which could be inconvenient and disruptive during long sports activities.
Its dominance in the battery department makes it an ideal choice for multi-sport athletes. For instance, serious triathletes need a device that can keep up with their training needs.
Both watches offer USB-C charging inputs at one end and have a proprietary charging mechanism on the other end of the cable. However, only the Apple Watch Ultra offers fast charging support (0-100% in around 90 minutes).
Winner: Garmin Forerunner 965
Garmin FR 965 vs Apple Watch Ultra Comparison: Final Verdict
For runners who are looking for a more all-rounded experience, the Apple Watch Ultra would be a great choice.
However, serious athletes who prioritize training and performance metrics might prefer the Garmin Forerunner 965. That being said, unless battery life is a major concern, it may not be necessary to switch from the Apple Watch to the FR 965.
Here are the latest Prices for the Garmin Forerunner 965 vs Apple Watch Ultra: