Last year has been quite interesting for wearables where two leading brands (Samsung and Apple) pushed into a market previously dominated by Garmin's sporty offerings. With Samsung Galaxy Watch 5 Pro and Apple Watch Ultra, these brands tried to woo outdoor adventurers by offering advanced tracking features, durable construction, and longer battery life.
While Garmin doubled down on its core strengths of accurate GPS tracking and advanced training metrics with the release of the Forerunner 955 and Fenix 7 series, the company recognized the need to adapt and evolve. The latest watches in the Forerunner series, both FR 265 and FR 965, now come with a lush AMOLED display and a revamped user interface.
These improvements make the Garmin Forerunner 965 vs Samsung Galaxy Watch 5 Pro all the more interesting. So let's compare them in different departments and help you decide which one can best suit your needs.
Samsung Galaxy Watch 5 Pro:
Samsung's latest rugged watch seamlessly integrates with Samsung phones, boasts a stylish design with a vivid AMOLED screen, and offers advanced sports tracking features for athletes. It is a versatile watch that leans more towards being a smartwatch than a sports watch.
Pros:
Decent Battery Performance (3 Days)
Runs the latest WearOS
Premium Construction
Ultimate companion of Samsung Phones
Support standalone calling and texting
Cons:
Limited support for third-party sensors
Considerable heft, suitable for large wrists only
Questionable sports tracking
Works only with Android Phones (Some features are exclusive to Samsung Phones)
Garmin Forerunner 965:
Forerunner 965 is first and foremost a sports watch (or we can say an elite running watch). It builds on the capabilities of its predecessor (FR 255), however, Garmin has incorporated some useful design elements to give it a leg up in the market. The highlight specs include a crisp AMOLED screen and titanium bezel.
Pros:
Advanced Training and Performance metrics
Week-long battery performance
Vibrant Display
Accurate GPS tracking (Dual Band Support)
Durable Build
Compatible with both Android & iOS
Cons:
Limited third-party apps
GarminOS can be a turnoff for some users
Basic Smartwatch features
Disclaimer: If you buy through affiliate links on this article, we may earn a commission without any additional cost to you.
Garmin Forerunner 965 vs. Samsung Galaxy Watch 5 Pro: Specs Comparison
| | Samsung Galaxy Watch 5 Pro | Garmin Forerunner 965 |
| --- | --- | --- |
| Dimensions | 45.4 x 45.4 x 10.5 mm | 47.2 x 47.2 x 13.2 mm |
| Weight | 46g | 53g |
| Display | 1.4-inch 450 x 450px Super AMOLED | 1.4 Inch 454 x 454px AMOLED Display |
| Strap | Silicone, 20mm, Interchangeable | Silicone, 22 mm, Interchangeable |
| Colors | Black Titanium, Gray Titanium colors | Amp Yellow/Black, Black/Powder Gray, Whitestone/Powder Gray |
| Connectivity | NFC, GPS, LTE, Bluetooth 5.2, Wi-Fi | NFC, GPS, GLONASS, Bluetooth, ANT+, Wi-Fi |
| Storage | 16GB | 32GB |
| Battery life | Around 3 days (590mAh) | Up to 23 days |
| Water resistance | 5ATM | 5ATM |
| OS | Wear OS Powered by Samsung (One UI Watch 4.5) | Garmin OS |
| Health sensors | Heart rate, ECG, SpO2, bioelectrical impedance, skin temperature | Heart rate, SpO2, thermometer |
| Price | Around $449 (Bluetooth only) / $499 (LTE) | Around $600 |
Pricing:
We have simplified the pricing for you.

Samsung Galaxy Watch 5 Pro: $449 (Bluetooth) or $499 (LTE)
Garmin Forerunner 965: $599, no LTE or solar-powered version available
The Galaxy Watch was released last year so it's not hard to find a better deal on major e-commerce
platforms. For Garmin Forerunner 965, you will have to wait for a couple of months.
Winner: Samsung Galaxy Watch 5 Pro
Here are the latest Prices for Garmin Forerunner 965 & Samsung Galaxy Watch 5 Pro:
Design:
Let's discuss the similarities first. Both watches are designed for large wrists: Forerunner 965 weighs 53g and has a dial size of 47mm; whereas Samsung Galaxy Watch 5 Pro weighs 46g and has a dial size of around 45.4 mm. There is a considerable heft to these watches, making them unfit for skinny wrists.
The slight difference in dimension translates to screen size and resolution. Both use a touchscreen AMOLED display with an always-on display mode for discreet tracking. However, Forerunner 965 retains the 5-button navigation of its predecessor that comes in handy during sports tracking when our hands are sweaty or when we have gloves on.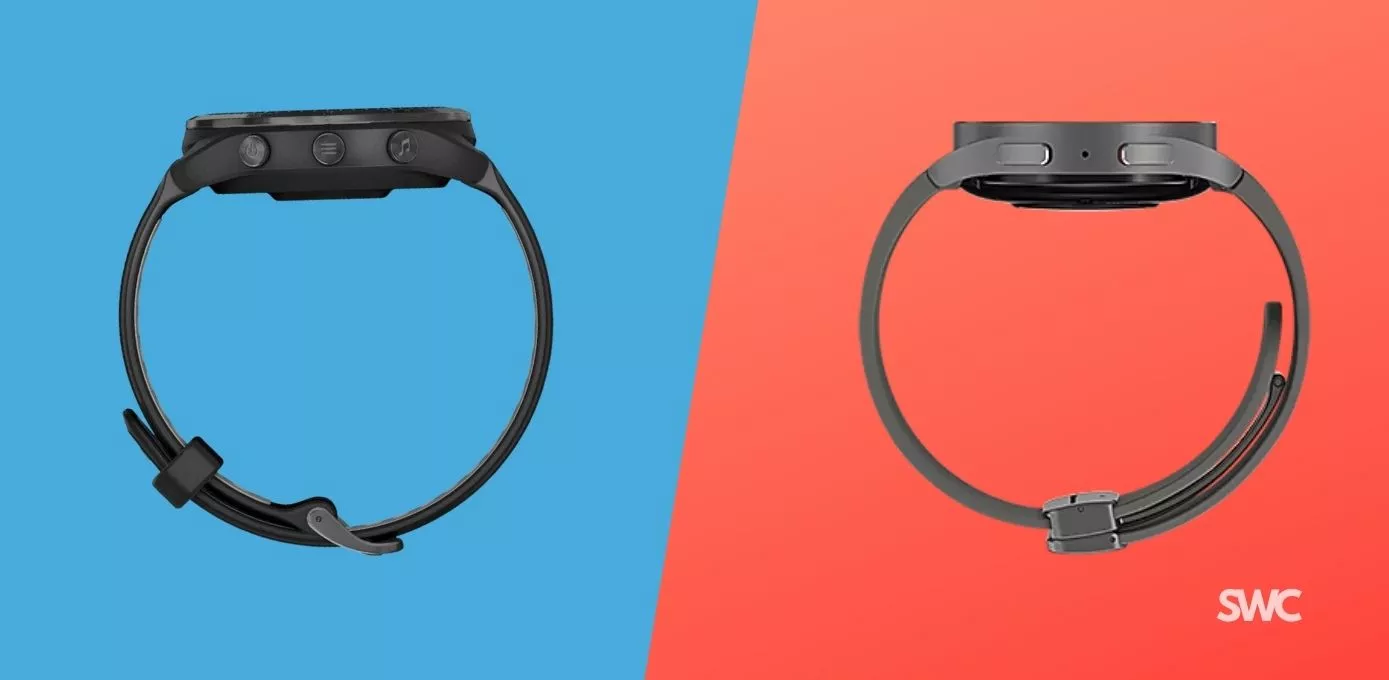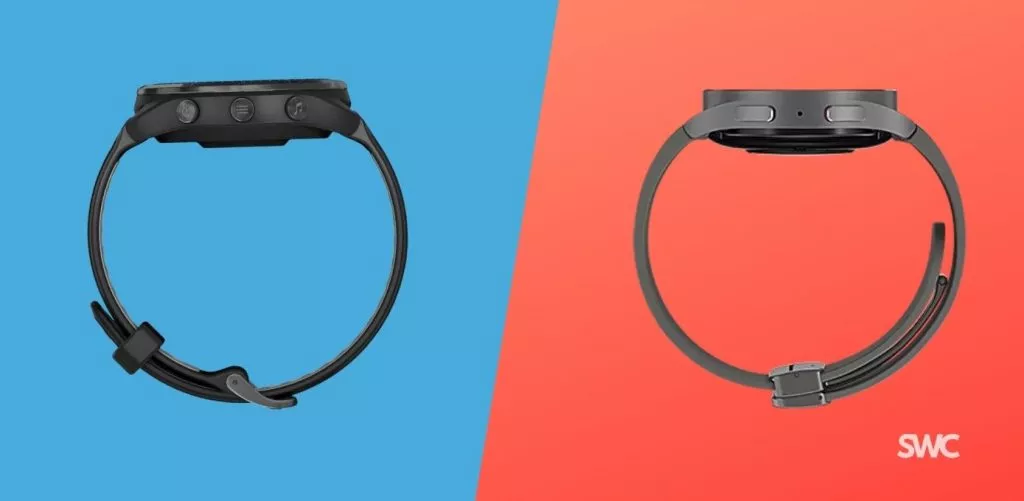 The key difference in design is the construction material which in GW5 Pro's case is titanium case and sapphire glass protection. Whereas, FR 965 has a cheaper plastic build, titanium bezel, and gorilla glass protection. This contributes to the overall look and feel of the watch, and so Samsung Watch has an upper hand here.
Both watches come with silicone straps that you can easily swap for a third-party strap. Also, both watches offer identical protection against water ingress (5ATM or roughly 50m)
Samsung offers only two color options, whereas Garmin offers three.
Winner: Samsung Galaxy Watch Pro
Smartwatch Features:
While Forerunner 965 is compatible with both iOS and Android, the Galaxy Watch 5 Pro is restricted to Android only and works best with Samsung Phones. It is worth noting that some premium health tracking features of the Galaxy Watch (like ECG and Blood Pressure monitoring) are locked behind the Samsung ecosystem.
As mentioned earlier, the Galaxy Watch runs on the WearOS platform that allows it to access the complete Google Suite of apps for wearables as well as thousands of third-party options. Some popular names include Google Maps, Google Assistant, Google Pay, Strava, Facer, and more.
On the other hand, GarminOS offers a limited selection of built-in apps and even fewer third-party options. You can stream and store music Forerunner from popular streaming platforms (Spotify, Amazon Music, Deezer), make payments via Garmin Pay, and sync workouts from Strava and Zwift. The additional storage on the Garmin Forerunner 965 (32 GB > 16GB) allows you to store large amounts of music or maps.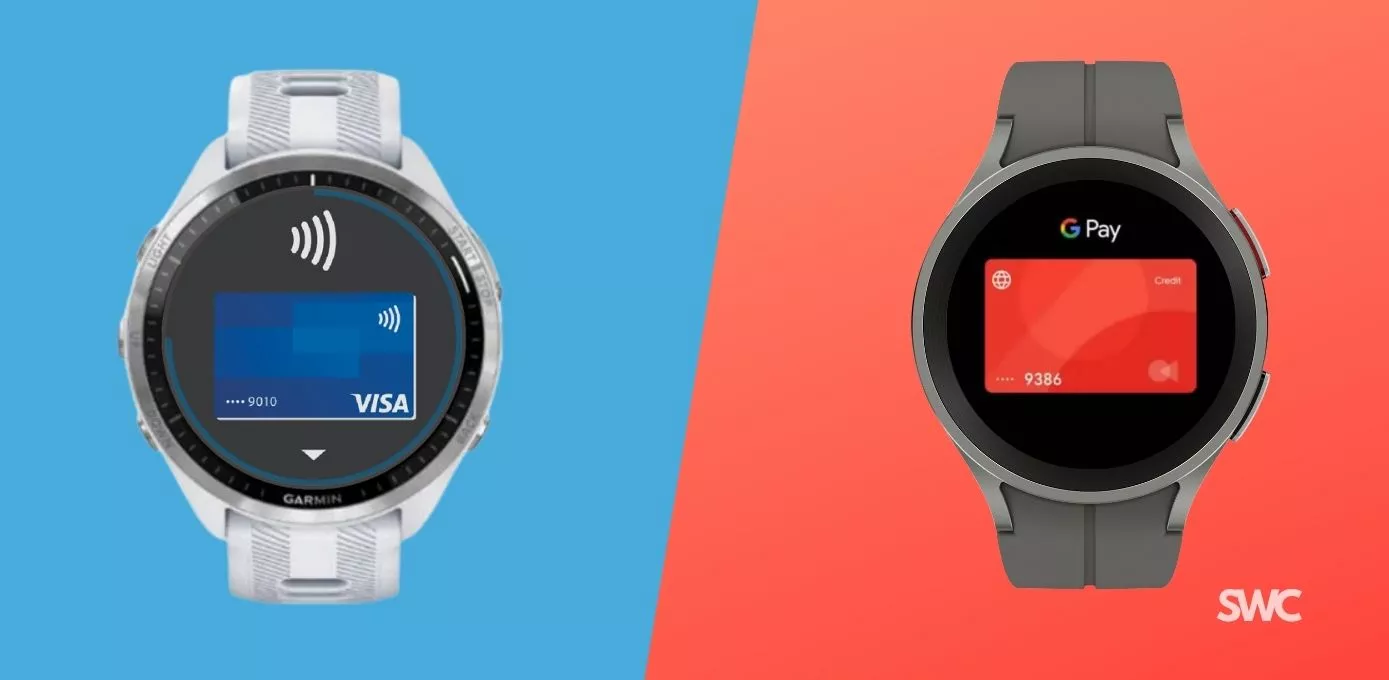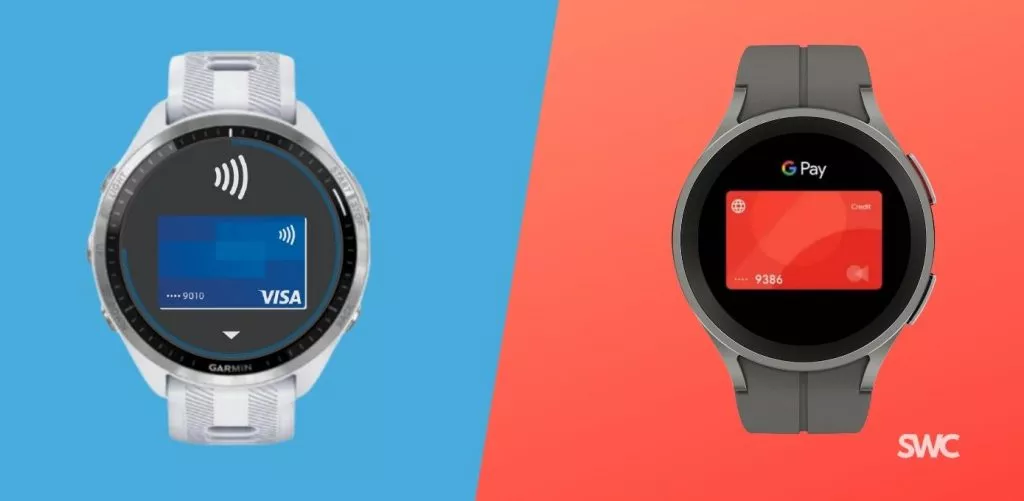 The key difference in this department is the built-in speakers and mic on the Samsung Galaxy Watch 5 Pro. If you pick the LTE model, you can take on-wrist calls and respond to texts without the phone.
An important part of the smartwatch experience is defined by the companion app. Garmin has Garmin Connect that supports both smartphones and pc; Samsung has 'Samsung Health' that runs on only smartphones. In a head-to-head comparison, Garmin Connect is more useful as it does an excellent job of providing insights into your fitness data with detailed tracking and analysis, personalized training plans, and a social community of fellow Garmin users.
Winner: Samsung Galaxy Watch 5 Pro
Health Tracking Features:
Samsung watch has the upper hand in the health monitoring department.
Apart from ECG and Blood pressure monitoring, it also allows users to measure skeletal muscle, fat mass, body fat percentage, Body Mass Index (BMI), and Basal Metabolic Rate (BMR). These features are not available on the Garmin watch.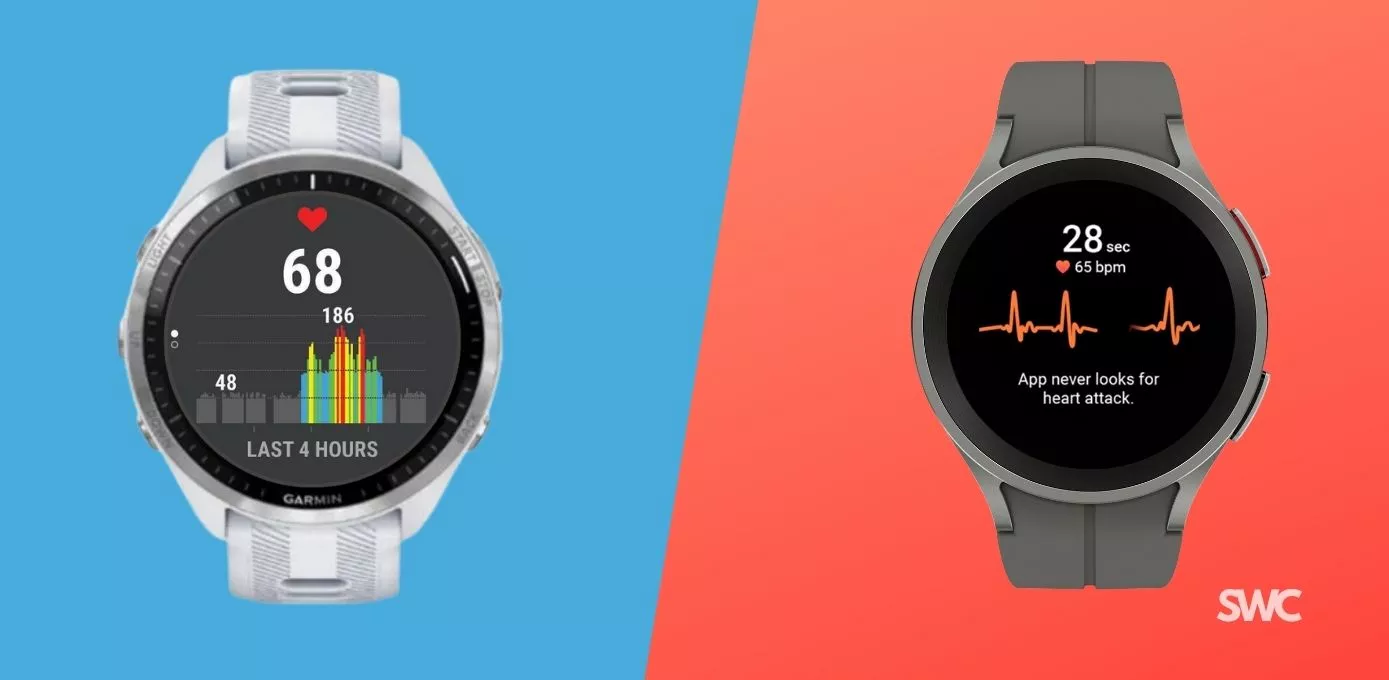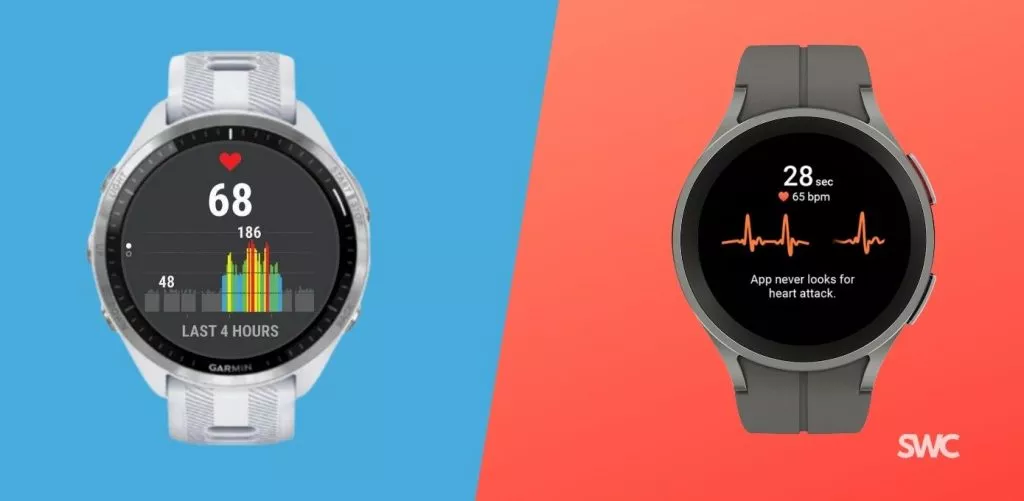 However, these advanced health metrics are rarely used. The most important ones like heart rate, sleep, and blood oxygen tracking are available on both platforms.

Winner: Samsung Galaxy Watch 5 Pro
Sports Tracking:
GW5 Pro offers a whooping 90 sports profile almost double what Garmin has to offer, but don't let the numbers fool you. The level of tracking is quite basic compared to the Garmin Forerunner 965.
Take for instance the running profile. Here are a couple of advanced features Garmin has to offer:
Running dynamics: The watch measures various advanced metrics related to running form, including vertical oscillation (the amount of bounce in your step) and ground contact time and balance (how long your foot is in contact with the ground). There is no need to attach any third-party sensors to track them.
Running power: FR 965 can estimate your running power, which is a measure of the energy you expend while running.
PacePro pacing strategies: The watch can provide customized pacing strategies based on your goals and the course you're running.
In addition to this, the dual-band highly accurate GPS sensor on FR 965, allows better and faster location tracking. On both watches, you can upload GPX maps for multiple support profiles.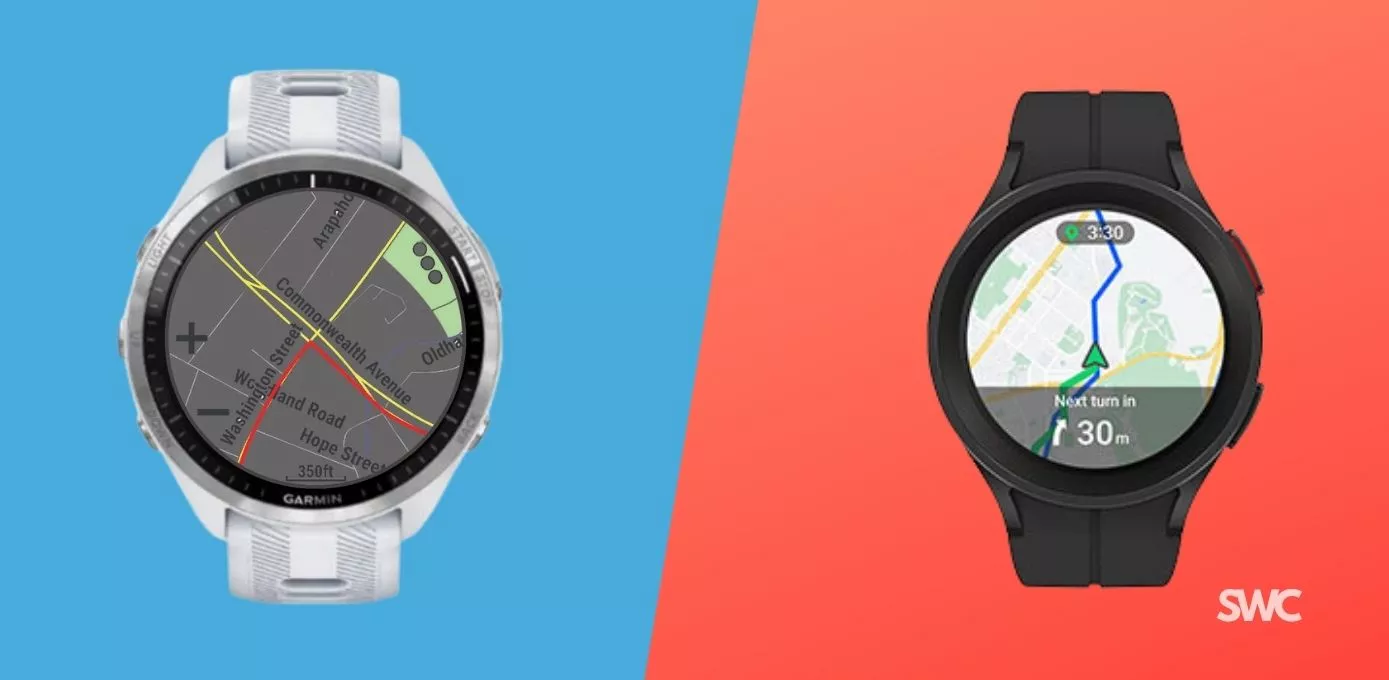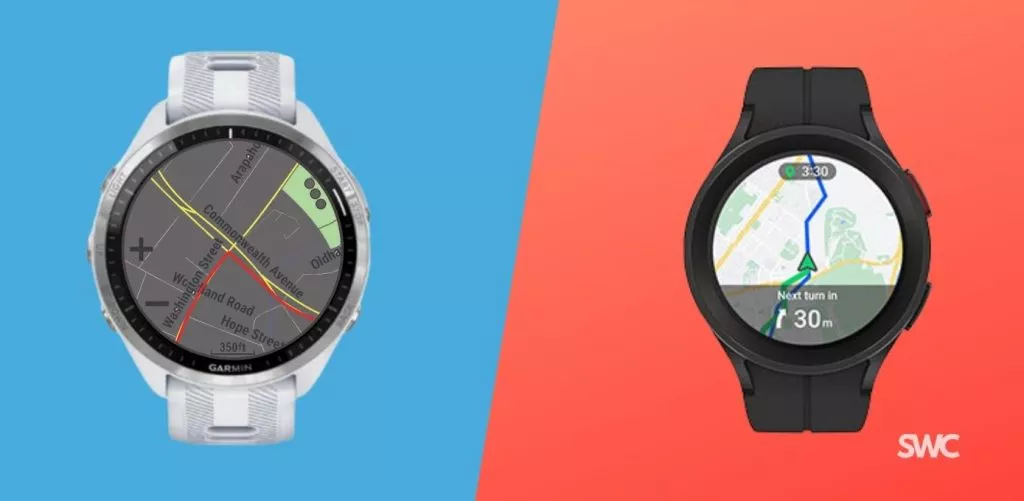 Another big difference relates to compatibility. You can attach both ANT and Bluetooth external sensors to the Garmin watch for better accuracy, but a similar option is not available for the Galaxy Watch.
The Garmin watch really shines in training and performance metrics where it equips you with useful data to fine-tune your workouts. Take for instance the Body Battery, which provides you with an estimate of your energy levels throughout the day based on your activity and sleep. Or the training Load, which takes into account your training history, intensity, and duration to provide insights into your training progress and recovery.
Winner: Garmin Forerunner 965
Battery Performance:

Here, It's important to take into account the operating systems that power these watches. The Galaxy Watch 5 Pro runs on WearOS, notorious for its battery drain. On the other hand, the Garmin OS is known for its efficient power management, leading to longer battery life.
Samsung outfitted the GW5 Pro with a large 590mAh battery to make up for the disadvantage. Still, the max you can get on the Galaxy Watch 5 Pro is around 3 days, while the Forerunner 965 can last up to 23 days. On GPS mode, the Samsung watch will last 20 hours, whereas Garmin will deliver more than 35 hours.
The Galaxy Watch 5 Pro does offer the advantage of 10W fast wireless charging. So we are going to contribute some extra points for convenient and speedy charging.
Winner: Garmin Forerunner 965
Garmin Forerunner 965 vs. Samsung Galaxy Watch 5 Pro: Final Verdict
If you compare the relative strength and weaknesses of both watches, this decision is quite easy to make.
Forerunner 965 builds on the legacy of powerful running watches with a proven track record in sports tracking. Only serious athletes can truly appreciate the wealth of data it has to offer. The smart features on the watch are pretty limited but don't leave you wanting. There is another plus in the battery performance.
Despite these advantages and a revamped design, the FR 965 is essentially a sports watch that doesn't fit well in settings where style comes first (Party, Office). The price point is yet another deal-breaker for those who need a watch for casual fitness tracking and not a full-fledged sports watch.

Meanwhile, Samsung Galaxy Watch Pro provides an unparalleled smartwatch experience with its sleek design and various customization options. The fitness tracking is passable, but we won't recommend the watch as a training device. Buy this one only if the smartwatch experience matters more to you, and by this, we mean the features like voice assistant, standalone calling, and NFC payments.
Here are the latest Prices for Garmin Forerunner 965 & Samsung Galaxy Watch 5 Pro: