2022 has been a great year for Garmin so far. The company updated its Fenix, Instinct, and Forerunner Series with new watches and it would not be far-fetched to say that there is a new product in almost all series.
Well, when your core business strategy is to launch new series (Forerunner, Swim) dedicated to a particular niche (Running, Swimming), the insurmountable pressure to update them all in a year gap is a major hindrance to serious innovation.
As a fan all along, I can appreciate the Forerunner 255 and Instinct 2 watches as they offer some serious and much-needed upgrades over their predecessors, but it is hard to see the point in launching Venu 2 Plus. Tweaking the size, and battery life, or adding a minor feature doesn't warrant a new watch.
Garmin Instinct Crossover is a product that nobody asked for, and it offers slight improvements over Instincts 2. In my view, it is just a fancy variant of Instinct 2. Let's compare Garmin Instinct Crossover vs Instinct 2 and find out the key difference between the two.
Garmin Instinct Crossover vs Instinct 2: 5 Key Differences
Here is a list of the top 5 differences between these two watches. These watches are almost identical in all other aspects from features, and sensors to the overall design. One can say that these are cosmetic differences as the overall performance and capabilities of both watches remain the same.
A Display with Analog Watch Hands:
Withings was the first major brand to entertain the idea of hybrid smartwatches with its Move ECG. The watch had an analog display but also packed a small tiny screen to display notifications.
The idea was great as it combined the best of both worlds, the elegance of an analog watch with smartwatch features. Garmin Instinct Crossover is the company's first attempt to introduce a similar hybrid watch.
The Instinct Crossover has analog hands illuminated with a "Super-LumiNova" coating to give it a better look in low-light conditions. The company removed the tiny circular screen on the display which was a characteristic feature of both Instinct 2 and the original instinct series.
The user interface of the crossover watch is refined to better use the new analog watch hands. On the home screen, the hands will show you the time just like a traditional watch (Rolex). However, as soon you start an activity or navigate through the settings these hands divide the squarish display of the watch into different quadrants.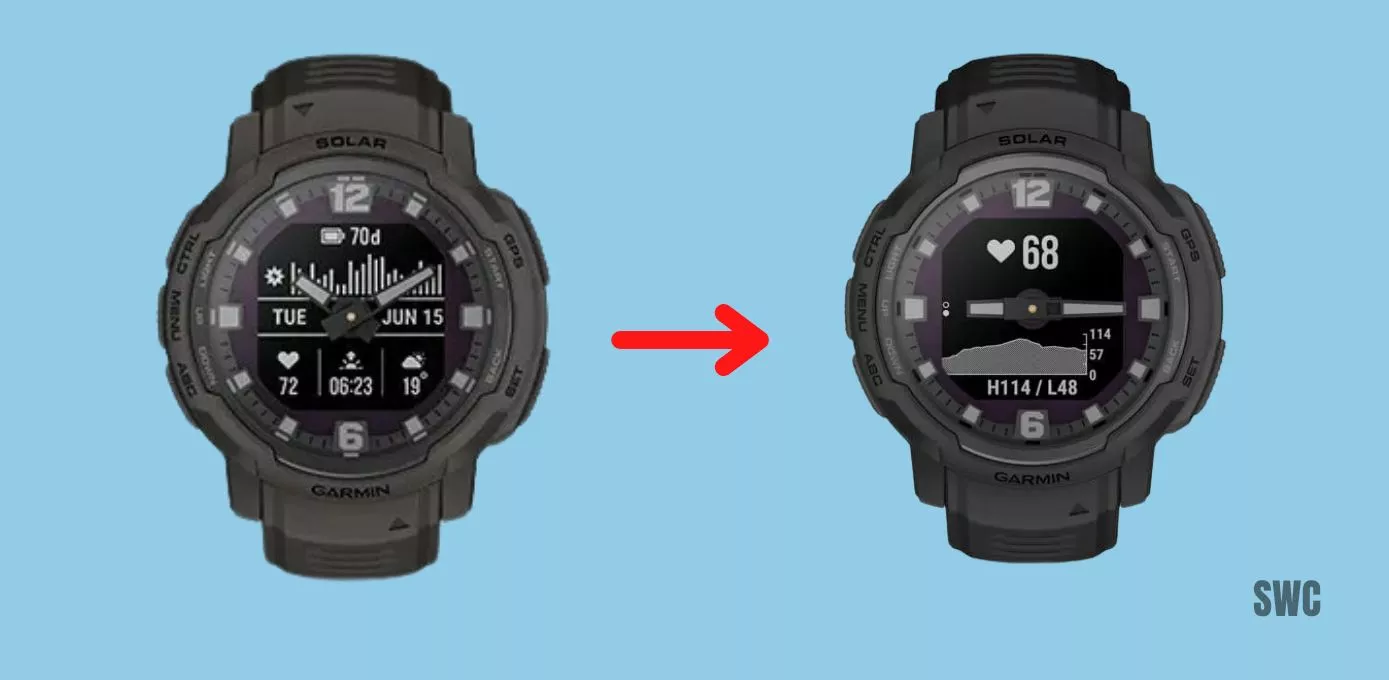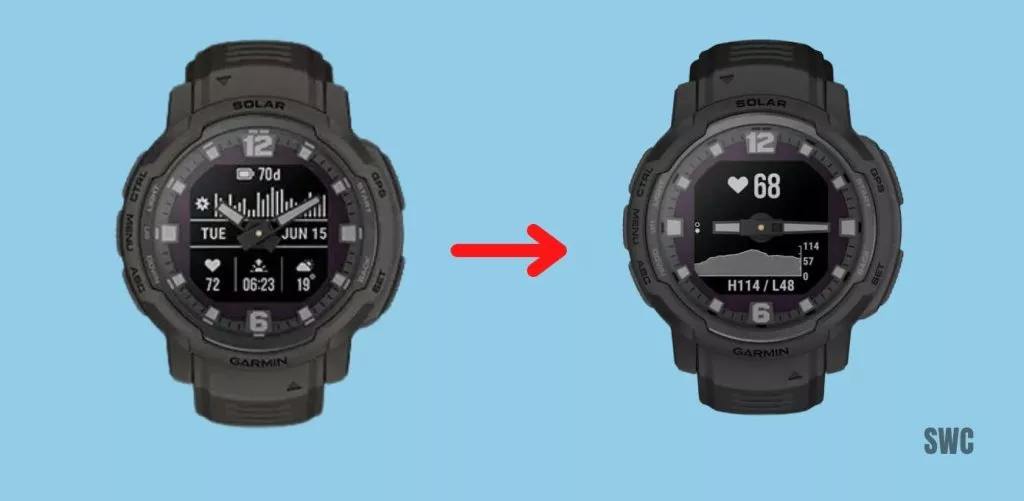 Garmin has made sure that these analog hands don't get in the way of the user experience. Despite the considerable size of the hands, they position themselves so tactfully that you won't notice them during the activity.
Pricing:​​
Garmin Instinct 2 came in many variants starting from around $350 to $500. The new Garmin Instinct Crossover is priced at $499.99, which is a significant premium over the previous generation.
And if you go for the tactical additions of the crossover, the price goes as high as $599. A few will be tempted to pay the premium for an upgraded look, but many will brush it aside. There are little to no improvements in the overall functionality of the watch compared to Instinct 2. 
Here are the latest Prices for the Garmin Instinct Crossover & Instinct 2: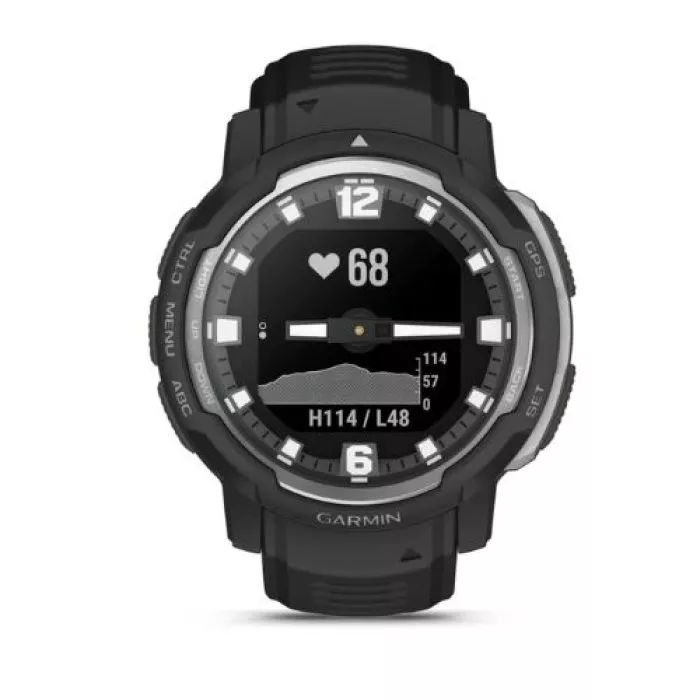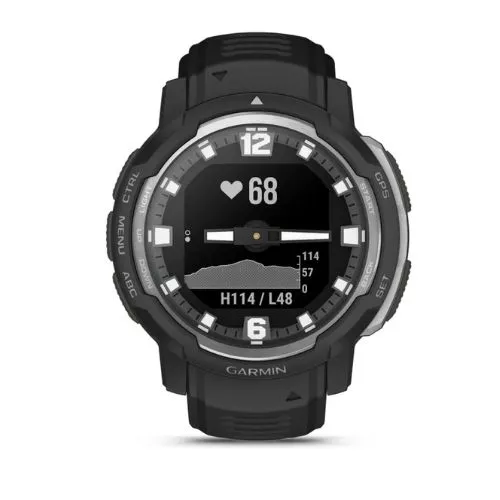 Garmin Instinct Crossover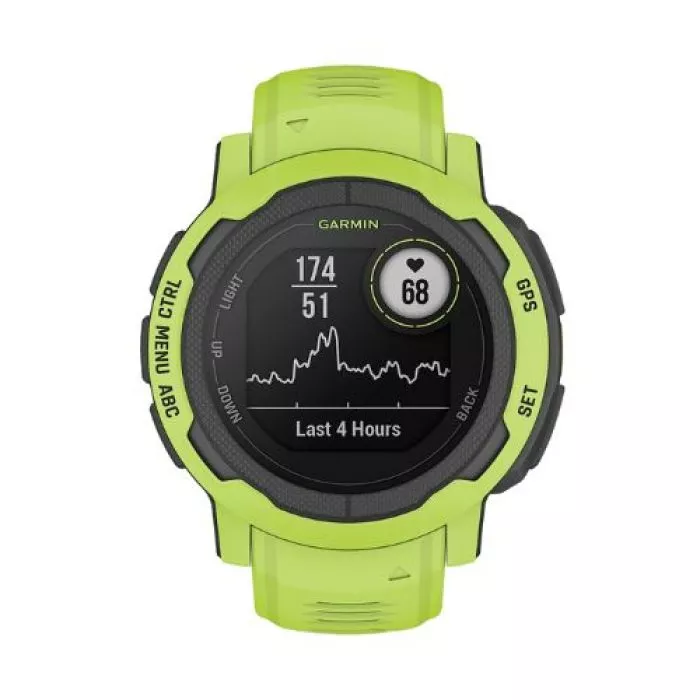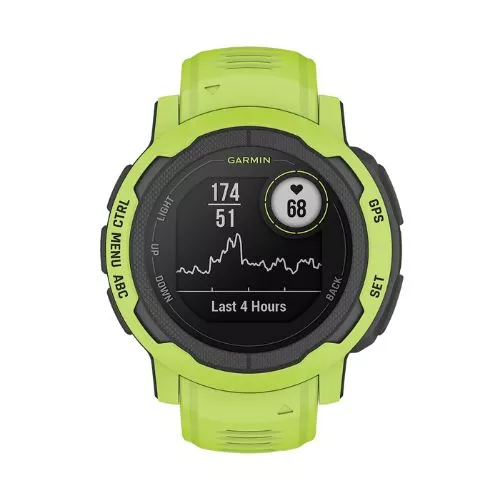 A new Chipset:
Garmin Instinct Crossover has almost identical hardware as Instinct 2 except for the new Airoha GPS chipset.
Earlier this year, Garmin replaced the old Sony Chipset with an Airoha chipset in its high-end watches including Fenix 7 and Epix 2. Later we have seen the same chipset in mid-range FR 255. These watches in the market for a while now, and reviewers all across the globe including us have praised the new chipset for its improved tracking accuracy.
With Instinct Crossover, Garmin has finally completed the migration of Airoha Chipset in all its products.
Garmin Pay is now a baseline feature:
Only a few variants of Instinct 2 were equipped with Garmin Pay, a shame because NFC payment capability has become a staple of premium and midrange smartwatches.
Fitbit, Samsung, and Apple are all offering contactless payment support in their smartwatches now for years, and it would not come as a surprise if it becomes an industry-standard in this price range.
Fortunately, with the release of Instinct Crossover, all variants come with Garmin Pay. I hope that the company will retain this feature for all its products in the future. Nobody wants to keep the wallet when going for a run.
A slightly improved Battery Performance:
It is really complicated to compare the battery performance of both watches side by side. There are so many variants to compare here, but I will give you a gist of it. Thanks to the latest chip, Instinct Crossover is slightly more power efficient than Instinct 2.
The new chip combined with the lack of a tiny screen on the display and some other software optimizations has resulted in slightly better battery performance across all variants.