People who are suffering from Type 1 Diabetes (T1D) or Type 2 Diabetes (T2D) usually have non-intrusive continuous heart rate monitoring (CGMs) devices covered by Medicare or private insurance. Dexcom and Freestyle Libre top the list of CGMs covered by insurance.
Despite the fact that Garmin watches are capable to track tons of health metrics, the company hasn't introduced blood sugar tracking on any of its devices. As a result, we have to rely on third-party metrics.
This post is intended for athletes who own a Garmin Watch and have been diagnosed with Diabetes. We will cover only the Dexcom G6 here. We will guide you on how to connect Dexcom G6 sensor and transmitters with your compatible Garmin Watch via a smartphone.
You can glance at your blood sugar level, trends, and history on the go. Or you can view the same within your Garmin activity app. Let's get started.
Check the Compatibility of Garmin Watches with Dexcom G6:
Not all Garmin watches can be connected to Dexcom G6. Below, we have listed all the popular Garmins that can be paired.
Approach S62
Forerunner 245/245 Music, Forerunner 645/645 Music, Forerunner 745, Forerunner 935/945 fēnix® 5, quatix® 5
Fēnix 5S/5S Plus/5X/ 5X Plus | Fenix 6 Series
Garmin tactix Charlie, Tactix Delta, Garmin Quatix 6X Solar,
Venu, Venu SQ Music, Venu 2/2S
Vivoactive 3/3 Music, Vivoactive 4/4S
You can find a comprehensive list by looking for Nighscout App or Dexcom App on Garmin Store. Both have listed the compatible devices as follows. (https://apps.garmin.com/en-US/apps/0bf06c99-78f1-4b93-83d3-03f2317720b9)
Pairing Dexcom G6 with Garmin Watch:
There are a couple of apps that you need to install on your compatible smartphone before you proceed with the pairing process.
Dexcom App (For Android Users(https://play.google.com/store/apps/details?id=com.dexcom.g6&hl=en&gl=US), For iPhone Users (https://apps.apple.com/us/app/dexcom-g6/id1209262925)
Spike (For iPhone Users)
Nighscout or xDrip+ (For Andriod Users)
Apart from the Dexcom G6 app, all the apps are designed by third-party developers. They are not available on the official Apple Store or Google Play store. You will have to download their APK files (Andriod) from Github and install them on your phone.
How does this work?
For the Garmin Watch to update blood sugar data, it needs to be connected to a smartphone which, needs to be connected to the transmitter of the Dexcom G6. The phone is an essential part of the loop and cannot be circumvented.
The CGM first transmits the data to Dexcom G6 app on the smartphone from where the apps mentioned above display it on the Garmin Watch.
Dexcom G6 Smartphone needs to be connected to the internet to transmit data to the Garmin Watch. Whereas xDrip+ and Spike bypass this limitation but you would have to trade-off Dexcom Clarity reports. You can use all of them in combination.
Step-byStep Guide:
Method 1:
Download and install NightscoutWatch or NightscoutData from the Garmin ConnectIQ store (developer: Horsetooth).
Select the Nightscout Watch Face ( "Activities and App Management" -> "Watch Faces->Settings->enter Nightscout site URL")on Connect IQ app, activate the Watch face on the Garmin Watch.
You can view the Blood Glucose data on the Watch Face, or your can separately set data field in activities you prefer to use most often. To set the data field, you will have to follow these steps. (Select activity settings on the watch->Data Screens->Connect IQ Fields->Nightscout field.
Method 2:
Download xDrip+ or Spike watch face on the Garmin watch and repeat the steps given above.
The integration process is similar to the nightscout as explained in the video below.
What Blood Glucose data you can view?
The watch face on the Garmin Watch would display the blood sugar levels, as well as how long since the last blood glucose sample was taken and the current time and date. Some of them shows the battery level and alert you when it drop a certain level. You can also set smart alarms if the blood suger surpass the benchmark.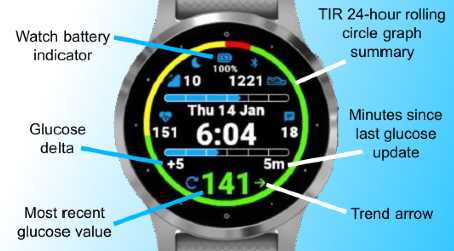 Possible Issues and ways to fix them:
The Dexcom app (for Android users, for iPhone users) reads glucose readings off of the Dexcom Share web service. This means you need to have an Internet connection for this to work. So if your Garmin is not updating the Glucose data, you need to check for these issues.
– Make sure your mobile phone has internet
– Garmin Connect app is running on your mobile phone and it is not prohibited due to power save mode.
– Garmin Connect can sync with the Garmin device
– Make sure that both devices are connected over Bluetooth.
Conclusion:
The Dexcom G6 is not compatible with all Garmin watches. But, there are a few simple steps you can take to make sure your watch displays the readings from the CGM correctly. We've included those steps in this article as well as some of our favorite apps for pairing and managing data on Compatible Garmin. If you have any other way to connect a Garmin Watch to Dexcom G6, let us know.