Jet Lag Adviser is a niche-specific Garmin Feature. It targets those who travel across time zones, more frequently than others, for business, pleasure, or competitive sports.
Here in this post, we will share with you how to make full use of it. But before that, let's answer some common questions.
Not interested?
There is a table of contents for you to navigate to whatever section you want.
How Does Jet Lag Adviser Work?
Those who have experienced jet lag can attest to the fact that it disrupts sleep, mood, and overall health. Thus, making it harder to adjust to new environments and perform at optimal levels.
For business executives, and competitive athletes, jet lag can be disastrous. However, it is not something that cannot be managed.
Garmin's Jet Lag Adviser can help minimize the effects of jet lag and adjust more easily to the new time zone.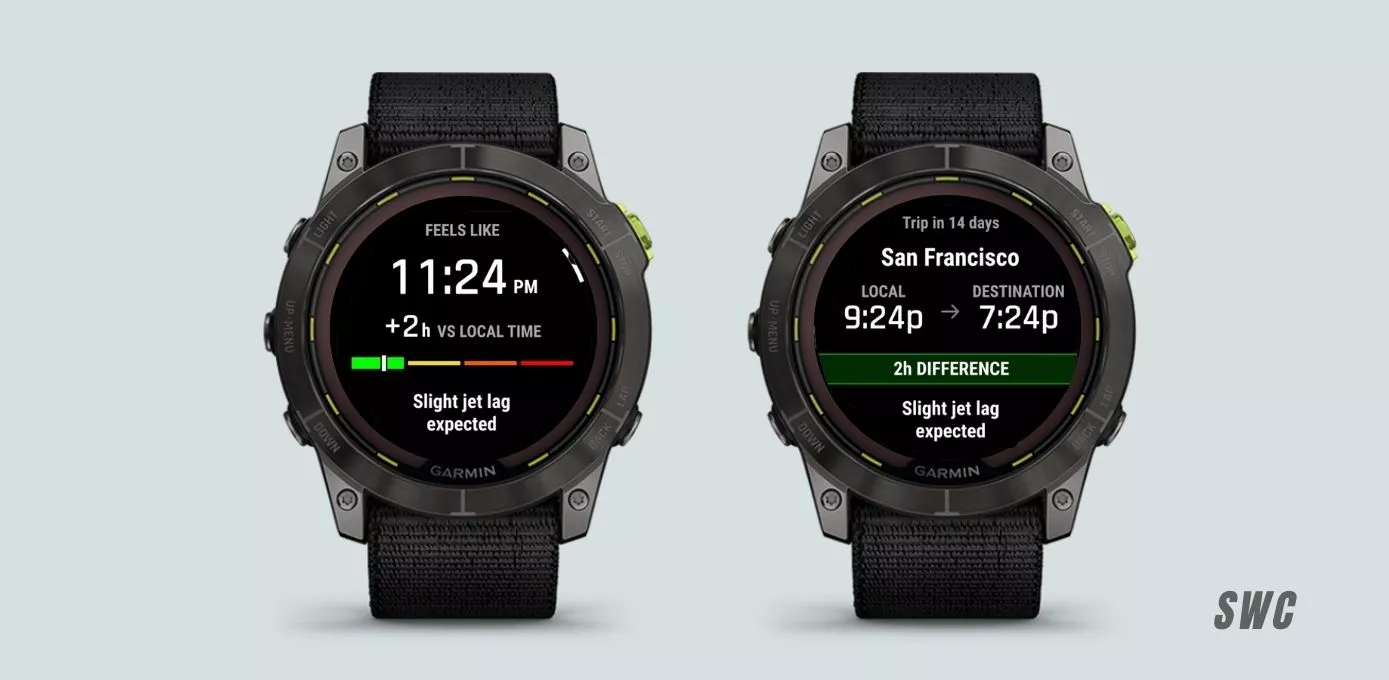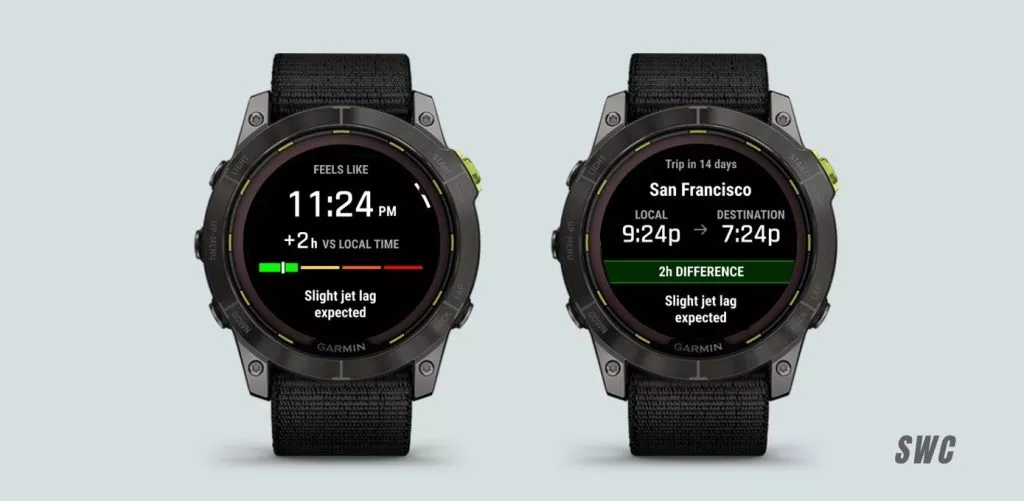 The Jet Lag Adviser offers guidance on the following:
Light exposure: The feature recommends specific times to seek or avoid exposure to light, as light is a crucial factor in regulating the body's internal clock.
Sleep: The feature provides recommendations on when to sleep and how long to sleep, which can help the body adjust to the new time zone.
Activity and exercise: The feature offers guidance on when to engage in physical activity or exercise, as well as how much activity is optimal.
Naps: It also provides recommendations on when and how long to nap, which can help travelers adjust to the new time zone and alleviate fatigue.
Caffeine: The feature offers guidance on when and how much caffeine to consume, as caffeine can impact the quality of sleep and circadian rhythms.
Melatonin: The Jet Lag Adviser provides guidance on the use of melatonin which can help regulate the body's internal clock and improve sleep quality.
Nutrients: As the name suggests, it provides recommendations on the consumption of specific nutrients that can impact circadian rhythms and sleep quality, such as magnesium and tryptophan.
The adviser provides guidance in the days leading up to the trip, during travel, and after returning home.
Therefore, you should set up the itinerary details three days before the trip. Also, You can update your travel itinerary if your plans change.
Which Garmin watch has Jet Lag Adviser?
Though initially exclusive to the Garmin Marq (Gen 2) range, the Jet lag adviser has now been made available to the Epix 2, Fenix, and Enduro series as well.
It was a part of Alpha version 11.5 which started rolling out back in Dec 2022 and therefore by now should have introduced itself in almost all intended watches.
Here is a list of all the Garmin watches with Jet Lag Adviser.
Fenix 7 series
Instinct 2 series
MARQ (Gen 2)
Quatix 7
Tactix 7
Vivomove series
Enduro 2
Epix (Gen 2)
How to use Garmin Jet Lag Adviser:
Before you start using the Jet Lag Adviser on the Garmin watch, you would have to set a few things up in the Garmin connect app. Here is how to do it.
Open the Garmin Connect app on your smartphone.
You can access the Jet Lag Adviser section by tapping the three-line menu in the top-left corner of the app, selecting 'Training & Planning,' and then 'Jet Lag Adviser.'
Add your trip details, including departure and arrival time, and location, and sync them over to your watch.
That's it. No need to do anything more.
Almost a day or two before departure you will get a widget on your watch. The initial details on the widget will be basic, there to prep you for the trip. (Time difference, level of jetlag expected, flight details)
On the day of departure, the widget will turn into a timeline and you can now get recommendations for sleep, activity, and other things.
The watch will keep on sending you general recommendations after you have landed. Some of them are crucial to adjust to a new time zone.
Garmin has yet to feed the raw workout and sleep data from sensors to make these recommendations more personalized. It is something that will take this tool to the next level.
As reported by Wareable.com, the new most crucial metrics that will be fed to the Jet Lag Adviser are HRV status and training readiness. Both of them are pretty polished and have already been incorporated into the latest Garmin watches.
Without this personalized touch, it can offer nothing more than a general Jet lag app you can install on your phone.
Wrapping Up:
If you are a frequent traveler across different time zones, Garmin's Jet Lag Adviser is an excellent tool to help you minimize the effects of jet lag.
It provides alerts on light exposure, sleep, activity, exercise, naps, caffeine, melatonin, and nutrients to help you adjust more easily to the new time zone.
The Adviser is available on premium Garmin watches such as the Fenix 7, Epix 2, and Enduro 2, and you can set it up easily in the Garmin Connect app on your smartphone.
I created this blog to help people find the right smartwatch for their taste, to keep tabs on the latest news and leaks, and to share my experience with different smartwatches.