Spotify is the most popular music streaming platform with almost 31% of the market share. It competes with Apple's native app for music streaming 'Apple Music' and the likes of Amazon Music, Pandora, and Deezer.
What came as a surprise for us is that Spotify is in the good books of Apple. The Cupertino-based tech giant is notorious for chopping the functionalities of third-party apps to give an unfair advantage to native apps. And for some time, Spotify's hands were tied like all other Apple competitors.
However, both companies seemed to have come to a mutual understanding last year (2021) when Spotify introduced offline playback for its Apple Watch App. No matter if you own the latest Apple Watch Series 7 or the budget picks like Series SE and Series 3, you can download Spotify albums, playlists, podcasts, and songs for offline listening as long as you have a premium subscription.
In this article, we'll discuss how to use the Spotify app on the Apple Watch Series 7, as well as some of its best features. The app is easy to use and has a lot of great features. Keep in mind that these steps work the same for Series 3 4, 5, 6, and Special Edition (SE).
How to download and Install Spotify App on the Apple Watch S7 and Stream Music:
As soon as you pair your Apple Watch with the iPhone, apps that come with a WatchOS version are downloaded on the watch. All you have to do is to install them.
To check: Open 'Watch App' on your iPhone>>Tap on 'My Watch'>>Tap on 'Installed on Apple Watch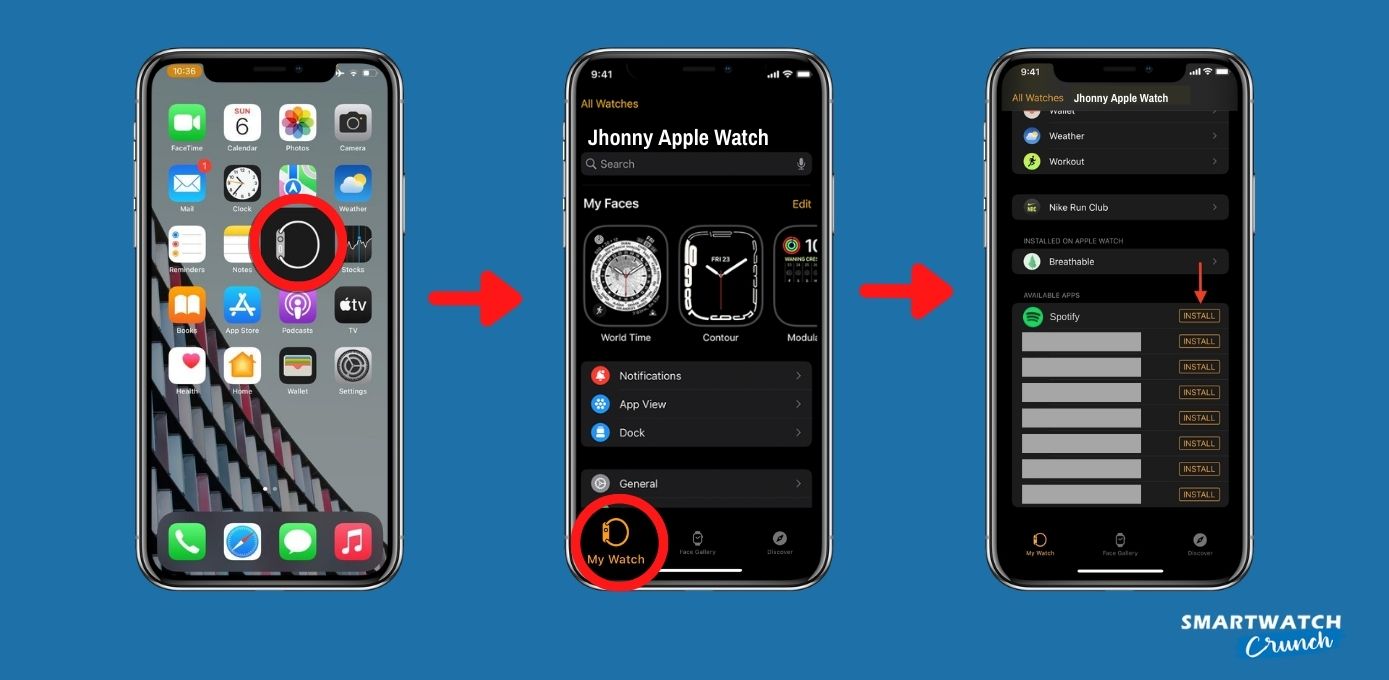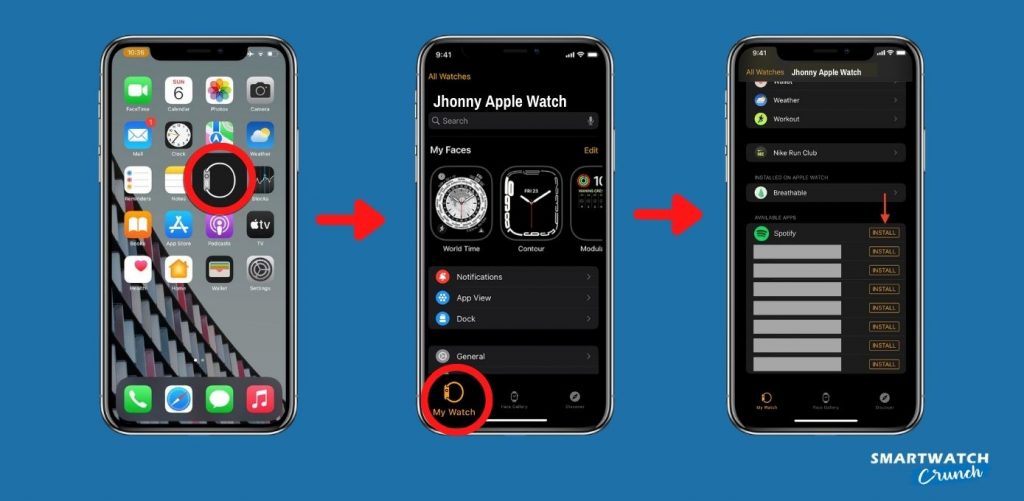 If you didn't find the Spotify app in this section, scroll down to the 'Available Apps' section and hit 'Install' on Spotify.
The Spotify App icon will appear in the 'App grid' on the Apple Watch Series 7.
Alternatively, you can go to the Settings on your Apple Watch, tap App Store and turn on 'Automatic Downloads'. This way, the watch will automatically install the WatchOS version of the apps on your paired iPhone.
Only in the Apple Watch Series 7, you are allowed to search for the Spotify app by typing or voice-dictating the name of the app in the search field. Cellular/LTE variants of the Apple Watch Series 7 don't even have to be paired to the iPhone to install the Spotify app.
How to download Spotify Playlists for Offline Use:
Spotify introduced an offline playback feature last year that allowed users to play tracks on the go without Wi-Fi or Cellular (LTE) connectivity.
This feature was restricted to Watch OS 6 and later platforms and needed a Premium Subscription.
To download a song on the Spotify app for Apple Watch Series, follow these steps:
Open the App Store on your connected iPhone or iPad
Tap your profile icon at the top of the screen.
Scroll to see pending updates and release notes for Spotify. Tap Update next to the Spotify App.
Open the Spotify app on your paired iPhone.
Find the specific song, podcast, playlist, or album you want to download.
Hit the menu button and choose 'Download to Apple Watch'.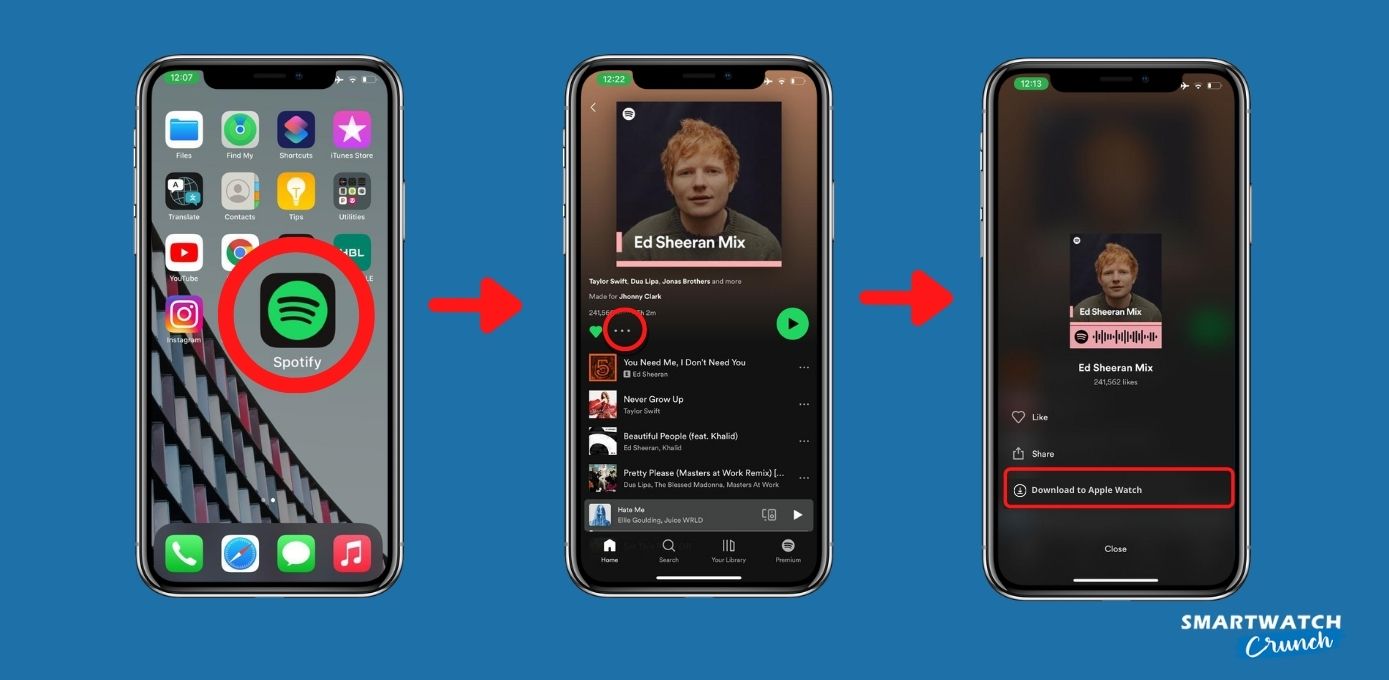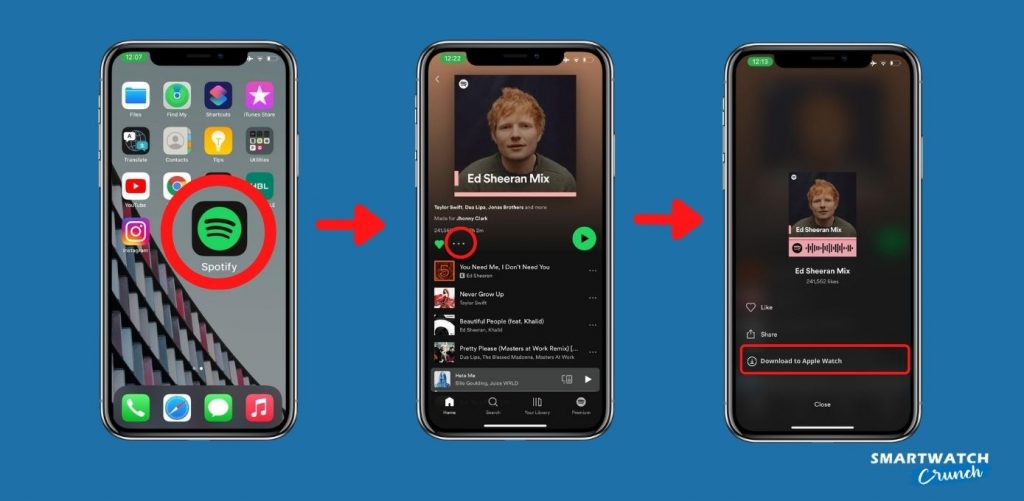 Swipe right in the Spotify Apple Watch app to find the 'Downloads folder'.
The downloaded playlists will be indicated by a green arrow right next to them.
Using Spotify on Apple Watch Series 7
Initially, the Spotify App on the Apple Watch could do a little more than skipping and pausing tracks playing on your iPhone. Though it was a handly feature (you won't have to reach out to your phone all the time), users craved full functionalities. Over the years, it has become one of the best Spotify-enabled smartwatches.
You can pause, play and control the volume of a song playing on your iPhone from your Apple Watch Series 7. How? The feature 'Spotify Connect' allows you to control the streaming platform on a range of devices that have Spotify installed on them and have a Bluetooth or WiFi connection.
This means, not only can you listen to songs on your paired iPhone, but you can also add speakers, cars, and even gaming consoles.
Open Spotify App>>Add Compatible Spotify Connect Devices>>Your Apple Watch and external source should be on the same Wi-Fi network.
However, if you don't have your iPhone or any other external device linked to the watch, you can still listen to/stream music titles and podcasts as long as your Apple Watch has a Wi-Fi or LTE connection. Alternatively, you will have to download 'Spotify Playlists' on the watch for offline use.
You can always summon Siri to 'Play Music' on your Apple Watch Series 7 and control playback without ever opening the Spotify app.
To get the voice assistant to play something from your AW7, trigger Siri by saying "Hey Siri" and then command it to:
Play your favorite Songs and podcasts
'Like' the track you are listening to.
Adjust volume, play/pause, and skip music
Conclusion:
The Spotify app for the Apple Watch has come a long way since its initial release. Users now have more control over what they're listening to and how they're listening to it. We hope that this post would help you make the most out of your Apple Watch Series 7 and Spotify experience.