Oura Ring is a suitable alternative for those who want to draw less attention to their fitness tracker. Since the Gen 1 Oura Ring that was released in 2015 thanks to a Kickstarter campaign, the company has released two upgraded versions.
Gen 3 is the latest; was released in Nov 2021. It offered several improvements over its predecessor but has kept the same stupendously high price tag.
As the company promised to not cut firmware support for Gen 2 rings until 2023, you are safe to purchase a used one until then. But there is one thing that should be kept in mind: new features may not make it to Gen 2 simply because it lacks the hardware support to run them.
In this post, we will be comparing Oura Gen 3 vs Gen 2 and spell out the differences between the two generations of these smart rings.
So without further ado, let's get started.
Oura Ring Gen 3 vs 2: Comparison Table
| Features & Specs | Oura Ring Generation 2 | Oura Ring Generation 3 |
| --- | --- | --- |
| Price | Around $300 listed price when released | Around $300 + $6 Subscription Charges |
| Release Date | 2018 | Nov, 2021 |
| Compatibility | Both Android & iOS | Both Android & iOS |
| Companion App | OURA | OURA |
| Weight |  4-6g | 4-6g |
| Colors | Gold, black, stealth, silver | Silver, gold, black, and stealth |
| Predecessor | Original Oura Ring | Oura Ring Gen 2 |
| Shapes | 2 | 1 |
| Memory | 0.5MB | 16 MB |
| Water Resistance | up to 100m | up to 100m |
| Sleep Tracking | Yes (Basic Sleep Tracking) | Yes (Advanced Sleep Tracking) |
| Heart Rate Tracking | Yes (Resting Heart Rate Only) | Yes (24/7 Heart rate tracking + Workout Heart rate) |
| Blood Oxygen Saturation | No | Yes |
| Period Prediction | No | Yes |
| Guided meditations, audio sessions, and more. | No | Yes (With Premium Subscription) |
| Battery Life | 5-7 days | 4-7 days. |
| Connectivity | Bluetooth LE | Bluetooth LE |
| Sensors | 3-axis accelerometer, optical heart rate monitor, gyroscope, 2 Temperature sensor | 3-axis accelerometer, optical heart rate monitor, gyroscope, vibration motor, relative SpO2 sensor, 7 Temperature sensor |
Comparison Table
Oura Ring Gen 3 vs 2 Comparison: 9 Major Differences
Design: Only One shape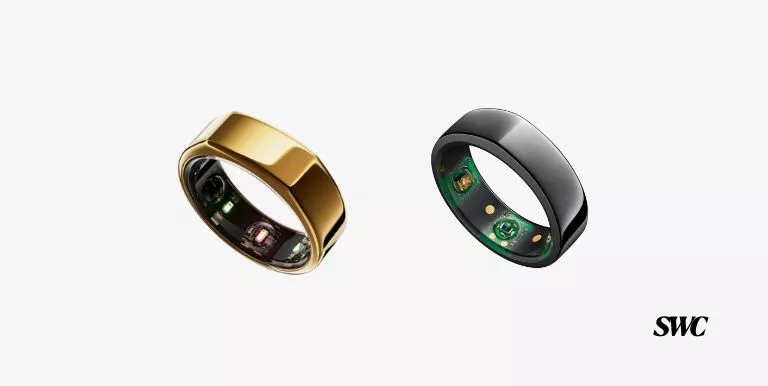 Oura Gen 2 is available in two shapes. There is a plain band shape that flattens out at the top and has a beveled inner surface to sit flush against your finger and a bolt-like appearance. The other shape points at the top guide users on how to correctly wear the ring for maximum accuracy.
Oura nixed the pointed shape in Gen 3 while all other design elements including the size, colors, and weight remain the same.
24/7 Heart Rate Tracking:
Gen 2 can only track your heart rate and heart rate variability (during sleep), but the new optical heart rate sensors in Gen 3 also allow the ring to track your heart rate during the day.
The ability to track your resting heart rate (RHR) is a valuable health metric that can give you insights into your fitness, diet, and stress levels.
For instance, if you see a sudden spike in your RHR after a meal, it could mean that you are eating something your body doesn't agree with.
Workout Heart Rate:
Though the feature has been there for years in popular fitness tracking devices, Oura introduced it quite recently. The ring will track your heart rate as you run, cycle, or do any other form of exercise.
You can then see your heart rate data in the app to keep track of your fitness progress over time. Workout HR data feeds into your readiness and sleep score thus giving you a more accurate picture of your overall health.
Memory:
Oura Gen 3 offers 32 times the memory of Gen 2 (0.5-16MB), meaning you can track more workouts and raw data on the device without having to worry about it filling up and deleting old data.
This feature is of no particular benefit to serious athletes as they usually sync their data to the app after every workout.
Temperature Sensors:
Oura Gen 3 packs 7 temperature sensors up from 3 in the Gen 2 to back several old features like strain and recovery, and certainly new ones like predicting and discovering different phases of the menstrual cycle (Period Prediction).
The accuracy of the temperature sensors is also said to have improved in the latest model.
Advanced Sleep Tracking:
Oura Gen 3 can now track your sleep stages (Light, Deep, and REM) thanks to the improved optical heart rate and temperature sensors.
Fitbit and Garmin are the only other two companies that offer this feature in their fitness trackers, whereas the WatchOS 9 update is going to add this feature to the latest Apple Watch series.
In addition to sleep stages, the Oura app will also give you an idea of how much time you spend in each stage and how that affects your sleep quality.
SpO2 Tracking:
Oura Ring Gen 3 emits two lights: Red and Green. The green light is from the heart rate sensor while the red light is from the SpO2 (blood oxygen saturation) sensor.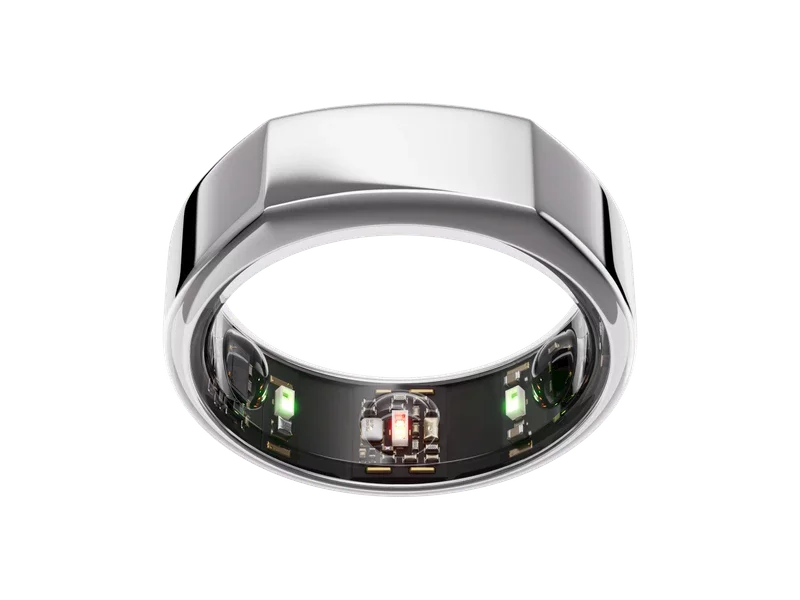 Oura Gen 3 can now take blood oxygen saturation measurements at night.
Membership Cost:
This one comes as a blow to those who were hoping for a discount on the next Oura ring. The company announced that it will be charging a monthly membership fee of around $6 after the 6 months initial trial ends on Gen 3.
Gen 2 users will not be charged this fee and will continue to enjoy limited features for free. People who prefer Gen 3 will now have access to daily health metrics, personalized recommendations, and more than 50 guided meditations to help them relax and focus.
Battery Performance:
Considering that Oura has packed almost double and more powerful sensors in the Gen 3 retaining the same size, it is not surprising that the battery life has taken a small hit. The official claim of 5-6 days of battery life is the same as Gen 2, but users found that it lasts for around 3-4 days with all sensors and features turned on.
Oura has added a new battery conservation feature in Gen 3 to make sure the ring lasts longer, but it disables some useful features.
Final Words:
Oura Ring Gen 3 is a significant upgrade over the Gen 2 in terms of features, sensors, and accuracy. The company has also managed to keep the ring light and comfortable.
If you can live with the slightly shorter battery life and the monthly membership fee, then the Oura ring is definitely worth your money. Our main gripe about the new Oura is the way the company handles its pricing and subscription model. At around $300, the Oura ring is not cheap, and the monthly membership fee makes it even more expensive.
We would recommend that you wait for a few months before buying the ring as the company is still working on adding more features and improving existing ones.