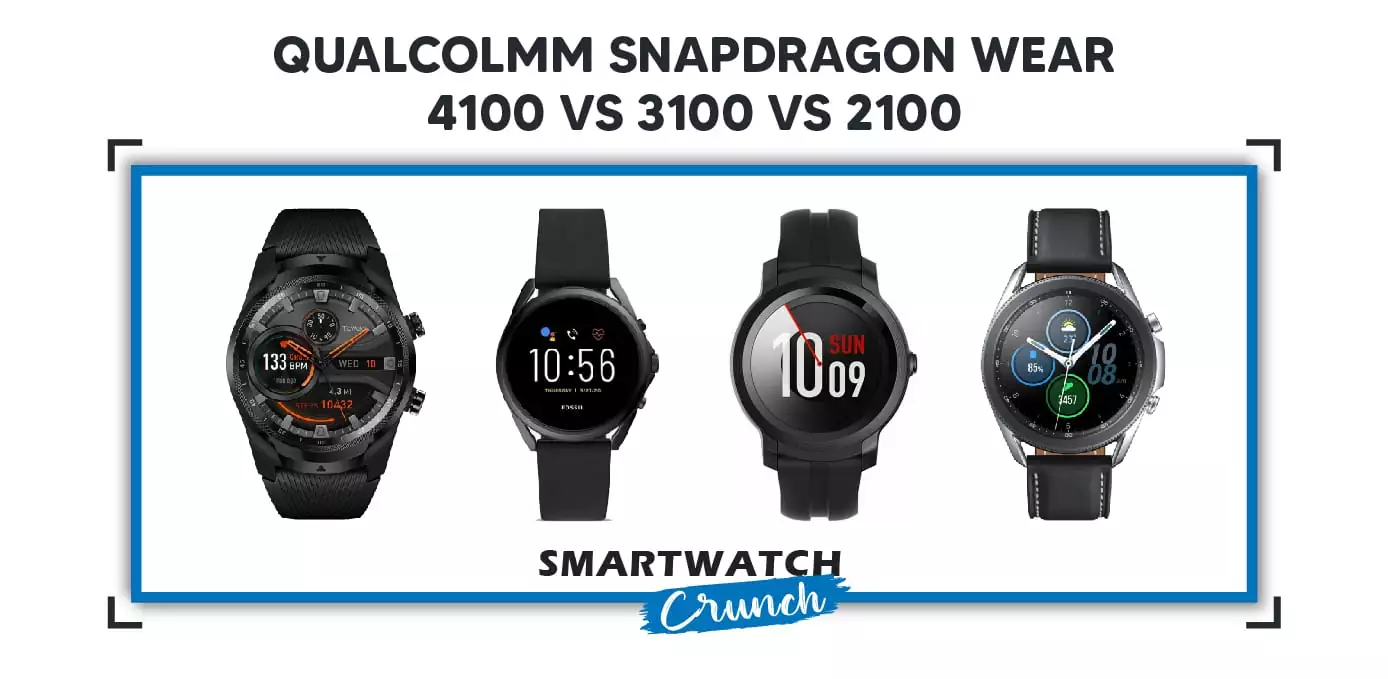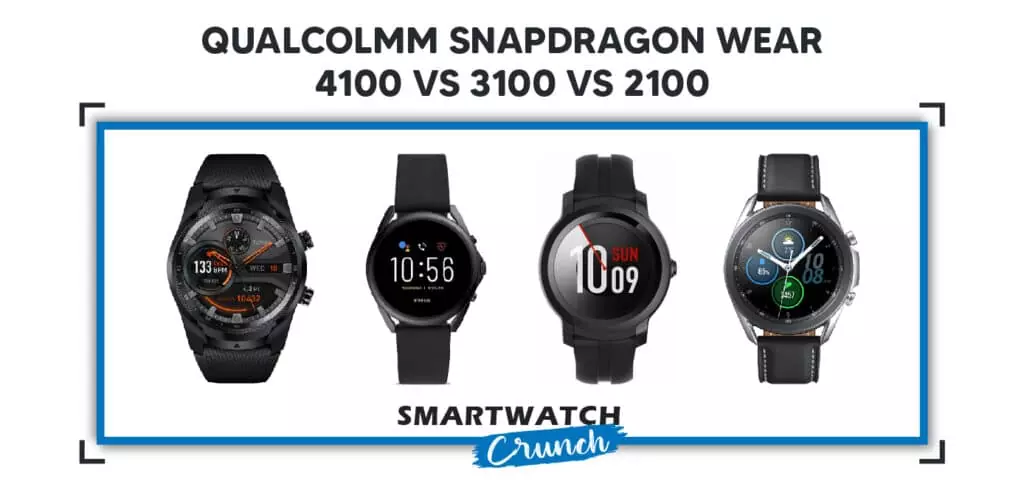 Towards the end of June 2020, Qualcomm released the latest processor series for wearables and IoT devices: Snapdragon Wear 4100 & 4100 Plus. The only difference between the two is the 'enhanced coprocessor' in the latter to optimize battery consumption.
Qualcomm has come to the rescue of Wear OS that has been notorious for its toll on the battery life of wearables and sluggish performance when compared to the competitors like Apple Watch IOS and Samsung Tizen.
The greatest beneficiaries would be Fossil, Suunto, and Mobvoi smartwatches that have for long religiously committed themselves to the Wear OS despite the bad press of the latter.
Surprisingly with the exception of Ticwatch Pro 3, no other mainstream wearable manufacturer has shifted to the new technology.
Update: Here is a list of Snapdragon 4100 Smartwatches.
CPU, RAM & GPU: Fabrication Process, Cores, Always-on Co-processor:
Main Processor:
All previous chips by Qualcomm used the outmoded 28nm Fabrication process and older Arm Cortex A7. To put things in perspective, Arm Cortex A7 was up for grab in 2011 and it was behind the devices like Raspberry Pi and Moto G.
The chipset is irrelevant in comparison to fast SoC by Apple and Samsung.
With Snapdragon Wear 4100, the company has used Arm Cortex-A53 cores and an enhanced 12nm fabrication process. If you know even the basics of microprocessors, it is easy to draw the conclusion that the new processor would be better.
In layman's terms, the smaller the size of the chip, the less power it needs, making it more energy-efficient. Also, a chip with smaller features can be packed with more transistors, which results in more computing power.
The company has made a huge claim that the new System-on-Chip (SoC) is designed to deliver 85% higher performance compared to its predecessor. It would help the platform for faster app launches, more responsive UX, and richer photo and video experiences. For instance, the processor can handle display upto 1080 px (30 FPS)
When compared to EXYNOS 9110, the latest by Qualcomm retains the quad-core design( way better than Dual-core. The clock speed borders 1.7 GHz as compared to 1.2 GHz (Wear 3100) and 1.15 GHz (EXYNOS 9110)
Coprocessor:
The only significant difference between Wear 2100 and Wear 3100 was a low-power co-processor(Qualcomm QCC1110) for features like always-on display. 4100 plus retains an enhanced version of the co-processor whereas Wear 4100 lacks it. The latter will be useful for IoT devices (speakers, security cameras, smart home hubs) that have access to large batteries.
The AON Co-processor now displays vastly more colors to 64K colors (as compared to 16 in the previous version) and supports continuous heart rate monitoring, faster tilt-to-wake responsiveness, steps, alarms, timers, and haptics. (Remember, these features were previously dependent on the main processor)
Memory and GPU:
The chip retains LPDDR3 and has its memory technology, but the clock rates have been upped from 400MHz to 750Mhz. The GPU has also seen a significant bump from the Adreno 304 to a new Adreno 504.
In figures, you will get about 85 percent faster memory, and a boost in graphics performance that's 2.5 times greater than the older chip. Such gains should result in faster app launches (Google Assistant), a smoother user experience, better multitasking, and longer battery life. (25 percent lower power usage)
Connectivity
The new processor allows for the Bluetooth 5 standard and an upgraded 4G LTE modem for faster cellular data connectivity. In wearables, the chip would double the data rate transfer, has an increased connectivity range, and would improve power consumption.
The company claimed that the faster LTE modem is there to improve services like maps, music streaming, and voice assistants.
Ticwatch Pro 3 has lent the evidence to support this claim. Comparing it with any smartwatch having Wear 3100 (Fossil Gen 5)or 2100 (Huawei watch 2), you can observe a significant boost in performance when running power-hungry apps. For instance, Google Assistant loads much faster and is highly responsive.
Other Upgrades:
Qualcomm has added two DSP (Digital Signal Processor), one dedicated to modem and GPS and the other related to open sensor execution environment and audio. Speaking of location tracking, the processor can handle a wide variety of satellites including GPS, GLONASS, Galileo, and Beidou.
Apart from that, Qualcomm doubled the ISP (Image Signal Processor) controller to cater for the futuristic wearable design. It will allow the processor to handle dual 16 MP cameras in wearables. Simply put, it is a move to facilitate advanced features like video calling on future wearables.
Qualcomm Snapdragon Wear 4100 Vs Apple S5 Vs Apple S6:
Apple S6 is the latest SoC chip by the company incorporated into Apple Watch Series 6.
It has a custom 64-bit dual-core processor like its predecessor S5 but it runs up to 20 percent faster than the S5.
The dual cores in the S6 are based on the A13's energy-efficient "little" Thunder cores. (1.8 GHz Clock Speed) (uses 7nm process) Like the S4 and S5, it also contains the W3 wireless chip. The S6 adds the new U1 ultra wideband chip (this will enable next-generation digital car keys), an always-on altimeter, 5x brighter always-on display, fast charging, and 5 GHz WiFi.
Snapdragon Wear 4100, in comparison, offers a lackluster performance. First, it's 12nm processing technology is outmoded when compared to Apple 7 nm which fits roughly a 8.5billion transistors inside the chip. Wear 4100 has 4 cores but maximum clock speed less than S6 and S5 thunder cores (1.8 GHz)
In head to head comparison, Apple devices would be much faster and can offer a myriad of powerful features with its wearable-focused S6 or S5 chip. Qualcomm Wear 4100 would have its application in wearables but equally in IoT devices.
Qualcomm Snapdragon 4100 & 4100+ vs 3100 vs 2100 vs EXYNOS 9110: Comparison Table
| | | | | |
| --- | --- | --- | --- | --- |
| | SNAPDRAGON WEAR4100+ | SNAPDRAGON WEAR 3100 | SNAPDRAGON WEAR 2100 | EXYNOS 9110 |
| First announced | June 2020 | September 2018 | 1st February 2016 | August 9, 2018 |
| Fabrication Process | 12nm | 28nm | 28nm | 10 nm (0.01 μm, 1.0e-5 mm) |
| Core count | 4 | 4 | 4 | 2 |
| Clock Speed | 1.7 Ghz | 1.2 GHz | 1.2 GHz | 1.15 GHz |
| Core name | ARM Cortex A53 | ARM Cortex A7 | ARM Cortex A7 | Cortex-A53 |
| CPU Architecture | 64 bit | 32-bit | 32-bit | 64 bit |
| Integrated gpu | Adreno 504@750Mhz | Adreno 304 GPU@400Mhz | Adreno 304 GPU | Mali-T720 MP1? |
| Coprocessor | Enhanced QCC1110Cortex M0 | QCC1110Cortex M0 | No | No |
| RAM | LPDDR3 750Mhz | LPDDR3 400Mhz | | |
| Isa | ARMv7-A | ARMv7-A | ARMv7-A | ARMv8.2 |
| Wifi | 802.11b/g/n | 802.11b/g/n | 802.11n | Wi-Fi 802.11b/g/n |
| Bluetooth | Bluetooth 5,Bluetooth 4.2 | Bluetooth 4.1 | Bluetooth 4.1 | Bluetooth 4.2 |
| Satellite Systems Support | BeidouGalileoGLONASSGPS | BeidouGLONASSGPS | GPS | GPS GLONASS |
| Cellular | X5 2G/3G/LTE (Cat 4, up to 150/50 Mbit/s) | X5 2G/3G/LTE (Cat 4, up to 150/50 Mbit/s) | X5 2G/3G/LTE (Cat 4, up to 150/50 Mbit/s) | 3G/LTE |