Can you listen to music on a smartwatch? Yes, most smartwatches these days come with enough storage to store at least 500 songs.
What about streaming? Platforms like Spotify, Amazon Music, and Pandora have dedicated apps for wearables. So yes, we can stream music and podcasts on a smartwatch.
What about Audiobooks? Yes, most smartwatches can stream both audiobooks and podcasts.
What if someone prefers Amazon's Audible app to manually storing the audiobooks on the smartwatch? What are some best watches for Audible?
Here is a short answer:
The Audible app is currently exclusively available for Apple's WatchOS. However, Samsung recently signaled the likely inclusion of a standalone Audible app on its WearOS-enabled smartwatches. Unfortunately, for users of other platforms (like GarminOS), there's no dedicated Audible app available and the prospects of getting one seem relatively low.
Now we will delve deeper to explain Audible availability/unavailability on popular smartwatch platforms.
Audible on Apple Watch: Best Experience
Amazon released its very first wearable app for Audible back in 2021. It preferred WatchOS for obvious reasons.
Apple has almost 30% share in the smartwatch market. However, more importantly, Apple Watch has the right software and hardware combinations to offer a smooth Audible experience.
The squarish screen and the latest bezel-less high-resolution screen on iWatch can fit a lot of information (timeline, book title, 15-sec skip, and so on).
Later in 2022, Amazon's Audible released an update that basically made the overall experience independent of the iPhone. That means, users no longer need to rely on an iPhone connection to stream or download content.
Users can now:
Access their Audible library and download titles directly on their Apple Watch.
Seamless sync across multiple devices. You can switch between the Apple Watch, an Alexa device, or iPhone and pick up content where you left off on another device.
Download content in the background while streaming for offline listening.
Control the narration speed.
Set a sleep timer to automatically stop the audiobook at a specific time.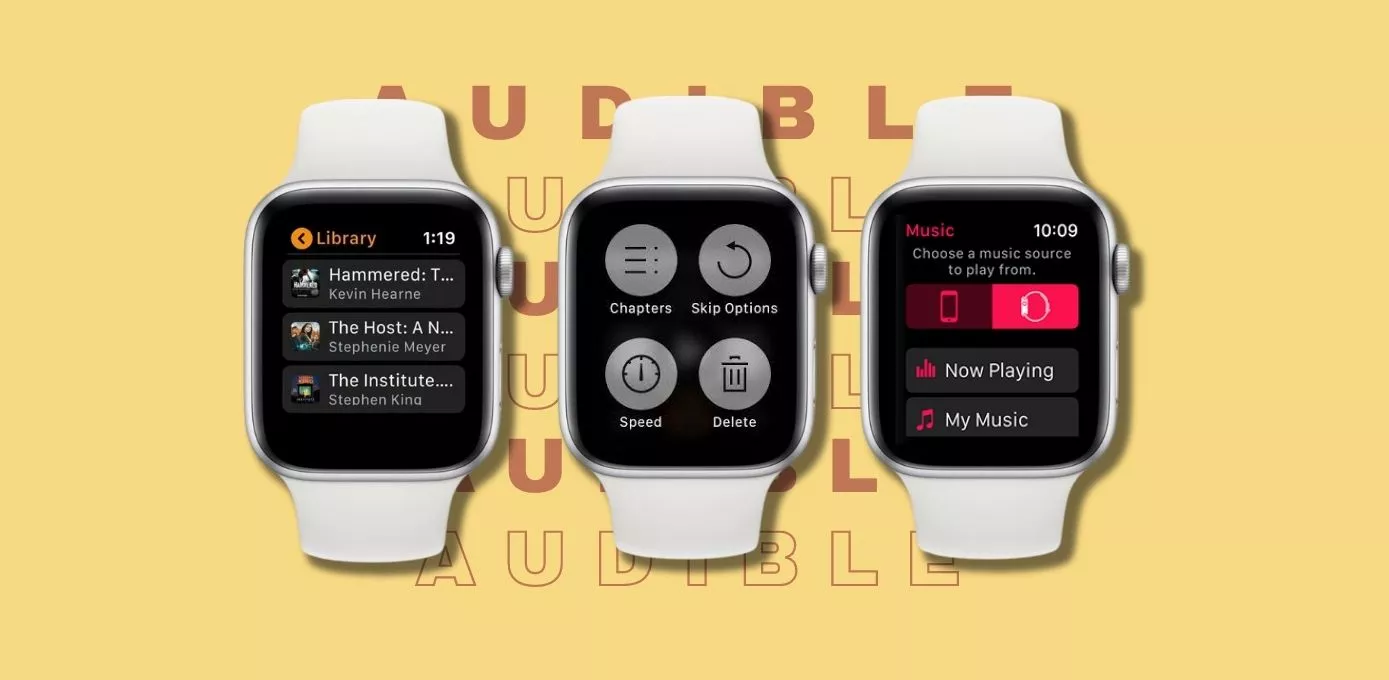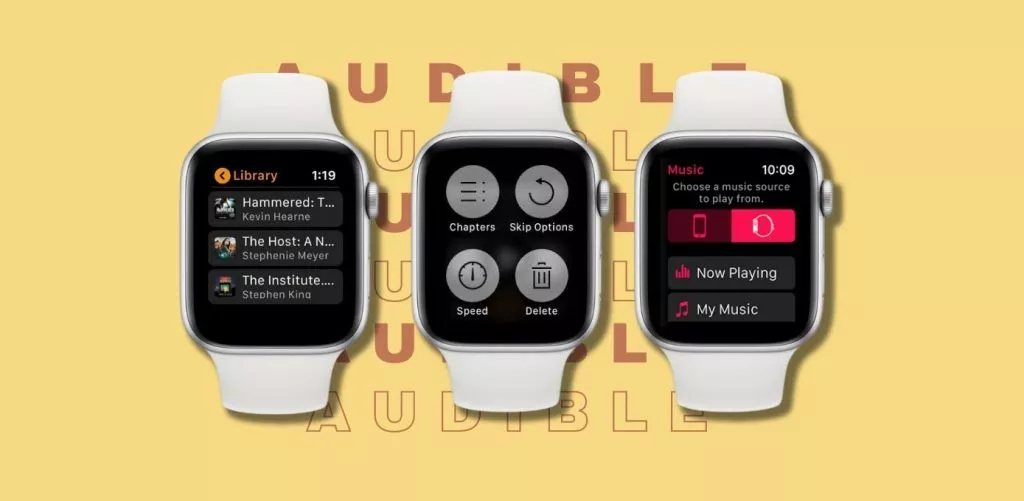 You can download the app on Apple Watch 3 and later. Again, you don't need an iPhone for that. You can download the Audible app on the app store right on your Apple Watch as long as it is connected to Wi-Fi or cellular.
Keep in mind, you cannot play the audiobooks on the watch speakers (You would probably prefer to). Instead, you would have to pair external headphones or Airpods to the Apple Watch first.
Also, you can download the app for free, but to access premium features you would have to buy a paid subscription.
Audible on WearOS: The Future is bright
Audible never had an app for the WearOS platform. That means Android Watch users had to look for workarounds. More on that later.
However, the recent announcement made by Samsung is a beacon of hope.
The company released a brand new watch series, Samsung Galaxy Watch 6 and 6 classic, in July (2023). Among other announcements, Samsung pointed out that its latest Wear OS smartwatches are likely to include a standalone Audible app.
Well, if the Audible app is going to launch on Samsung Galaxy Watch, it means that other WearOS can have access too.
That includes:
Samsung Galaxy Watch 5/5 Pro
Samsung Galaxy Watch 4/4 Classic
Google Pixel Watch
Fossil Gen 6
Ticwatch Pro 3 Ultra
Skagen Falster 3
Though the exact date was not revealed, we can predict that it won't take long. Already in 2023, a lot of popular apps (including Whatsapp) have been added to WearOS. And Google will take any means necessary to bring its platform to parity with Apple WatchOS.
Audible on other platforms (Garmin, Polar, Coros)
Unlike the smartphone market, which is dominated by iOS and Android, the smartwatch landscape is fragmented. Various devices use different operating systems, including Garmin, Fitbit, Coros, Polar, and others.
Each of these major players has its proprietary operating system. Some support third-party integration, but overall, the support remains limited.
At present, there is no dedicated Audible app for these smaller platforms. Moreover, Amazon doesn't plan to release one soon. There's a reason: why invest in a specific app for minor players with uncertain futures in an increasingly competitive market?
Interestingly, Garmin Watches are among the top watches for Amazon Music. Yet, Audible has not made it to these athlete-focused watches.
Nevertheless, most watches from these brands can play audio files. They also have ample storage for many audiobooks. You simply need to upload the audiobooks to these watches manually.
So if you want to listen to Audiobooks (purchased through Audible) on your Garmin watch, the following workaround might work for you.
Listen to Audible(Audiobooks) on Garmin Watch:
Download and install OpenAudible Application on your Mac or PC.
Login to your Audible account through OpenAudible. This will allow the application to access your library of purchased audiobooks.
Download the audiobooks you want to transfer to your Garmin watch. To do this, select the audiobook and click on the 'Download' button.
Once downloaded, you need to convert the Audible audiobooks to a format that your Garmin watch can play, like MP3.
Now, install the Garmin Express application on your Mac and PC.
Connect the Garmin watch with the PC via USB and add it as a device in Garmin Connect
Now, drag and drop the converted MP3 files from OpenAudible into the 'Music' folder of your Garmin watch.
Keep in mind that not all Garmin watches can store audio files. A simple Google search can help you figure out whether your Garmin has enough storage or not. Here are some popular titles that can play music and audiobooks:
Garmin Venu 2/2S/2 Plus
Garmin Venu
Garmin Venu SQ Music
Garmin Forerunner 265
Garmin Fenix 7
Final Words:
Most smartwatches support music and podcast streaming, but only a few are compatible with the Audible app. In fact, only the Apple Watch has a dedicated app for Audible. However, Amazon is soon going to add support for Android watches too.
Other smartwatch operating systems, such as GarminOS, FitbitOS, CorosOS, and PolarOS, do not have a dedicated Audible app. You can get the Apple Watch Audible experience on these watches, but you can listen to audiobooks purchased on Audible. We have shared the complete workaround above.