Cellular connectivity was introduced in the Apple Watch Series 3 back in September 2017.
Since then every successive model has had two variants: LTE and GPS (or Wi-Fi only). Apple Watch Series 8 offers the same options. What should you pick?
It depends on your needs and preferences.
Here, I'll explore the key differences between the two models of the Apple Watch 8.
Let's first go through their pros and cons.
Apple Watch 8 Cellular:
Pros:
Make calls and send texts without a phone
Family Setup allows sharing of the watch with family members without an iPhone
More choices in construction materials: Aluminium, Stainless Steel, Titanium
Stream Music on the watch without a phone
Cons:
Expensive
More battery consumption
Require additional cellular plan from the carrier
Limited carrier support outside North America
Apple Watch 8 GPS (Wi-Fi Only):
Pros:
Cheaper option
Slightly Longer battery performance
Same features and design as the cellular version
No additional cellular plan required
Cons:
Can't text and call without a paired iPhone
Doesn't support family setup
Disclaimer: If you buy through affiliate links on this article, we may earn a commission without any additional cost to you.
Apple Watch 8 Cellular vs. GPS: Pricing
As mentioned earlier, Apple Watch GPS models are cheaper than the cellular version. Series 8 GPS model starts at around $400 while Series 8 Cellular is about $500.
Well, this $100 difference remains true for Aluminium casing, but if you are opting for higher-end stainless steel casing (available only in the Cellular model), then the difference goes up significantly.
For instance, consider Apple Watch 8 Cellular (45mm Graphite Stainless Steel Case with Black Unity Braided Solo Loop) which costs around $800. I apologize for making you read that agonizing full title.
Here is another thing to keep in mind: to activate cellular connectivity on the apple watch 8 and to use it regularly, you need to first activate it and then have a cellular plan with your carrier.
In short, you pay an additional monthly fee. This usually starts at around $10 per month but varies depending on the carrier and type of plan.
Here are the latest deals on Apple Watch 8 Cellular & GPS:
Apple Watch 8 Cellular vs. GPS: Connectivity
The e-SIM (embedded SIM) technology is the main hardware spec that sets Apple Watch 8 Cellular and GPS models apart.
The programmable e-SIM is only available on the cellular model, which allows you to make calls, send messages, stream Spotify, listen to audiobooks, and use several third-party apps without having your iPhone nearby.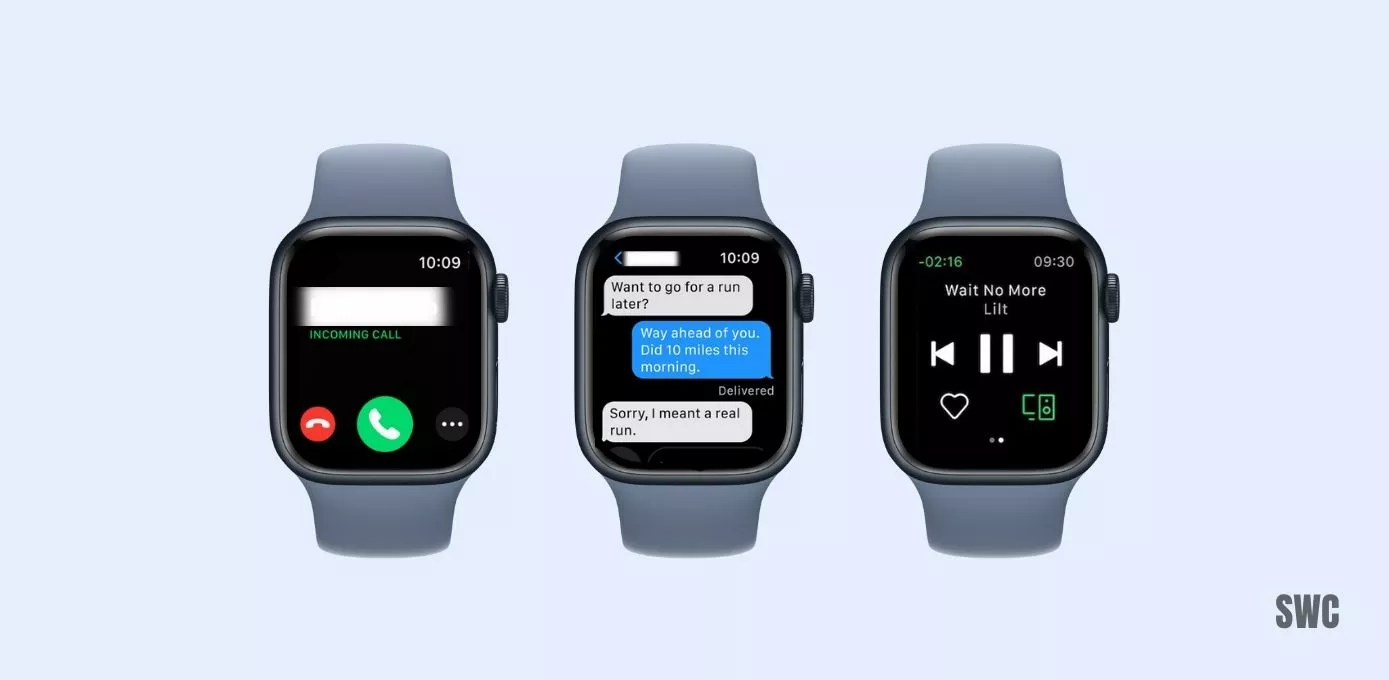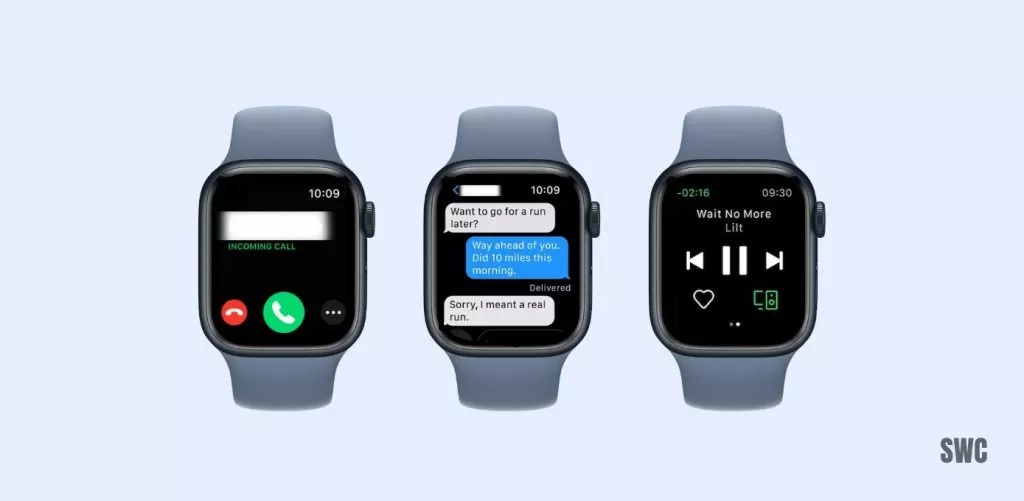 In short, with the help of e-SIM, you can stay connected even when away from your iPhone (or any other device). 
Related Post: 5 Best Smartwatches for Calling and Texting in 2023
Why would somebody want to be away from their iPhone? Well, no matter how much you love your iPhone, it can be annoying when you have to lug it around while running or pumping iron at the gym. 
The GPS-only models can also make calls, send texts, and stream music. Strange, isn't it?  But it does so with the help of your iPhone, which needs to be in the Bluetooth range.
For tasks that require more bandwidth (Downloading apps, Streaming music, browsing the web), the watch needs to be connected to the same Wi-Fi network as your iPhone.
A couple of things to know about cellular connectivity on Apple Watch 8:
You cannot insert a physical sim card in the watch as it uses the latest e-SIM technology which is an embedded chip. You can program this chip to supported networks.
It doesn't support 5G or even full 4G. Still, the LTE support on the watch is faster than 3G.
You cannot have a separate carrier for the watch, it needs to be the same as your iPhone.
As mentioned earlier, there would be extra charges (around $10) added to your current plan if you activate this feature on the watch, while activating itself costs around $20-30.
Apple Watch 8 Cellular vs. GPS: Battery Performance
Apple claims the same old 18-hour battery life for both Apple Watch 8 GPS and Cellular models. Such is the love of the company for consistency (pun intended).
To give users a benchmark, the company has published a test that cycles through the different tasks that include notification alerts, music playback, and workouts. We have the findings here straight from the horse's mouth.
The last phrase 'actual results will vary' is indeed true, especially for the cellular version.
For any power-hungry activity(map navigation on Google maps or using Siri), reviewers have noticed a 2-3 hours shorter battery performance in the standalone model.
Perhaps you will have to juice it up twice a day. For people into niche sports like marathon running or hiking, we believe that neither of these two fit the role. Apple Watch Ultra is best suited for this purpose. 
Apple Watch 8 Cellular vs. GPS: Design
Well, there is no difference in the dimension, hardware, and exterior of these watches.
However, to differentiate between the two variants, Apple adds a small ring around the Digital Crown on the cellular model.
So if you didn't buy it yourself, this is one clever trick to figure out whether your Apple Watch 8 has cellular support. 
Another difference is the availability of casing material. You can't get stainless steel casing and sapphire glass protection in the GPS-only model, whereas the cellular model comes in both Aluminium and stainless steel casing.
Apple Watch 8 Cellular vs. GPS: Family Setup
This feature is very important for parents who don't want their kids to have a phone, and yet want them to be connected and safe.
Once you set up the watch for your kids, they would be able to make calls, send texts, and share their location with you.
Well, only the cellular version of Apple Watch 8 supports the family setup.
So if you are considering purchasing a watch for your little one, make sure you are getting the cellular variant. 
Apple Watch 8 Cellular: Is it worth it?
Just answer one question. Do you carry your iPhone everywhere?
If you answered yes, the cellular version doesn't make sense. You can perform every function of the cellular watch when your GPS watch is connected to an iPhone. Yes, you can make calls, send texts, make payments, and listen to podcasts on the GPS-only version too. 
Another reason to buy a cellular model is if you are buying it for your kids and want them to stay connected without carrying a phone. 

Apart from these two, there is no other convincing argument to spend $100 extra. However, if you live outside the USA, you must cross-check your country's availability of the cellular version.
Here is a detailed resource from Apple to find out whether your country supports cellular connectivity. In case, your country doesn't support cellular connectivity, it is pointless to pay extra for the feature.
Here are the latest deals on Apple Watch Ultra: