WearOS (aka Android Wear) has been through a major overhaul last year, and the latest version (Wear 3.0) has tied old partners (Samsung and Google) into yet another partnership to compete with Apple. This might be good news for fans of both companies, but not for niche-specific app developers.
Despite the new features and better user interface, there are still only a handful of golf apps that made the jump to the new Wear OS. The new OS for Samsung also turned out to be the last nail in the coffin for popular golf apps (myroundpro) built for the Tizen.
We've sifted through the Play Store to find the best golf apps for your Wear OS watch. Whether you're looking for a comprehensive app to track your game, loaded with thousands of courses, or a simple rangefinder, we've got you covered.
What WearOS version my watch is running?
It is important to know what version of WearOS your watch is running as the experience of the below-listed apps may vary. It is quite possible that a couple of them might not be available for the new Wear 3.0.
Here is a breakdown of the different WearOS versions and the compatible devices:
Popular Watches with Wear OS 3.0:
Samsung Galaxy Watch 4
Samsung Galaxy Watch 4 Classic
Smartwatches powered by Wear 2.0:
Fossil Gen 6 (will receive an update)
Ticwatch E3 (will receive an update)
Ticwatch Pro 3 GPS (will receive an update)
Fossil Gen 5
Tag Heuer Connected
Skagen Falster Gen 6 (will receive an update)
Top 7 Golf Apps For Wear OS:
Hole19
18Birdies
TAG Heuer Golf
GolfShot
TheGrint
GolfGPSRangefinder
Arccos Cadie
Hole19: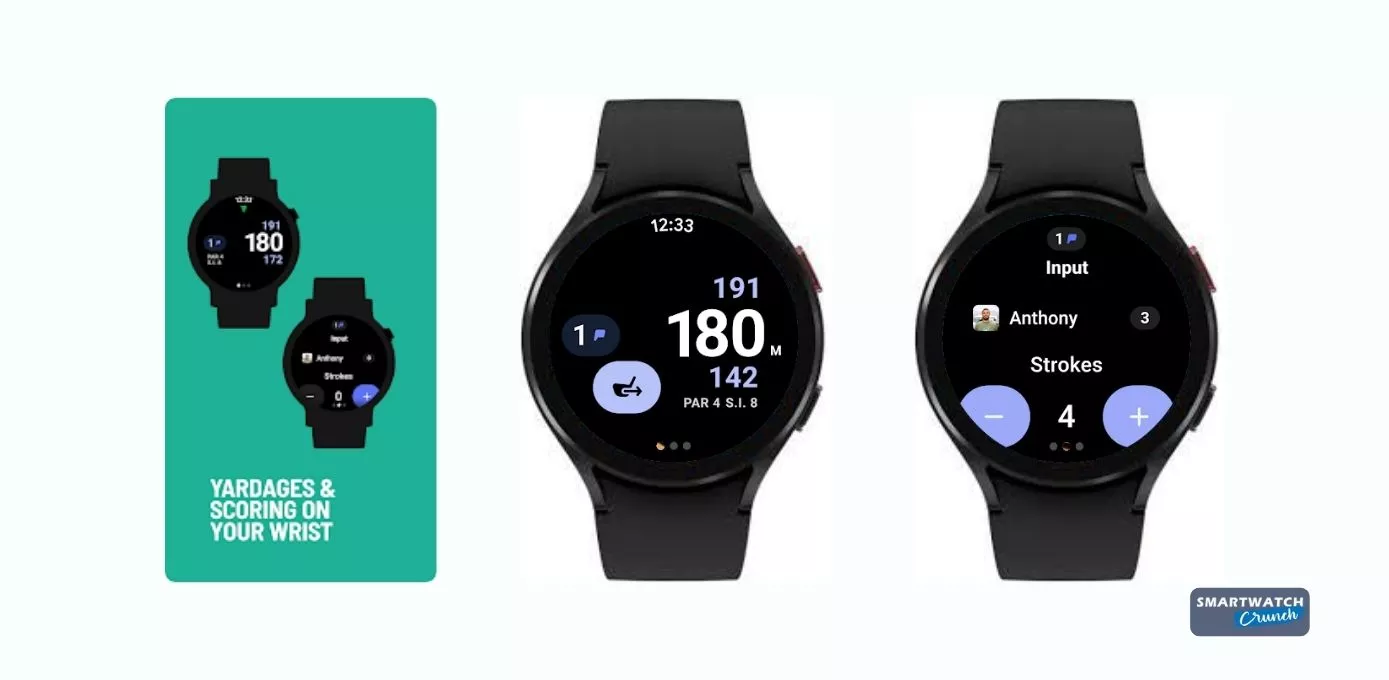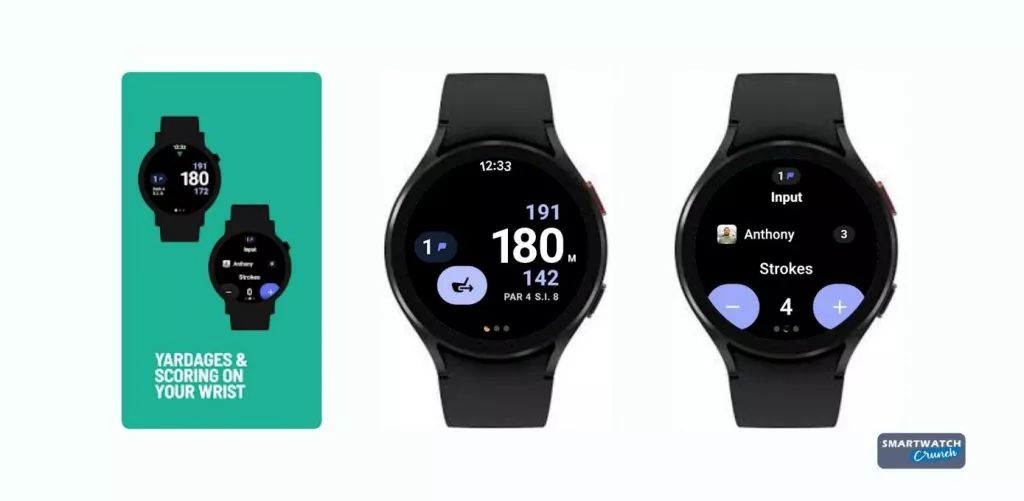 Price: Free (in-app purchases)
Download Link: Hole19
Golf Courses: 43,000+ (201 Countries)
GPS compatibility: Yes
Support OS: Wear 3.0 (Samsung Galaxy Watch 4), WatchOS
Hole19 is one of the most popular golf apps for Wear OS and for good reason. It is a comprehensive app that covers just about everything you need on the course. From GPS compatibility to tracking your score and statistics, Hole19 has it all.
You can get the full experience of the app on a smartphone, whereas the WearOS version is a limited extension of it. The smartwatch version gives you the ability to track your shots, check the yardage of the hole and tee times; and see your scorecard.
Also, you can sync golf courses on the watch (there are more than 43000), and use the watch's GPS to navigate them. You can find golf courses near you and evaluate them by their ratings. However, that would take a toll on the battery, so it is best to use the phone's GPS in that case.
The app also features a social feed where you can share your rounds and connect with other golfers. You can also challenge your friends for a 'Match Play' game, and compete against other golfers on the 'Leaderboard'.
Although the app is free, there are some in-app purchases for things like premium maps, shot tracker, club recommendations, handicap calculator, and more.
18Birdies: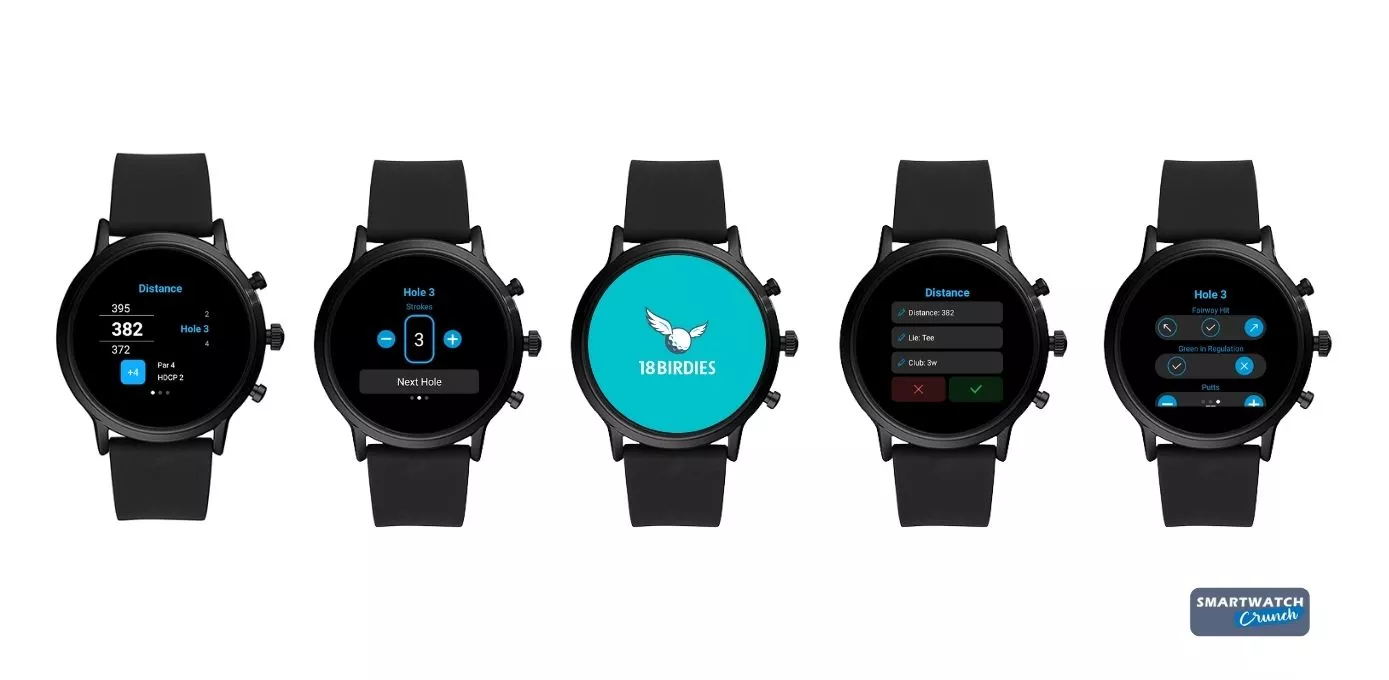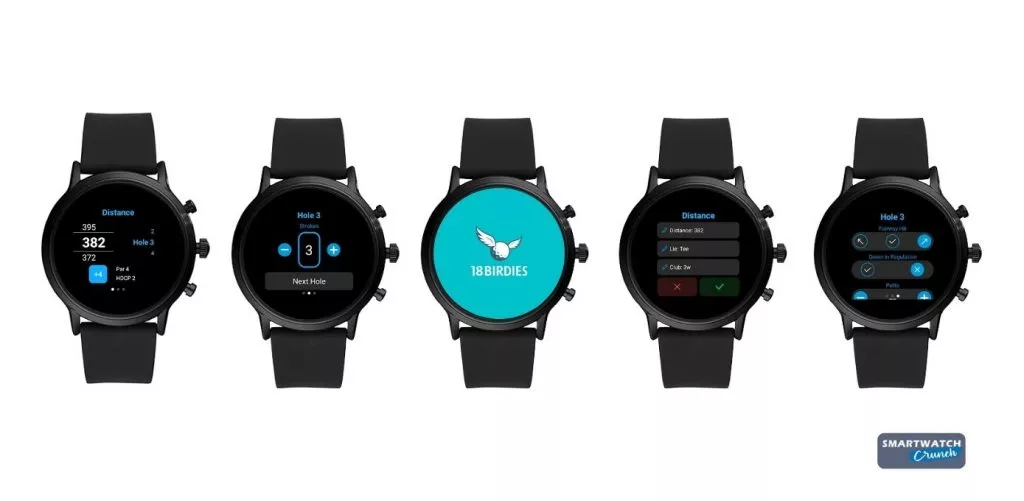 Price: Free (in-app purchases)
Download Link: 18Birdies: Golf GPS Scorecard
Golf Courses: 6000+
GPS compatibility: Yes
Support OS: Wear 3.0, WatchOS
We recommend this app with a word of caution as it is not fully functional on WearOS as of now. The app is similar to 19Hole in a lot of ways. It has its own vibrant community of golfers; can use the watch's GPS; offer swing tips, and is an excellent golf rangefinder.
Similarly, the features are divided into free and premium versions. The latter gives you access to advanced stats to lower your handicaps, personalized distance and club recommendations, shot tracking, and more.
Whereas the free version is limited to GPS-backed RangeFinder, Score tracking, and Tee times booking.
Again, the experience is limited on the WearOS version as of now.
TAG Heuer Golf: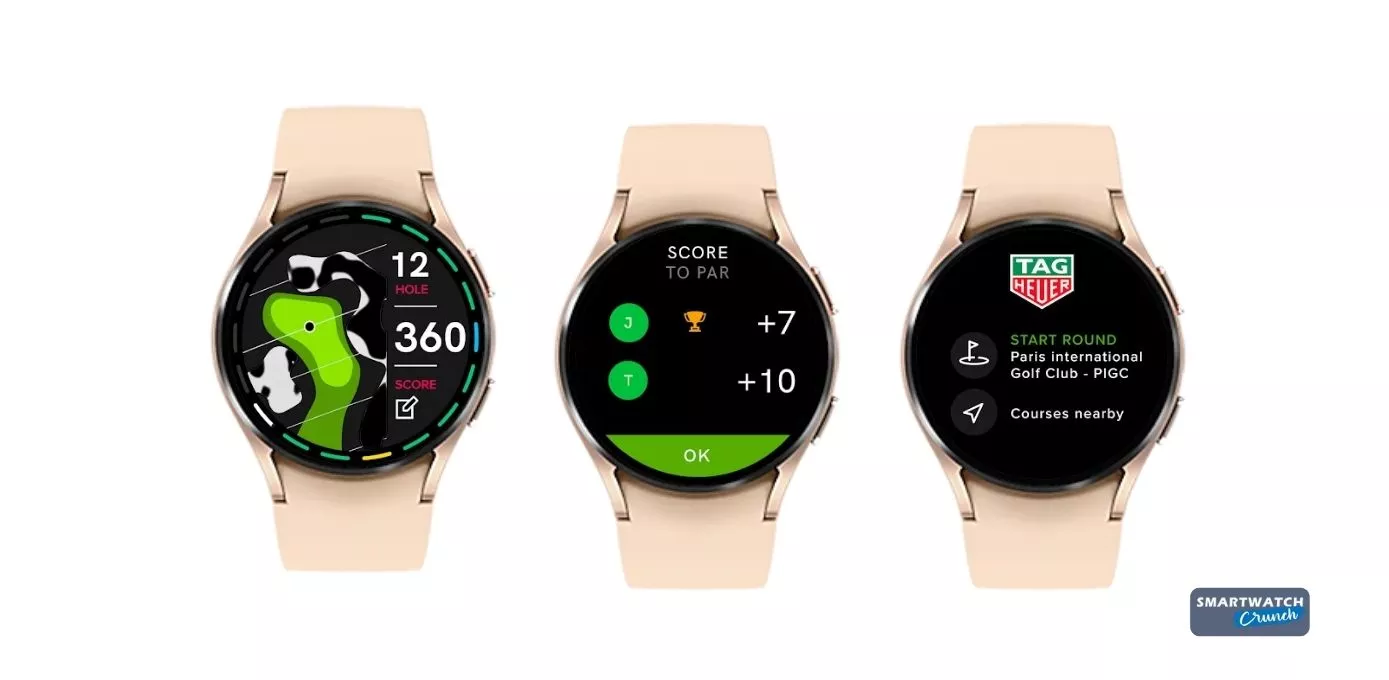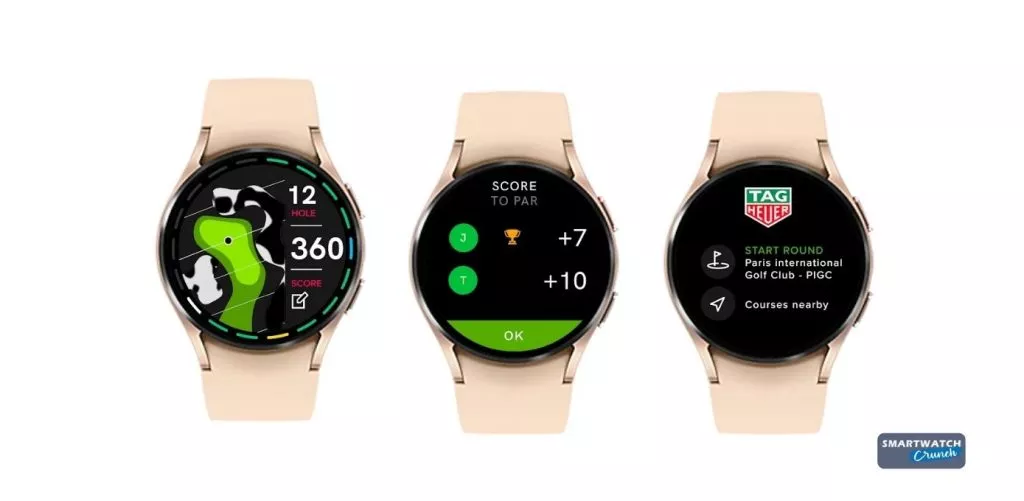 Price: Free
Download Link: TAG Heuer Golf – GPS & 3D Maps
Golf Courses: 40,000+
GPS compatibility: Yes
Support OS: Exclusive to Wear OS powered TAG Heuer watches | WatchOS
Tag Heuer users might have already known about this app as it comes pre-installed on the latest TAG Heuer Connected (Golf Edition). Surprisingly, the company has an iOS version for the Apple Watch but doesn't allow its WearOS siblings to enjoy the same features.
Anyways, for Tag Heuer fans the app has plenty to offer. The WearOS version allows access to 2D maps right on your wrist, can see the distance on greens and bunkers, and uses the watch's GPS to navigate the course.
You can also access club recommendations, follow the leaderboard, and measure your shot distance. There are also coaching features like a virtual caddy to help you with club selection.
TheGrint: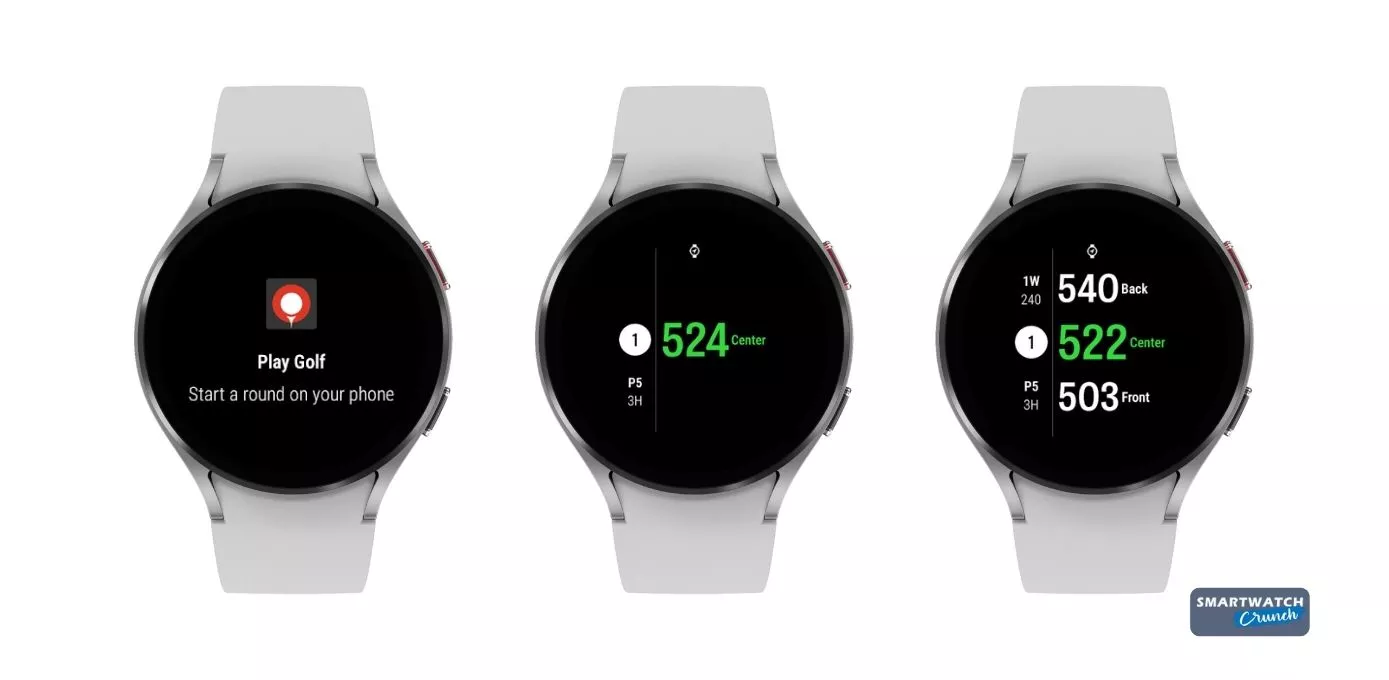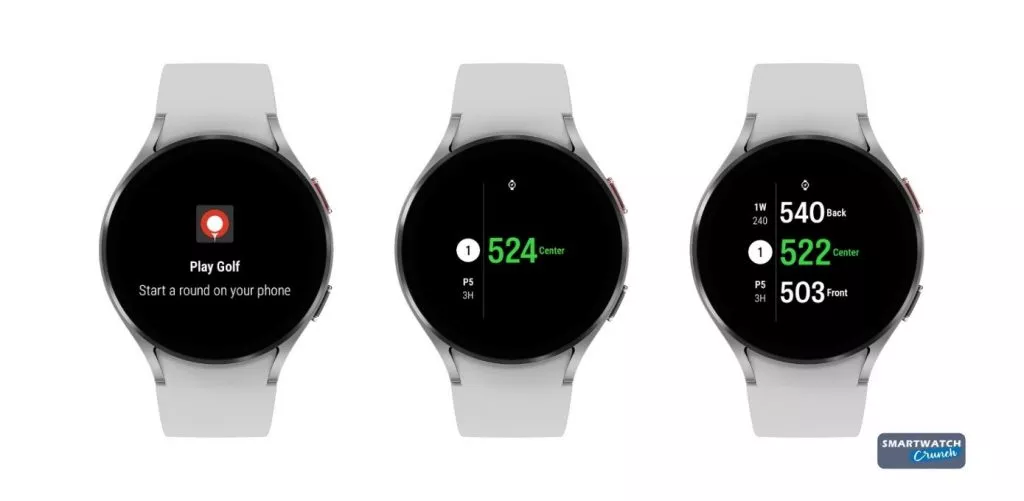 Price: Free (in-app purchases)
Download Link: TheGrint | Golf Handicap & GPS
Golf Courses: 38,000+
GPS compatibility: Yes
Support OS: Wear 3.0 (Samsung Galaxy Watch 4 and 4 Classic), WatchOS
TheGrint claims to offer golfers a comprehensive solution for lowering handicaps, GPS-based course navigation, and score tracking. Though we were in awe of the smartwatch version of the app, the WearOS variant failed to impress us. It was the bare-bone interface and not the functionality of the app that was the problem.
The WearOS gives access to GPS-based course navigation, shot tracking, and live scoring. You can compete with 4 other golfers in real-time using the live tracking feature. It can comprehensively track your performance and score on the field.
Some of these features and the ad-free experience are exclusive to the premium version of the app that charges monthly.
Well, the functionality of this app is pretty much the same as 18Birdies and 19Hole. The only thing that stands out is that it is a USGA complaint, and the app allows you to update your scores directly to the USGA servers.
GolfShot: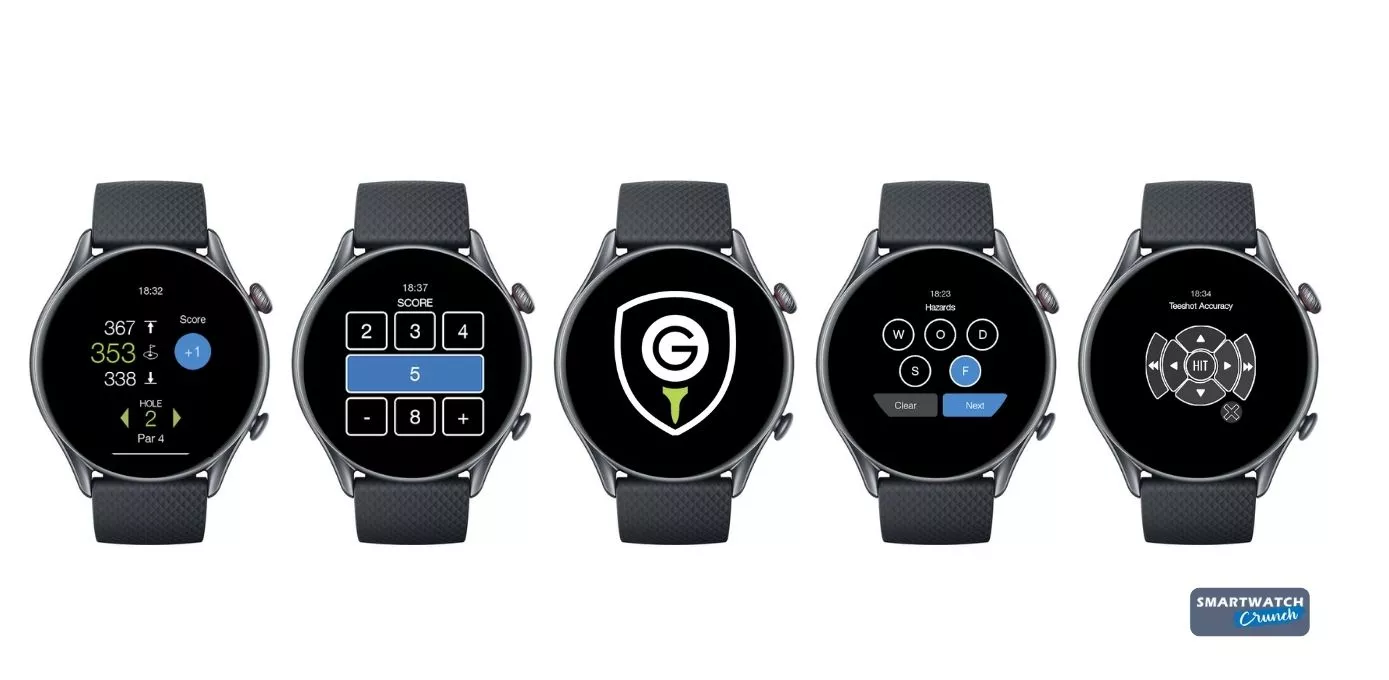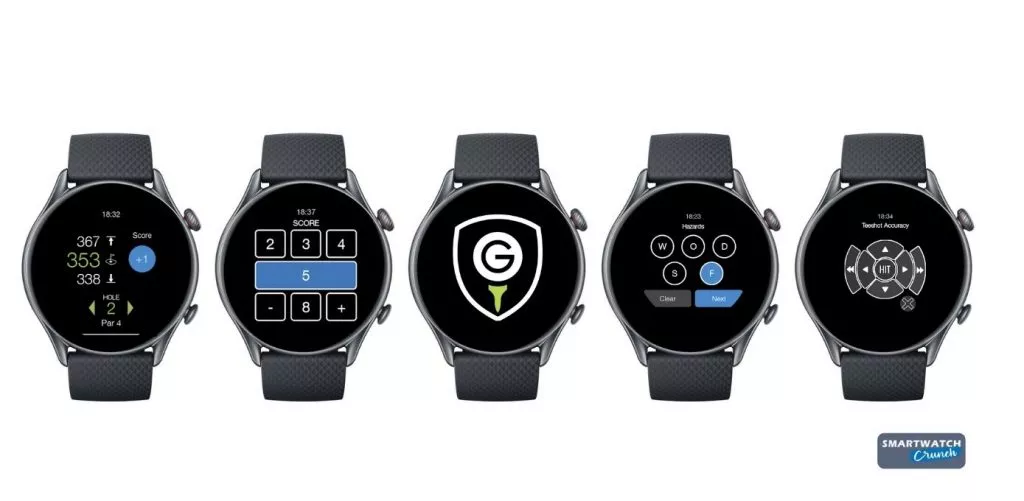 Price: Free (in-app purchases)
Download Link: Golfshot: Golf GPS + Caddie
Golf Courses: 45,000+
GPS compatibility: Yes
Support OS: Wear 3.0, WatchOS
This app has earned a lot of appreciation from serious golfers for one primary reason, its feature-rich interface. You will feel like you have a pro caddy by your side as you will have all the data you need right on your wrist.
The app covers regulars like yardage, shot tracking, course preview, voice integration, club recommendations, tee times booking, and more. You can visualize thousands of Golf Courses in 3D view but like many of its features, it is only limited to the smartphone app.
However, what set it apart from other golf apps on this list is the inclusion of learning videos (more than 400) from top coaching experts.
GolfShot has a huge community of over 5 million golfers that use the app to improve their game. Plus it offers more courses than any other app on this list.
GolfPad: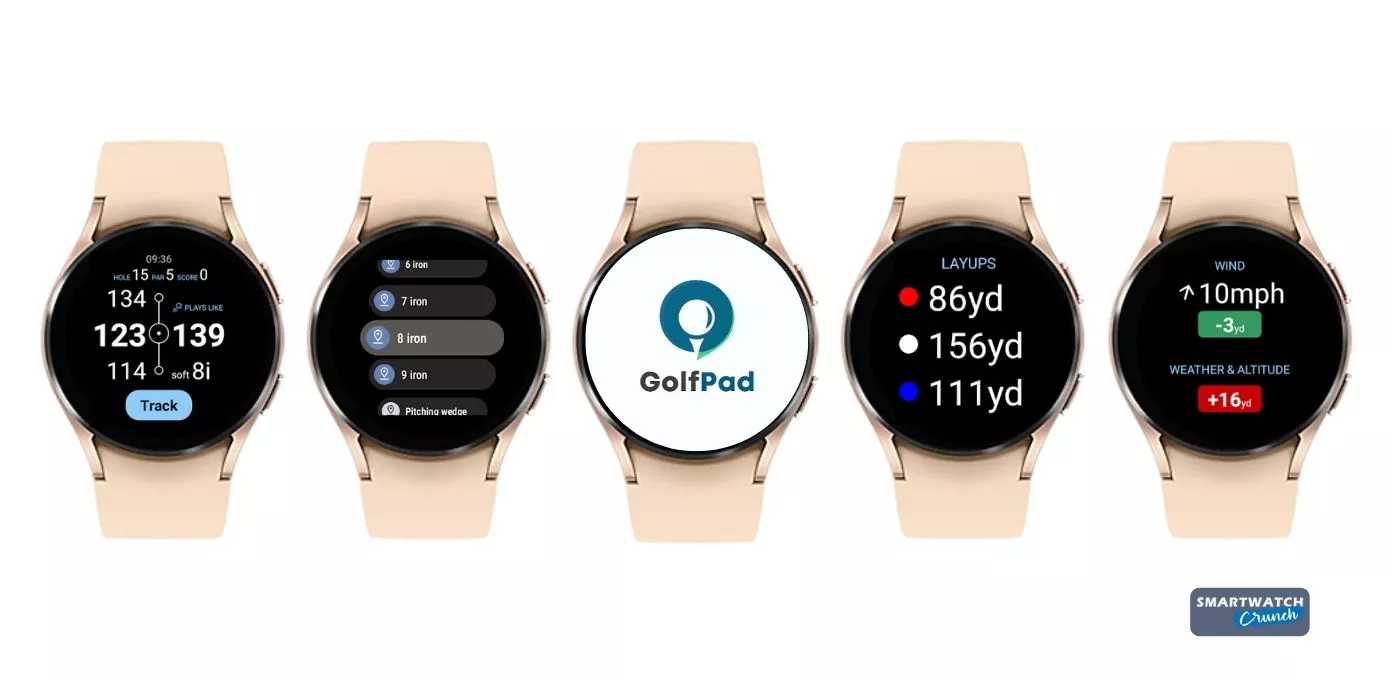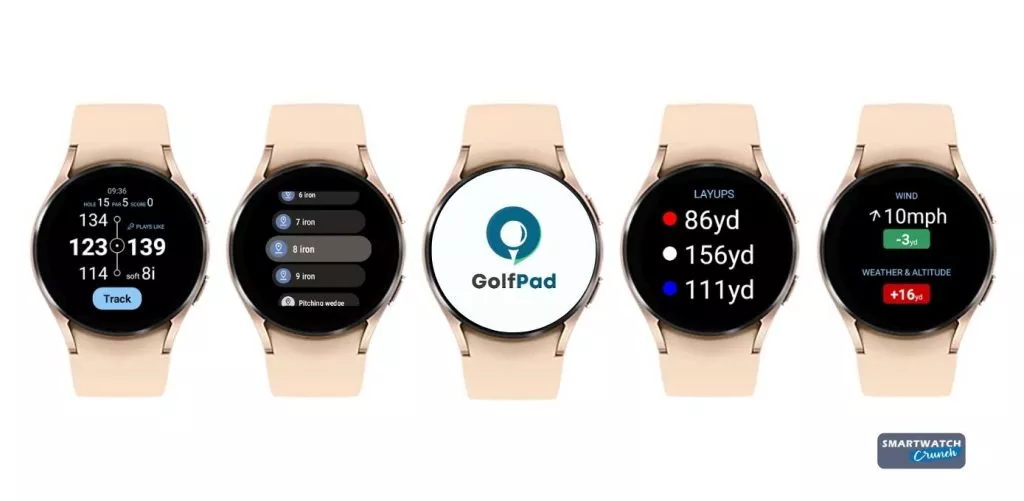 Price: Free (in-app purchases)
Download Link: Golf GPS Rangefinder: Golf Pad
Golf Courses: 40,000+
GPS compatibility: Yes
Support OS: Wear 3.0, WatchOS
GolfPad GPS is a direct competitor to Hole19 and has been offering several features free of cost to give itself a competitive edge.
The free features include GPS RangeFinder, scoring up to 4 players, tee-to-green shots, and more. Whereas, the paid premium version of the app gives access to features like club recommendations, multiple scoring mode, advanced stats, and more.
But there is a catch, the smartwatch sync is locked under the premium version only. When purchased, the premium version of the WearOS app will allow golfers to use your watch free of the phone connection.
Here is a list of important Premium Features:
Smartwatch sync and Standalone mode
Multiple scoring modes, scoring up to 8 players
Net-adjusted handicap scoring
Automatic Backup of stats.
No ads.
Course-specific statistics and course strategy insights
Advanced Statistics (per-par, number of putts and penalties per round, Sand Recovery, and Fairway miss)
Scoring and club averages
The app conforms to USGA rules and regulations, so you can upload your scorecards to the USGA servers.
Arccos Caddie: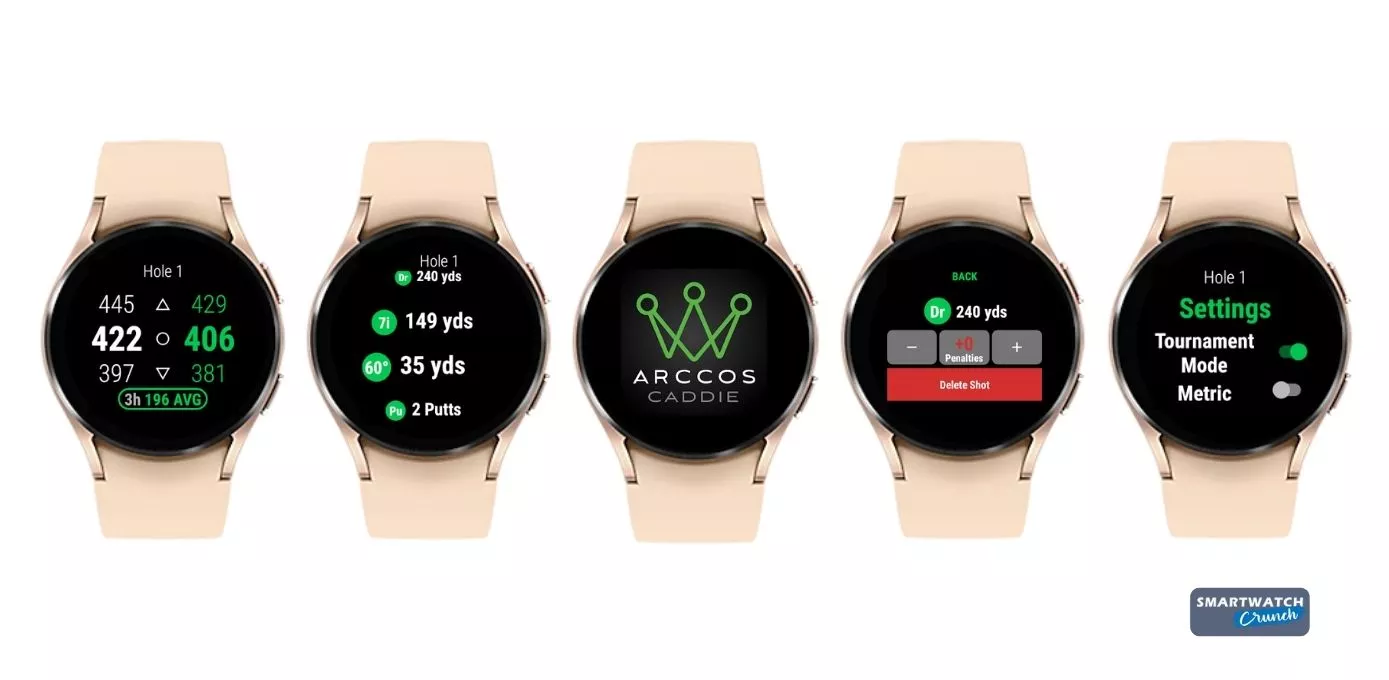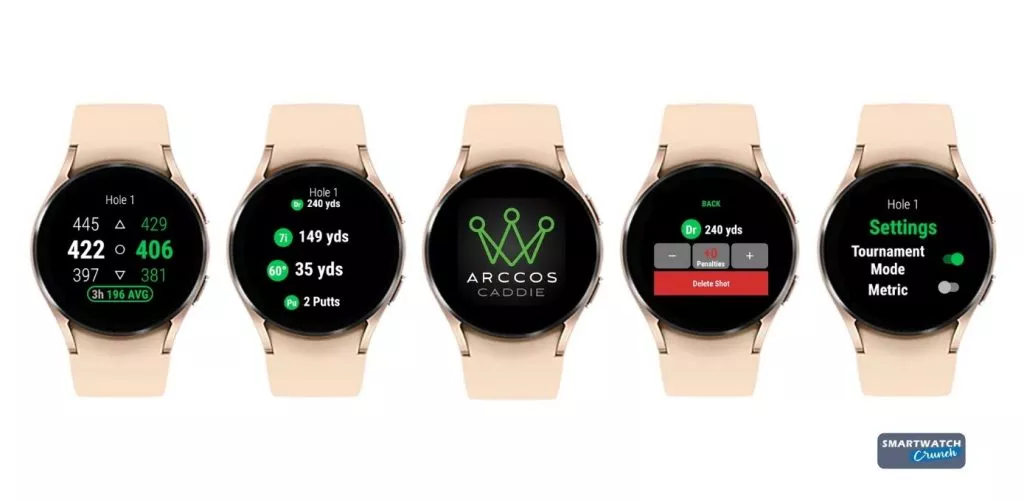 Price: Free (in-app purchases)
Download Link: Arccos Caddie
Golf Courses: N/A
GPS compatibility: Yes
Support OS: Wear 3.0, WatchOS
Arccos Caddie is the winner of the five-straight Golf Digest Editors' Choice Awards and has managed to establish a name for itself with the help of AI-powered caddy features. The app has had a successful experience with iPhone+Apple Watch Duo and is now available on WearOS.
The key strength of this app is its AI-powered algo that analyzes your playing style and recommends clubs. But it doesn't end here. Its Stroked Gained Analytics feature gives golfers personalized feedback to improve their game and provides tips from top instructors.
In addition to software feats, the company also has golf-specific sensors that you need to purchase separately. These sensors will collect your data while you play and improve the accuracy of club recommendations.
Here is what you are going to get in a WearOS app:
Access to GPS distances to the front/center/back of the green
Club recommendations based on smart distance averages
Hole number and shots were taken on that hole
'+' or '-' putts
'+' penalty strokes.
Final Words:
Most of these above-mentioned apps offer the best experience on a smartphone, as the limited real estate on an Android Watch makes it difficult to pack all the features. You can install all of these apps free of cost, but at some point, you might have to pay for in-app purchases or premium versions for an add-free and advanced experience.