Best Smartwatch For Samsung Galaxy S Series | Galaxy S21+, S21 Ultra, S21, S20+, S20 Ultra, S20, S10
Last Updated on June 3, 2021 by Editorial Team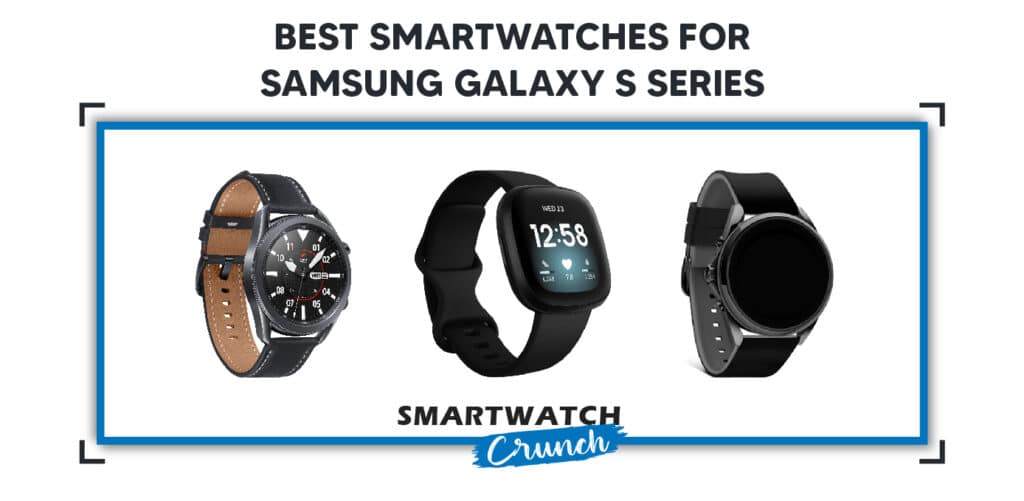 The greatest news of the year for Samsung fans?
You might have guessed it right, the company announced a new line of smartphones this year: Samsung Galaxy S21, Samsung Galaxy S21+, and Samsung Galaxy S21 Ultra.
While people are rushing to both offline and online markets to buy the latest 5G enabled S series smartphones, it is high time to share with you the smartwatches that are highly compatible with last year's smartphones of this particular series.
As the sheer number of smartwatches in 2021 is so high, we could not possibly test the compatibility of more than 100 smartwatches with the latest S series titles like Samsung Galaxy S20, Samsung Galaxy S20+, and Samsung Galaxy S20 Ultra.
So What We Did?
We have unleashed our research team capabilities to search to dig deep and dig harder to find the best compatible smartwatches with the Samsung Galaxy S series.
Unsurprisingly, people preferred Samsung's very own Galaxy and Gear watch series with their latest Samsung smartphones. More than 70% preferred to stay in the Samsung ecosystem.
Those who preferred other smartwatches had done this out of necessity. Samsung has a high-end series of smartwatches, but they can't possibly be perfect for users with different needs and preferences.
"The Android lovers went for Wear OS smartwatches and ditched Tizen for its limited apps and laggard Bixby.
The fitness enthusiasts favored Fitbit smartwatches for their accuracy and advanced fitness features.
Runner and serious athletes preferred Sunnto and Garmin watches. Reason? Their high-end smartwatches are tailored to the needs of an active lifestyle."
Exploring hundreds of threads on smartwatch forums, especially on Reddit and Quora, we have been able to make an informed opinion. Below you will find a long list of smartwatches highly compatible with the Samsung Galaxy S series phones, and in general, all phones by Samsung.
What's in it for us?
Recommending you the best smartwatches is our bread and butter. We may earn a commission if you make a purchase via the embedded Affiliate links in this article. This comes at no additional cost to you. Zero. None.
Included Smartwatches Can Be Paired With The Following Samsung S Series Smartphones:
Samsung Galaxy S series (5G enabled) phones Launched in 2021: (Samsung Galaxy, Samsung Galaxy S21+, and Samsung Galaxy S21 Ultra )
Samsung Galaxy S series (8K Video recording enabled) phones launched in 2020: Samsung Galaxy S20, Samsung Galaxy S20+, and Samsung Galaxy S20 Ultra, Samsung Galaxy S20 FE, Samsung S20 BTS Edition, and Samsung Galaxy S20 Tactical Edition. Plus, Samsung Galaxy S10 Lite)
Samsung Galaxy S series (Infinity-O screen) phones launched in 2019: Samsung Galaxy S10e, Samsung Galaxy S10, Samsung Galaxy S10+, and Samsung Galaxy S10 5G
Samsung Galaxy Phones launched in 2018 and 2019: (Samsung Galaxy S9 and Samsung Galaxy S9+ and Samsung Galaxy S8 and Samsung Galaxy S8+)
---
Top Smartwatches For Samsung Galaxy Phones:
Last updated on June 16, 2021 5:09 pm
Amazfit GTS 2e: Affordable Smartwatch For Samsung Galaxy Phones
4 new from $139.99
Free shipping
as of June 16, 2021 5:09 pm
For users who own old models of the Galaxy series and especially those who are on a budget, the affordable Chinese smartwatches are worth considering. Why opt for the outdated models of mainstream companies like Fitbit, Samsung, Garmin when you can get identical features on the cheap.
By the way, Amazfit isn't an obscure brand. It has a strong foothold in the US smartwatch market and users prefer it mainly for its affordable, yet feature-laden, products. In GTS 2e, you will get a razor-sharp crisp display, a unisex design, comfortable strap, and light-weight Aluminium case with curved glass to give it a premium look.
It has a pretty accurate heart rate tracker. The step tracker is a little off, and the sleep tracker is simply unreliable. The same is true of body temperature and blood oxygen saturation measurement.
Amazfit kept the promise of 14-day battery life in the watch (Provided that you won't use advanced features, and especially the Always-on feature on the watch) This watch doesn't offer any virtual assistance or storage option. Overall, the watch is faster than many in a similar budget range and opens apps as well as menus without any jitters.
If the price tag is still not in your budget range, you can try Amazfit Bip U Pro, the cheapest smartwatch with standalone GPS, or Amazfit T-rex, the best affordable sports smartwatch.
---
Fitbit Versa 3: Best Fitbit For Samsung Galaxy Phones
14 new from $197.99
Free shipping
as of June 16, 2021 5:09 pm
Fitbit has made quite a name for itself as a company focused on physical health and personal well-being. Though first started as fitness bands, the company has timely focused its resources on smartwatches as the consumer interest sour. The Versa series, especially the Fitbit Versa 3, is the flagship smartwatches by the company.
Though Fitbit Sense is the latest smartwatch by Fitbit, Versa 3 is more relevant and considerably economical. Both watches are heavily packed with Fitness related features. Sense offers ECG, stress sensing and has a skin temperature sensor. Versa 3 offers none of these, and yet it covers essentials like GPS, SpO2, heart rate, and sleep tracking.
Versa 3 offers a decent battery life of 6 days which mixed usage with GPS drops to 2 days maximum. Highly resistant to water, it can be submerged up to 50m. Alexa is well integrated into the smartwatch, plus the speaker and microphone allow you to pick calls and reply to messages. (only when your watch is connected to the smartphone)
The latest models in the Samsung Galaxy Series, Galaxy S21, Galaxy S21+, Galaxy S21 Ultra, and even the models as older as Galaxy S8 and Galaxy S8+ can be seamlessly connected to Fitbit Versa 3, Sense, and even Versa 2.
Why buy Fitbit Versa 3? They are hands down top-of-the-line smartwatch for fitness enthusiasts.
---
Samsung Galaxy Watch 3: Better Than Active 2?
28 used from $217.20
Free shipping
as of June 16, 2021 5:09 pm
Samsung has a sizeable share in the wearable industry, significant but not to the level of Apple. As you can easily guess, no other watch can offer the best compatibility with Samsung Galaxy S Series phones, or for that matter any Samsung smartphone.
Samsung Smartwatches are high-end, but they are far from perfect. If they had offered everything under the sun, we might not have written this piece.
Samsung has three product lines, Samsung Gear, Galaxy Watch Active, and Galaxy Watch. Gear smartwatches are outdated and as we have been jotting down this piece, the company has discarded the Gear series. Among the latest watches, only Galaxy watch 3 and Active 2 are relevant.
Despite the early arrival of Active 2, Galaxy Watch 3 offers only a few improvements over it. Both have ECG sensors, Blood pressure monitors, plus the essentials like heart rate, sleep, and sense track. Both offer a true standalone experience. You can call, text, email, or stream music directly on the watch.
Watch 3 has nearly doubled the storage to woo users who love offline music. Also, it has a rotating bezel as compared to the sleek touch bezel on Active 2.
Galaxy Watch 3 and Active 2 are very expensive, and the features on both these watches are overkill for budget users who need a basic watch with essential tracking capability. Therefore, budget users should not overlook Samsung Galaxy Watch and Galaxy Active.
---
Fossil Gen 5 LTE: Best Fashion Watch For Samsung Galaxy Phones
5 new from $199.00
Free shipping
as of June 16, 2021 5:09 pm
The LTE version of fossil's Flagship Gen 5 series has been released at the beginning of this year (2021).
Fossil has remained committed to Google Wear OS (previously known as Android OS), the latter has been notorious for its battery-killer performance and storage-hungry nature. Nevertheless, Wear OS has a large fan base and an equally large developer Community.
Gen 5 LTE offers Google Pay, music streaming, and a solid display. The watch has standalone GPS, but the fitness tracking features are limited. Google Fit app needs improvement, but alternative third-party apps can fill the gaping holes. A mixed usage can get you through a day which considering its large size is a drawback.
As mentioned earlier, it's by all standards a large watch. A large dial with buttons makes for a chunky design that is suitable for large or thick wrists.
The LTE version is a ditto copy of the original Gen 5 except for the cellular connectivity of course. The overall design and performance of the watch make it a stylish, yet powerful, wearable to pair with your Samsung Galaxy smartphones.
Want to read in-depth Fossil Gen 5 LTE Review? Follow the link.
---
Ticwatch Pro 4G: Best Wear OS Watch For Samsung Galaxy Phones
2 new from $299.00
1 used from $175.99
Free shipping
as of June 16, 2021 5:09 pm
Ticwatch Pro 4G by Mobvoi is one of the finest standalone smartwatches. If you are not interested in the LTE version and want to save a few bucks, Ticwatch Pro 3 and C2 plus both offer almost similar features: Standalone GPS, Google Assistant, and access to hundreds of Wear OS applications.
This affordable smartwatch rivals Samsung Galaxy Watch 3 in performance. How? It offers accurate GPS tracking, has large storage for offline music, and is incredibly accurate while tracking heart rate. The heart rate tracking matches the one obtained from expensive watches like Apple Series 6 and Suunto 7.
Samsung Watches don't have Google Assistant, limited third-party apps, and are very expensive. This affordable alternative is of almost similar size and can solve the problems for you. Plus, it has the most powerful processor, Snapdragon Wear 4100, and a large 1GB RAM to smoothly run the Wear OS and extend battery life.
Though it has an AMOLED screen technology, the display appears quite dull when compared to Galaxy smartwatches. Why? It is equipped with dual screen technology: A FSTN low-powered display attached at the top of a crisp AMOLED display. This maneuvering helps the watch to last longer.
Follow the link to find more Standalone Smartwatches
---
Withings Steel HR: Best Hybrid Smartwatch For Samsung Galaxy Phones
2 new from $179.95
6 used from $88.28
Free shipping
as of June 16, 2021 5:09 pm
Withing is a traditional watch brand that has joined the bandwagon along with Fossil and Tag Heuer as the consumer interest shifted towards smart wearables. The company instead of developing a full-fledged smartwatch tried its luck on hybrid smartwatches. Withing Steel HR is the company's flagship watch which is a cross of a traditional watch and smart technology.
The watch has a sleek, sharp design and an extraordinary long battery life (2 weeks). It smoothly pairs with the Samsung Galaxy phones, and in general Android phones. Available features include step count, distance & heart rate tracking, and time and date. But there is a caveat, the fitness tracking is not that solid, and the reading is often off by a huge margin.
The watch though appear fragile is highly resistant to water and dust. However, Withings has managed to keep the design profile thin and attractive. The mineral glass dome, stainless-steel body lends it a premium look.
The smartwatch has many limitations, the most annoying is its small screen and poor notification alert mechanism. The tiny OLED second screen is hard to read and doesn't automatically turn on. Withings' Health Mate app is a real bummer.
---
Samsung Galaxy Watch Active 2 (Golf Edition): Best For Golfers
3 new from $269.99
9 used from $167.99
Free shipping
as of June 16, 2021 5:09 pm
What other watches to seamlessly pair with Samsung Galaxy phones can fare better than those manufactured by the same company. Samsung Galaxy Watch Active 2 is one heck of a watch and its design and high-end features are popular among android users. The golf edition adds a savory twist to the original watch, making it suitable for elite sports.
The watch has an onboard Smart Caddie app, that offers information on 40,000 courses around the world. It also includes golf shot and distance measurement tracking to give you that extra hit of data. Undoubtedly, the watch can take your golfing skills to a whole next level.
Garmin Approach S60 Golf watch is the better alternative but it is limited in features. Active 2 offers ECG, blood pressure, heart rate, and sleep tracking. It maintains a thin profile and is aesthetically pleasing, but you should not mistake it for fragility. The smartwatch is approved by military standards and is rugged through and through.
Other than golf, you can also use the watch for multisports tracking. One appreciable thing about Samsung watches is: you can rely on its fitness tracking data.
---
Suunto 7: Best Multisports Smartwatch For Samsung Galaxy Phones
10 new from $279.00
4 used from $256.68
Free shipping
as of June 16, 2021 5:09 pm
For sportsmen and athletes, especially those who can pay extra but can't compromise on the features, Suunto 7 is the right fit. This 50mm watch has a chunky build suitable for large wrist sizes.
The watch has a remarkable 1.39-inch AMOLED screen that offers 454 x 454-pixel resolution for clear, sharp, and vivid images. A high brightness level makes it easily visible in daylight.
The key strength of the watch is its powerful hardware and equally polished software. The accuracy of the watch is undeniably superior to cheaper alternatives, and the app shows detailed tracking records, key insights, and all the important details related to athletic performance.
The key strength that distinguishes Suunto 7 from the run-of-the-mill watches is the accuracy of data it tracks, and its high-end design. But there is a caveat, you will have to switch between Google Fit and Suunto App to get all the metrics which is really annoying.
Suunto 7 is a watch for serious athletes and can seamlessly connect to Andriod Devices. It is an expensive watch and by far has up to date features. Samsung's latest phones including S21 Ultra, S21+, and S21 make an excellent pair with Suunto 7 both in terms of connectivity and style.
---
Garmin Forerunner 245: Best Running Smartwatch To Pair With Samsung Galaxy Phones
29 new from $293.99
3 used from $249.98

as of June 16, 2021 5:09 pm
Garmin is one of the brand leaders in the smartwatch industry, and it has largely been focused on cutting-edge multisports smartwatches.
Garmin watches beat the likes of Apple, Samsung, and Fitbit when it comes to data accuracy and overall performance. Apart from data accuracy, it is lauded for its lightweight, sleek design. You won't feel it on your wrist, and thanks to waterproof casing you won't have to take it off frequently.
Though touted as the smartwatch for runners, it doesn't have the bells and whistles of expensive versions like Forerunner 945. The features and the capability of the watch allow you to track your fitness at the mid-range level, more than casual fitness runner tacking and less than athlete level tracking.
There is a Music Edition of this watch that offers storage capacity for 500 standard Quality songs.
The major drawback of the smartwatch is the plastic built which feels a little cheaper. Also, sleep tracking is a major disappointment. It is better than many smartwatches but not to the standard Garmin has maintained in other latest versions.
As the Samsung smartwatch line is devoid of any dedicated smartwatch for running, in Garmin Forerunner 245, you will find an excellent partner for your Samsung galaxy phone.
---
Garmin Fenix 6x Pro Solar: Best Outdoors Smartwatch For Samsung Galaxy Phones
30 new from $599.99
3 used from $489.00
Free shipping
as of June 16, 2021 5:09 pm
The first impression of Garmin Fenix 6x Pro is of a true rugged watch that you can take anywhere you go. Its 14-day long battery-life and selection of handy sensors (GPS, GLONASS, Altimeter, barometer, and compass, maps) make it highly suitable for outdoor excursions. The real edge over other watches is its solar-powered charging capability.
As a fitness tracking gear, this watch lacks only ECG which is a major disappointment when you compare it with relatively cheap smartwatches from rival bands. Garmin compensates for this shortcoming by not compromising on the accuracy and details of the tracked fitness data.
Another outlier is its 32 GB storage capacity that makes it the only watch for android of such sort. The full Fenix 6 range incorporates a hefty selection of sport and fitness tracking features that have been migrated from both the Fenix 5X Plus as well as some from the later-released MARQ and Forerunner 945.
This watch is expensive, the kind that would break the bank. Many of its features are overkill for regular users, and therefore we recommend this smartwatch for serious athletes or for outdoor expeditions.
---
Other Than Compatibility, What To Look For In Samsung-compatible Smartwatches:
We have discussed only the most relevant features here. For more details, read our Ultimate Smartwatch Buying Guide. (A Long Haul: Takes 30 minutes or more to digest every bit of it)
Design:
Some people prefer watches with a traditional round case. However, plenty of smartwatches these days come with square/rectangular ones.
Whatever case you prefer, just make sure that it has a small bezel and is suitable for your wrist size.
For those, mostly men, with big wrists, 42-46mm case size is the most suitable.
Next, you should carefully consider the screen technology. OLED screens offer crisps display. The other two options are AMOLED and LCD. A touch screen with buttons/digital crown on the case is highly suitable for fast navigation.
Also, make sure that the smartwatch straps are replaceable and there is a quick-release mechanism for it.
Features:
You can easily guess the features of the watch by going through the sensors it has.
Those which have GPS, GLONASS, Beidou are almost always designed for active users i.e. Runners, triathletes, and bikers. LTE and NFC in the watch give you a Standalone experience. SpO2 sensor, Optical Heart rate sensors, and the likes of them are related to fitness features.
But the number and prowess of integrated sensors can't give you the whole picture. The platform of the smartwatch is the crucial piece of the puzzle.
Wear OS smartwatches usually have tons of applications but they are crippled by the short battery life and low performing Wear OS. Others with proprietary OS (like Garmin OS, Fitbit OS, and Amazfit OS) are fast, but they lack functionalities.
Value For Money:
The smartwatch that offers the best value for money would have all top priority features in an affordable price range. "Top Priority Features" is a vague term and is only defined by the end-users and them alone.
Battery Life:
Smartwatches usually have to cut corners to provide you better battery life. So you shouldn't expect a watch to last a week or so if you expect a standalone experience from it. E.g. GPS or LTE mode. We caution you against taking the labeled battery life seriously. The watch won't usually last half of it.
Plus, with the period of time, the battery performance becomes significantly low.
Amazfit watches have their battery performance as the outlier. Whereas, Wear OS devices fail miserably when it comes to long battery life.
Wrap up:
We hope that you find the right match from this extensive resource on the best smartwatches for Samsung Galaxy S Series Phones. We promise to update this curated list with the latest watches.
All these smartwatches are compatible with Andriod as well as IOS devices, so you will be on the safe side if you are planning to switch between these platforms in near future.