The Forerunner series has played a significant role in Garmin's success in claiming the GPS watches niche for itself.
Originally designed with runners in mind, this series has evolved over the years and expanded into three distinct categories.
The Forerunner 900 series is tailored to serious runners who demand advanced features and precise tracking. These watches come with a hefty price tag, but their performance justifies the investment. Whereas, the FR 200 series comprises mid-range GPS watches suitable for novices or those with less demanding training regimens.
This March 2023, two new watches have been added to both lineups. And if we can count on one major improvement in both of these, it is the crisp AMOLED display. Their names are Forerunner 265 and Forerunner 965.
Here, we will compare Garmin Forerunner 965 vs Forerunner 265 to help you pick the right running watch.
Garmin FR 265 vs FR 965 Comparison: Key Differences
FR 965 is around $150 and expensive with a retail price of around $600.
The titanium bezel, large display, and higher resolution give FR 965 an advantage in terms of aesthetic appeal.
The Forerunner 965 offers more storage space (32 GB vs 8GB), so you can load more songs (around 1000).
The Forerunner 965 has full maps and offers better mapping capabilities. FR 265 can only follow the course.
FR 965 has cycling dynamics (an indispensable tool for serious triathletes)
FR 265 is missing advanced performance and training metrics exclusive to elite Garmin watches. (Climb Pro, Real-Time Stamina, FTP auto-detection)
FR 965 offers better battery performance in all modes.
Pricing:
The Forerunner 965 is priced at a premium, typically selling for around $600 USD. Whereas, the Forerunner 265/265S has a retail price of around $450 USD.
The price difference between the series has been kept the same (around $150). But, if you compare them with the FR 955 & FR 255, Garmin has added a whopping $100 this time to both lineups. 
Here are the latest Prices for the Garmin Forerunner 965 vs Garmin Forerunner 265:
Design & Display:
There is only one watch size available for the FR 965 (47mm). Whereas, FR 265 comes in two sizes (42mm and 46mm). Here for the sake of convenience, we will compare the FR 265 (and not FR 265S) with the FR 965 model.
Related Post: Garmin FR 265 vs 265S
FR 965 has a larger display (1.4 inches compared to 1.3 inches), and higher resolutions (454 x 454 pixels vs 416 x 416 pixels. However, it is slightly heavy at 53g (vs 47g).
These differences are pretty nominal but do matter when you exercise with the watch and use mapping features.
Both Forerunner watches have interchangeable bands and are available in multiple colors. However, the color options differ. You will find the full details in the spec comparison table below.
The Forerunner 965 has a titanium bezel, making it more durable and premium-looking than the plastic bezel of the Forerunner 265.
Overall, we have witnessed a closing of the gap between these two series as their design look more and less the same.
Mapping Capabilities: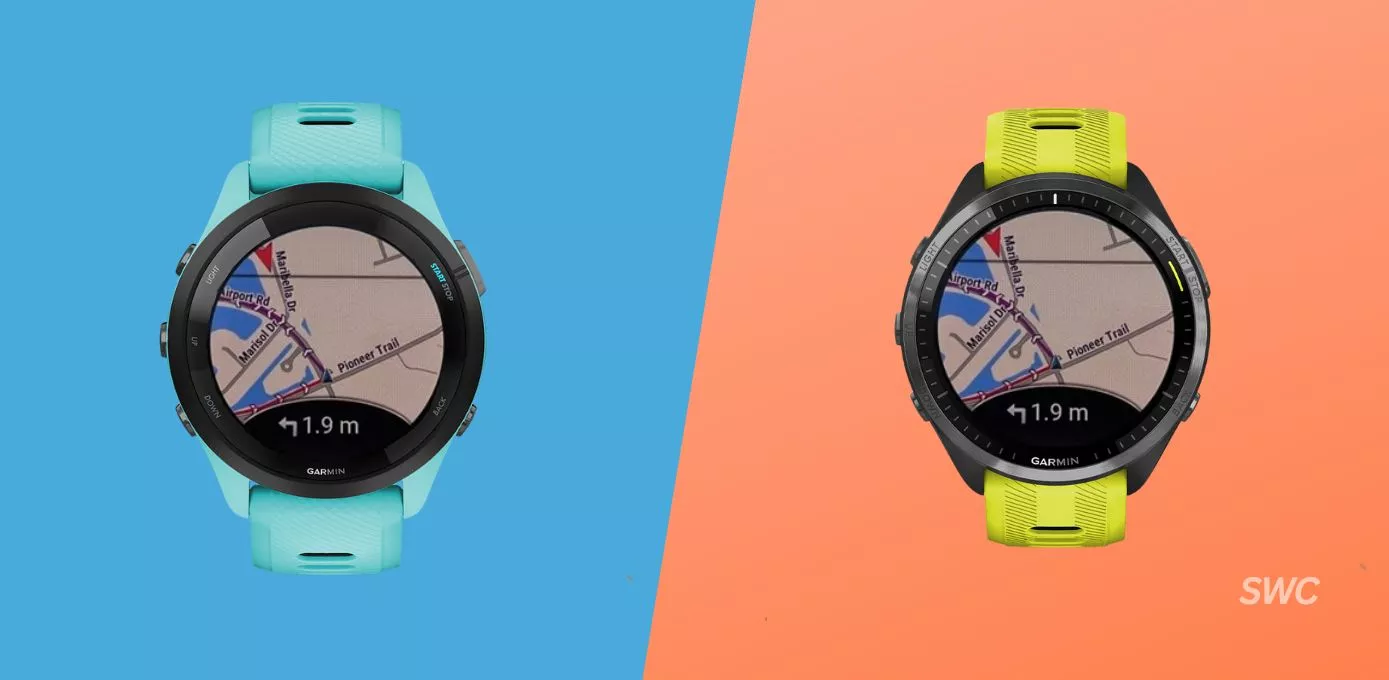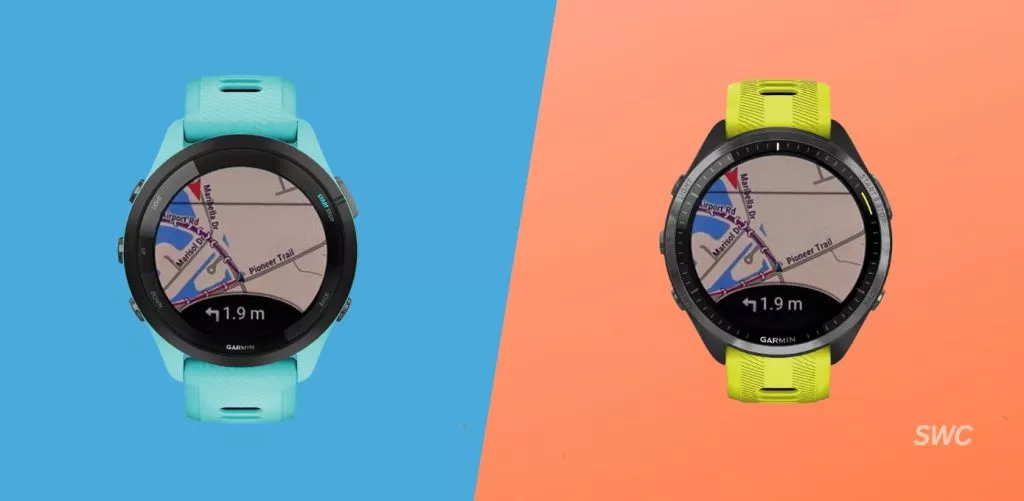 Forerunner 965 is a great choice for those who want advanced navigation features and full maps. That includes preloaded topographical, road, and trail maps).
This particular feature turns out to be a deal breaker for many.

FR 965 makes it easier to navigate through tough terrains (for sports like trail running, mountain biking, and hiking) with its advanced capabilities.
Take for instance its Next Fork feature. It allows users to see the direction and distance of the next fork in a course, making it easier to plan and navigate their route.

FR 965 is a truly powerful navigational device, that you can rely on.

With that said, we don't mean to imply that FR 265 is a completely useless watch in terms of navigation. The watch can follow a course or route, which you can import from Garmin Connect, GPX files, or other third-party sites like Strava or Komoot.
Once the course is loaded onto the watch, you can follow a breadcrumb trail and compass heading to navigate the course.
Additionally, you can route to past activities, saved locations, or GPS coordinates. This feature is useful for those who want to follow a specific route or course during their workouts, but do not need the advanced mapping capabilities of FR 965 watches.
Cycling Dynamics: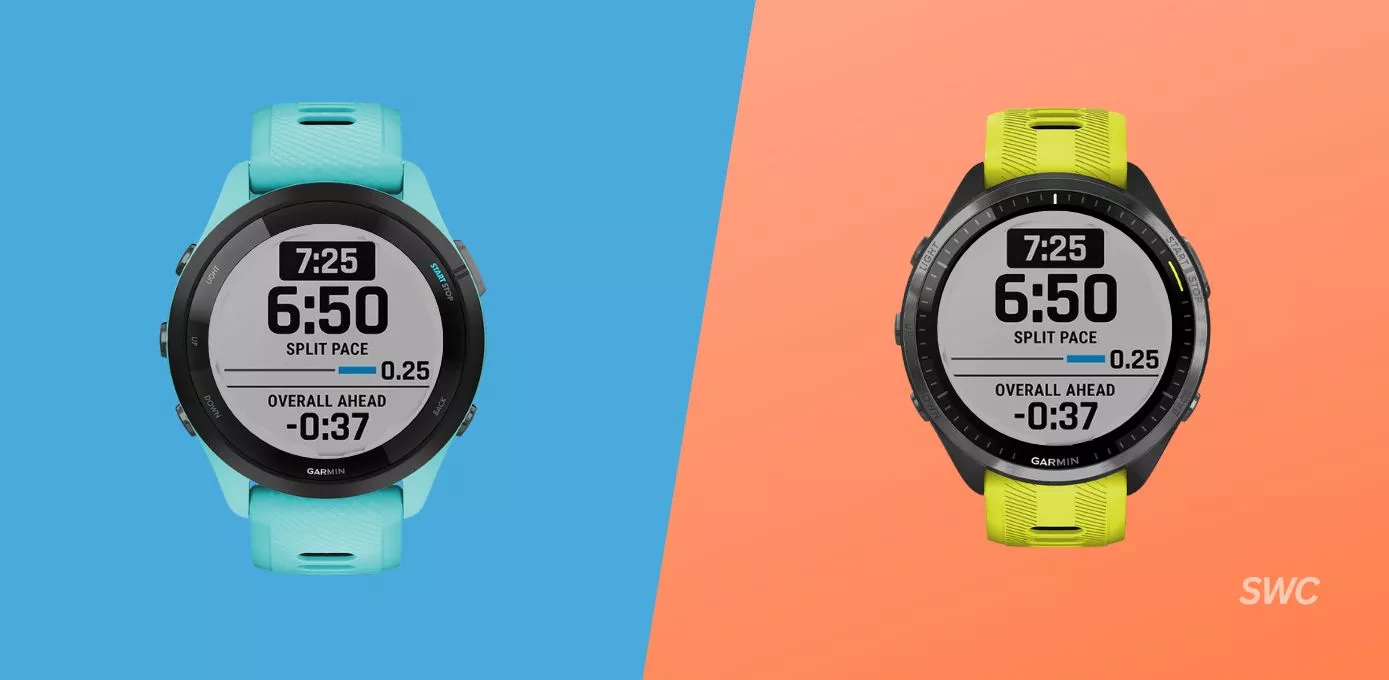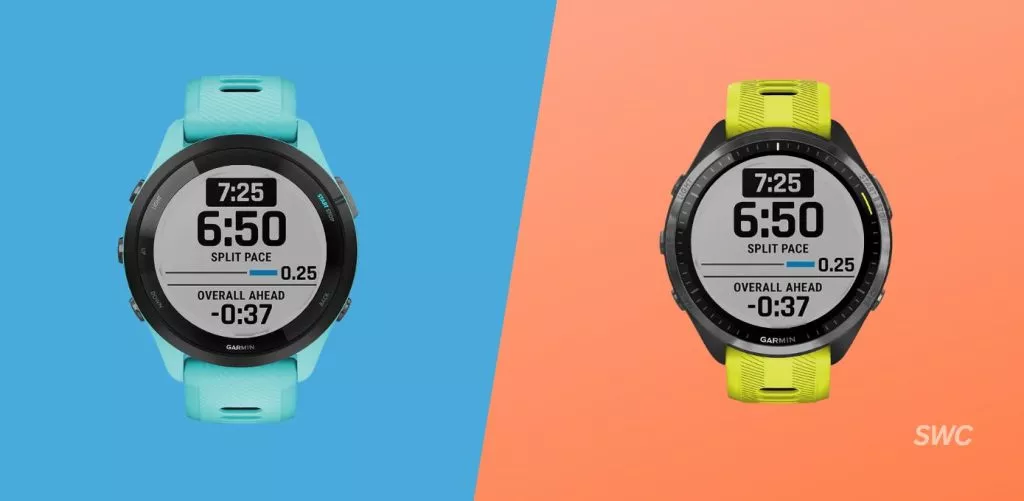 The Forerunner 965 offers an advantage over the Forerunner 255/265 in its support for recording Garmin Cycling Dynamics. These metrics provide cyclists with additional information on their pedal stroke, power distribution, and positioning, which can help improve their cycling performance.
These metrics can provide insight into a cyclist's technique and form, and so to help them improve and adjust their training accordingly.
The feature is particularly valuable for serious cyclists and triathletes who are looking to improve their performance and compete at a high level.
There is no support for Cycling Dynamics in FR 265 and it is not coming in future firmware updates.
Training & Performance Metrics: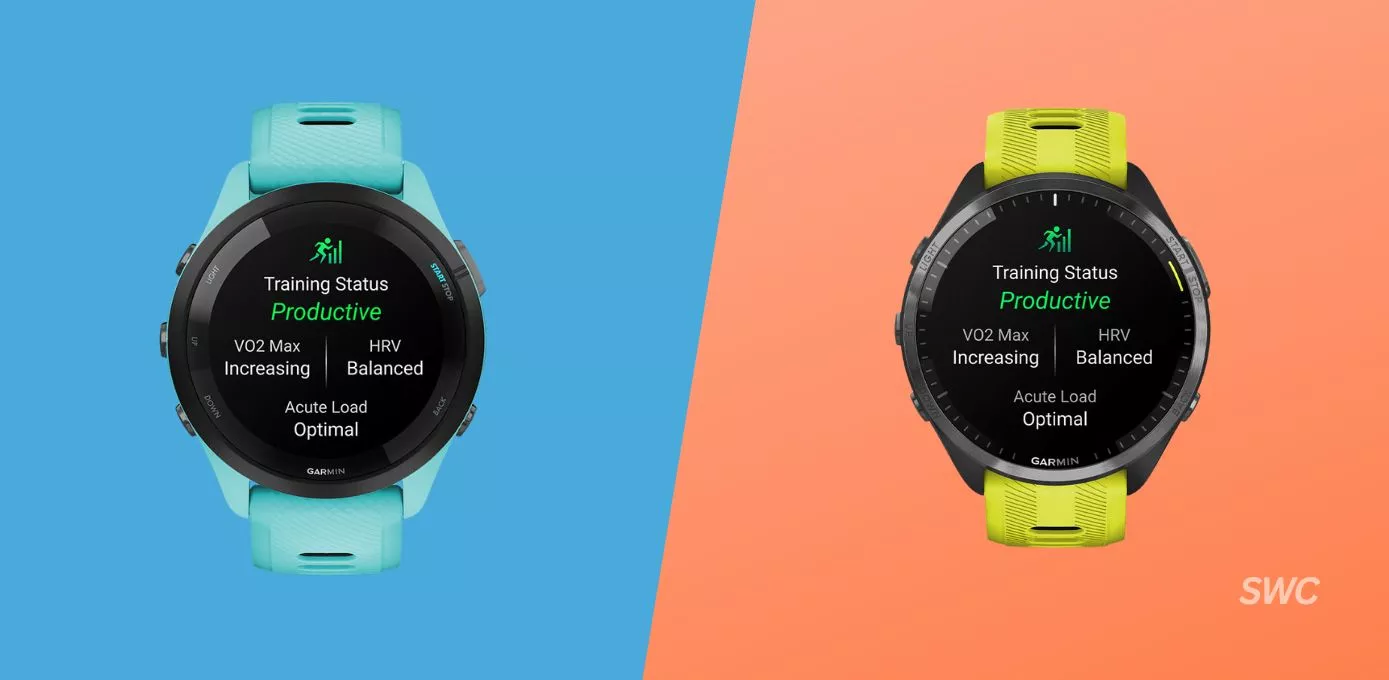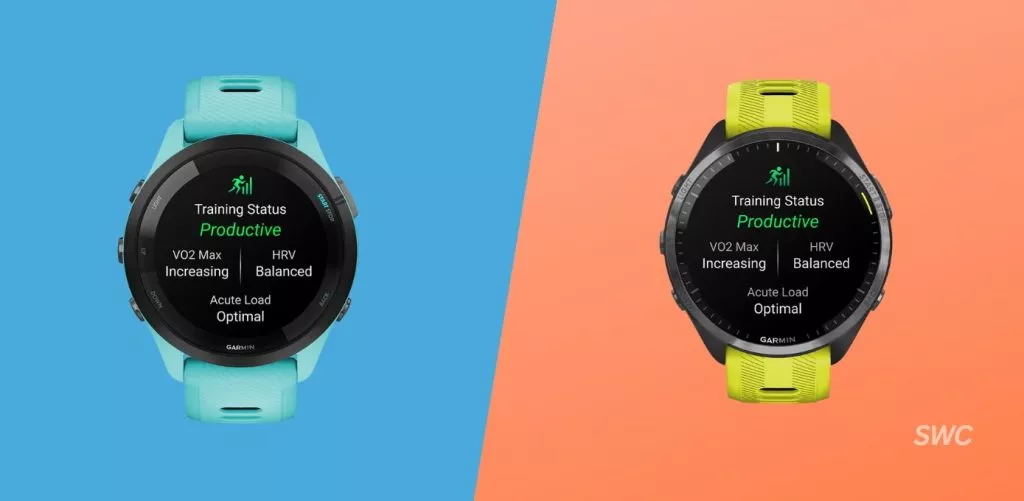 There are basically 4 training metrics that differentiate these two watches.
Climb Pro
Realtime Stamina (First introduced in Fenix 7)
Functional Threshold Power (FTP)
Training Load ratio and Chronic Load.
Training load ratio and Chronic load are relatively new features, but the other three have been the staple of advanced Garmin watches (Fenix, Epix, Enduro).
Here is how these features can make a difference.
ClimbPro helps athletes manage their effort on climbs and descents during a route. It provides detailed information about upcoming terrain, including gradient, distance, and elevation gain. By allowing athletes to adjust their pace and conserve energy, ClimbPro can help them optimize their performance on challenging terrain.
Real-time stamina provides feedback on an athlete's fatigue level during an activity, allowing them to adjust their effort and avoid overexertion.
The FTP autodetection eliminates the need for athletes to perform a functional threshold power test manually. And thus, it saves time and effort while still providing accurate data on an athlete's aerobic fitness and endurance. Keep in mind, this feature requires an external sensor.
Battery Performance: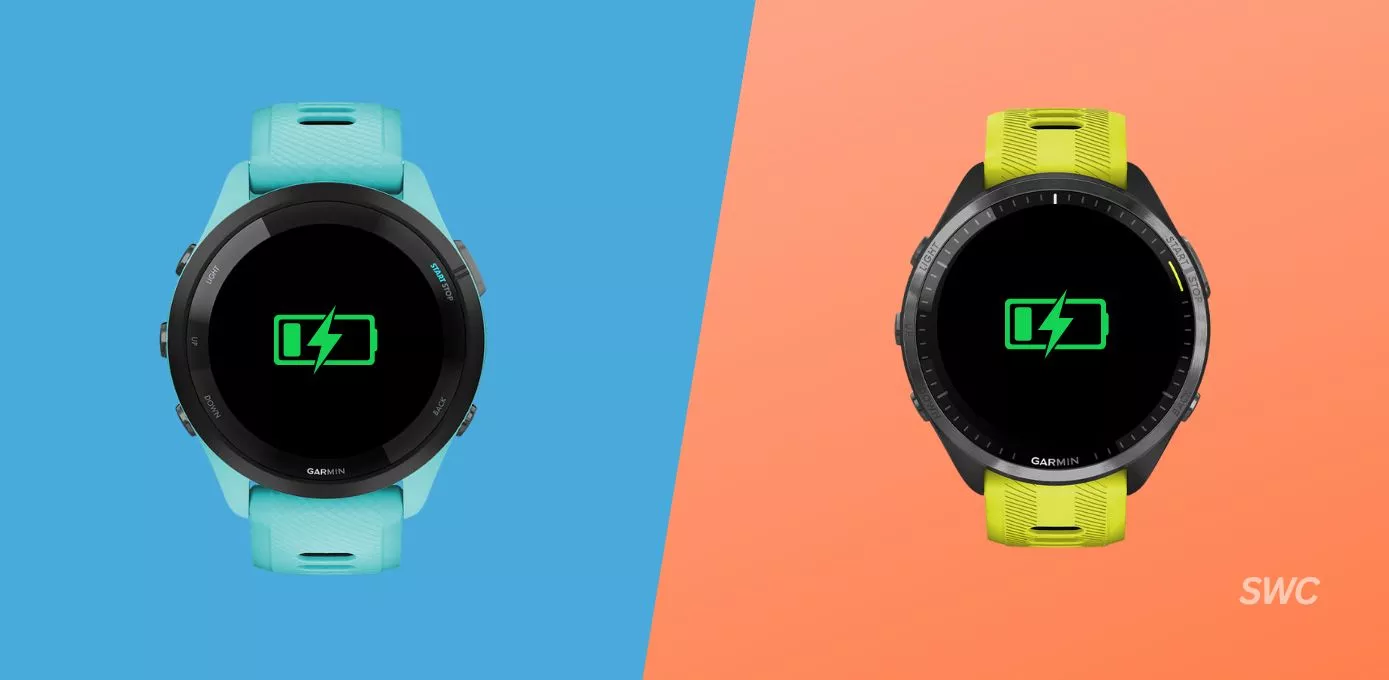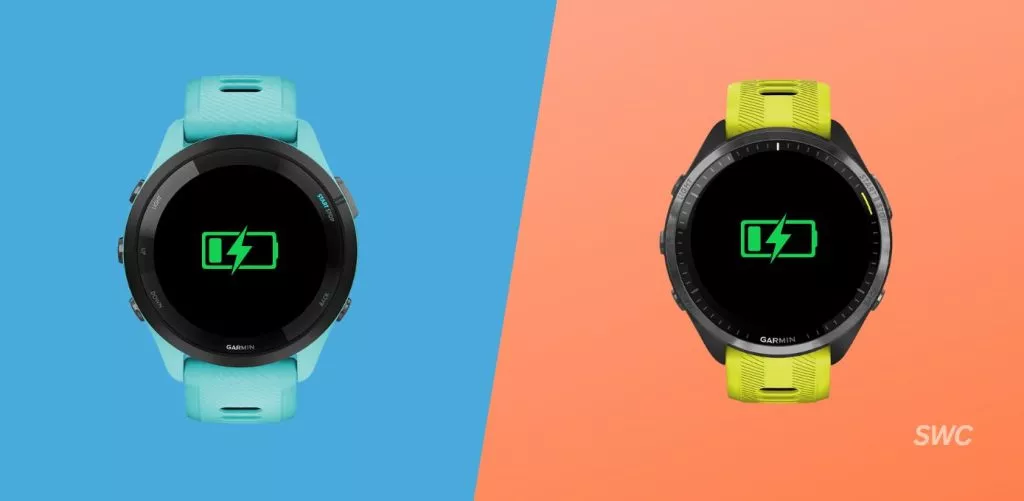 Though both watches are of almost the same size, the Forerunner 965 has a longer battery life compared to the Forerunner 265.

In terms of smartwatch mode, the Forerunner 965 has a battery life of 23 days, while the Forerunner 265 smartwatch mode is 13 days, and FR 265S at 15 days.
The GPS-only mode battery life of the Forerunner 965 is stated as up to 31 hours. While the numbers are 20 hours and 24 hours for FR 265 and FR 265S respectively.

In short, you can take any mode, the FR 965 will come at the top in this department.
Garmin FR 965 vs FR 265: Final Verdict
For an extra $150, FR 965 offers an edge in aesthetic appeal, battery performance, and mapping capabilities. Plus, it supports a couple of advanced training metrics that are not coming to the FR 265 anytime soon.
But honestly speaking, many of FR 965 exclusive capabilities doesn't worth a dime if you don't intend to use it. For novice runners, FR 265 will do the job, and they will never miss anything important. There is around 80-90% similarity between these two watches.
Here are the latest Prices for the Garmin Forerunner 965 vs Garmin Forerunner 265: