If you consider the pricing, the COROS PACE 2 seems to be a competitor of Garmin Forerunner 55, though it's not.
Its target is way more ambitious.
It aims to compete with Garmin's mid-range watch series: the FR 255 and 265.
Folks at COROS Pace 2 follow a simple philosophy. Keep a low price tag, while delivering impressive core functionalities. This approach means forgoing perks like an AMOLED display, music, and contactless payment for now.
So, how does the COROS Pace 2 fare against the Garmin FR 265? Let's find out.
Disclaimer: If you buy through affiliate links on this article, we may earn a commission without any additional cost to you.
Garmin Forerunner 265 vs COROS Pace 2:
Don't have time or patience to read the whole comparison. Worry not, here is a short version.
Key Differences:
The Garmin Forerunner 265 is priced at $449, nearly double of COROS Pace 2 at $200.
The Forerunner 265 features a vibrant OLED screen. Whereas, the Pace 2 uses a memory LCD display.
FR 265 has built-in music support with 8GB of storage (Plus Spotify), can make contactless payments, while the Pace 2 does not any of these smarts
The Forerunner 265 health monitoring + Sports tracking >>> COROS Pace 2.
The Forerunner 265 offers up to 13 days of battery life, while the Pace 2 boasts an impressive 30 days in regular use and up to 60 hours in GPS mode.
Pricing:
The Garmin Forerunner 265 is priced at $459 for both size variants: FR 265 & 265S.
That is $100 more expensive than its predecessor, FR 255.
Coros Pace 2 comes at a more affordable price, retailing for around $200. There is a good chance to find a discounted version of Pace 2 (it is an old frigging watch, released in 2020).
Winner: COROS Pace 2.
Here are the latest Deals on Garmin Forerunner 265 & COROS Pace 2:
Design and Display: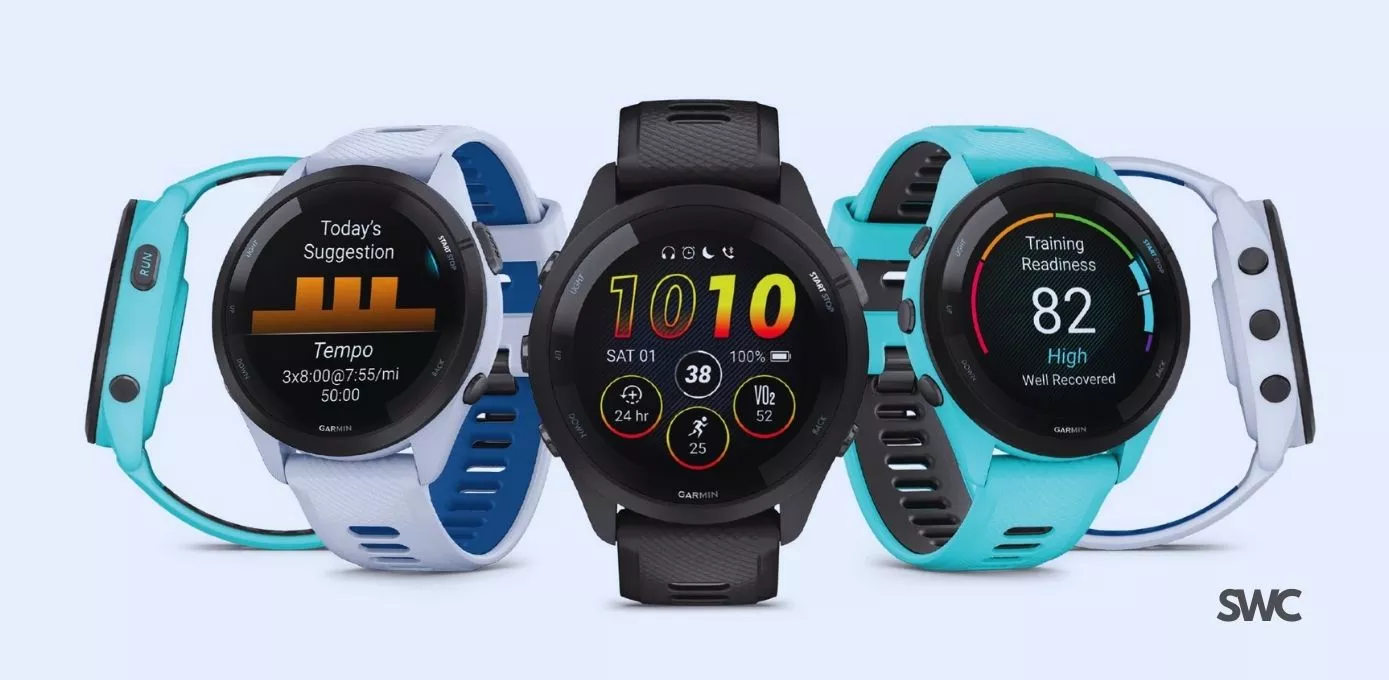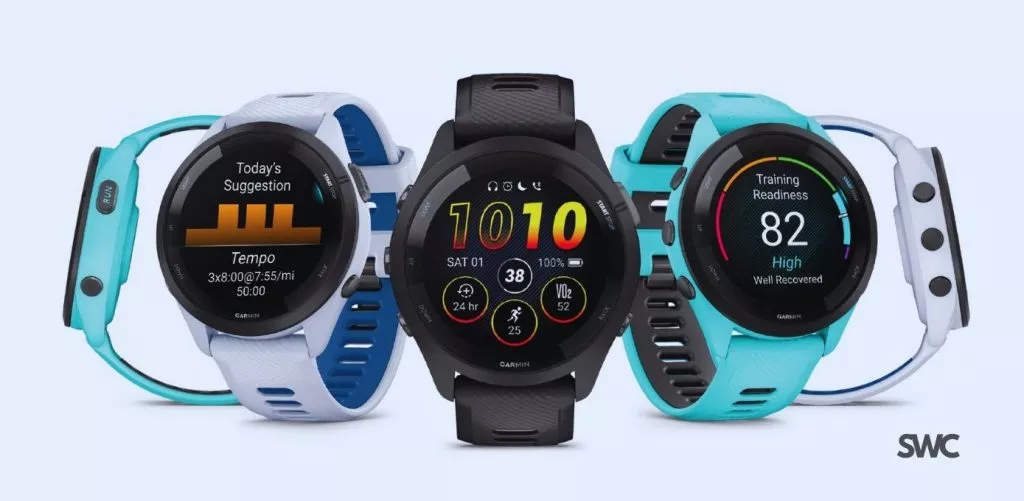 The Garmin Forerunner 265 features an OLED screen that means sharper images, deeper contrast, and richer colors.
It is available in two size variants, with the larger model having a 46mm diameter face and the smaller version (265S) measuring 42mm wide.
FR 265 can fit more wrist sizes.
Now, the Coros Pace 2 has a 42mm diameter face and uses a memory LCD display.
Even though both watches are made of plastic, FR 265 feels more premium, especially when you turn on that high-resolution display.
Water Resistance and Screen Protection are the same on these watches. Bands? interchangeable, though sizes vary.
COROS Pace 2 is comparatively lightweight and thinner: it weighs just 29 grams with a nylon band and is 11.7 mm thick.
Winner:
Look & Feel: Garmin Forerunner 265 (AMOLED Display)
Durability: Tied
Usability: COROS Pace 2 (streamlined design).
Smart Features: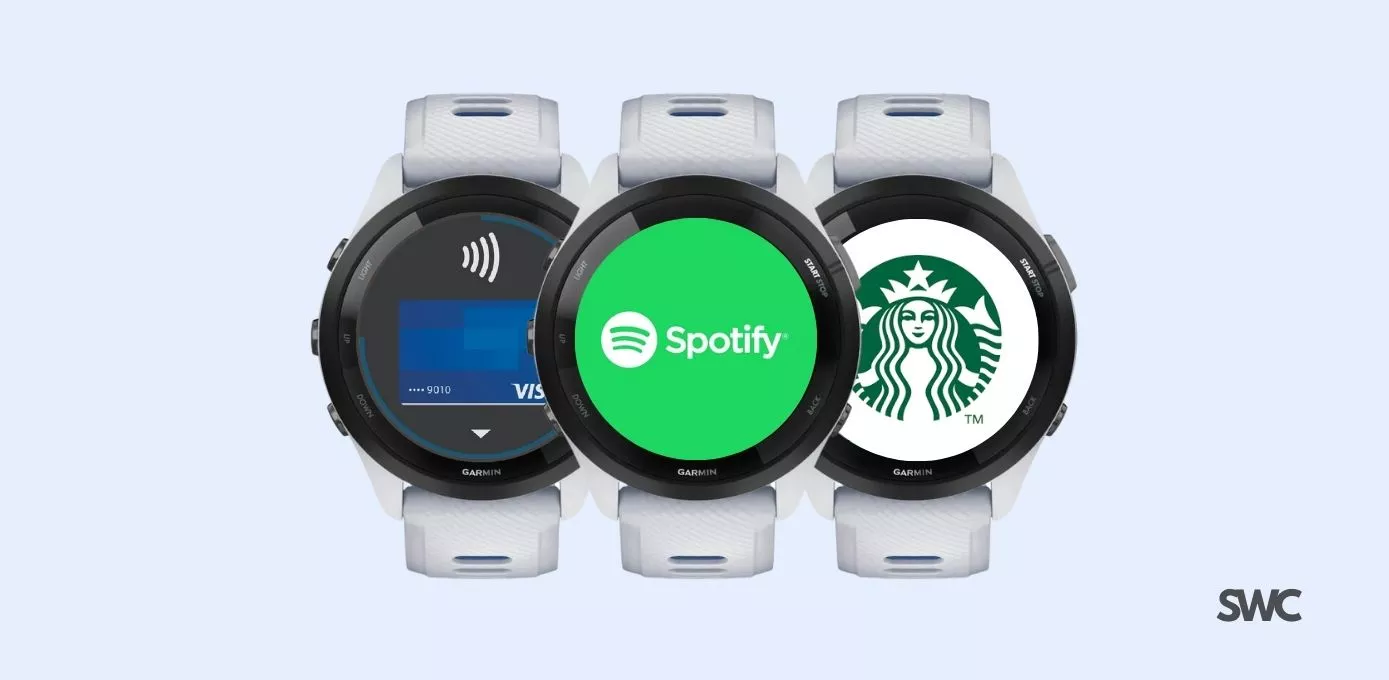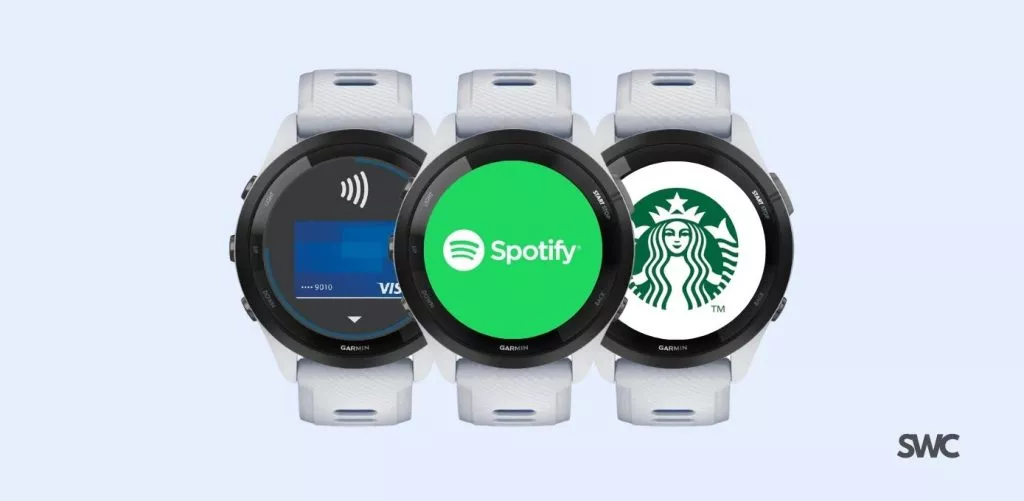 The Coros Pace 2 allows you to view phone notifications, and that's the end of smarts for it.
It doesn't even try to pass itself as a smartwatch.
Garmin Forerunner 265, surprisingly, makes a serious effort
The watch can store music (8GB built-in storage), as well as stream playlists on Spotify, Amazon Music, and more.
It can make contactless payments via Garmin Pay.
It has a comparatively clean user interface that takes full advantage of its touchscreen AMOLED display.
You can download third-party apps on the watch from Garmin's Connect IQ store.
When paired with an Android phone, you can respond to notifications with pre-set replies.
---
Related Post: 5 Best Garmin Watches With Music 2023
---
Both watches allow you to sync fitness data via their smartphone apps.
Winner: Garmin Forerunner 265
Safety Features:
COROS Pace 2 doesn't have any safety features at all.
Whereas, Garmin FR 265 does offer a few that include
LiveTrack: Real-time location sharing with friends and family.
Incident Detection: automatically alerts emergency contacts in case of an accident or fall.
Some features are Android specific such as 'Spectator Messaging'.
Winner: Garmin Forerunner 265
Health Monitoring: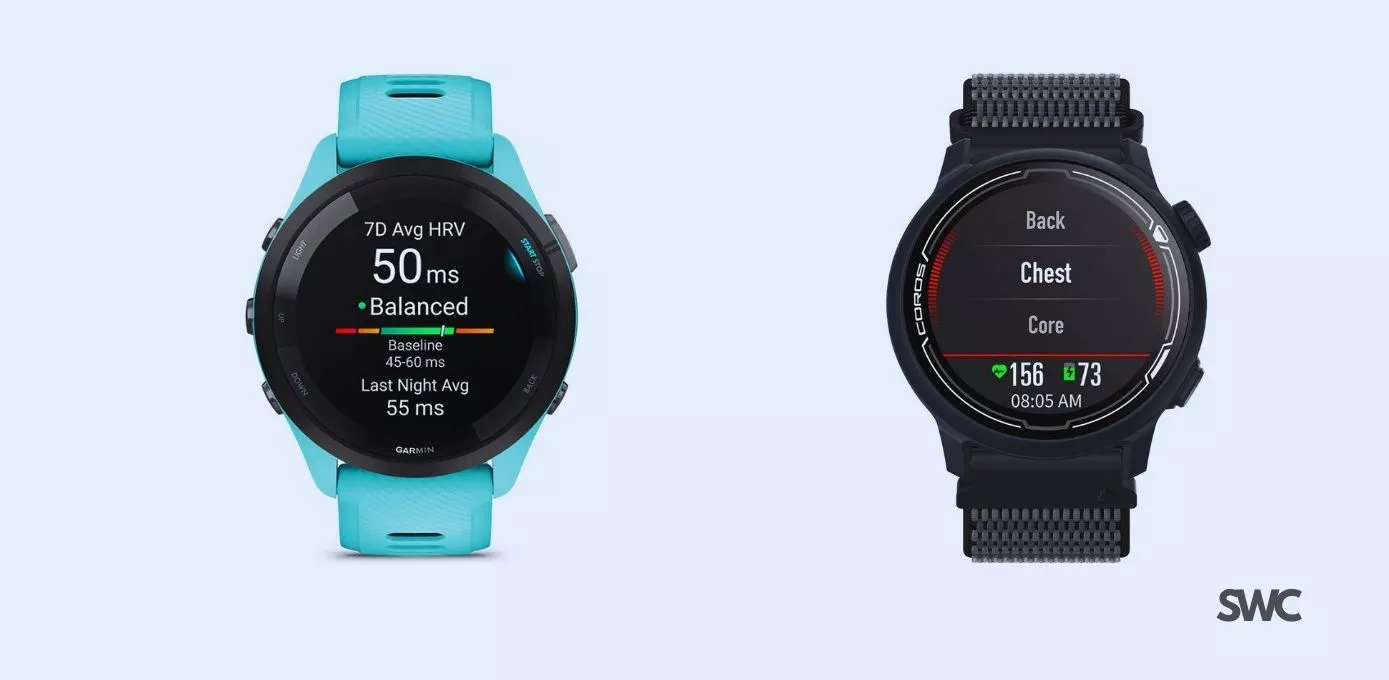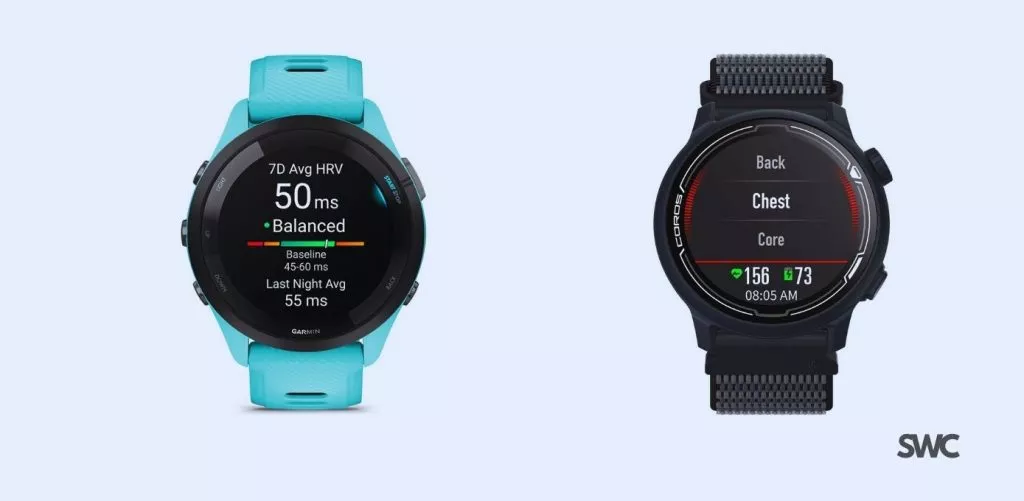 Garmin Forerunner 265 is released just recently, in April 2023. That means the latest hardware on the watch and more advanced algorithms.
It uses the cutting-edge ELEVATE V4 sensor same as its high-end siblings (Fenix 7, Epix 2).
Let's talk about the health metrics that you can track on this watch:
Heart Rate
Stress
Blood Oxygen Saturation (SpO2)
Respiration Rate
Hydration rate
These metrics thus feed into the advanced metrics like Body Battery, Fitness age, Calories burned, and more. The list is exhaustive, but you don't necessarily be using all of them.
COROS Pace 2 is underpowered in this department. The only two worth-mentioning health features on the watch are Heart Rate and Sleep monitoring. Their accuracy is passable but has no match for FR 265.
Winner: Forerunner 265
Sports Tracking:
The sheer number of sports profiles on FR 265 is greater than that of COROS Pace 2. Well, we already kind of expected that.
Here is a complete table for you to compare.
| Activity Type | FR 265 Workout Profiles | COROS Pace 2 Workout Profiles |
| --- | --- | --- |
| Running | Running, Outdoor Track Running, Treadmill Running, Indoor Track Running, Trail Running, Virtual Running, Ultra Running | Run, Indoor Run, Track Run, Virtual Run |
| Cycling | Biking, Indoor Biking, Mountain Biking, eBiking, eMountain Biking | Bike, Indoor Bike |
| Swimming | Pool Swimming, Open Water Swimming | Open Water, Pool Swim |
| Outdoor | Hiking, Skiing, Snowboarding, XC Classic Skiing, Stand Up Paddleboarding, Rowing | Rowing, Flatwater |
| Gym & Fitness Equipment | Cardio Workouts, Strength Workouts, HIIT Workouts, Yoga Workouts, Pilates Workouts | GPS Cardio, Gym Cardio, Indoor Rower, Walk |
Both watches have a Triathlon mode, which lands them in a multi-sports niche.
In terms of running, the only major missing profile in Pace 2 is trail running.
---
Related Post: Best Garmin Watch for Trail Running
---
In terms of performance and training metrics, Garmin Forerunner 265 offers a ton. I can't really explain them all here, but a few of them are worth mentioning.
Training Readiness (When to workout, how much effort you should put in)
VO2 Max
HRV Status
Training Status, Training Load, Training Effect
Recovery Time
Morning Report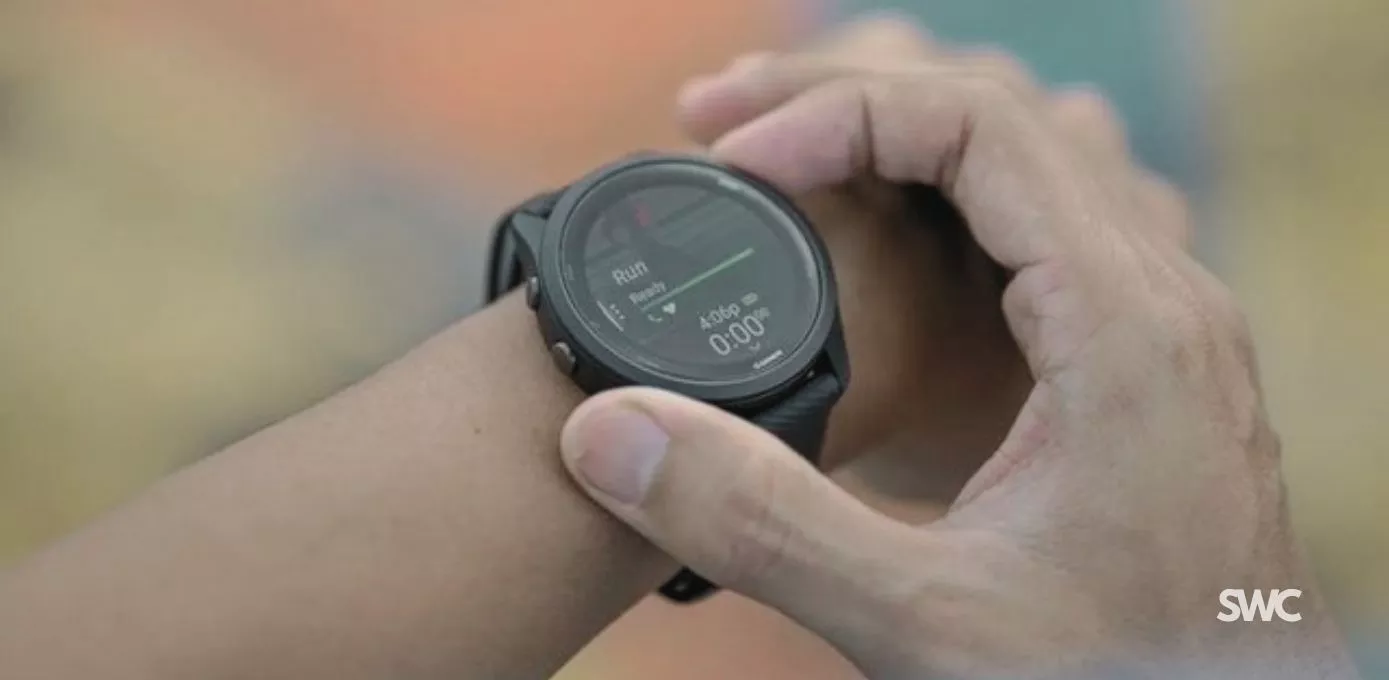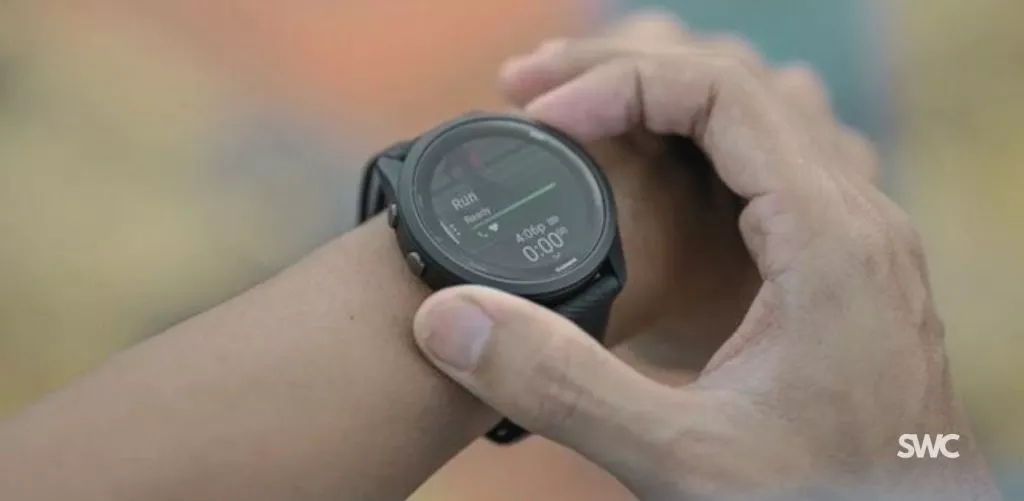 These metrics are just the tip of the iceberg. Keep in mind, that the Garmin watch also offers activity-specific metrics. Take for instance running, where you get
On-wrist running power
Running Dynamics (Vertical Oscillation & ratio, Ground Contact Time and Balance, Stride length)
Lactate Threshold
Pace Pro
Course & Weather Specific Race Predictor
COROS makes an effort to match this with its own set of metrics combined in the EVO LAB: Recovery, fatigue, Training load, Race predictor, VO2 max, Threshold zones, and more.
None of these watches charge a premium for these features.
Still, Garmin offers more. Plus, it also holds an advantage in terms of accuracy thanks to advanced Algos and sensors.
Winner: Garmin Forerunner 265
Battery Performance: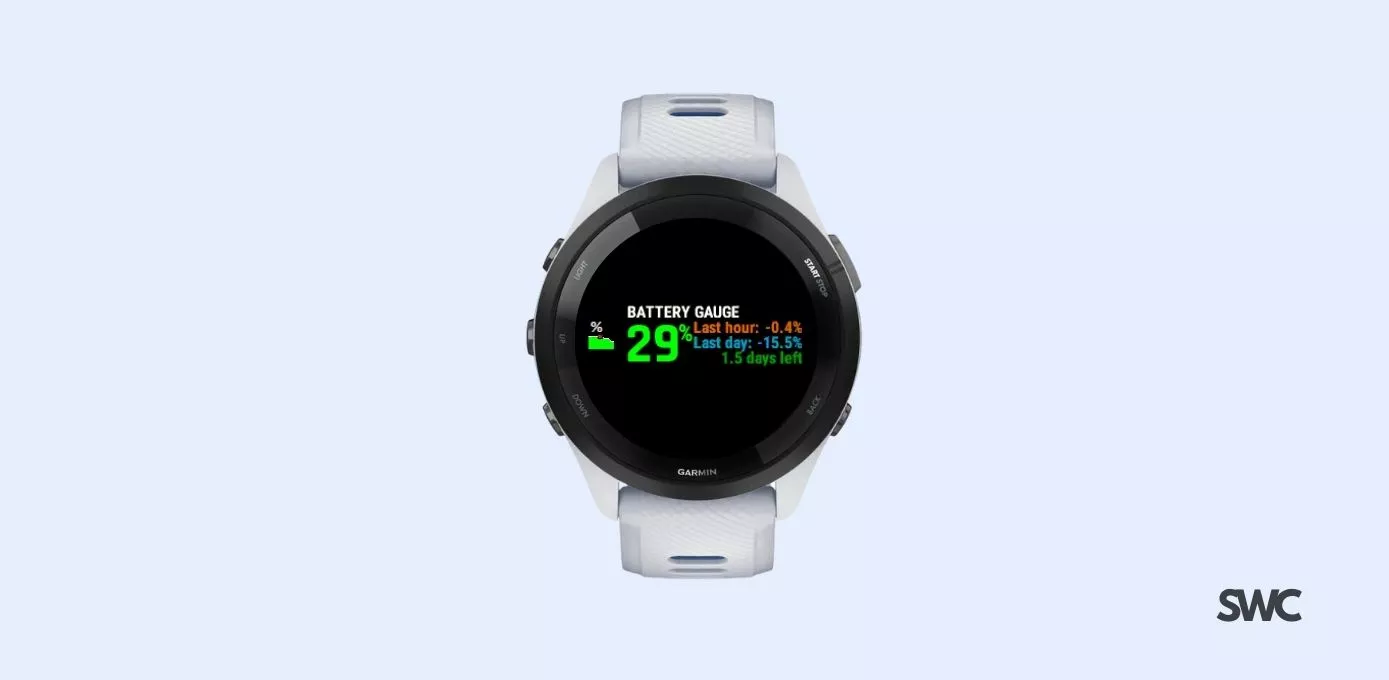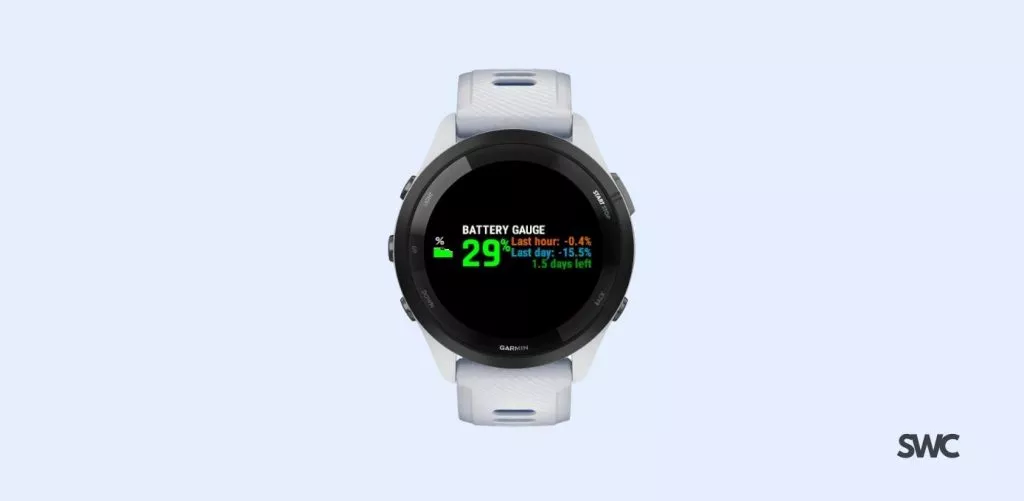 Garmin FR 265 and 265S have slightly different battery performances.
There are more than 3 modes available on the watch that depends heavily on the GPS and Music.
In the basic mode, FR 265 can last for 13 days. If you turn on the GPS, it is reduced to 20 hours. Further, if you prefer the SAT-IQ mode (that is essentially Dual-Frequency mode) for high accuracy, the number you get is 16 hours.
Adding music to the mix will cut the performance in half (6-8 hours).
There is no music support on the COROS Pace 2, and it is equipped with a single-frequency chipset. Well, these two factors add to its already impressive battery life.
The COROS watch can last up to 20 days in regular use and up to 30 hours in GPS mode. The lack of dual-frequency mode might make it less accurate, but it is surely a plus for battery performance.
Winner: COROS Pace 2
Final Verdict: Garmin Forerunner 265 vs COROS Pace 2
In almost all departments, the FR 265 has the upper hand.
Still, can it justify the steep price hike?
Yes, if you care about:
AMOLED Display
Music + NFC payments
Advanced health monitoring
Comprehensive sports tracking
Elite training tools
However, there is one case where you can consider the COROS Pace 2 over the FR 265: if you are an entry-level runner on a budget. You should not care about the missing sports profiles, lack of training tools, contactless payments, and other perks as they simply don't matter much in your case.
However, there is one scenario where you might consider the COROS Pace 2 over the FR 265: if you are an entry-level runner on a budget.
In this case, the missing sports profiles, absence of advanced training tools, contactless payments, and other perks may not be as significant to you. In fact, they don't hold much importance for your specific needs.
I created this blog to help people find the right smartwatch for their taste, to keep tabs on the latest news and leaks, and to share my experience with different smartwatches.
Here are the latest Deals on Garmin Forerunner 265 & COROS Pace 2: