Garmin launched the Instinct 2X in April 2023, a year after introducing its siblings, Instinct 2 and 2S. So now with the Instinct series, we have three size options to pick from.
While there are minor differences between Instinct 2 and 2S, the new Garmin Instinct 2X packs several upgrades that set it apart from the rest.
In this Garmin Instinct 2X vs 2 comparisons, we'll focus on these exciting upgrades.
However, before we move forward, it is worth noting that Garmin didn't reinvent the wheel here. Instead, they borrowed some cool stuff from other popular series.
For instance, the Multi-band/Dual Frequency GPS support comes from the Forerunner 965 series. Whereas, the flashlight is inspired by Fenix 7, Enduro 2 series, and Epix 2.
But the real game-changer? Battery performance. Instinct 2X is Garmin's first to offer unlimited battery life in some modes, all thanks to solar support. More on that later.
Disclaimer: If you buy through affiliate links on this article, we may earn a commission without any additional cost to you.
Garmin Instinct 2x vs 2: Key Differences
Here is an overview of the comparison Between Garmin Instinct 2X vs 2 for those of you in a hurry:
Garmin Instinct 2X offers improved battery performance, almost double of Instinct 2.
Instinct 2X features a larger 50mm case, 1.1″ display, front case screws, and flashlight/torch functionality.
Multi-band GPS support on the Instinct 2X provides improved accuracy, increased satellite coverage, and better signal obstruction mitigation. Instinct 2 is missing this advanced GPS tech.
Metrics like Training Readiness Score and Morning Report on Instinct 2X help users optimize workout plans based on energy levels and recovery
The Instinct 2X has added an Obstacle Course Racing profile to the mix, with plans to introduce Boxing and MMA profiles
Pricing:
Garmin Instinct 2X is available for around $450.
In comparison, the Instinct 2/2S Standard Edition is priced at $350, while their solar editions come with a similar price tag as the 2X, around $450.
Additionally, Garmin offers a Tactical Instinct 2X edition with a green backlight for $499, which is $50 more than the regular 2X model.
Users with a small and average wrist size will be at a major disadvantage if they go for the solar edition of Instinct 2 or 2S. They would be paying more. It becomes quite evident if you consider that at the same price-point Instinct 2X is offering additional features.
In my opinion, this pricing strategy isn't going to work.
Garmin would likely reduce the price of Solar Editions of Instinct 2 and 2S watches, so keep posted.
Here are the latest Deals for Garmin Instinct 2X & Garmin Instinct 2:
Multi-Band Support: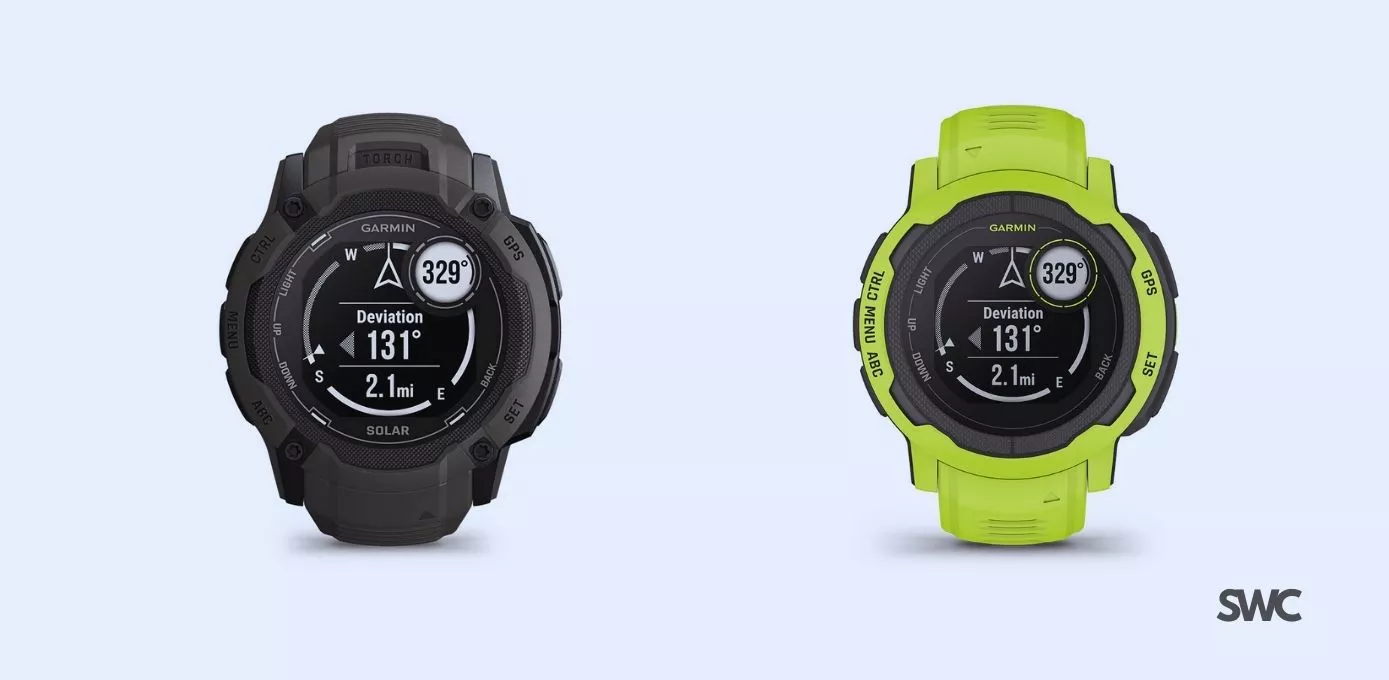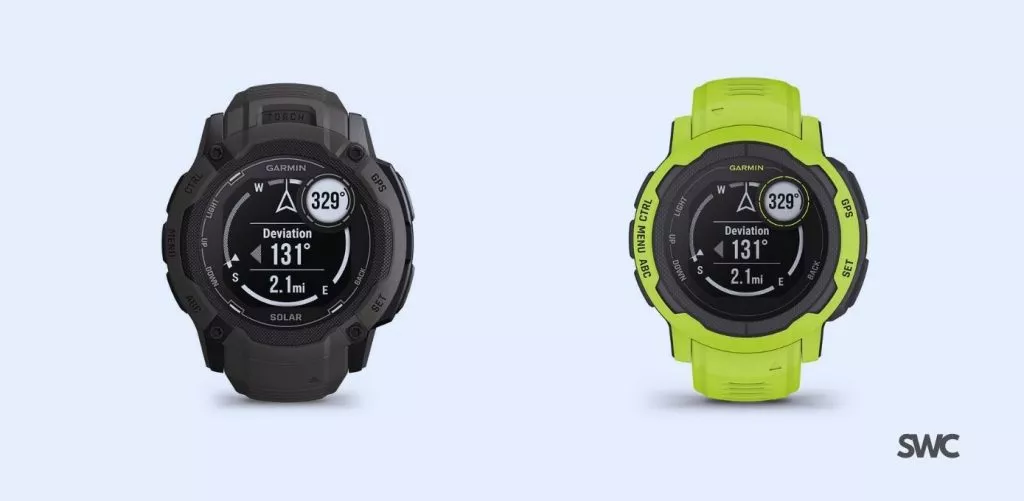 Introduced first in Fenix 7 and Epix 2 watches, the Multi-band support has now made its way to the Garmin Instinct 2X watch.
Here is why the new GPS tech is important:
Improved accuracy: Multi-band GPS, as seen in the Forerunner 955 and Forerunner 255, allows the watch to connect to two different frequencies simultaneously. This means that if one frequency experiences connection or visibility issues, the watch can still rely on the other frequency to maintain an accurate position.
Increased satellite coverage: With multi-band GPS, Instinct 2X can access not just 20-25 satellites but upwards of 60+ satellites. This increased coverage helps enhance the watch's location accuracy.
Better signal obstruction mitigation: As multi-band GPS utilizes more satellites and varying frequencies, it can better handle signal obstructions, such as tall buildings or dense foliage. This leads to improved location tracking, especially in challenging environments.
In short, the multi-band or Dual-frequency support in the Garmin Instinct 2X is a significant addition. It would greatly enhance the watch's location-tracking capabilities. The only downside is that it is a power-hungry feature and so the watch's battery is going to take a hit.
Thus, it would make it an ideal choice for athletes and outdoor enthusiasts who require precise and reliable location data.
Design Improvements: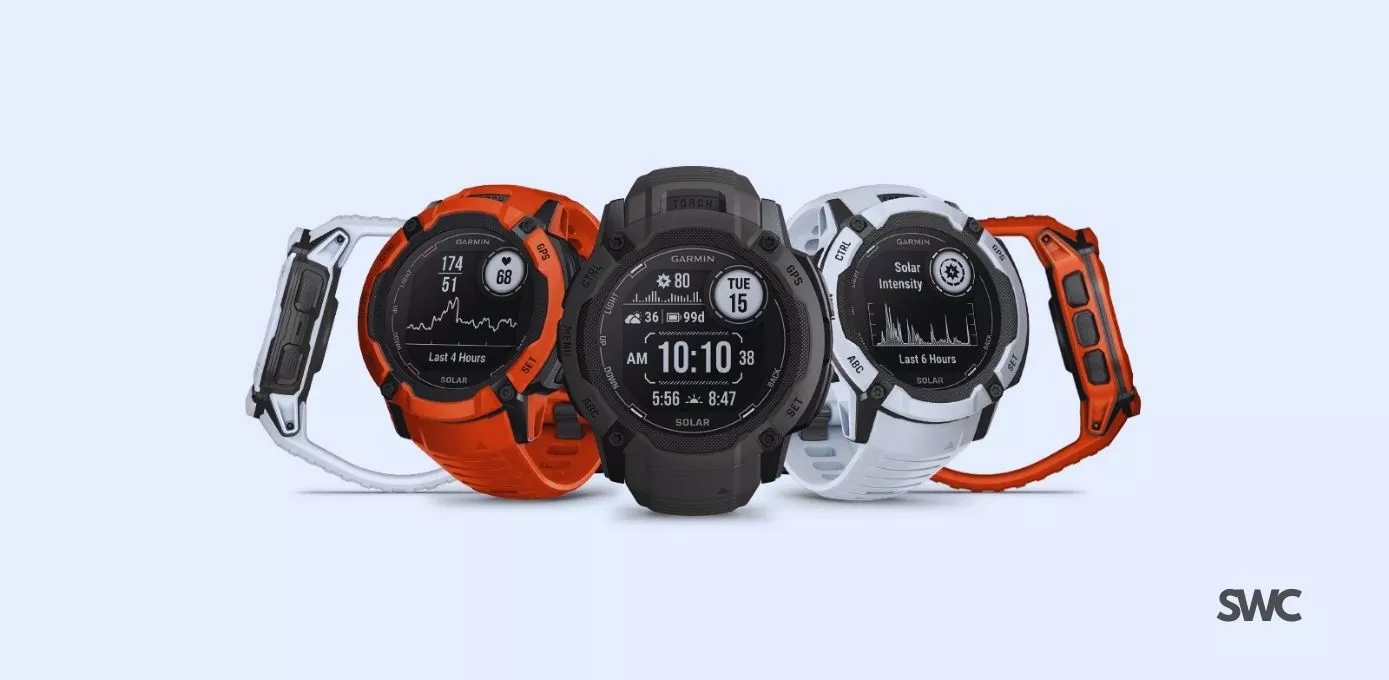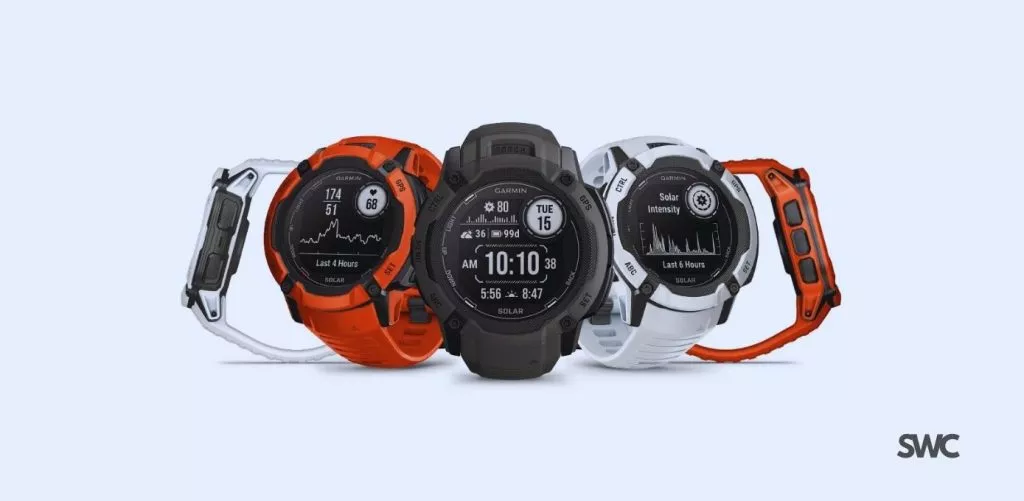 As the name suggests, the Instinct 2X comes in a large casing size and boasts a slightly large display than the standard Instinct 2 and 2S.
Instinct 2X features a 50mm watch case size as opposed to the smaller 40mm of Instinct 2S and 45mm of Instinct 2.
This larger size accommodates a bigger display, which has been upgraded from 0.9 inches to 1.1 inches. The enhanced display size makes it easier to access and read information while on the go.
Another design improvement seen in the Instinct 2X is the addition of screws to the front case. We have been accustomed to this design element in the Fenix series. This not only adds a rugged, more durable look to the watch but also enhances its overall structural integrity.
In addition to this, the Instinct 2X has a flashlight/torch feature, complete with both white and red light options, as well as strobe settings. This functionality borrowed from the Fenix 7X, Epix 2, or Enduro 2 series, is extremely useful for outdoor enthusiasts who might find themselves in low-light or nighttime conditions.
Note: The tactical model of Instinct 2X features a green flashlight.
Unparalleled Battery Performance:
The Instinct 2X offers almost double the battery performance of the Instinct 2. The latest Instinct comes with Solar Panel built-in and unlike Instinct 2, you won't get any non-Solar variant with this watch.
Garmin claims that Instinct 2X offers a 50% increase in solar panel coverage compared to Instinct 2 Solar. This would allow the watch to harness more solar energy, thus prolonging battery life.
| Mode | Instinct 2X | Instinct 2 Solar |
| --- | --- | --- |
| Smartwatch | 40 days; unlimited with solar* | 28 days; unlimited with solar* |
| GPS | 60 hours; 145 hours with solar** | 30 hours; 48 hours with solar** |
| All Satellite Systems | 40 hours; 65 hours with solar* | – |
| All Satellite Systems + Multi-Band | 27 hours; 36 hours with solar** | – |
| Max Battery GPS Mode | 150 hours; unlimited with solar** | 70 hours; 370 hours with solar** |
| Expedition GPS Activity | 60 days; unlimited with solar* | 32 days; unlimited with solar* |
| Battery Saver Watch Mode | 100 days; unlimited with solar* | 65 days; unlimited with solar* |
*Solar charging, assuming all-day wear with 3 hours per day outside in 50,000 lux conditions: The watch is being worn throughout the day and receives 3 hours of exposure to sunlight each day. The light intensity during these 3 hours is assumed to be 50,000 lux, which is a measure of brightness typically seen on a sunny day. Under these conditions, the watch can achieve solar-charged battery life as stated in the table.
**Solar charging, assuming use in 50,000 lux conditions: The watch is being used in an environment with a light intensity of 50,000 lux.
New Sports Profiles and Training Metrics: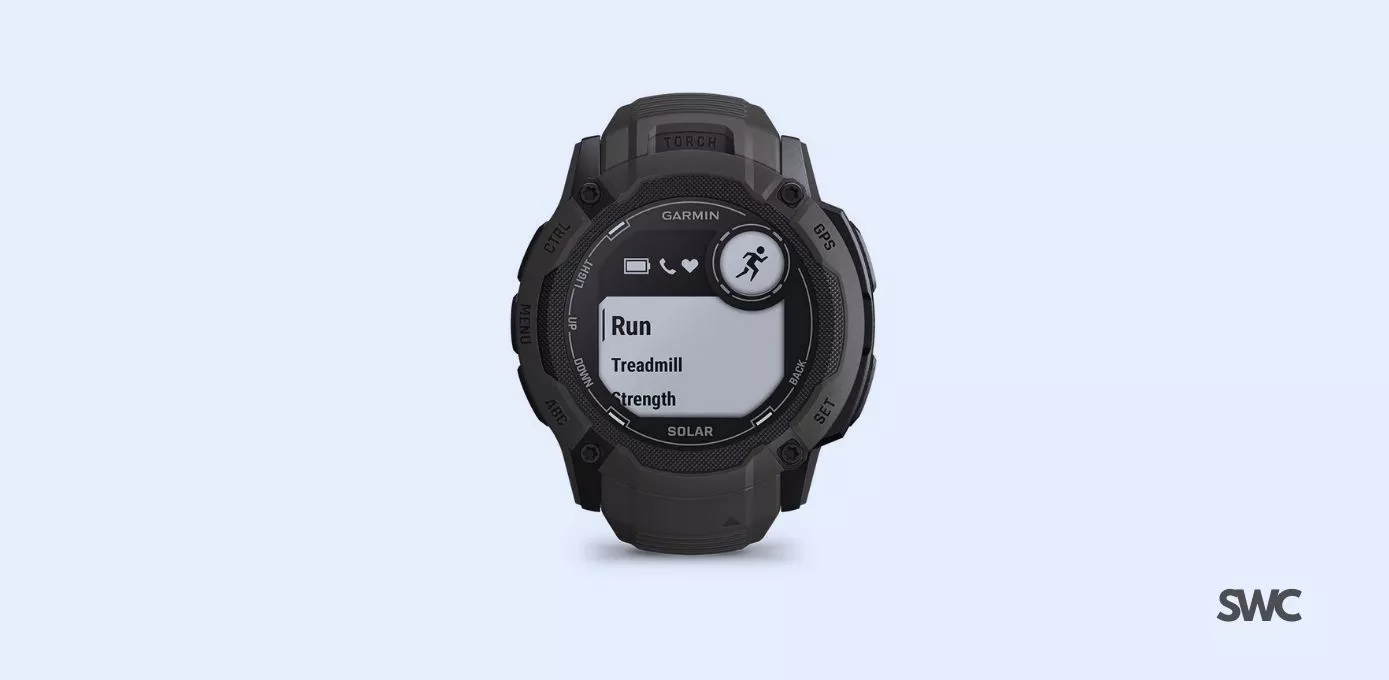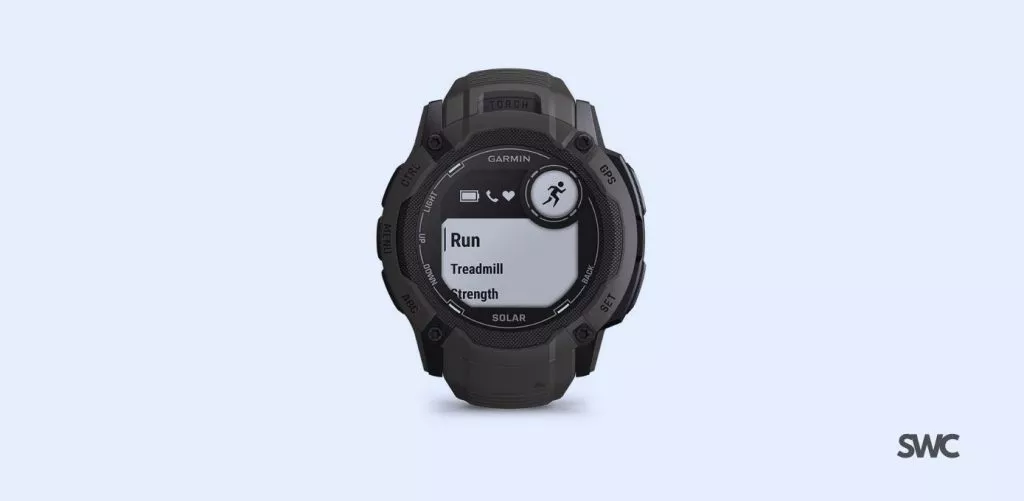 Garmin Instinct 2X comes packed with several new sports profiles as well as training and performance metrics. However, the most important one of them is the 'Training Readiness Score' that was first featured in the Forerunner 955.
Why is Training Readiness so important? Well, it looks at loads of different things that affect how well you're feeling, like how well you've slept, how long it's been since your last workout, how stressed you are, and more. The metric combines all this info to give you an accurate idea of how ready you are for exercise.
By knowing how ready you are for a workout, you can tweak your plans to make the most of your energy levels and avoid pushing yourself too hard when you're not feeling great.
The Morning Report is another exciting feature that comes with the new Garmin Instinct 2X. Again this feature is borrowed from the Forerunner 955 and 965 Series. This handy report pops up automatically when you wake up in the morning and gives you a summary of your body's current state in terms of sleep, recovery, and training. It also provides useful information like the weather forecast to help you plan your day better.
What's great about the Morning Report is that it's customizable. You can choose the data you want to see in the report, making it more relevant and useful to your individual needs.
As far as the sports profiles are concerned, Garmin Instinct 2X has added Obstacle Course Racing to an already exhaustive list of profiles in Instinct 2. Additionally, Garmin plans to introduce Boxing and MMA Activity Profiles in the future, further enhancing the watch's versatility.
Garmin Instinct 2X vs 2: Final Verdict
The Instinct 2X's size is its most limiting factor, as the watch is primarily suitable for extra-large wrists.
When comparing it to the standard Instinct 2 model, there's a $100 price difference, which isn't worth the investment. The standard Instinct 2 offers solid battery performance. Plus, many users can easily live without a flashlight, multi-band support, or the new training metrics.
However, the situation changes when comparing the Instinct 2X to the solar edition of Instinct 2. In this case, the prices balance out, giving the Instinct 2X an edge.
Here are the latest Deals for Garmin Instinct 2X & Garmin Instinct 2:
Read More:
I created this blog to help people find the right smartwatch for their taste, to keep tabs on the latest news and leaks, and to share my experience with different smartwatches.