Are you looking to upgrade your running watch to one of the latest and greatest models from Garmin, but not sure whether to choose the Forerunner 965 or the Fenix 7?
Look no further, as we've put these two high-spec watches face-to-face to help you make an informed decision. Both models are on the pricier side, so it's important to choose the watch that will fit your needs and preferences the best.
The fact that these watches come from the same company makes it unsurprising that they share more similarities than differences. In fact, on a scale of 1 to 10, we would give them a rating of 9 for common features. Still, they have their strengths and weaknesses. This post is all about spelling them out so you don't have to sit on the fence.
For those who are trying Garmin for the first time, it is important to understand the difference between the parent series of both watches. The Forerunner series is geared toward runners and triathletes; whereas the Fenix is designed for outdoor excursions.
In general, Fenix watches are tough or rugged; their body is made of stainless steel, with titanium bezel and sapphire glass protection on the screen. They are heavy, feature-rich, and have a premium price tag to match their capabilities.
Whereas forerunner tends to be lightweight, so you can wear them 24/7 to track performance and training metrics. Their plasticky design makes them less visually appealing, and the company usually cut corners in terms of display technology and other design features. However, Forerunner 965 is a case apart. More on that later. 
Disclaimer: If you buy through affiliate links on this article, we may earn a commission without any additional cost to you.
Garmin Forerunner 965 vs Garmin Fenix 7: Pricing
The Forerunner 965 is the newer of the two watches, having been released in March 2023. It comes in only one model, without solar charging, and costs around $600 USD.
On the other hand, the Fenix 7 was released in January 2022 and offers three case sizes (42, 47, and 51mm) and several editions (Solar, Sapphire). The price range starts from $699 and goes up to $999 for the Fenix 7X Sapphire Solar edition.
The solar edition has a power glass screen to prolong the battery performance, the sapphire edition comes with a titanium bezel for tough sports like rock climbing and surfing.
Winner: When it comes to affordability, the Forerunner 965 comes at the top as it provides top-notch features at a $100 lower cost than the Fenix 7.
Here are the top deals on Garmin Fenix 7:
Forerunner 965 vs Garmin Fenix 7: Design and display
| | | |
| --- | --- | --- |
| | Garmin Forerunner 965 | Garmin Fenix 7- Standard Edition |
| Dimensions | 47.2 x 47.2 x 13.2 mm | 47 x 47 x 14.5 mm |
| Editions | Standard | Standard, Solar, Sapphire Solar |
| Weight | 53 g | 79 g |
| Water Resistance | 5 ATM | 10 ATM |
| Strap Type, size | Silicone, 22 mm | Silicone, 22 mm |
| Display | AMOLED Optional Always-On Mode | sunlight-visible, transflective memory-in-pixel (MIP) |
| Display Resolution | 454 x 454 pixels | 260 x 260 pixels |
| Bezel Material | titanium | stainless steel |
| Colors | Amp Yellow/Black, Black/Powder Gray, Whitestone/Powder Gray | Silver with Graphite Band, Slate Gray with Black Band, Black DLC Titanium with Black Band+ |
Garmin Forerunner 965 comes with several improvements over its predecessor, the Forerunner 955. Although the internal hardware is almost identical, the exterior has undergone a redesign to enhance the watch's usability and aesthetics.
Related Post: Garmin Forerunner 955 vs Fenix 7
The highlight edition? FR 965 has a 1.4-inch, 454 x 454 pixel AMOLED touchscreen display, the largest in any Garmin watch. There is a titanium bezel this time around to provide much-needed durability, however, Garmin decided to protect it with Corning Gorilla Glass 3. The watch match and even surpass the base models in Fenix 7 series.
This larger AMOLED screen on the FR 965 has an advantage. Not only that it adds to the aesthetic appeal of the watch by offering vibrant, colorful visuals, but also allows it to fit a wider range of data for an enhanced user experience. The screen is always on and offers optional modes for saving battery life.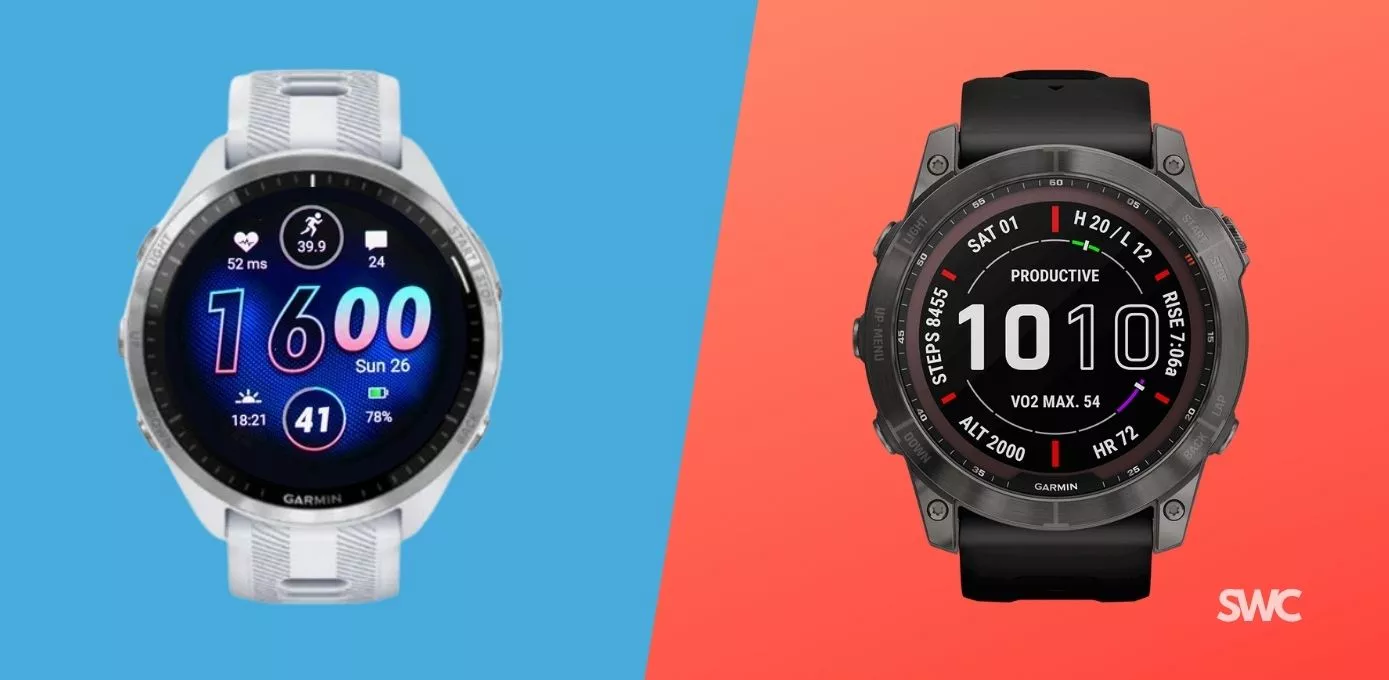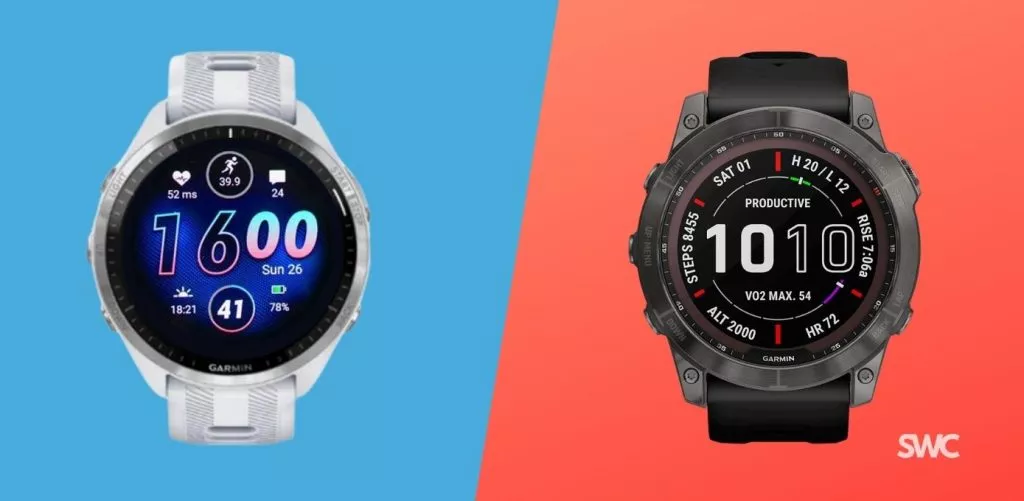 Fenix 7 doesn't lag far behind as it also comes with a touchscreen color display, but it is no match to the appeal of the FR 965 AMOLED display. This is the most significant difference between the two watches.
As there is only one variant of the FR watch, its size becomes a major shortcoming for petite wrists. Fenix 7 series is more considerate in this department, as it comes in a small 42mm size option too. The other two sizes (47mm and 51mm) are more suitable for large wrists. However, even if you pick the smallest Fenix 7, the Forerunner feels lighter on the writ. (Fenix 7S: 62g weight | Forerunner 965: 53g)
Next, we compared them to the protection against water ingress. Fenix 7 is 10 ATM rated which is almost double the protection of 5 ATM FR 965.
If it matters to you, FR 965 comes in three different colors – matt black, whitestone, and AMP yellow – to suit different tastes and preferences. Whereas, Fenix 7 color range is more versatile, and depends on the size and model you choose.
Winner: We will cast our vote for the FR 965 for its perfect combination of durability and visual appeal
Garmin Forerunner 965 vs Garmin Fenix 7: Smartwatch features
| | | |
| --- | --- | --- |
| | Garmin Forerunner 965 | Fenix 7 |
| Contactless payment | Yes (Garmin Pay) | Yes (Garmin Pay) |
| Smartphone notifications | Yes | Yes |
| Music | Yes | Yes |
| Storage | 16 GB | 16 GB |
| Bluetooth Calling | No | No |
| Sensors | Satiq Technology, Multi-Frequency Positioning, Garmin Elevate Wrist Heart Rate Monitor, Barometric Altimeter, Compass, Gyroscope, Accelerometer, Thermometer, Ambient Light Sensor, Pulse Ox Blood Oxygen Saturation Monitor | Garmin Elevate Wrist Heart Rate Monitor, Barometric Altimeter, Compass, Gyroscope, Accelerometer, Thermometer, Pulse Ox Blood Oxygen Saturation Monitor |
The smartwatch features are almost identical to these watches. Both can stream music on popular platforms like Spotify, Amazon Music, and Deezer as well as store personal music for offline listening.
You get around 16GB storage on both watches to store music, offline GPX maps, and third-party apps from the Garmin Connect IQ store.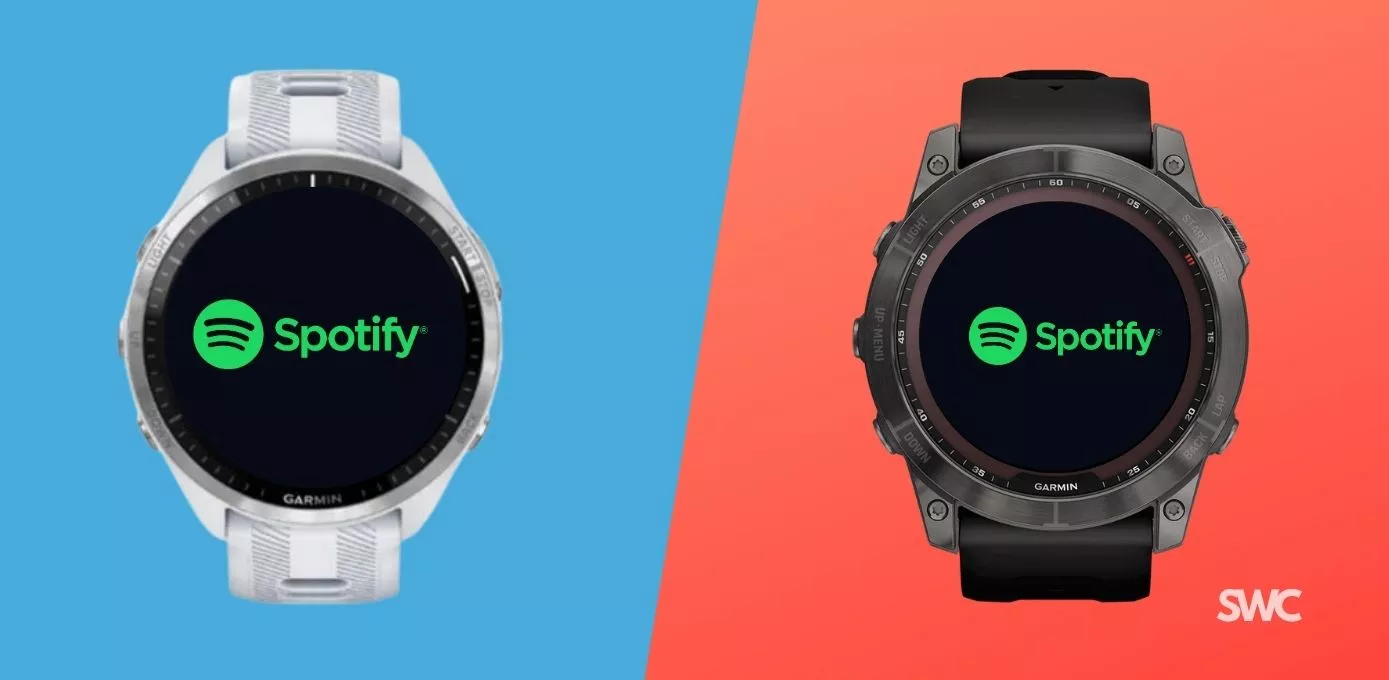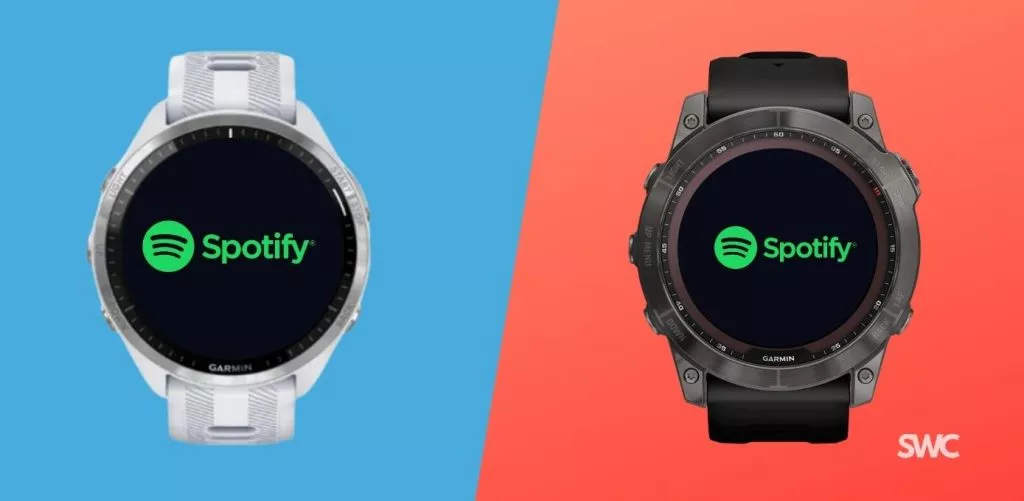 The same goes for the smartwatch notification and the ability to make contactless payments via Garmin pay.
There is also an identical set of sensors on both watches: Garmin Elevate V4, Barometric altimeter, temperature gauge, Multiband GPS, Pulse Ox, and so on.
Note: Only the sapphire edition of Fenix 7 has multiband technology.
Winner: the smartwatch features on Garmin FR 965 and Fenix 7 are identical. This one is a tie.
Garmin Forerunner 965 vs Garmin Fenix 7: Fitness tracking and features
There are some striking similarities between these watches in the fitness tracking department.

As far as the health monitoring is concerned there is one key difference: the Jet Lag Advisor, which is exclusive to the Fenix 7.
As we checked the following feature set are identical: Safety & tracking, Tactical, Gym & Fitness, and Activity tracking.
For sports tracking, both watches are almost equally capable. Here is the list of sports that both watches can track.
| | |
| --- | --- |
| Type of Sport | Actual Sports |
| Running | Run, Track Run, Ultra Run, Trail Run, Treadmill, Virtual Run, Indoor Track |
| Hiking and Walking | Hike, Walk |
| Triathlon and Multisport | Triathlon, SwimRun, Multisport Duathlon, Multisport Brick, Multisport Custom |
| Cycling and Biking | Bike, Bike Indoor, MTB, eMTB, eBike, Cyclocross, Gravel Bike, Bike Commute, Bike Tour, Road Bike |
| Swimming | Open water, Pool Swim |
| Strength and Conditioning | Strength, Cardio, HIIT |
| Yoga and Pilates | Yoga, Pilates |
| Cross Training | Elliptical, Stair Stepper, Climb, Climb Indoor, Row indoor, Floor Climb |
| Skiing and Snowboarding | Ski, Snowboard, Backcountry Ski, Snowshoe, Backcountry Snowboard, XC Classic Ski, XC Skate Ski |
| Water Sports | Row, SUP, Kayak |
| Racquet Sports | Tennis, Pickleball, Padel |
| Other Sports | Bouldering, Disc Golf, Golf, Breathwork, Project Waypoint |
However, there are a couple of sports profiles that are exclusive to the Fenix 7 series. That includes Adventure Race, Tube, Surf, Kiteboard, Windsurf, Boat, Sail, Sail Race, Sail Expedition, Wakeboard, Wakesurf, Water Ski, Tempo Training (Golf), Reference Point, Jumpmaster, Tactical, Tides, Anchor (Boating), Expedition, HRV Stress.
Also, there is one particular running feature that's available on the Forerunner 965, but missing from the Fenix 7: course- and weather-specific race predictor. To use it, you just need to enter your race dates into the Garmin Connect app. Then, on the watch, the Race Calendar widget will give you a countdown to the race and show you the weather report for the day. It'll also give you workout suggestions based on the race you have coming up.
Apart from this, Garmin has intentionally not added the advanced golfing features in the Forerunner 965 to give Fenix 7 an edge. There are in total 8 more golfing features in the Fenix series including Virtual Caddie, Full Vector Map, Custom Targets, and more.
Winner: Everything that Forerunner 965 has in this department is matched by Fenix 7. The features that are missing will definitely come later to Fenix 7 via a software upgrade.
Garmin Forerunner 965 vs Garmin Fenix 7: Battery life
| | | | | |
| --- | --- | --- | --- | --- |
| | Forerunner 965 | Forerunner 955 Solar | Fenix 7 standard | Fenix 7 solar |
| Smartwatch mode | Up to 23 days | Up to 20 days | Up to 18 days | Up to 22 days |
| GPS-only without music | Up to 31 hours | Up to 49 hours | Up to 57 hours | Up to 73 hours |
| All systems and multi-band GPS and music | Up to 8.5 hours | Up to 8.5 hours | Up to 10 hours | Up to 10 hours |
| All systems and multi-band GPS | Up to 19 hours | Up to 22 hours | Up to 40 hours | Up to 48 hours |
| Ultratrac mode | NA | Up to 110 hours | NA | NA |
As the size of the watch can affect the battery performance as well as the features like solar charging, we compared the stats of the Fenix 7 standard edition with the FR 965. Both watches are of the same size and lack Solar charging support.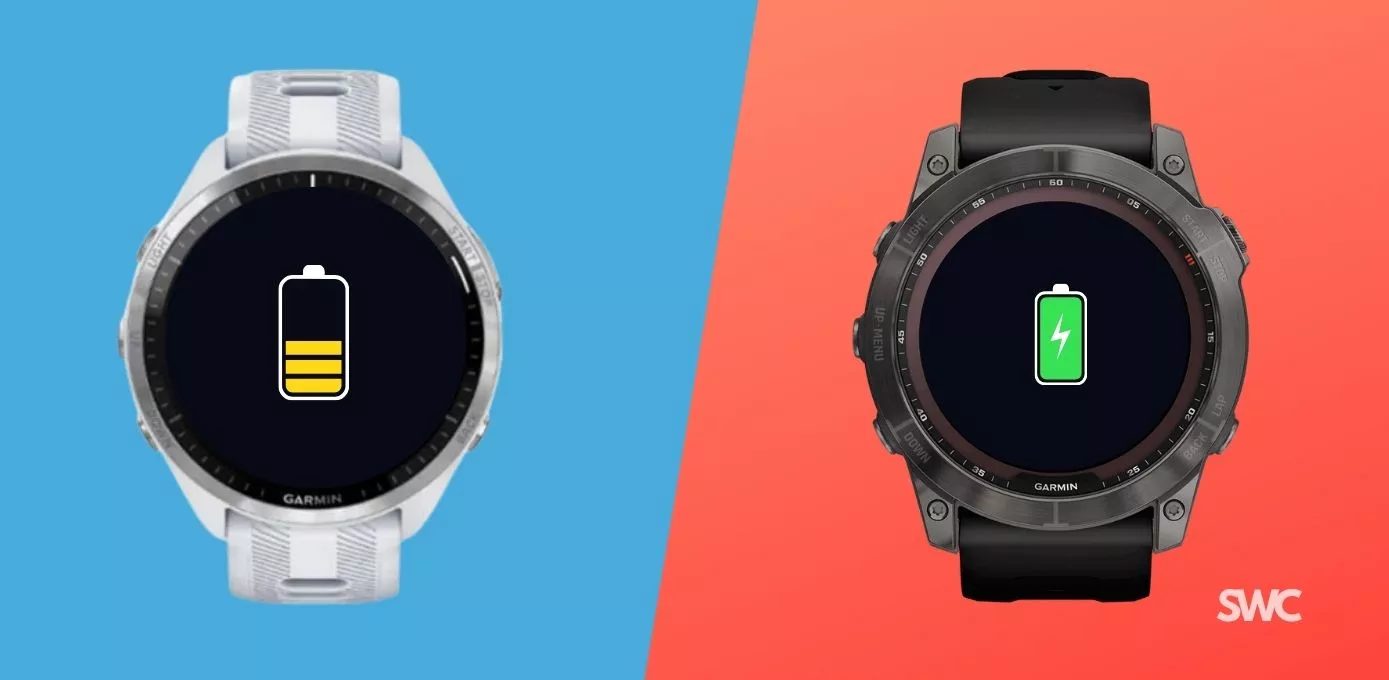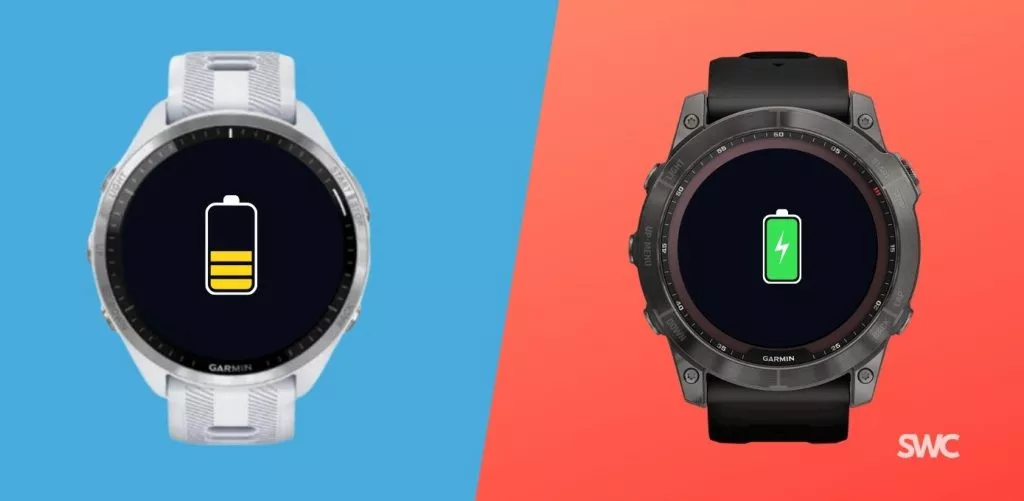 Unsurprisingly, Fenix 7 takes the lead in this department. It offers almost double battery performance no matter which mode you pick to compare. Of course, there are some exceptions. For instance the smartwatch mode.
There is one minor upgrade in the Forerunner watch though in the charging department. The standard charging cable now comes in USB-C type instead of USB-A.

Winner: Garmin Fenix 7— No other watch nails the battery performance as the Fenix watch does.
Garmin Forerunner 965 vs Garmin Fenix 7: Verdict
The decision comes down to the design you prioritize and what fits within your budget. FR 965 is $100 cheaper and offers a larger AMOLED display. Plus it is lightweight and slightly more suitable for running than other sports.
Fenix 7 offers better battery performance, flexibility in size options, and more sports profiles (but the one you would rarely use). Its rugged build makes it a good fit for extreme sports.
The other differences are cosmetic and Garmin will likely close the gap between the two watches in the coming years.
Here are the top deals on Garmin Fenix 7: