The Garmin Instinct 2X and Forerunner 265, both released in 2023 with a gap of just a month, offer exceptional features and cater to different audiences.
The Instinct 2X carries the legacy of Garmin's mid-range outdoor watches, boasting a rugged design and unparalleled battery performance. Whereas, the Forerunner 265 remains true to its core mission as a mid-range running watch for athletes, featuring a stunning AMOLED display.
With both of these watches priced the same, I can understand if you are having a hard time deciding between the two. I'm here to help provide some clarity.
In this Garmin Instinct 2X vs Forerunner 265 comparison, I will pit them against one another to find out which one truly reigns supreme.
Disclaimer: If you buy through affiliate links on this article, we may earn a commission without any additional cost to you.
Garmin Instinct 2X vs Forerunner 265:
Pricing
Forerunner 265 has two variants namely FR 265 & FR265S, both are priced the same at around $450. Interestingly, Garmin Instinct 2X has an identical price tag for the base model, and if you go with the tactical model, you would have to pay around $50 extra.
Winner: Tied
Here are the latest Deals for Garmin Instinct 2X and Garmin Forerunner 265:
Design & Display: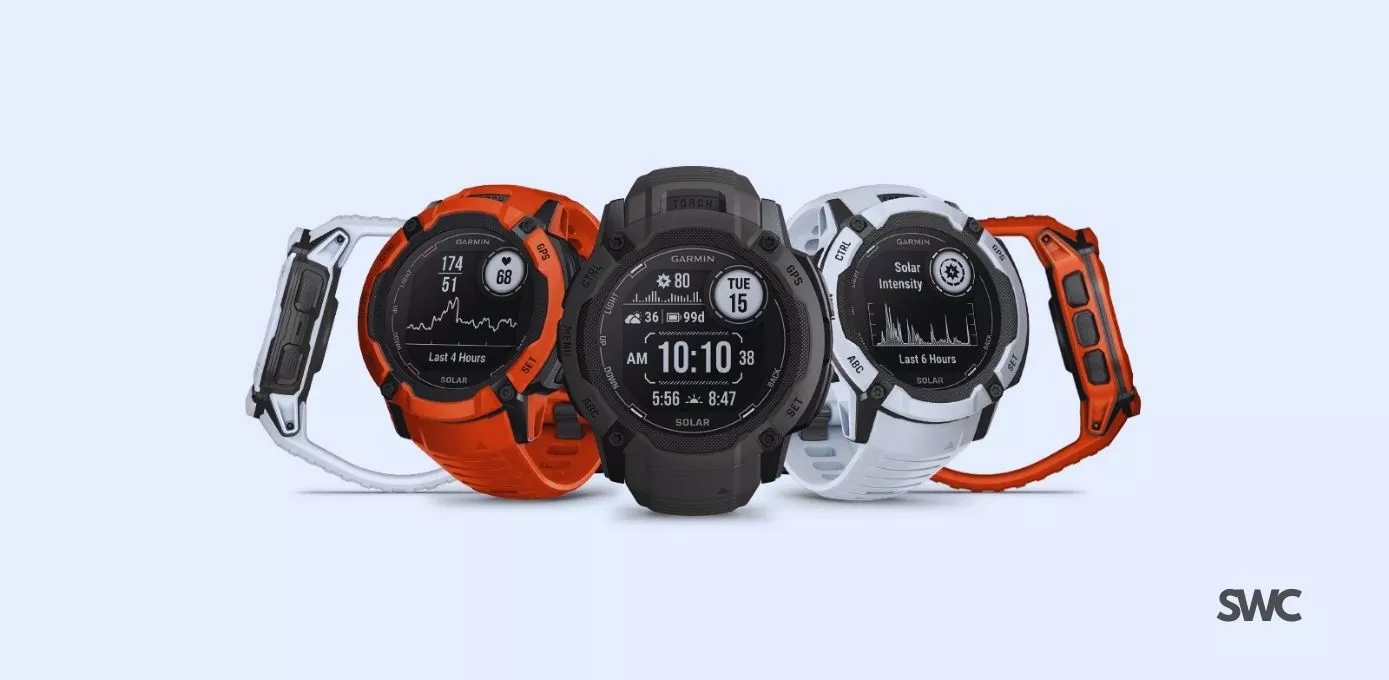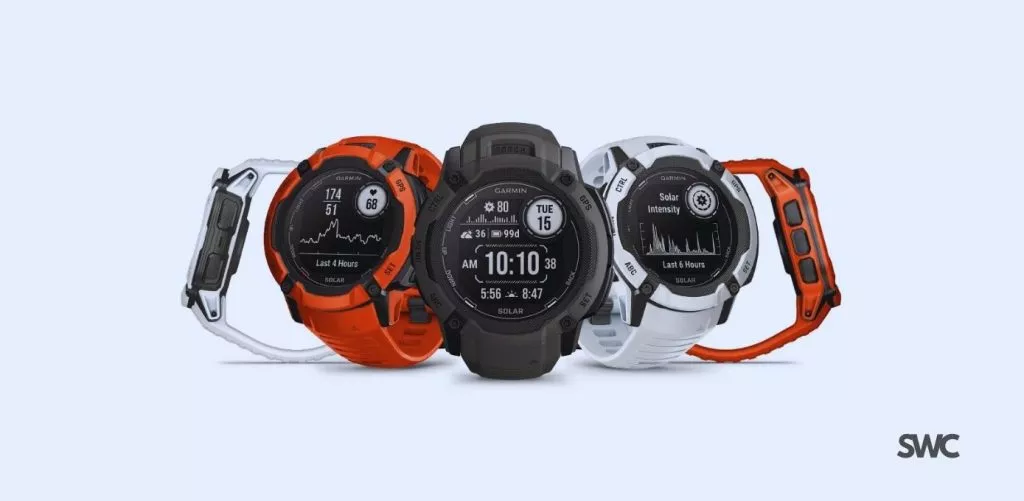 The Forerunner 265 comes in two sizes, with 42mm and 46mm case options, and display sizes of 1.1mm and 1.3mm. ****
This will surely accommodate different wrist sizes.
An AMOLED display graces the Forerunner 265, offering a bright, crisp viewing experience complemented by a revamped user interface. The resolutions for FR 265S and 265 are 360 x 360 pixels and 416 x 416 pixels, respectively. Plus, it has a touchscreen.
If you value aesthetics and ease of use you can't help but appreciate these features.
The Instinct 2X, on the other hand, has a larger 50mm case size but a smaller 1.1″ display with a 176 x 176-pixel resolution. It retains the transflective memory-in-pixel (MIP) display of its predecessor (instinct 2), which by all means is outdated and less visually appealing than FR's.
---
Related Post: Garmin Instinct 2 vs 2X Comparison
---
The Instinct 2X, with its 50mm size, 67g weight, and 14.5mm thickness, is designed for men, particularly those with larger wrists.
On the other hand, the Forerunner 265's slim 12.9mm profile and lightweight build (47g for the 265 and 67g for the 265S) make it comfortable for daily wear and workouts. Again, its two sizes cater to a broader range of wrist sizes.
Both watches have interchangeable straps, although the sizes differ.
In addition to this, the Forerunner 265 is water-resistant up to 50m (5ATM rated), while the Instinct 2X boasts a 10 ATM rating. So, Instinct 2 can handle a wider range of water activities, including diving and high-speed water sports.
Along with this, the superior water resistance as well as the rugged exterior of the Instinct 2X, with its visible screws construction, is perfect for outdoor incursions. It's got a flashlight too.
Moreover, The Forerunner 265 is available in:
Forerunner 265S comes in
Black
Whitestone
Light Pink
The Instinct 2X offers
Graphite
Moss
Whitestone
Flame Red
Instinct 2X Tactical Edition available in
In short, the Forerunner 265 offers more flexibility in wrist sizes, a sleek form, and better aesthetics, while the Instinct 2X excels in durability and water resistance.
Winner: Garmin Forerunner 265
Smartwatch Features: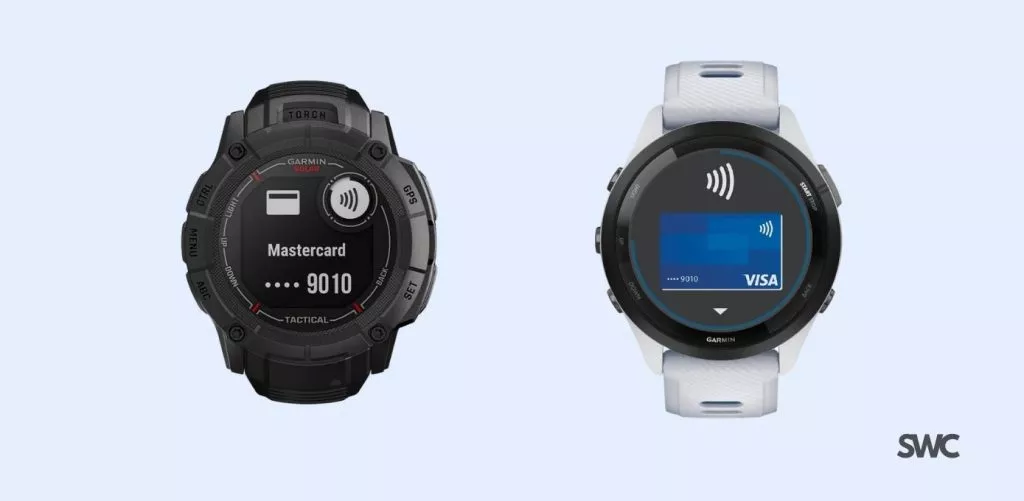 Both watches support Garmin Pay for contactless payments, allowing you to make quick purchases without carrying a wallet. However, keep in mind that the support for Garmin Pay outside North America is limited.
Also, both Garmin watches can mimic smartphone notifications and allows preset replies for Android users only.
However, the Forerunner 265 stands out with its music streaming and storage capabilities. I know it doesn't matter to most of you out there. Still, there is a sizeable number of athletes who rely on music for motivation or focus during workouts.
You can sync playlists from the following platforms for offline listening as long as you have their premium account:
Spotify
iHeartradio
Amazon Music
Deezer
Alternatively, you can upload music directly to your watch using the desktop Garmin Connect app.
Another minor advantage of the Forerunner 265 is the presence of the ConnectIQ app right on the watch. So, you don't need a connected phone to download third-party apps. There is Wi-Fi support on the watch to make the sync faster, and of course to download apps and music.
Furthermore, Garmin makes full use of the AMOLED display on FR 265, ensuring that the watch delivers a premium experience on your wrist.
Winner: Garmin Forerunner 265
Health & Sports Tracking: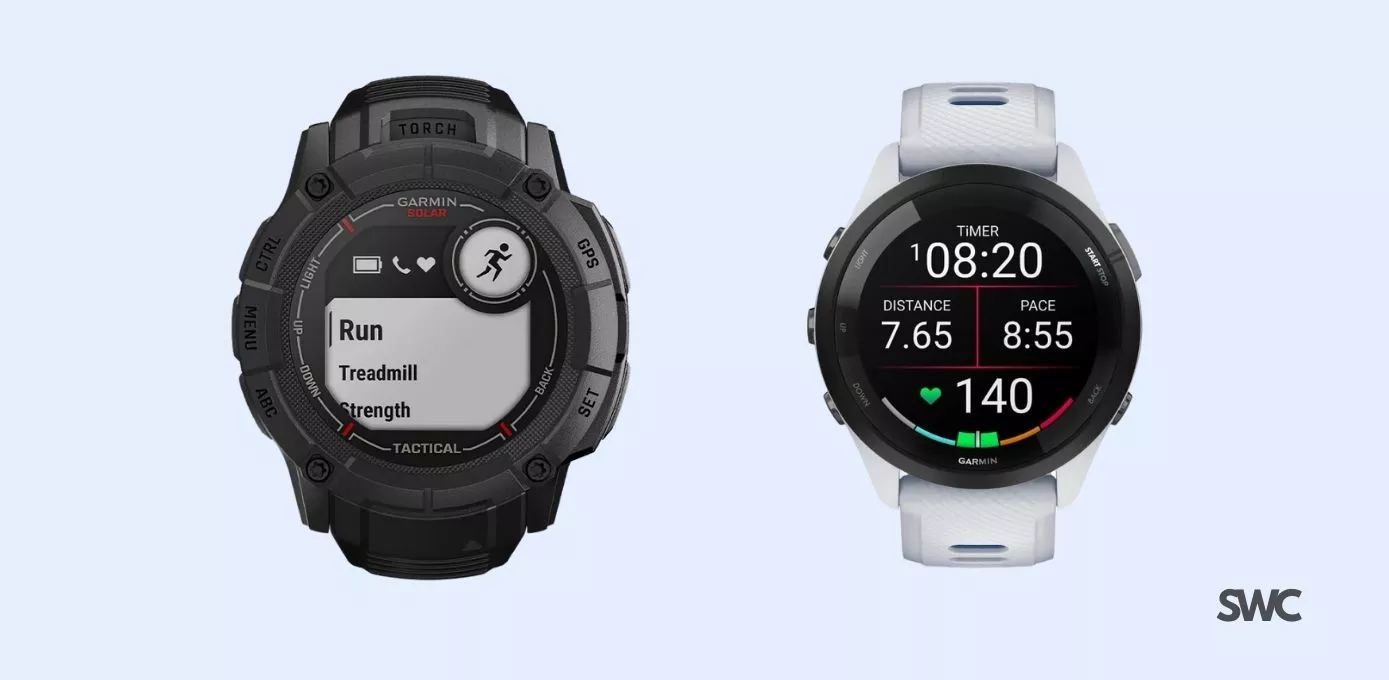 You can track your heart rate, sleep, stress, blood oxygen, and other health metrics on these watches. Since the underlying technology (Elevate V4 Sensor) is the same for both devices, neither watch holds a significant advantage in monitoring health.
When it comes to sports tracking, both watches offer a range of activity profiles for activities like running, cycling, swimming, and more.
However, when I compared their sports profiles side by side, it was quite evident how Garmin underpowered one watch to give an edge to its sibling.
Let's find out how these watches differ in various sports categories:
Running:
The Instinct 2X lacks two important sports profiles: Virtual Running and Ultra Running. And it is also missing a few significant running features: the Course- and Weather-specific Race Predictor, the PacePro Pacing Strategies, and Race Widget.
The Forerunner 265 can track advanced Running Dynamics without the need for external sensors.
Golf:
The Forerunner 265 does not support golfing capabilities.
Outdoor Sports:
The number of outdoor sports profiles available on the Forerunner 265 is nearly half of those on the Instinct 2X.
The Forerunner 265 lacks some important outdoor metrics, such as Expedition GPS activity, XERO location, Tides, GPS Coordinates, Sight 'N Go, and Area Calculation.
Cycling:
The Instinct 2X offers twice as many cycling profiles and offers advanced metrics like MTB Grit & Flow and Advanced Cycling Dynamics. These metrics are absent on the Forerunner 265.
Swimming:
The Forerunner 265 provides Critical Swim Speed tracking as an extra.
Future Updates:
Garmin has announced plans to add boxing and MMA sports profiles to the Instinct 2X in the future.
I suppose in the future, the gap between both watches will be closed by firmware updates. Can you see how Garmin pushes you in different camps with these watches?
Winner: Garmin Instinct 2X
Battery Performance: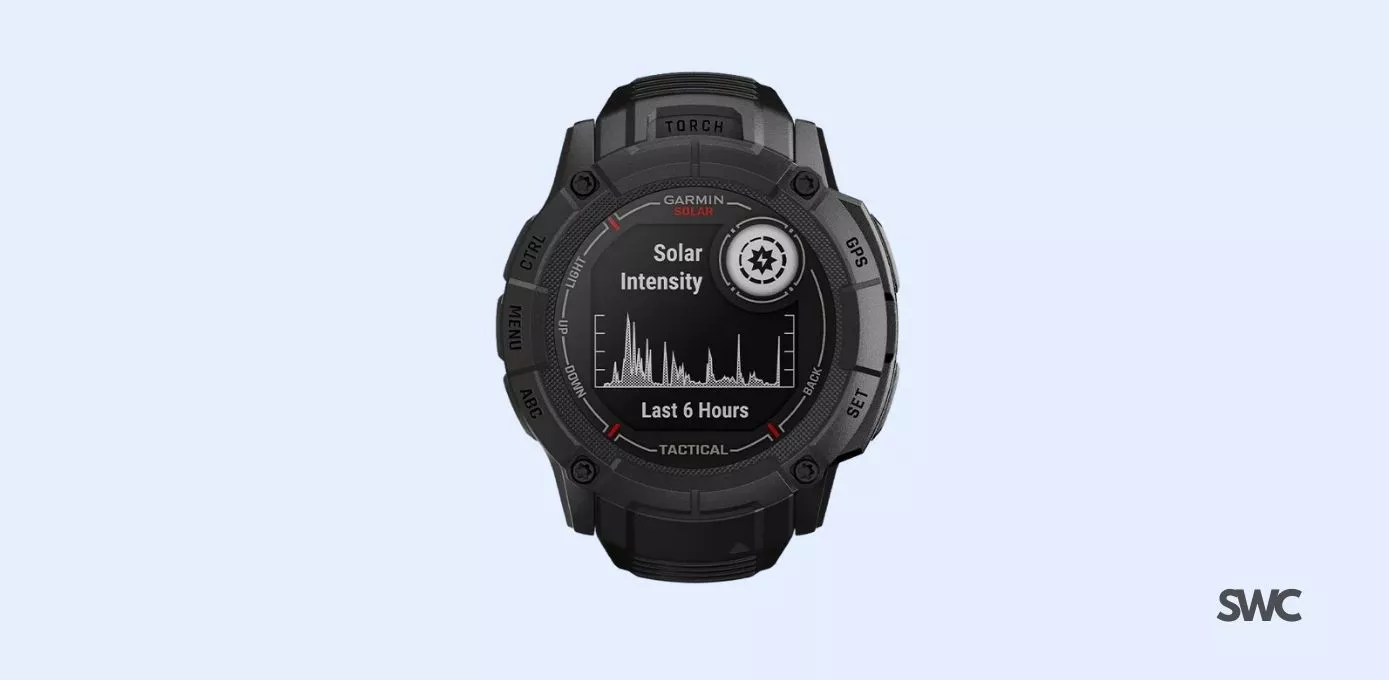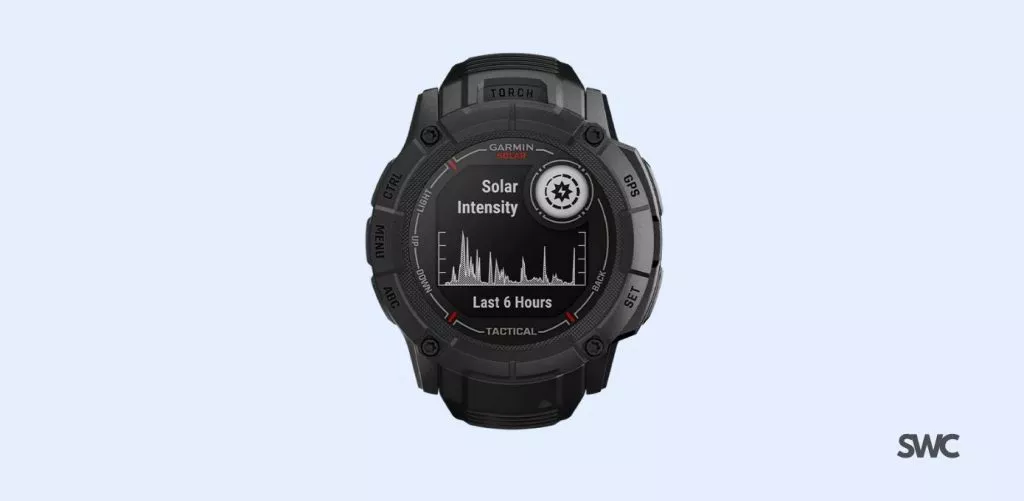 In this department, the Garmin Instinct 2X clearly outshines the Forerunner 265, even without considering its solar charging feature.
I compared these watches in various modes, and here is my finding: In all modes, the Instinct 2X consistently delivers 2-3 times longer battery life than the Forerunner 265.
Now if you factor in the Solar charging capability of Instinct 2X the numbers are just insane.
For those who don't know, the Instinct 2X is equipped with solar panels around the display, which harness solar energy to boost its battery life. In several modes, regular exposure to sunlight allows the Instinct 2X to achieve virtually infinite battery life.
While the Forerunner 265 offers respectable battery performance, it simply cannot compete with the Instinct 2X series.
Winner: Garmin Instinct 2X Solar
Garmin Instinct 2X vs Forerunner 265: Final Verdict
For runners, this should not be hard.
The Forerunner 265 is the obvious choice. I guess the sleek form factor and AMOLED display are enough to make the case. Advanced running metrics and music streaming capabilities are its other plus points.
That being said, FR 265 isn't a triathlon watch. Instinct 2X is. Plus, it can handle a wider range of outdoor activities, has superior battery life, and is more durable.
So the ultimate choice here will depend on your preferences.
Here are the latest Deals for Garmin Instinct 2X and Garmin Forerunner 265: