Over the years, Samsung and Garmin have engaged in a tough rivalry to produce the best sports watch for Android. While Garmin has an upper hand in this niche, Samsung is trying its best to level up its fitness tracking game.
In this context, the new Galaxy Watch 6 classic has been introduced in July 2023 along with its standard model. All we can say about the latest model is that it represents a subtle step forward from its predecessor, the Galaxy Watch 5 Pro. This new iteration offers a more powerful processor and a slightly larger and crisper display.
On the other hand, Venu 2 Plus was released back in January 2022 and its latest iteration (Garmin Venu 3) is going to hit the market later this year (2023). Venu 2 Plus offers the max smarts a Garmin watch can offer, and yet its focus remains on athletes.
As you are going to find out, these watches have their own strengths and weaknesses. Their suitability is by and large going to depend on your preferences.
Here, we would pit the Samsung Galaxy Watch 6 classic versus the Garmin Venu 2 Plus and compare them in different departments. The goal is to help you decide which watch is the better fit for your needs.
Galaxy Watch 6 Classic vs Garmin Venu 2 Plus: Pricing
| | | |
| --- | --- | --- |
| Smartwatch Model | For slender wrists | For big wrists |
| Galaxy Watch 6 Classic | $400 (43mm) | $430 (47mm) |
| Garmin Venu 2 Plus | $449.99 (43mm) | – |
The starting price for the Galaxy Watch 6 Classic is $400 for the 43mm model, rising to $430 for the 47mm variant.
On the other hand, the Garmin Venu 2 Plus comes with an even heftier price tag of $449.99.
2. However, you can find it at a discounted rate. The price would be further dropped once the new Venu 3 introduce, possibly in the last quarter.
Galaxy Watch 6 Classic vs Garmin Venu 2 Plus: Design & Display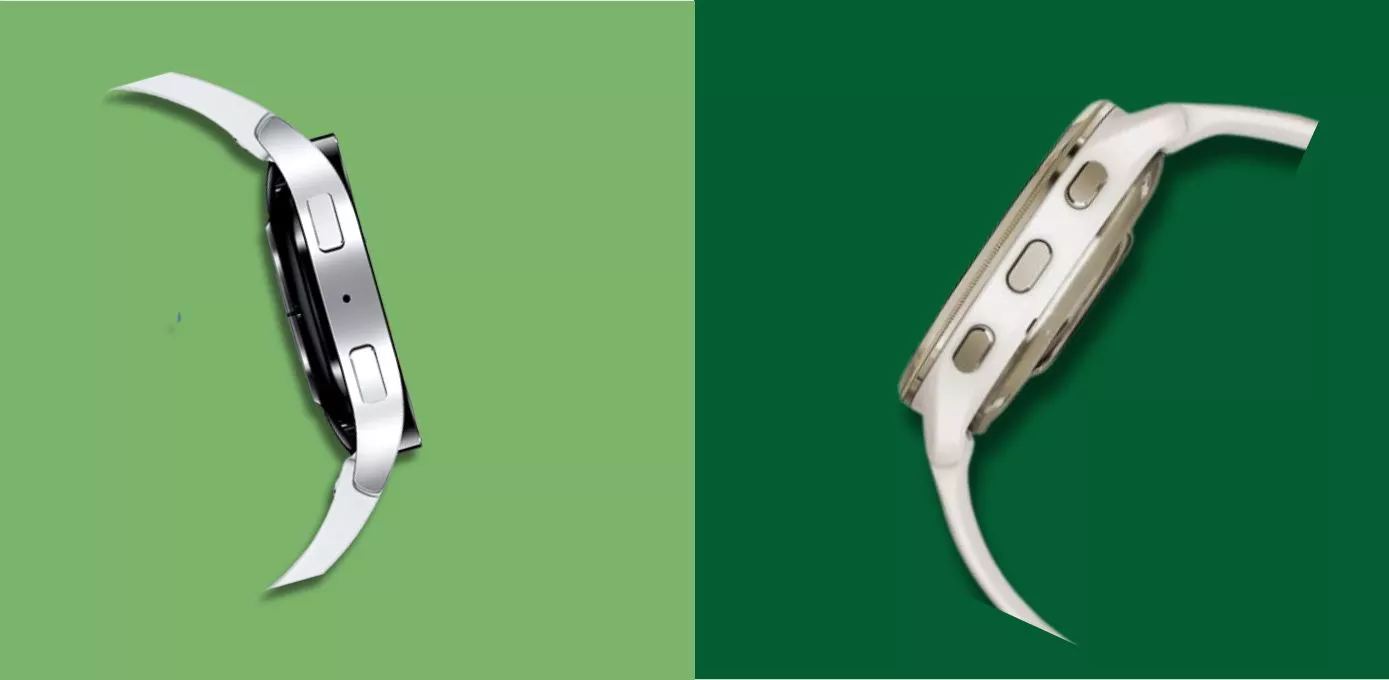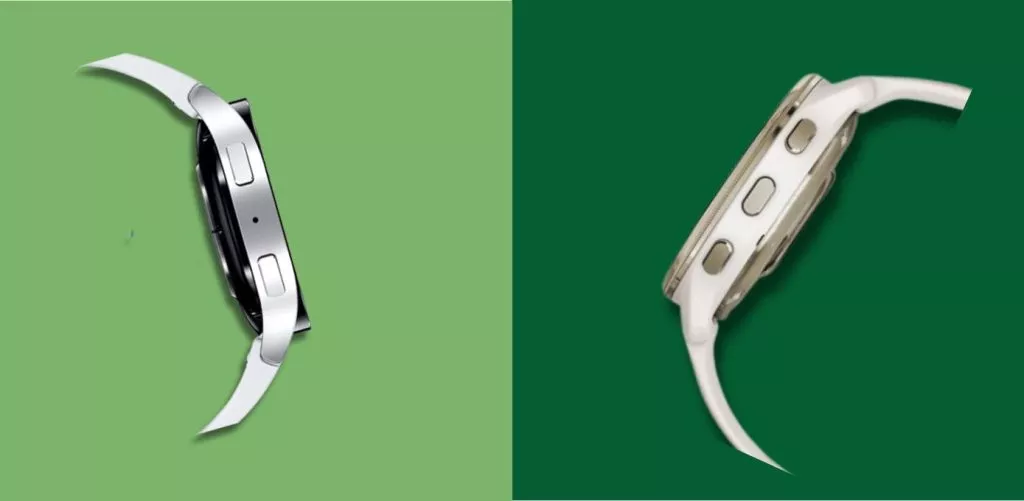 A smartwatch design defines its user experience and aesthetic appeal. And one thing more: durability.
Galaxy Watch 6 Classic borrows much from the design of the Galaxy Watch 5 Pro, except for one thing. The physical rotating bezel is back this time. However, it is made slightly slimmer to accommodate a 20% larger screen. The touchscreen works quite smoothly, but when your hands are sweaty, the side buttons come in to rescue you. The metallic casing makes it a little heavier on the wrist, but it adds a premium touch and feel to the watch.
The Garmin Venu 2 Plus, on the other hand, also opts for a touchscreen but it has a thick black bezel. Its weight, including the strap, stands at 51g, making it slightly lighter than the Galaxy Watch though it is thicker at 12.6 mm (compared to 10.9mm).
On the durability front, the Galaxy Watch 6 Classic excels with both 5ATM water resistance and a military-grade MIL-STD-810H rating. Plus, it features sapphire glass protection which is considerably stronger than the Gorilla Glass 3 on the Garmin watch.
Next, on the Display front, neither of the two watches disappoints, but Galaxy Watch 6 Classic has an edge. First, it offers double the brightness at 2000 nits, and second, it has a minimum bezel around the display. But you won't notice these minor details as their pixels per inch (PPI) numbers are incredibly close (452 vs. 453). This means that their visual experience should be almost identical.
Winner: Samsung Galaxy Watch 6 Classic
Galaxy Watch 6 Classic vs Garmin Venu 2 Plus: Smartwatch Features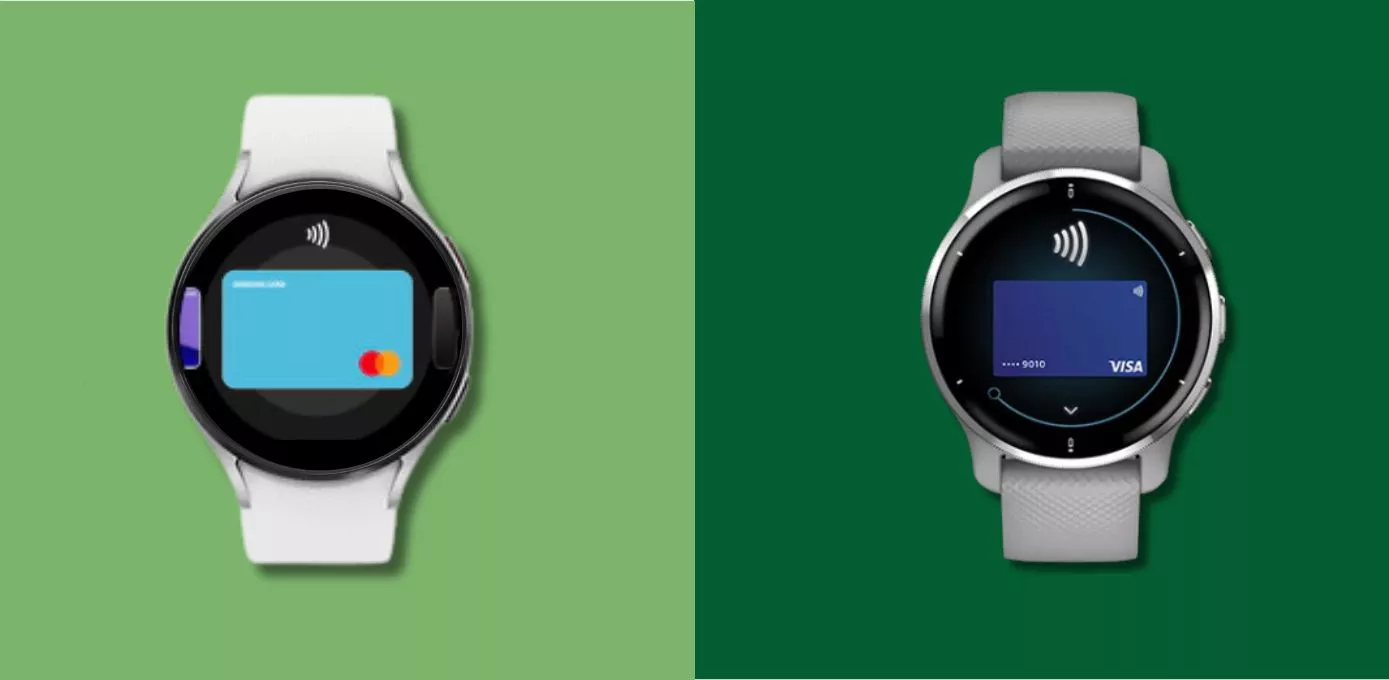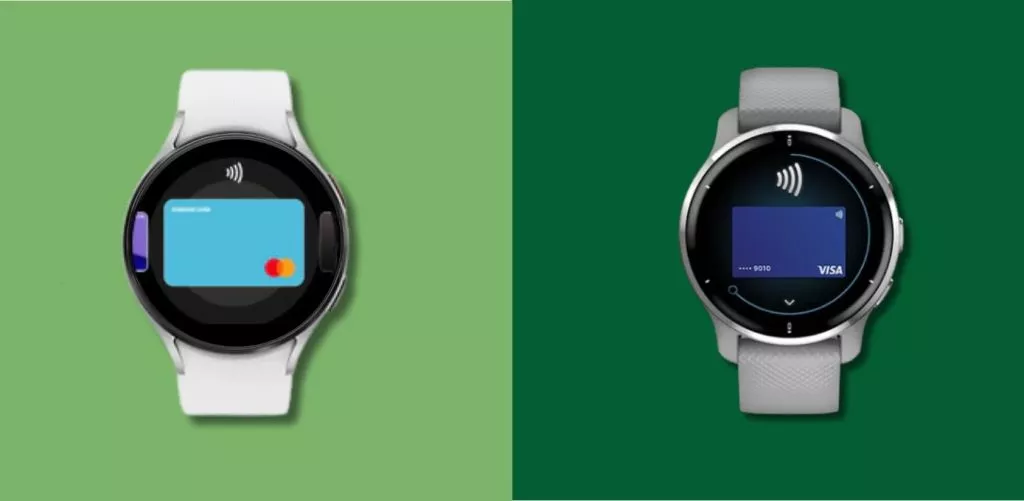 When comparing smartwatch features, Samsung Galaxy Watch 6 comes at the top. In fact, all the latest WearOS-powered Samsung watches offer superior features in this department.
As an Android-only watch, Samsung Galaxy Watch 6 Classic has a lot to offer for those deeply integrated into the Android ecosystem. However, if you opt for the LTE model, the device can function independently of a smartphone. That means, it can make calls, send text, and stream music through cellular connectivity.
GW6 runs Google's Wear OS which essentially provides it to access thousands of third-party apps. Voice assistant functionality is available through both Bixby and Google Assistant, and the same goes for the contactless payment option (Samsung Pay + Google Wallet). However, Samsung services are prebuilt into the watch.
The watch boasts the latest hardware specs, the only incentive for GW4 users to upgrade, that delivers buttery smooth performance. That's what most users have appreciated in early reviews.
You can store thousands of songs on the watch, and if you prefer streaming platforms like Spotify and Pandora, GW6 doesn't disappoint.
In comparison, Garmin Venu 2 Plus experience is limited to a smartwatch. The practical features are there (like Bluetooth calling, Voice assistant support, Garmin Pay, and Music storage/streaming), and the UI has been improved in recent years, and still, the watch fails to gain traction as a smartwatch. Part of it has to do with its app offerings on the Garmin IQ store, which predominantly includes health and sports-related apps. And part, its user interface, that still has room for improvement.
The best part about the Garmin watch is: it is compatible with both Android and iOS.

Winner: Samsung Galaxy Watch 6 Classic
Galaxy Watch 6 Classic vs Garmin Venu 2 Plus: Health and Fitness Features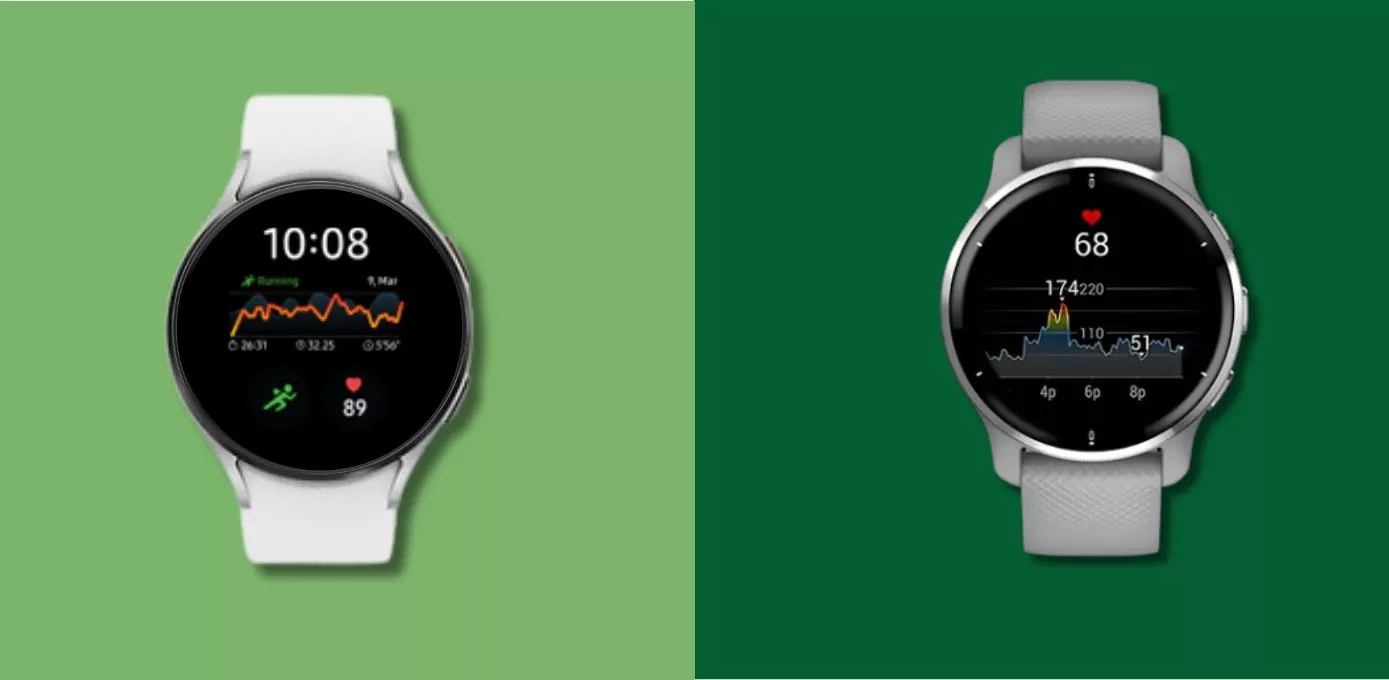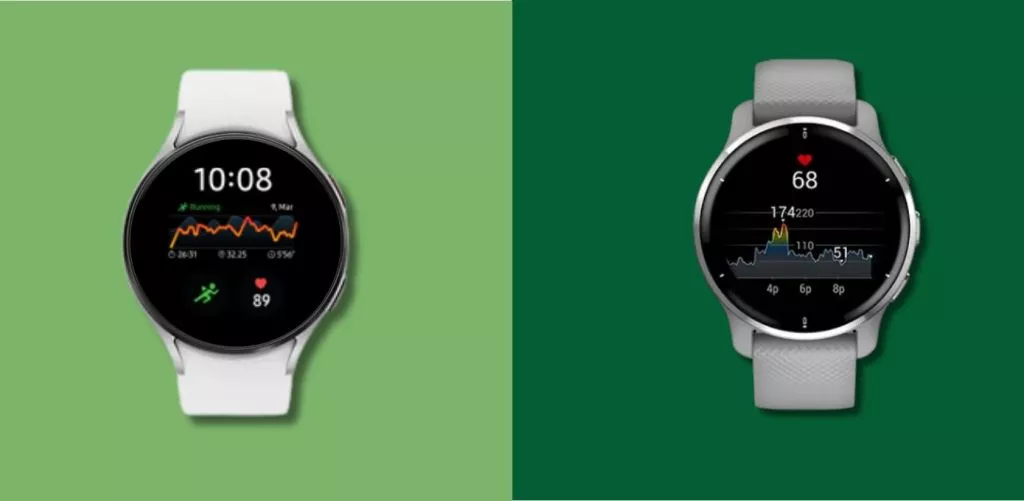 Samsung Galaxy Watch 6 Classic, like its predecessor, is equipped with tons of sensors. The watch is an absolute beast in Health tracking where it can monitor a range of metrics including heart rate, sleep, body composition, and more.
But there is a catch, Galaxy watch fails in converting the raw data from these sensors into actionable insights or more comprehensive metrics. Whereas, Garmin excels in it.
Take, for instance, the body battery score which is primarily decided by your sleep, heart rate, and exercise data.
The sports tracking is also better in the Garmin watch though the Samsung watch might offer more sports profiles. Garmin's FirstBeat algorithms are a lot more accurate, its Garmin Coach features can seriously help athletes, and it covers advanced metrics for popular sports like running and cycling. 
However, keep in mind, though Garmin Venu 2 Plus is better than Samsung in sports tracking, it is no match for elite titles like Forerunner 965, Fenix 7X Pro, or Garmin Tactic Series.
Winner: Tied (Garmins lead in Sports tracking, Samsung's lead in health monitoring)
Galaxy Watch 6 Classic vs Garmin Venu 2 Plus: Battery Performance
In a head-to-head comparison of battery performance, Garmin Venu 2 Plus wins. Samsung, Google, and even Apple have so far failed to beat Garmin in this department.
Let's start with the Samsung claims. Galaxy Watch 6 Classic is offering 40 hours on a single charge, and the battery performance is listed to drop to 30 hours with Always-on display mode activated. Add other power-hungry features to the mix (music streaming, GPS-sports tracking, voice assistant) and you basically get a one-day watch.
Garmin can offer a 7 days performance on smartwatch mode. And if you activate the power-hungry features of this watch, you still get 3 days.
However, there is one particular thing that we didn't like about the Garmin Venu 2 Plus, and the Garmin watches in general: the charging mechanism. The company should do away with its pin charging mechanism and should adopt magnetic charging or wireless charging just like Apple and Samsung.
Winner: Garmin Venu 2 Plus
Final Verdict: What Should You Choose?
To make a decision, we need your preferences. And the best part is, we can only make a guess. We would recommend Venu 2 Plus
if you frequently switch between IOS and Android phones and need a watch that works with both platforms.
Battery Performance and Sports tracking are your top priority
If both of these condition doesn't match your case, the Samsung watch is a better choice.
I created this blog to help people find the right smartwatch for their taste, to keep tabs on the latest news and leaks, and to share my experience with different smartwatches.